Fresh bread and a delicious spread – sounds good, no? A wide variety of vegan spreads are available in organic markets and grocery stores. But who needs to buy them when we've got two easy recipes with just two ingredients each?
If you feel that making your own spreads is too much work, let us show you how quick and easy it can be – and the taste of homemade will readily convince you it's not worth going back.
It's not hard to compose an infinite number of delicious spreads out of just two ingredients – don't be afraid to experiment with the combinations. Vegetarian spreads can have yogurt, cream cheese, or other soft cheeses as a base. Then simply add another fruit, vegetable, or seasoning. Vegan spreads rely on cooked vegetables, legumes, grains, or nuts for their base. By making your own vegetarian or vegan spreads, you're both saving money and allowing yourself creative space for unusual combinations in the kitchen.
Why Vegan Spreads?
Why make your own vegan spreads at all? Because prepared spreads are often fatty and bland — and contain fewer vegetables than you would believe! When you make your own vegan spreads, you have total control over what's inside. We're going to introduce you to two vegan spreads, starting with pumpkin hummus.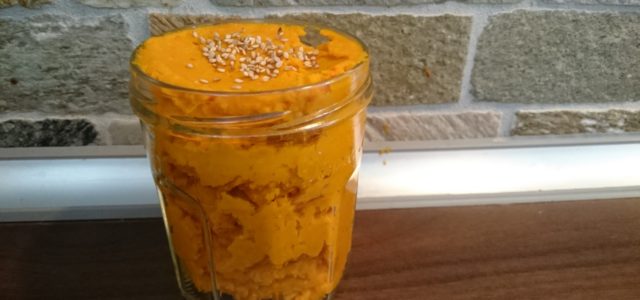 Vegan Spread: Pumpkin Hummus
Hummus itself is a crowd pleaser; combining it with the bright colors of roasted pumpkin or squash gives a plain chickpea spread a real kick. For pumpkin hummus you'll need:
1 can chickpeas
1 c roasted pumpkin or squash
Simply halve a small pumpkin or squash and remove the seeds. Roast in the oven until soft and easy to peel. Once cooled, scrape the pumpkin flesh into your mixing bowl.
Drain the chickpeas but collect the liquid in another vessel; add the chickpeas to the pumpkin. If you have them on hand, a finely chopped clove of garlic and a tablespoon of olive oil will only improve the flavor.
Puree the mixture with a hand blender, or if you prefer, blend everything directly in your food processor. You're aiming for a creamy dipping consistency, so add only as much of the retained chickpea liquid as necessary.
Transfer the pumpkin hummus to an empty container of your choosing. If available, decorate the top with sesame seeds, and voila — you've successfully completed your first homemade vegan spread with two ingredients! This spread is a perfect side to accompany a main dish or stands alone as a dip with pretzels, carrot sticks, or other vegetables. Tip: If all of your guests eat your pumpkin hummus, no one will be offended by anyone else's garlic breath!
More recipes like this? Check out Part II.