Single-serving coffee machines from Keurig and Nespresso have taken off over the last few years. Unfortunately, those pod coffee maker capsules are expensive, resource intensive, and wasteful, producing tons of plastic garbage every year. An easy way to make a dent in all of these costs is to invest in reusable cups from Mycoffeestar, Coffeeduck, or Mister Barista. Utopia tested all of these models.
It's unbelievable, really: Our price consciousness flies out the window when it comes to coffee. Well, not when we're talking organic, free trade coffee beans for $12/lb, which most people are still too cheap to shell out for. This is all the more ironic when you consider that a pound of coffee in pod machine capsules rings in at an astonishing $50/lb or more! Clearly the key is to pack overpriced coffee in colorful, one-use capsules – and people will pay any price imaginable.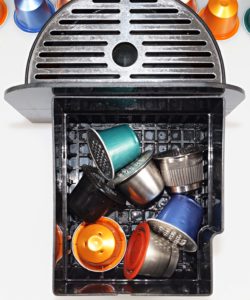 Coffee Pod Capsules Are Wasteful
Everyone knows this is an insane price for convenience. Every year eight billion coffee pod capsules – or an estimated 7800 tons of aluminum – are sent directly to landfills after a single use. Yet coffee pods' share of the entire roasted coffee market grew more than 16% in 2015. No company wants to miss that boat, which is why many other coffee brands are gearing up to launch their own waste-intense pod offerings as well.
Reusable Pod Capsules
One simple upgrade can make your pod coffee machine more environmentally friendly. The secret is reusable pod coffee maker capsules from brands like Mycoffeestar, Mister Barista, and Coffeeduck.
Can shelling out for this small change really pay off? And how! "Reusable coffee pods save you money in the long run," said Philipp Sommer of Germany's environmental NGO DUH, "while producing 14 times less packaging waste in comparison to single-use capsules." This investment is an easy way to save hundreds of dollars and the environment at the same time.
Here's the catch: Most machine producers will not honor their warranty if the machine is damaged by another company's pods.
Let's compare three alternative reusable pods for your Nespresso machine.
1. Mycoffeestar: The Screw-Top Reusable Pod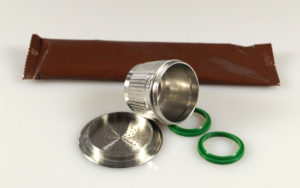 In early 2012 Switzerland's Mycoffeestar was the first to hit the market with reusable Nespresso pods. They claim their capsules can be used in all Nespresso machines sold since 2003.
What makes Mycoffeestar's reusable capsules unique is that they're made entirely of stainless steel and have a screw-top opening for filling and sealing. That means Mycoffeestar's construction is entirely free of other parts. There are a handful of coffee maker models (with grooves inside the machine) that require an additional silicone ring to prevent leakage; two are included, but we didn't need either.
Usage instructions are also included, but can be found online. The screw top was somewhat difficult to use in practice, especially if it is at all wet, but it is nevertheless the most secure of all the models we tried. Mycoffeestar explicitly recommends using fine or very finely ground coffee and includes a coffee sample in the shipment. The flavor was weaker than original Nespresso capsules, but still fine.
This reusable coffee capsule is our favorite, because it is especially robust and built to last.
Currently listed on Amazon for $46, or available directly from the manufacturer's online shop at mycoffeestar.com.
2. Mister Barista: Cheap Double Functionality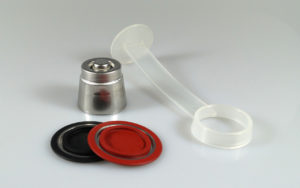 3. Coffeeduck: The Plastic Reusable Capsule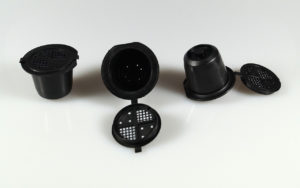 Dutch Coffeeduck capsules can be used in any machine purchased after October 2010, according to their packaging. We found Coffeeduck capsules advertised both as "Xavax Reusable Coffee Capsules" and "Scanpart Coffeeduck"; both of these were identical capsule sets from the Coffeeduck Company, which also produces reusable Senseo pads.
Coffeeduck delivers three coffee capsules in every package. This can be useful if you want to make three cups in a row (or have a couple prepared capsules on hand). Coffeeduck capsules are reusable, but are made of plastic. Germany's ecological consumer watchdog magazine Ökotest found traces of PAHs (October 2013), which may be of concern to some. Further, a plastic Coffeeduck capsule will never last as long as Mycoffeestar's steel model.
Instructions for use are included. The capsule and its cap are one unit which is filled and closed with simple pressure. There are no other parts. Our test found that the capsules were easier to remove from the machine almost immediately as they did not retain as much heat as their metal counterparts – a boon to anyone brewing multiple cups. We also felt these capsules produced the strongest cup of coffee we brewed.
Coffeeduck is uncomplicated to use, but made from plastic – and we simply preferred the steel models.
Available for $9 from Amazon or direct from coffeeduck.com.
(All Links **)