Camping as a family can be a really fun way to teach your kids about nature, and make vacation memories that will last a lifetime. Here are our top tips on how to keep camping with kids uncomplicated, safe and fun.
1. Camping as a Family: Come Prepared
It's good to pack heavy when camping in general, because you never know what you might need, especially when going on longer trips. With kids, especially, you will be grateful to have come prepared. Children are so naturally uninhibited with their curiosity, that they usually end up pretty dirty when playing outdoors. Bringing multiple changes of clothes, lots of layers and extra diapers will be to your advantage. If you're going to be camping in rainy weather or spending time along creeks and beaches, you should consider bringing the kids extra pairs of shoes as well. Footwear can take a long time to dry out, so you will be happy to have some water shoes or a backup pair of sneakers for when your child slides into a puddle. 
2. Pack Comfort Items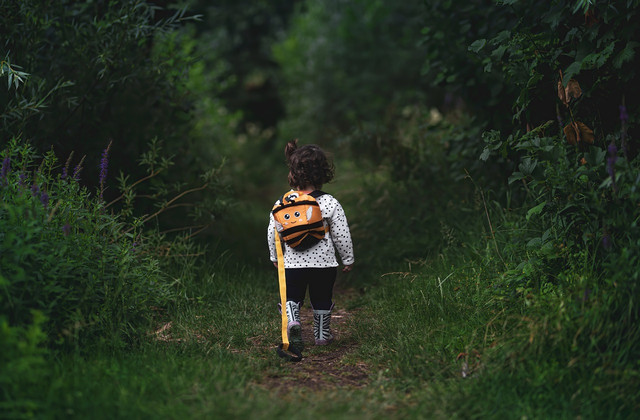 Help your kids feel at home by packing comfort items they are sure to enjoy. They probably won't need much to stay entertained in the natural environment, as they'll be happy to explore, climb trees and collect rocks and shells. However, a few comfort items can go a long way, especially in times of distress. Bedtime can be made a lot easier, for example, by tucking them in with couple of stuffed animals or reading their favorite bedtime story. If your child is attached to a specific toy, pacifier or security blanket, make sure to bring it along. 
3. Choose a Kid-Friendly Camp Site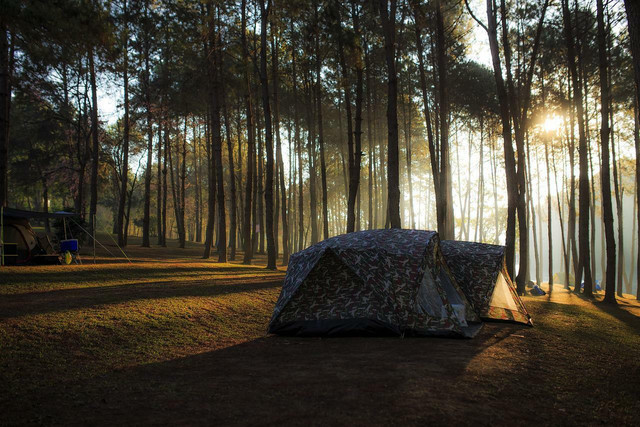 Do some research beforehand and make sure you are headed to a family-friendly campground. You can keep an eye out for swimming beaches with lifeguards on duty, above-ground fireplaces, and walking distance to bathrooms. Some campgrounds even have playgrounds and fields available. Make sure the natural environment is safe for children as well. For example, are the hikes relatively easy and flat, or are there dangerous ridges and water crossings? Avoiding issues like poison oak and grizzly regions would also be a good idea. This will save you a lot of stress and help your whole family have a better camping experience.
4. Set Expectations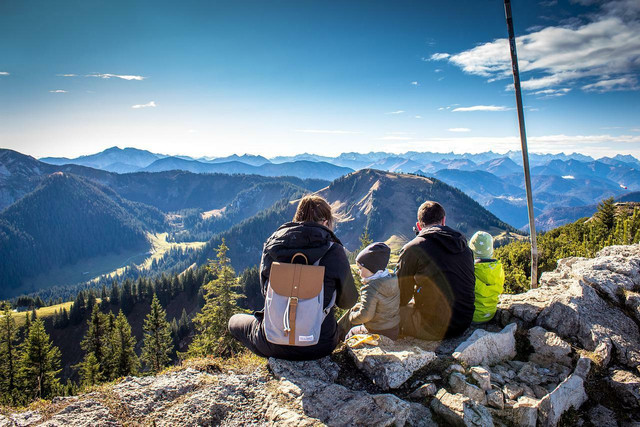 Talk with your children about your plans to go camping, well before the trip. If this is their first time camping as a family, or they haven't been in quite a while, they might need some information so they aren't thrown off upon arrival. Maintaining sleep schedules and keeping spirits high will be much easier if the children have some understanding of what the trip will entail. You can talk to your kids about what will be different at the campground, versus what will change. For example, the family will still be together for meals and you will still do your morning and nighttime routines. Explain to them that they will be sleeping in a tent and spending lots of time outside. Answer any questions they have, and help them understand by showing them photos or reading them children's stories about camping.
5. Stay Safe when Camping as a Family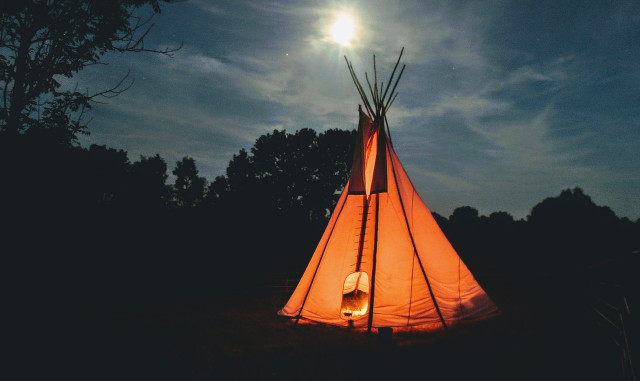 A big factor that concerns parents is keeping their children safe while camping. If you've chosen an appropriate campsite, and you've packed thoroughly, this should not be much of an issue. Of course, you should pack the typical camping essentials such as bug spray, sunscreen, maps, and bear spray if applicable. You may want to bolster your first-aid kit when bringing children, in case of emergency. We recommend bringing headlamps for each family member as well. This will make nighttime a lot less stressful as it will help both you and your children feel more secure. 
Besides packing right, you can make safety a priority by speaking with your children as well. Explain to them that being out in nature is beautiful and fun, but they need to be careful when exploring. For example, should they wake you up if they need to go to the bathroom in the middle of the night? If they do get lost, what should they do and whom should they speak with? If you're camping in bear country, explain to them how to safely handle coming into contact with a bear.
7. Use a Bath Station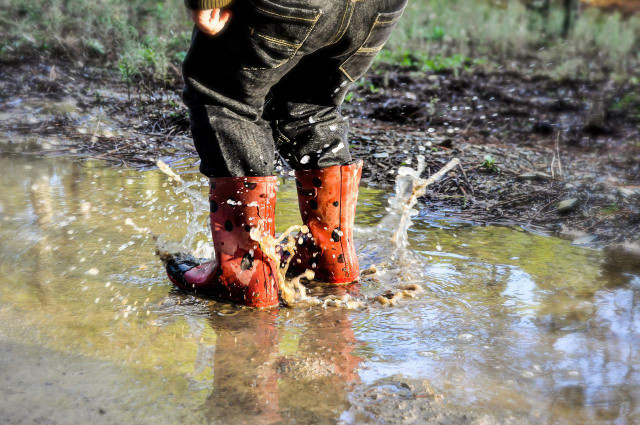 If you don't have fully equipped restrooms nearby, you will probably want to bring a small bath station for the kiddos. You can only get away with washcloths and wipes for so long before they really start to stink. The kids will get dirtier than usual because they'll be outside all day, so you'll be happy to have a bucket or children's tub on site so you can easily rinse them off before bed.  
8. Keep it Simple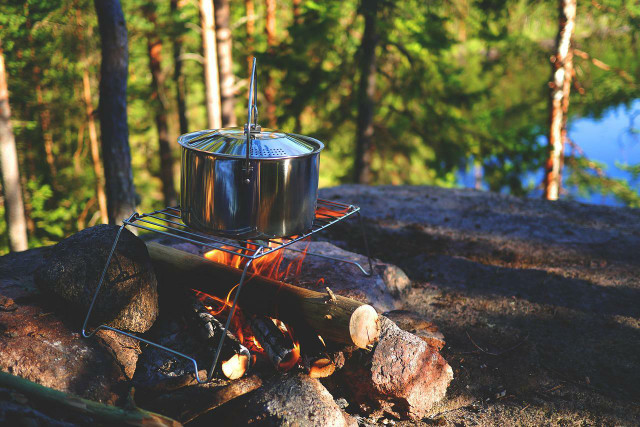 Taking care of the kids will take lots of time and energy, so we recommend simplifying your camping trip in any way possible. A big way to do this is through food. Cooking while camping is already a bit difficult, so it's best to bring easy meals like sandwich supplies, veggie burger patties, canned beans, and chips and dips. Make sure to bring foods your kids will actually eat, because you won't have the luxury of sending them to the pantry to pick something else out. If you're cooking veggies, consider doing some meal prep and cutting up the ingredients at home when packing. You can also help yourself out a lot by staying organized. Pack smart by labeling bags and separating your children's clothing into different sections. This will make the mornings and bedtimes a bit easier. 
9. Get the Kids Involved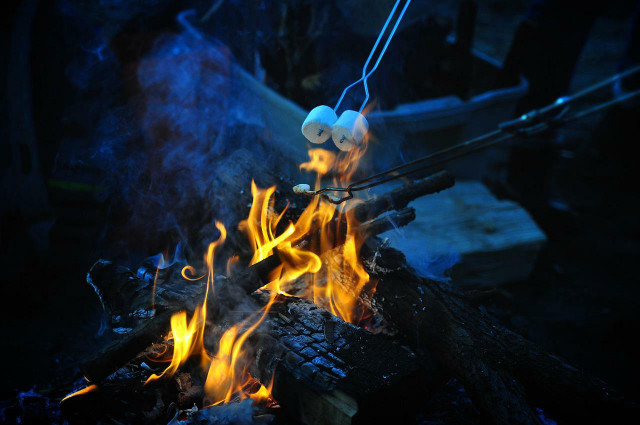 If your kids are a bit older, they can be more involved. You can teach some responsibility while taking some stress off of your shoulders by putting your kids in charge of their own belongings and getting them to help crumpled newspaper or fetch wood to start the campfire, for example. Your kids may already have some chores assigned to them at home. This can transfer over to camping as well. Ask your children to help around the campsite and join in on cooking and cleaning. Things like doing dishes can be a family activity where you all have different workstations. 
10. Embrace Nature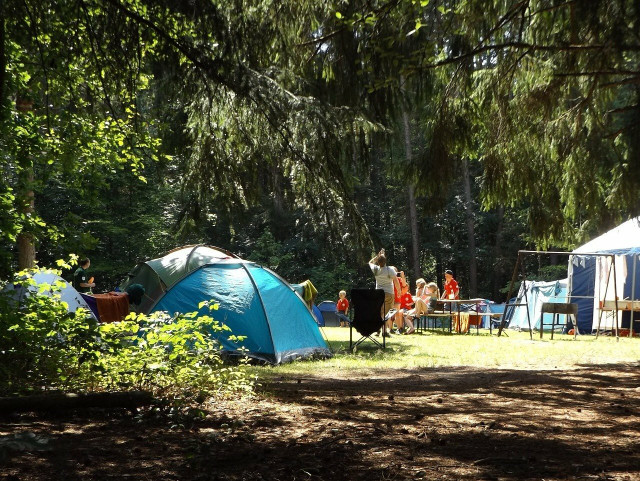 Camping as a family is a great opportunity to teach your kids about nature and wildlife while having lots of fun. Pack things like butterfly nets, magnifying glasses and binoculars and use your time exploring to show animals, rock formations and plants they may have never seen before. You can help your kids feel independent, adventurous and free in the wild while being there for any questions or needed guidance. 
Read more:
** Links to retailers marked with ** or
underlined orange
are partially partner links: If you buy here, you actively support Utopia.org, because we will receive a small part of the sales proceeds.
More info
.
Do you like this post?
Thank you very much for voting!