Knowing how to help homeless people is urgent and important. But how can you help people experiencing homelessness in your day-to-day life? Have a read to find out.
The issue of homelessness is massive in its frame and there are many different starting points. We'll focus on things that are easy for you to implement but still very important. Remember, every small step counts. We'll make sure to also link some easily accessible resources for you, so you can do your own research.
The Importance of Helping Homeless People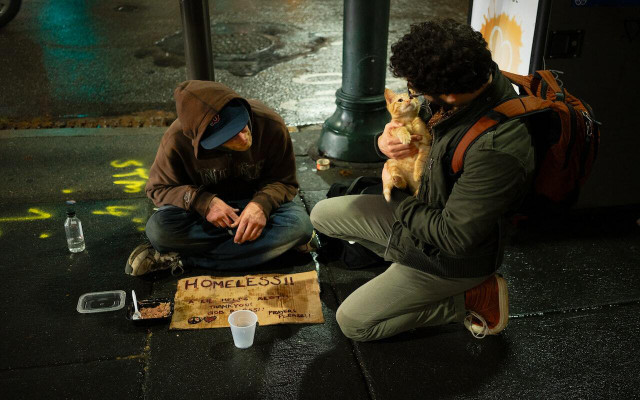 Before diving into the how of helping homeless people, you should understand why homelessness is an issue that must be tackled and taken seriously in the United States. According to The American Journal of Medicine, homelessness is classified as a huge social and medical problem.
The National Alliance to End Homelessness points out that data collection on homelessness was partly interrupted during the Coronavirus pandemic. However, the most recent and accurate data was retrieved in 2020 and showcases that 580,466 people in the United States experienced homelessness. The most affected areas are the West Coast, the Southwest, Florida, and New York.
More needs to be done to help those experiencing homelessness, so we've compiled a list of simple ways you can help out. Small acts can make a big difference, so find what works best for you.
1. Help Homeless People by Understanding Who They Are
The first part of knowing how to help homeless people is advocacy. Educate yourself and spread the right knowledge. That's the key to counteracting the spread of stereotypes and the first step in diminishing discrimination against people experiencing homelessness. Before you dive into anything else, you should establish what terms are appropriate to refer to homeless people. The term "the homeless" is outdated and considered insensitive. It's best to stick to homeless people or people experiencing homelessness.
Next, you should understand who is affected by homelessness. For example, males are more likely to become homeless compared to females. Moreover, the issue of homelessness is also closely tied to gender, race, and ethnicity. To find more detailed data on these intersections, check out the official website of the National Alliance to End Homelessness.
2. Talk to People Experiencing Homelessness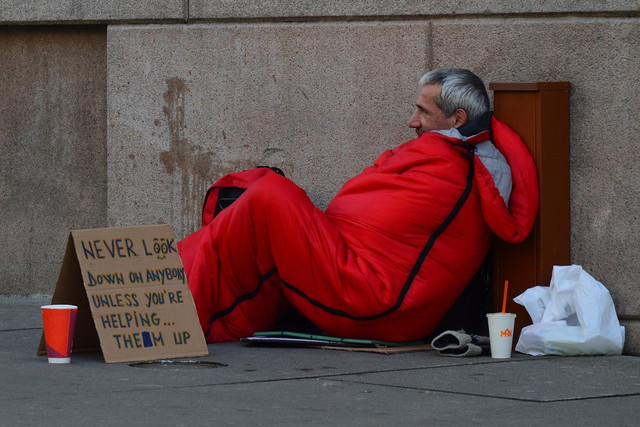 Besides looking at resources online, why not start a conversation with people experiencing homelessness in your local area? Just ask them about their day, wish them a good morning, or ask how they are doing. A lot of the time homeless people tend to appreciate these small interactions, seeing as many of them are excluded from society and social life. Of course, only do whatever you feel comfortable with. If you don't feel like starting a conversation, how about just a smile? Kindness and respect can do wonders sometimes.
3. Carry a List of Local Shelters With You
When you meet and talk with people experiencing homelessness, share some information on local shelters with them. For this, it's best to do your research beforehand and then carry a list with relevant contact details with you. You could even make cards to hand out to homeless people or directly offer them to make a call together with you to evaluate their best options.
Just have a look at the website of the U.S. Department of Housing and Urban Development and make use of their 'find shelter' tool or the Homeless Shelters Directory for information on shelters in your area.
4. Volunteer at a Local Shelter or Soup Kitchen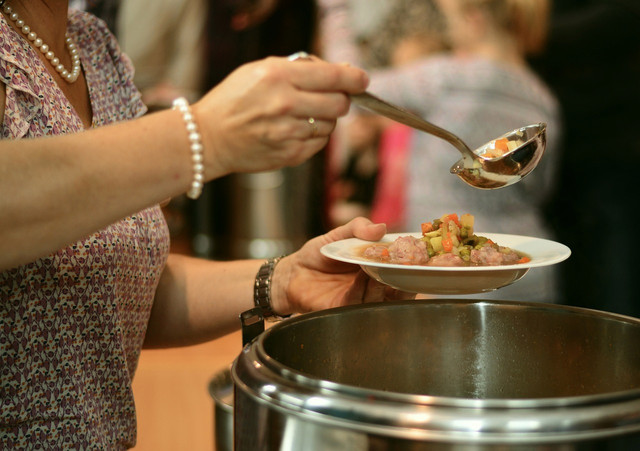 Soup kitchens and food banks are organizations that provide free food for people experiencing homelessness. They are often run by charities, community centers, or church communities so for those wondering how to help homeless people, volunteers are always in high demand to assist with cooking and serving the food. For volunteering opportunities in your area, make sure to check out Feeding America.
You could also volunteer directly at a local homeless shelter, a place that provides temporary housing to people affected by homelessness. Some shelters also provide food, water, and clothing or run programs that aim to help homeless people in the long run.
5. Donate Money to Homeless People
If you have the financial means to donate, this can be a big step in helping homeless people. While many have the conception of homeless people spending their money on alcohol or drugs solely, this is often based on false assumptions. A huge number of people experiencing homelessness rely on donations to make up for clothing, housing, and food.
Aside from giving out money directly to homeless people on the streets, there are many organizations helping homeless people such as NGOs or charities that you can support. Here's a list of some organizations worth considering for your donation:
Besides checking out these bigger organizations, make sure to look for smaller NGOs and services for homeless people in your area. These smaller organizations are often understaffed or lack financial stability.
6. Donate Clothing, Hygiene Products, and More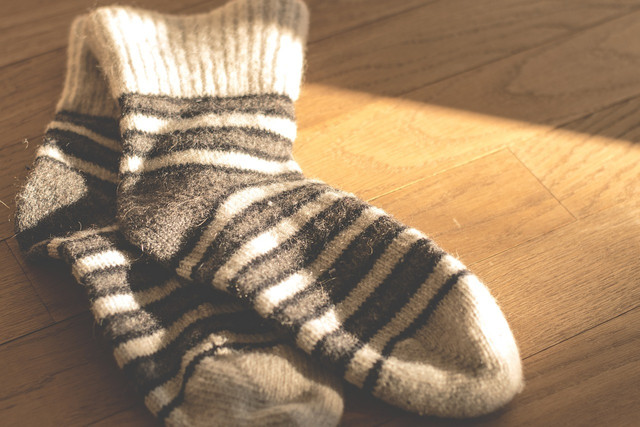 Donating to Homeless People is not limited to money. Donating your old clothes, for example, is just as important and helpful. On top of that, donating is a great solution to not knowing what to do with your old clothes after decluttering your wardrobe. We've listed some items below, so you get an idea of what homeless shelters are looking for in particular:
Socks and shoes
Underwear
Blankets
Hygiene products
Diapers, wipes, and children's clothing
School supplies
First Aid Kits
Earbuds
But where to donate these things? Your first starting point and most obvious choice is a local homeless shelter. Besides that, soup kitchens, youth emergency shelters, domestic violence shelters, animal shelters, transitional living programs, emergency response programs, and places of worship are good options. There's also an organization called Dress For Success which helps homeless people to receive a job and provide them with appropriate work attire at the same time.
Make sure to call or visit the charity before making a donation. This helps to clear up any of the questions you may have but also helps the organizations to plan around your donation accordingly. If you are donating clothes, make sure to wash them in advance and don't donate anything that is heavily stained, ripped, or torn.
7. Raise Funds To Help Homeless People
If you are not in a position to donate money or clothing, how about starting a fundraising event to collect the necessary means together with your friends or family? This can be as simple as organizing a local garage sale, bake sale, or flea market. If you prefer the digital way, you might want to have a look at crowdfunding options such as GoFundMe.
8. Evaluate Who You Want To Support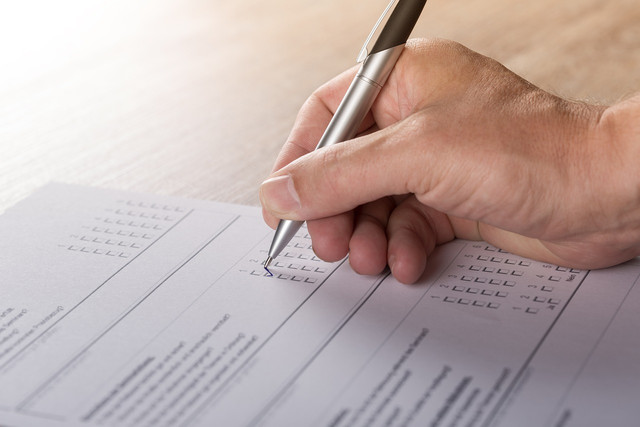 Politicians have the power to dictate your community or city's policies and funding levels for services and organizations that help homeless people. It makes sense to take your time to research candidates and learn about their proposals for dealing with homelessness. Make sure you support those, who resemble your values, especially the next time you can leave your vote in an election.
9. Participate in a Point-in-Time Count
There are many agencies helping homeless people called continuums of care (CoCs). They are funded by the U.S. Department of Housing and Urban Development (HUD) and organize regular point-in-time counts, where groups of volunteers perform head counts of people experiencing homelessness. By volunteering in such a count, you contribute to an important data source that is the foundation for helping homeless people through funds and other aids performed by the HUD.
Further Resources To Help Homeless People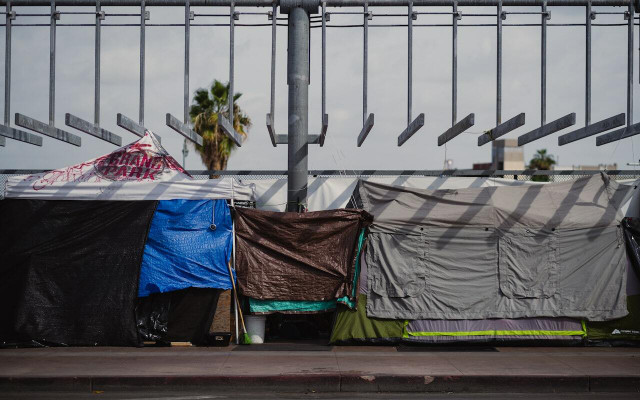 There are a ton of incredible resources available, and we've summarized a few additional options for you below:
SAMSHA: The Substance Abuse and Mental Health Services Administration offers several programs and resources to help prevent and end homelessness, especially among people with mental or substance use disorders.
U.S. Department of Health and Human Services (HHS): They grant relevant programs and research on homelessness and fund resource centers and activities providing information for consumers, providers, and policymakers.
USICH: If you are interested in what happens on a governmental level regarding homelessness, have a look at the website of the U.S. Interagency Council on Homelessness. It's the only federal agency focusing on preventing and ending homelessness in the United States.
Read More:
** Links to retailers marked with ** or
underlined orange
are partially partner links: If you buy here, you actively support Utopia.org, because we will receive a small part of the sales proceeds.
More info
.
Do you like this post?
Thank you very much for voting!