Homemade heating pads are a breeze to make. With these three DIYs, we'll show you how you can easily make your own heating pad using cherry pits or grains.
Whether you're a DIY professional or a newbie to homemade household essentials, you're sure to find this guide on how to make a heating pad surprisingly easy and loads of fun to use.
This guide features assembly instructions on how to make the following homemade heating pads:
the classic cherry pit pillow,
a smaller child-sized, and
larger multi-chambered grain hull heating pad.
The latter can be filled with common grains or seed hulls such as wheat, spelt, oats or grape seeds. No matter the filling, these DIY heating pads will deliver comfort where it counts the most.
Now let's get to work!
1. How to Make a Heatable Cherry Pit Pillow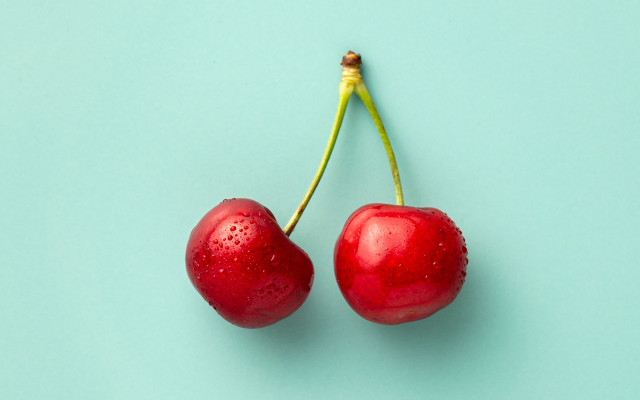 Cherry pit pillows are easy to use. Warm up these all-natural homemade heating pads in the oven or microwave and they'll provide pleasant warmth and relieve stomach aches and muscle tension. When placed in the refrigerator, they also work great as a cold pack to treat bruises and insect bites.
Thanks to their sustainable, natural ingredients, these homemade heating (and cooling) pads also offer a plastic-free alternative to hot water bottles and commercial ice packs. With these simple DIY instructions, we'll show you how to make your own cherry pit pillow heating pad right at home.
Here's what you'll need to make your own homemade cherry pit heating pad:
Enough cotton fabric for the pillow size you plan to make.
Cherry pits: You'll need 2/3 lbs. to 1 lb., depending on the size of your homemade heating pad you're crafting.
a needle and sewing machine
a thread
scissors
Old leftover pieces of fabric or cushion covers are a great material for your DIY heating pad. You could also upcycle an old washcloth or shirt sleeve — feel free to get creative!
Stock up on cherry pits in the summer when cherries are in season. After eating, boil your cherry pits for ten minutes in a pot of water to remove the remaining pulp. Heat them in the oven at 195°F for an hour until dry to avoid mold growth. This also kills off any unwanted insects.
Cherry Pit Pillow: The Sewing Instructions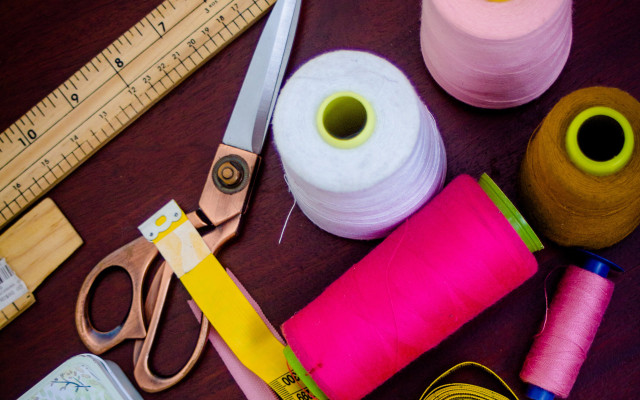 Here's how to make your own homemade DIY heating pad – step by step.
Cut the cloth to the dimensions of the pillow you wish to make. The exact size is completely up to you. Around 8 by 11 inches is a comfortable size to start with. Alternatively, you can also use a plate as a template and sew a round homemade heating pad. Whichever you decide on – you'll need two same-size pieces of fabric.
Place the two identical pieces of fabric right on top of each other and align them.
Sew three sides together while allowing 3/4 inch at the seam. If you've decided to make your DIY heating pad a round cushion, leave closer to 4 inches open. No matter which design you're making, the opening must be large enough for the cherry pits.
Turn the pillowcase upright.
Fill it with just enough cherry pits to be comfortable – that is, semi-soft and flexible. Here, the cherry pits should fit snugly but still be able to move around within the heating pillow. Be sure not to overfill your DIY heating pad so that it's bulging at the seams.
Sew the pillow shut.
And you're done! Now your cherry pit pillow is ready for use.
Cherry Pit Pillow: Heating Instructions
You can warm up your cherry pit pillow either in the microwave, in the oven or on the radiator.
The quickest way is in the microwave. Heat your homemade heating pad at 600 watts (or the lowest possible setting) for one or two minutes.
In the oven, be sure to use residual heat whenever possible. Otherwise, warming up your DIY heating pad from scratch takes about ten minutes at 195°F and costs considerably more energy.
Most of the time, the radiator will work just fine. Pro tip: You can store your homemade heating pad there in winter.
Here's a tip: Eat lots of cherries in summer, collect the seeds and wrap up your own homemade cherry pit pillows as a Christmas gift! These DIY heating pads make for a great eco-friendly gift idea.
2. How to Make a Homemade Grain Heating Pad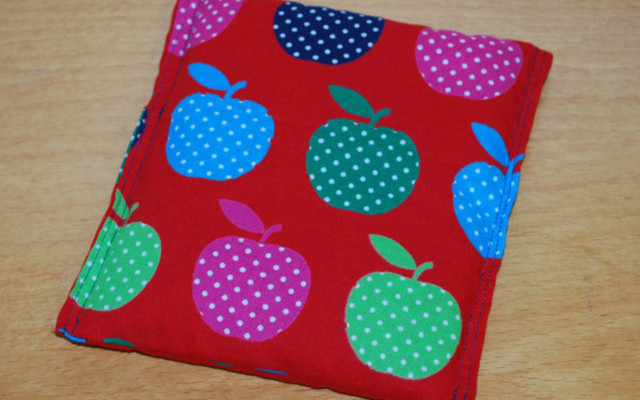 Warm or cold, your own homemade heating pad made from all-natural grains or seeds provides pain relief and promotes proper resting posture. A great solution for a number of ailments, we'll show you how you can sew your own homemade grain heating pad quickly and easily.
Here's how to get started:
Making your own homemade heating pad couldn't be easier. No matter the design or size you choose, it's essential that you use all-natural materials. The fabric should not contain any synthetic fibers, otherwise, it could ignite when heated.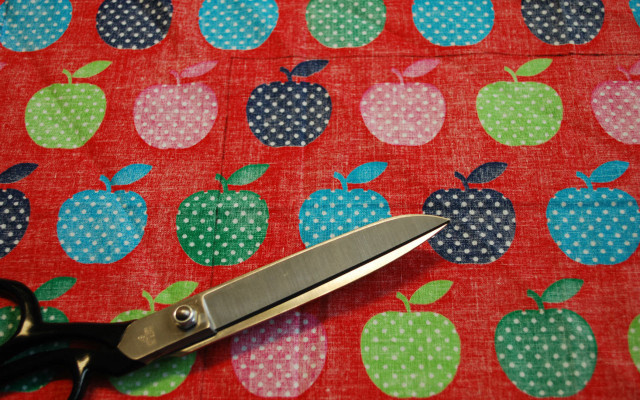 For a small grain heating pad (ideal for babies and children) you'll need the following materials:
Cotton or linen fabric (cut to size 7 3/4 in. x 6 in.)
fabric scissors
scale/ruler
pen
sewing machine
yarn
sewing needle
grains/seeds (approx. 1/2 lb. – e.g. wheat, spelt, oats, grape seeds)
ironing board and iron
Note: You can adjust the exact dimensions of the pillow according to your needs. If you want to make an even larger pillow, we've included the specialized DIY instructions for multi-chamber heating pads further down in the article.
Grain Heating Pad: Sewing Instructions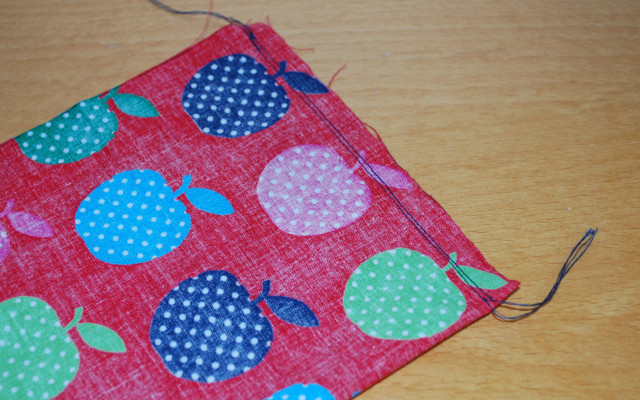 First, cut two identical pieces of cloth according to the predetermined dimensions. For the small pillow, we've cut the fabric to a size of 7 3/4 x 6 inches. For these dimensions, the seam allowance of 7/16 in. is already included.
Fold the cut fabric in the middle so that it lies right side up.
Now sew the two pieces together. It's best to sew two seams adjacent to one another so that the grains or seeds don't come pouring out if one seam should burst.
Next, fold the fabric over on the open side about half an inch and iron it. This will make it easier for you to sew this side later.
How to Fill Your Grain Hull Pillow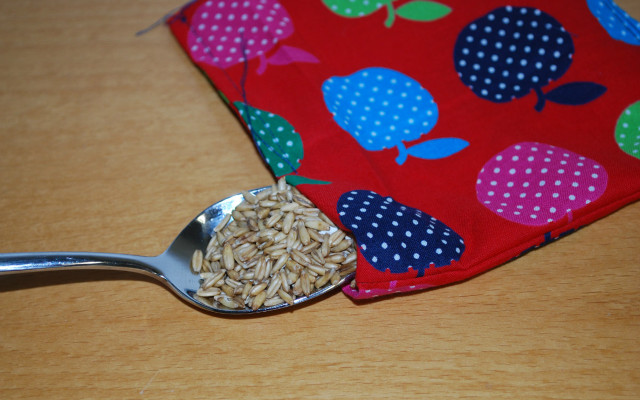 Once you've sewn the two pieces together, flip the fabric over.
At the folded end, sew two seams together across the width of the fabric. This way, it will look better in the end, as the ends of the pillow will look exactly the same.
Now you can fill the grains/seeds into the open side of your homemade heating pad. For this step, you can use one of two methods:

Sew the open side shut about two-thirds of the way, and then begin to fill the pillow. You can press the grains already in the pillow into the corner of the closed side to make the rest of the open side easier to sew.
Leave the side completely open for filling and then sew it closed.

Now sew the open side with a double seam.
Finally, pull the threads into the cushion.
Please note:
Be careful not to heat the pillows up too much or place them directly on the skin. This could result in burns. Do not leave children unattended with the pillows (e.g. do not tuck your children in with them and leave them in bed overnight).
If you want an all-natural cool pack pillow, just stick it in the refrigerator, but not in the freezer.
For the grain pillows, you can use grains or seeds that have expired but are still too good to throw away. For example, we used oats that have become bitter and are no longer suitable to eat.
3. How to Make a Large DIY Heating Pad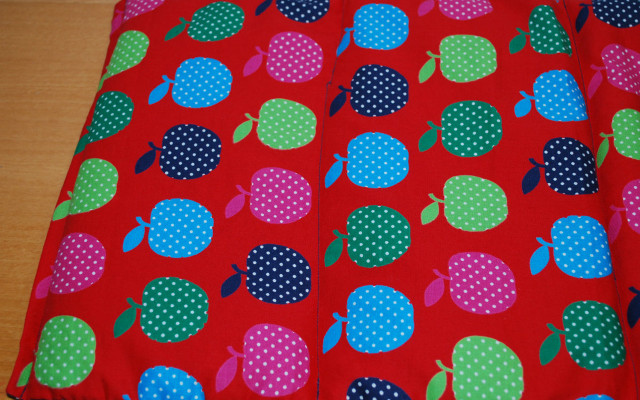 If you've decided to craft an even larger homemade heating pad, it's best to create multiple chambers. This crucial step will keep your it nice and comfy as it prevents the contents from accumulating in one area of the cushion.
You'll need the following materials for this grain hull pillow:
cotton or linen fabric (cut to size 35 in. x 12 in.)
fabric scissors
yardstick/ruler
pen
sewing machine
yarn
sewing needle
pins
grains/seeds (approx. 2.5-3.5 lbs. – such as wheat, spelt, oats, grape seeds)
ironing board and iron
Large Heating Pad: Sewing Instructions
Begin by cutting the fabric to size (35 in. long and 12 in. wide). The seam allowance is included in the measurements.
Now fold the fabric in half and lay the two sides on top of each other.
Sew only one of the former long sides with a double seam. Leave the other long side open.
Now sew the open short side with a double seam as well.
Turn the fabric over and work on the corners.
Fold the long open side about half an inch inwards and iron along the edge. This will make it easier for you to sew the side shut later.
Next, pin the individual chambers (each 41/3 in. wide) and sew them with a single or double seam.
Now fill each chamber with the grains/seeds (about half a pound per chamber, depending on overall size). Make sure not to overfill the chamber.
Finally, sew the open side shut with a double seam and pull the threads into the pillow.
Note: The large pillows are best heated in the oven at approx. 210°F/100°C for around 10-15 minutes. To make your own cool pack, simply place them in the refrigerator for at least one hour.
** Links to retailers marked with ** or
underlined orange
are partially partner links: If you buy here, you actively support Utopia.org, because we will receive a small part of the sales proceeds.
More info
.
Do you like this post?
Thank you very much for voting!