Cloth diapers can be washed and reused, making them the perfect environmentally-friendly alternative to disposable diapers. We'll show you how to wash and care for your cloth diapers.
Cloth diapers come in so many more colors, shapes, patterns, and sizes than they used to. Most cloth diapers can be divided into two systems:
1. All-In-One
All-in-one diapers come with the absorbent cloth layer and the waterproof layer sewn together. They come ready-to-use and work just like regular disposable diapers— with the added bonus that you can wash them and don't have to throw them away.
2. Compound
These cloth diapers are a two piece system, where you use folded cloths, organic liners, prefolds or other inserts in combination with a moisture-proof cloth diaper cover. Diapers in this category are often made of muslin or knitted fabric.
How to Wash Cloth Diapers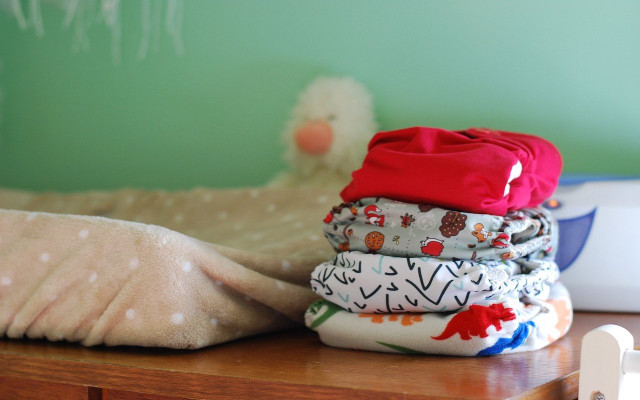 Washing cloth diapers is easy if you use the following tips:
Use Enough Water: For complete systems, it's important to use enough water when washing your cloth diapers. Now is not the time for your eco-wash on cold: it won't use sufficient water and your cloth diapers will develop a musty odor.
Remove Stool: If your baby hasn't started solids yet, stool can be washed away in the washing machine. Once they're no longer solely milk/formula-fed, remove the stool and flush it down the toilet before attempting to wash your cloth diapers. 
Wash Regularly: Aim to wash every two to three days. If you want to go longer periods between washes, let the cloth diapers pre-dry on the laundry rack.
Temperature: Unless otherwise specified, wash your liners on hot.
Detergent: Use powder detergent instead of liquid detergent when washing cloth diapers and pay attention to the amount. Look for detergent with natural ingredients, and do your best to avoid perfumes, preservatives, and brighteners.
Note: Remember that all cloth diapers are different, so you may want to refer to the manufacturer's care instructions.
Storing Cloth Diapers
Keeping in line with sustainable laundry practices, you should try to wait to turn your washing machine on until you have enough laundry to fill the drum. However, that also means that you'll need somewhere to store your used diapers before washing— just make sure you don't store used diapers for too long.
The easiest place to store used diapers is in a diaper pail. You can choose whether you want to use only the pail itself, or add a mesh laundry bag inside, similar to a trash bag. If you choose to use a mesh laundry bag, you can avoid touching the dirty diapers by emptying the whole mesh bag into the machine in one go.
It's important that you store used diapers in a cool, well-ventilated place, so a diaper pail with a swing lid or made of wicker is a good choice. Avoid airtight storage bins: the less oxygen that the cloth diapers are exposed to, the faster an ammonia smell will develop.
Tip: Wetbags are great if you want to keep your cloth diapers waterproof when you're on the go.
Drying Cloth Diapers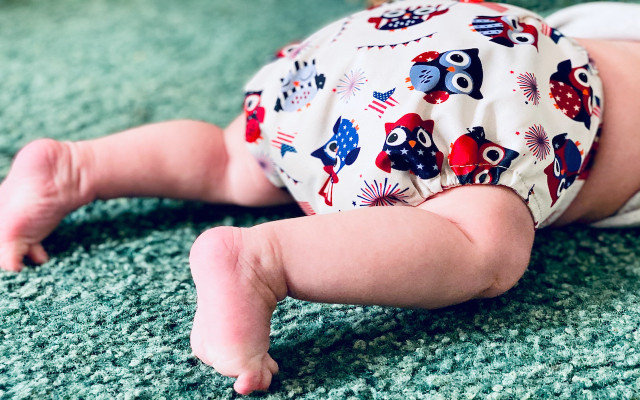 There are several ways to dry cloth diapers quickly and easily after washing:
Drying Rack: Your diapers will dry faster if there is more space, and therefore air, between the cloth diapers.
Outdoor Clothesline: This is the fastest drying method thanks to the wind and the sun. Additionally, the sun makes a great natural stain remover!
Heated Towel Rack: If you have a towel heater at home, you can use it for drying during winter months.
Clothes Dryer: This is really a last resort when it comes to drying cloth diapers. It's worth noting that purchasing a few more cloth diapers is cheaper and more environmentally friendly in the long run than using a dryer.
Note: Pay attention to the manufacturer's care instructions for how to wash and dry cloth diapers. Some fabrics can't tolerate direct sunlight and may fade. For diapers with colorful patterns, dry them inside out.
Cloth Diapers: Are They Really More Sustainable?
Disposable diapers consist of many individual components like rubber, fleece, film, and an absorbent core made of the polymer sodium polyacrylate. Their production releases toxic substances like dioxin, chlorine, and TBT into the environment, which contribute to air and water pollution, as well as global warming. And perhaps the worst part: disposable diapers are estimated to take about 450 years to decompose in the landfill.
With cloth diapers, you can reduce waste plus be better informed about exactly what materials your child is exposed to. Another bonus: by not using a chemical absorbent core, your child will notice more quickly when he or she is wet, which could help them potty train faster.
You don't have to throw away cloth diapers, but they do require regular water use to wash them. Therefore, when buying cloth diapers, look for models that require comparatively little washing, like wool diaper covers or muslin diapers. In addition, you can buy cloth diapers that grow with your child for many years, which you can also use again if you plan on having more children.
This article has been translated from German by Karen Stankiewicz. You can find the original here: Stoffwindeln waschen: So geht's Schritt für Schritt
** Links to retailers marked with ** or
underlined orange
are partially partner links: If you buy here, you actively support Utopia.org, because we will receive a small part of the sales proceeds.
More info
.
Do you like this post?
Thank you very much for voting!