From total darkness to picturesque rock formations, the US's cave systems have a world of adventure to offer. Here are 11 of the best caves in the US just waiting to be explored.
The various cave systems and canyons of the US are often forgotten in discussions of hiking and what the great outdoors has to offer. However, these caves are actually much more interesting than you'd think. From Hawaii to Texas, cave hiking and cave tourism are great ways to see the unique and beautiful geological sites that are otherwise hidden from us under the earth. Check out 11 of the best caves in the US we believe are a must-see, as well as some of the special and unique features you can expect to encounter when visiting them.
1. Natural Bridge Cavern, Texas
Located in San Antonio, the Natural Bridge Caverns are the largest commercial caves in Texas. These caverns are named after a 60-foot limestone slab bridge that spans the cave's entrance creating a literal 'natural bridge.' Public tours are available for this cave that take you 180 feet below the surface into the cave's system and allow you to experience Natural Bridge's aesthetic beauty in all its glory, as well as check out some of the cave's abundant wildlife such as bats. 
2. Caves of The Winds, Colorado
Found in the Pikes Peak region of Colorado Springs, Caves of the Winds is a unique opportunity to see some of nature's most beautiful crystal creations right here in the US. Discovered in 1881, this cavern system offers guided tours showcasing the cave's most famous attractions, including the 'Silent Splendor' crystalline room and 'Colorado Rose' rock formations.
3. Best Caves in the US: Ruby Falls, Tennessee
A truly unique site to behold, the Ruby Falls cavern is named for its 145-foot waterfall. Located inside Lookout Mountain close to Chattanooga, this underground waterfall has been one of Tennessee's most popular natural tourist attractions for over a century. Touring this cavern takes you more than a thousand feet underground, yet is still a safe, family-friendly opportunity to see one of the best caves in the US.
Ruby Falls offers both regular guided tours, more gentle tours, and lantern-only tours. 
4. Niagara Cave, Minnesota
Located in Harmony, Minnesota, the Niagara Cave is a 200-foot-deep cavern discovered in the 1930s. Complete with an underground river and waterfall feature over 60 feet tall, this cavern system is a great place to tour and get up close and personal with your underground world. Other special features of this cave include 400 million-year-old fossils, stalactites, and other quirky limestone formations.
5. Carslbad Caverns, New Mexico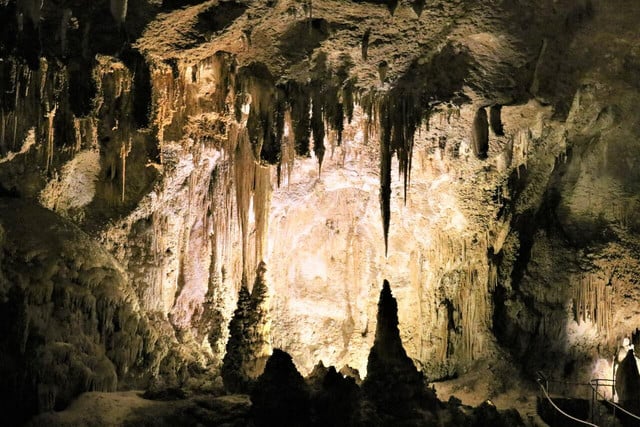 With over 119 caves making up its system, the Carlsbad Caverns in New Mexico are one of the largest cavern systems on this list. Found in the Chihuahuan Desert region of the state, the Carlsbad Cavern is one of the best caves in the US, and one of the best known. It's actually part of a much larger system taking up over 46 thousand acres of space. This cave's main attractions include its population of bats, hiking trails, and a 4000-foot-long limestone chamber called The Big Room.
6. Best Caves in the US: Mammoth Cave, Kentucky
A UNESCO World Heritage Site, the Mammoth Caves are not only the largest natural cave system in the US but the largest in the world! With over 400 miles of caves overall, the Mammoth Cave is open for both regular guided public tours and more adventurous crawling tours. Here, you can see the unique and spectacular features that have earned these caverns the title of one of the best caves in the US, including its wet cave known as Frozen Niagara.
7. Majestic Caverns, Alabama
Found in the foothills of the Appalachian Mountain range, the Majestic Caverns (also known as Alabama's Big Cave) is perhaps the best cave in the US for those looking for some colorful history. Now a publicly operated cave, Majestic Caverns was once a salt mining site during the Civil War, a dance hall, and a Prohibition-era speakeasy. Majestic Caverns offers regular guided tours that can be booked online here.
8. Luray Caverns, Virginia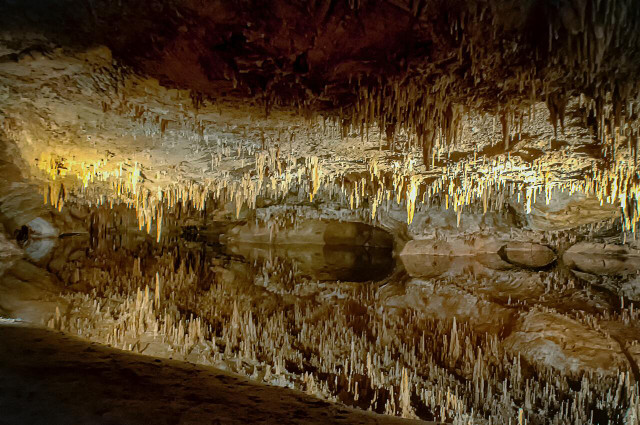 Located close to the Blue Ridge Mountains, the Luray Caverns are home to some of the most distinct and whimsical naturally occurring formations in the US. Discovered in 1878, these Shenandoah Valley caverns attract more than half a million visitors per year. Special features of Luray include a maze, a naturally occurring water spring called The Dream Lake, and the Great Stalacpipe Organ, an organ made from stalagmite formations that produces sounds similar to a xylophone.
One of the best caves in the US, Luray Caverns is open every day for self-guided tours.
9. Best Caves in the US: Jewel Cavern, South Dakota
One of the longest-spanning cave systems in the world, Jewel Cavern is a hidden gem in the Black Hills of South Dakota. Over 192 miles long altogether, Jewel Cavern is part of the Jewel Cave National Monument area. If you decide to visit Jewel Cavern, you have the option of taking a guided tour through the cave's more unexplored areas. Alternatively, you can also take a guided candlelight tour detailing the cave's long history.
10. Makauwahi Cave Reserve, Hawaii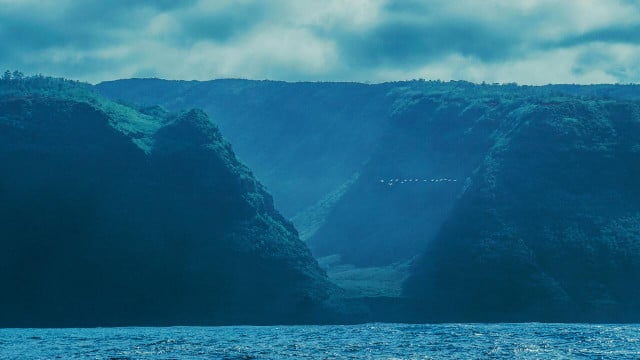 Hawaii's largest limestone cave, Makauwahi Reserve, or the 'Smoke Eye' is a cavern system with a long history. First used as an ancient ceremonial site, Makauwahi is home to a historical sinkhole with fossils dating back over 10 thousand years. This cavern on the southern coast of Kauai also offers free guided tours for visitors but asks for donations in order to maintain the Cave Reserve.
11. Moaning Caverns, California
The home of the largest single cave system in California, Moaning Caverns is a truly unique way to experience what the natural world has to offer. Located in the heart of California's Gold Country, this marble cave is known for the distinct moaning sound that can be heard from the cave's mouth as a result of its structure. Special features of this best cave in the US include a 100-foot-high vertical staircase, areas for spelunking, and an open chamber large enough to hold the Statue of Liberty!
Like Makauwahi, Moaning Caverns has a long historical connection with humanity. Important historical remains such as the Arlington Springs Man dating back over 12 thousand years have also been discovered right here in the caverns.
The Moaning Caverns offers regular guided tours, plus more advanced spelunking and crawling tours.
Read more:
** Links to retailers marked with ** or
underlined orange
are partially partner links: If you buy here, you actively support Utopia.org, because we will receive a small part of the sales proceeds.
More info
.
Do you like this post?
Thank you very much for voting!