Green buildings created with sustainability and energy efficiency in mind are necessary for long-term solutions to climate change. Check out some examples of green architecture in the US.
Green architecture is becoming more commonplace across the globe. In the US alone, there's been an exponential influx of green buildings in the last decade. Corporations, non-profits, governments, landlords, and architects alike are hopping on the green building trend. Their motivations range from climate change concerns to tax incentives, long-term savings, and marketing strategies. 
Green development focuses on energy efficiency and environmental impact from architectural design through construction and maintenance, keeping environmental responsibility at the center every step of the way. There are many ways in which buildings can be made green. Some use solar energy or incorporate extensive rooftop gardens. Others cut water usage by collecting rainwater and recycling gray water. Building materials can also be sourced from recycled and upcycled materials, or from local manufacturers. 
In order to measure the effectiveness of green architecture, we can refer to the U.S. Green Building Council, which uses strict criteria in order to rate how environmentally responsible the construction of a building is. The council gives LEED certification, an acronym for Leadership in Energy and Environmental Design. Buildings with LEED certification are rated based on energy and water efficiency, carbon emissions, waste production, transportation, materials, health, and environmental quality. The rating options include basic certification as well as silver, gold, and platinum levels. Check out some of these LEED-certified green buildings in the US.
1. Seattle Union Station, Washington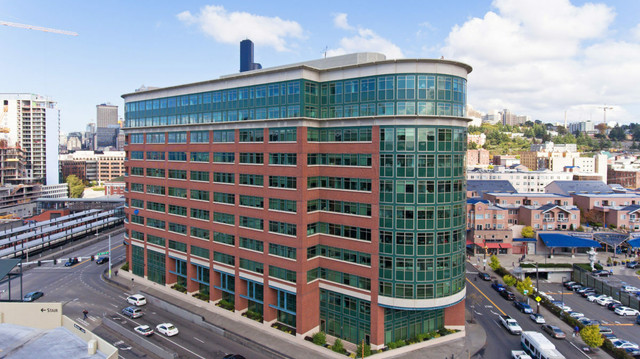 The Seattle Union Station has LEED Platinum certification due to its efforts toward energy conservation. The station uses non-VOC (volatile organic compounds) for cleaning and disinfection, there are electric vehicle charging stations and bike racks, a centralized airflow system, and a technology recycling program.
2. Green Buildings: Banner Bank Building in Boise, Idaho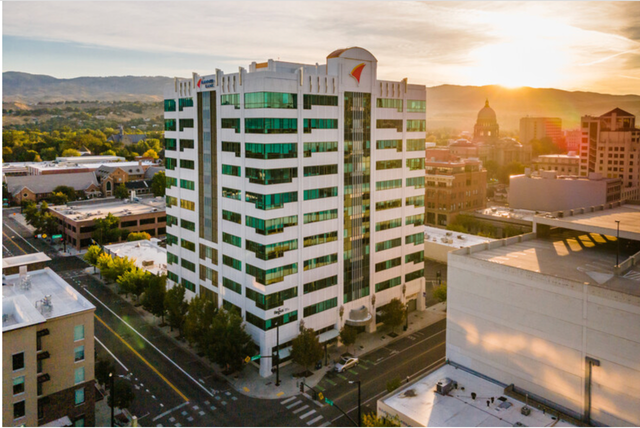 The Banner Bank Building in Boise, Idaho has Platinum LEED certification. The company was motivated by cost-saving green initiatives to employ innovative water-saving technology, lighting control systems, geothermal heating systems, water reclamation systems, biodiesel energy sources, and underfloor air vents. The Banner Bank is located close to public transportation and Boise's bustling downtown area, a decision made in the design process in order to encourage employees to take public transport, walk or bike to work. There are also secure bike racks in the parking area. 
3. One Bryant Park, NYC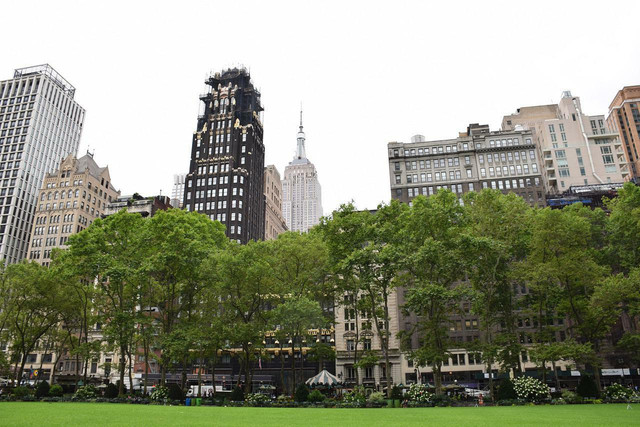 Bryant Park was the first high-rise building to become LEED Platinum-certified. The building uses rainwater and recycled grey water, and even has its own cogeneration plant, an engineering marvel which generates electricity and heat in combination in order to be more energy efficient. It also has a state-of-the-art air conditioning system.
4. Green Architecture: Salt Lake City Library, Utah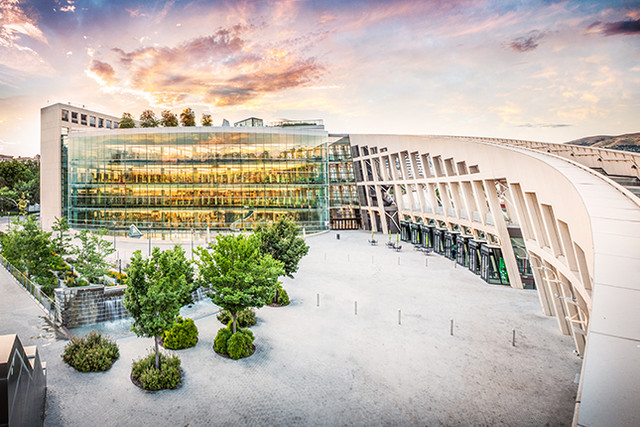 The Salt Lake City Library was granted LEED silver certification in 2018. The building has double-glazed walls, which help to conserve heat in the winter and keep the building cool and ventilated in the summer. The library has worked hard to conserve energy and maintain high indoor environmental quality.
5. Denver Water Operations Complex, Colorado

The Denver Water campus includes eight buildings, all of which are LEED certified at various levels. The administration building is LEED Platinum, while the Fleet Services Building, Meter Shop, Trade Shops, Warehouse, and Wellness buildings are all LEED Gold-certified. The Remodeled Three Stone Buildings and Water Distribution Buildings are LEED Silver. The Denver Water OCR is committed to adapting and innovating in order to do their part to mitigate climate change. Their current projects are focused on using net zero energy through solar power and continuing to conserve water.
6. Bullitt Center in Seattle, Washington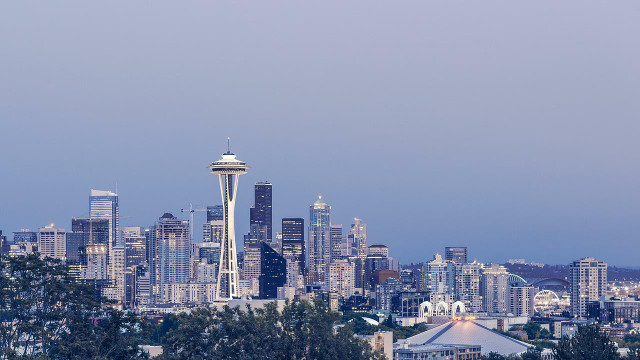 The Bullitt Center, a commercial office building in Seattle, is an excellent example of a green building project which has gone above and beyond. The Bullitt Center uses 100% renewable solar energy, innovative heating systems, gray water recycling, and even a toilet composting system. The Bullitt Center was made to last, using high-quality materials, with sustainability at the forefront of the design focus.
7. Harvard Science and Engineering Complex in Allston, Massachusetts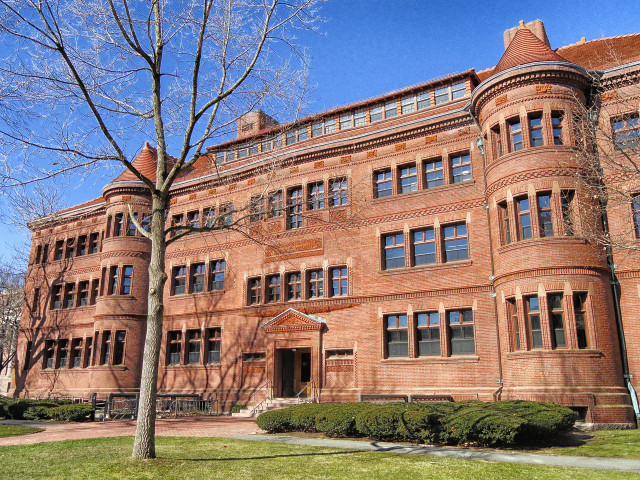 The Harvard University Science and Engineering Complex has LEED Platinum certification due to its sustainable, energy-efficient efforts and high level of health and safety. The building materials are chemical-free, and the building utilizes innovative technology to cut energy waste.
8. Government Services Administration Facility in Winchester, Virginia
The Winchester, Virginia government has made a concerted effort to focus on sustainability and green architecture. Their administration building is LEED Gold-certified due largely to its energy efficiency, indoor environmental quality, and innovative technologies. 
9. Green Buildings: 1500 Mission Residential in San Francisco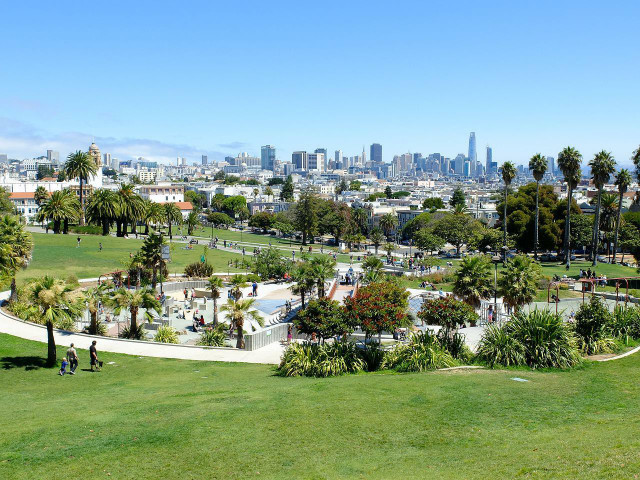 1500 Mission Residential is a non-profit, community-based organization providing affordable housing to low-income folks. This green building has LEED Gold certification for its rooftop park, wellness features, water efficiency, transportation access, innovative designs, and indoor environmental air quality. 
10. Glenstone II Art Museum in Potomac, Maryland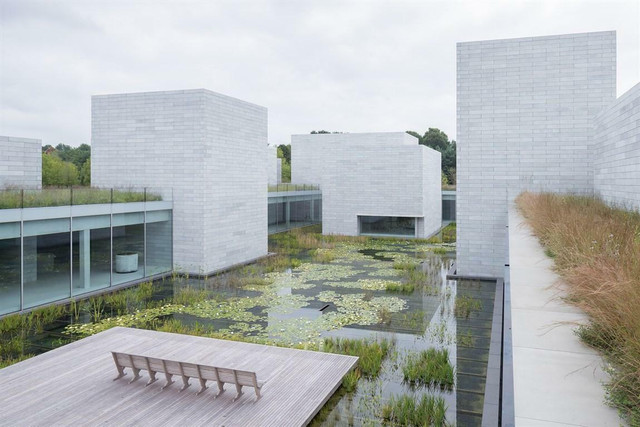 The Glenstone II Museum in Potomac, Maryland, showcases art, architecture, and nature. It has various LEED certifications, including Gold for the café, Platinum for the arrival hall, and Gold for the museum itself. 
11. The Porter Portland Hotel in Portland, Oregon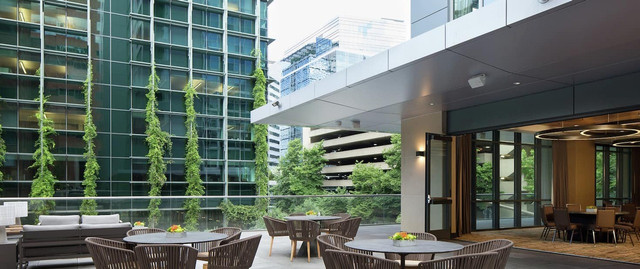 The Porter Portland Hotel is a stylish downtown boutique hotel. They host guests in luxury and modern rooms and suites, as well as for indoor and outdoor events. The hotel has lots of green space, despite being in the heart of Portland. The hotel has LEED Silver certification, the first hotel in the US to reach this level.
12. City of Las Vegas Municipal Courthouse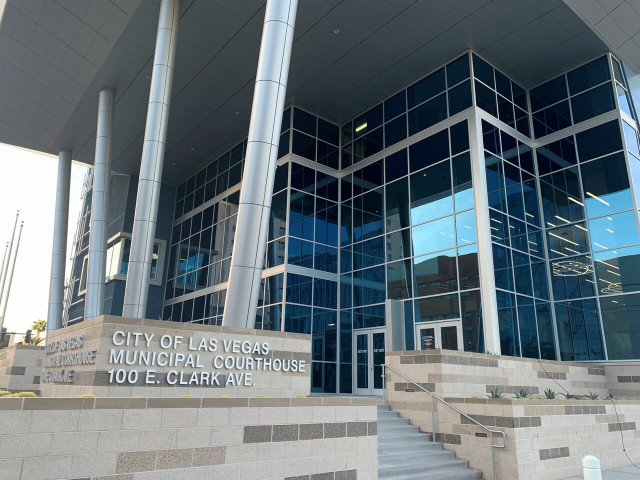 Located in the dense city center of Las Vegas, the Municipal Courthouse has LEED Silver certification for its proximity to public transportation, water efficiency, indoor environmental quality, water waste reduction, and innovative strategies.
Read more:
** Links to retailers marked with ** or
underlined orange
are partially partner links: If you buy here, you actively support Utopia.org, because we will receive a small part of the sales proceeds.
More info
.
Do you like this post?
Thank you very much for voting!