Fruit soups are a sweet and refreshing dessert, great for cooling down in the summer. Check out these tasty ideas to satisfy your appetite and excite your tastebuds.
Fruit soups are super easy to make, they only contain a few ingredients and can be made vegan by using dairy-free ingredients. If you make these recipes during the summer, you can use seasonal fruit. That's a lot better for the environment than using fruit when out of season, which needs a lot of energy to grow using artificial lighting, or it may be imported, giving it a huge carbon footprint. So seasonal fruit soups in the summer are a great way to reduce your carbon footprint.
Most of these recipes are made using a blender to make them smooth. The final recipe, Indonesian 'es buah', or 'ice fruit', uses sliced fruit pieces, ice, and sweetened condensed milk, giving it a chunkier consistency than the other soups.
Go ahead and give these sweet soup recipes a try.
1. Citrus Blueberry Soup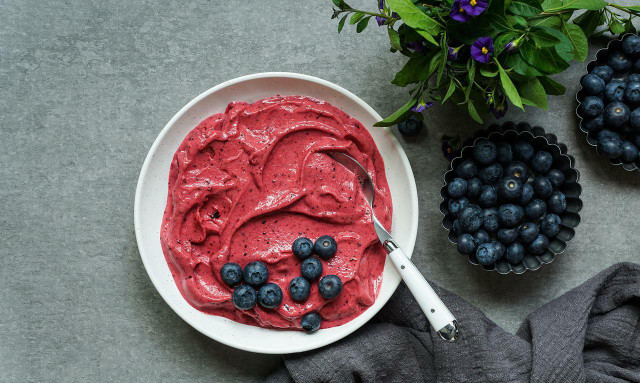 Yield: 4 servings
Ingredients:
3 cups blueberries
1 cup orange juice
1 tsp. ground cinnamon
2 tbsp. grated lemon zest from 4 lemons
4 tbsp. vegan crème Fraiche
1 3/4 cups vegan yogurt
4 tsp. maple syrup
1 tbsp. powdered sugar or powdered sugar substitute
Instructions:
Wash the blueberries and blend 2 3/4 cups of them with the orange juice, ground cinnamon, lemon zest, vegan crème fraiche, and vegan yogurt. Find out how to store the blueberries to keep them fresh if you buy them a few days in advance.
Sieve to remove any seeds.
Chill.
Serve in four bowls.
Garnish with a swirl of maple syrup, the remaining blueberries, and a sprinkling of powdered sugar or a suitable powdered sugar substitute.
Serve immediately.
2. Cranberry and Raspberry Soup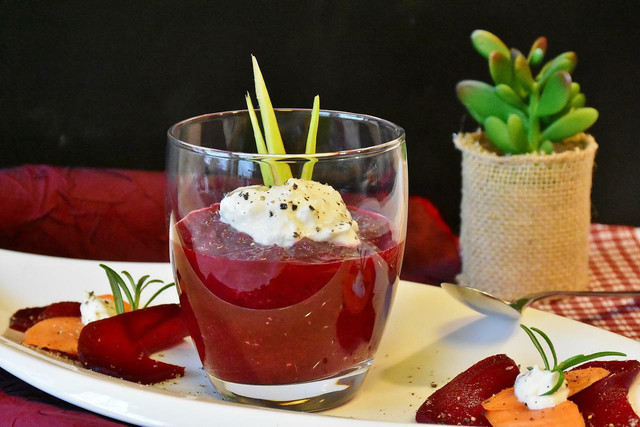 Yield: 6 servings
Ingredients:
3 1/2 cups fresh or frozen raspberries
3 cups cranberry juice
3 tsp. arrowroot
1 tsp. lemon juice
1 tbsp. powdered sugar
Instructions:
Wash the raspberries and blend three cups with the cranberry juice (save one tablespoon for later). Learn more about how to store raspberries.
Pour through a sieve to remove the seeds, into a saucepan. Heat slowly and bring to a boil.
In a large bowl, mix the tablespoon of cranberry juice with the arrowroot. Whip in the boiled raspberry and cranberry mixture.
Put the mixture back in the saucepan and warm slowly until it thickens.
Remove from the heat and serve in six bowls. Sprinkle the remaining raspberries into each bowl, add a drop of lemon juice and sprinkle with powdered sugar.
Chill and serve the fruit soup when cooled.
3. Ginger, Orange and Mango Soup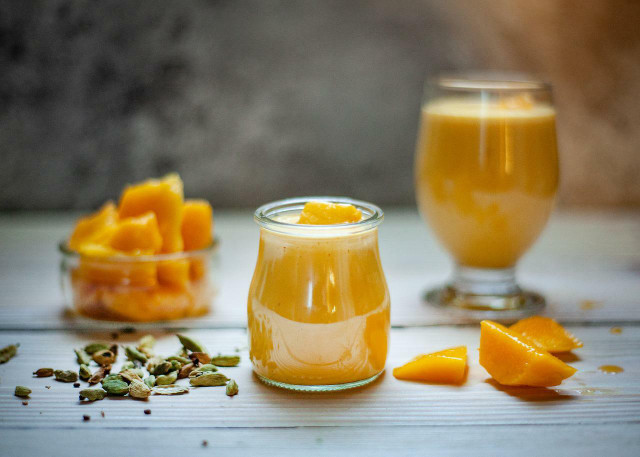 Yield: 4 servings
Ingredients:
3 large ripe mangoes
1 tsp. fresh root ginger
Juice of 1 orange and zest of half an orange
2 1/4 cups oat milk
1 cup + 4 tbsp. vegan yogurt
2 tbsp. chopped fresh coriander
Instructions:
Peel and chop the mangoes and grate the fresh ginger.
Blend the orange zest and juice, ginger, and mangoes until smooth.
Sieve into a bowl to remove any pulp and stir in oat milk and vegan yogurt.
Chill.
Serve in four bowls and garnish with a tablespoon of vegan yogurt and a sprinkling of chopped coriander.
Serve immediately.
4. Melon Surprise Soup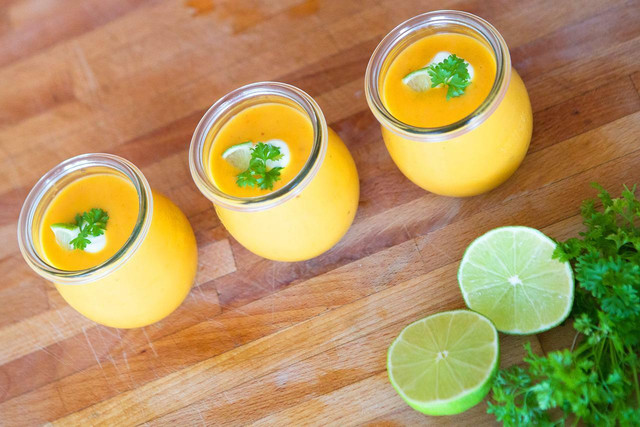 Yield: 8 servings
Ingredients:
3 cantaloupe (charentais) melons
2 Galia melons
Juice from 2 lemons
1 1/4 cups white grape juice
Crushed ice
3 sprigs of shredded fresh mint leaves
Instructions:
Halve the melons and remove the seeds. Scoop out 48 balls from the melons using a melon baller. Set aside.
Use a knife to remove the rest of the melon flesh and put it in a blender with the lemon and grape juice. You may need to do this a few times depending on the amount of melon. Chill.
Serve the soup into eight bowls and place 6 melon balls in each bowl, top with crushed ice and shredded mint leaves. Serve immediately.
5. Indonesian Es Buah (ice fruit)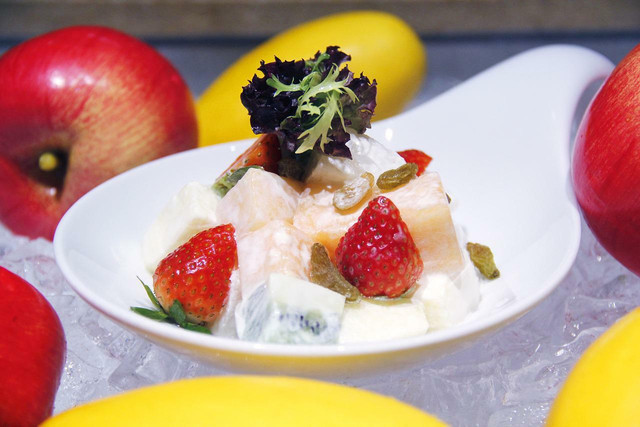 Yield: 6 servings
Ingredients:
1 cup sliced strawberries
1/2 cup sliced apple
2/3 cup grapes
2/3 cup watermelon
2/3 cup cantaloupe melon
4 cups of water
1/2 cup sweetened condensed oat milk (available on Amazon**) or another vegan substitute for evaporated milk
3 1/4 cups shaved ice
Instructions:
Peel and dice the apple and strawberries. Wash and halve the grapes, and remove any seeds. Remove the rind from the melons and dice.
Mix the water and vegan sweetened condensed milk in a large bowl.
Share the diced fruit between four bowls and top with the shaved ice.
Pour the water and vegan sweetened condensed milk mixture over the fruit.
Serve immediately.
Read more:
** Links to retailers marked with ** or
underlined orange
are partially partner links: If you buy here, you actively support Utopia.org, because we will receive a small part of the sales proceeds.
More info
.
Do you like this post?
Thank you very much for voting!