California is one of the most geographically diverse states. This also means there are plenty of beautiful California native plants. Let's take a closer look.

Native gardening is becoming much trendier as it is seen as an eco-friendly option to conventional gardens. Having a garden filled with native plants requires less work and is also much more beneficial to local ecosystems. Whether you're looking to add a bright pop of color to your yard, wish to plant flowers for bees, or are in it for the gorgeous aromatics, we've compiled a list to help you choose your next California native plant. 
Most Colorful California Native Plants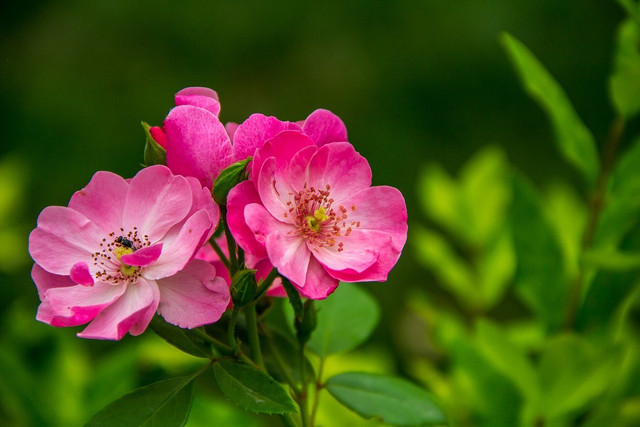 If you want to add a pop of color to your native garden or add a scavenger-like quality to your next hike, look for these California native plants known for showing off bright and beautiful colors. 
Woolly Blue Curls (Trichostema lanatum): This plant features delicate blue flowers, which make a stunning addition to any garden. They require no irrigation or pruning, are very aromatic, and are great for bees. 
California Brittlebush (Encelia californica): Also known as the California coast sunflower and California bush sunflower, this plant has sunny yellow flowers and belongs to the daisy family. They are rich in nectar and attract plenty of pollinators like birds and insects. 
Shrubby Monkeyflower (Diplacus aurantiacus): Shrubby monkeyflowers range in color from white to red, though most common is light orange. Their bright color will help bring pollinators to your yard. 
Wild Rose (Rosa californica): The fragrant Californian wild rose makes its home from the coast all the way into the foothills. Its flowers all have pinkish hues, from nearly white to deep magenta. 
Blue-Eyed Grass (Sisyrinchium bellum): Despite its name, the blue-eyed grass actually features small violet flowers with a yellow center. It grows best in moist meadow areas, and you'll need to plant several so they can cross-pollinate. 
Best Bee-Friendly Options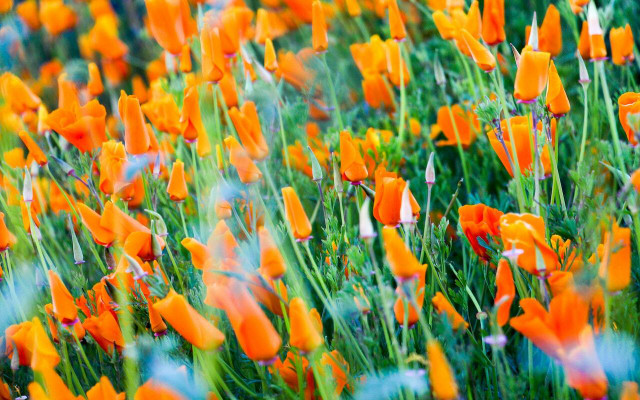 For those looking to help the bees, planting California-native plants in your Californian garden is a worthwhile effort. Bees need all the help they can get – if bees go extinct, life as we know it would cease to exist. To ensure they have access to proper food sources, consider adding the following plants to your garden: 
Western Redbud (Cercis occidentalis): This beautiful plant is native to the American southwest and blooms from March to May. The flowers are not the part of the plant that is most valuable to bees – Leafcutter bees use the leaves for nest-building material. 
California Poppy (Eschscholzia californica): Unlike other flowers which attract bees with their nectar, honeybees head to the California poppy for the pollen. These wispy yellow and orange flowers can be found all over the state and make an attractive addition to any garden.  
Blanket Flower (Gaillardia spp.): Although this California native plant doesn't have any scent, it's great for attracting pollinators. The green metallic sweat bees love this plant in particular. Their multi-toned flowers bloom from spring through fall. 
California Buckwheat (Eriogonum giganteum): This California native plant is a very hardy bush featuring clumps of white flowers. It blooms from May to August, and honeybees collect its nectar for making honey. 
Pacific Aster (Symphyotrichum chilense): Due to the fact that these beautiful light purple flowers bloom in the late summer and fall, they are a critical source of pollen for bees later in the year. 
Most Fragrant California Native Plants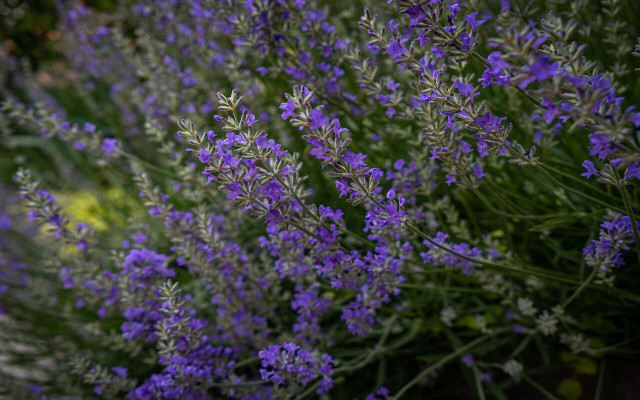 Certain plants are best known for their aromas, so it's no surprise that the most fragrant California native plants belong to the herb family. 
California Sagebrush (Artemisia californica): Though not the most attractive addition to your garden, this California native plant will make up for it in herby aromatics. Often referred to as Cowboy Cologne, it's extremely drought-tolerant, so won't require much effort once it has been established. 
Cleaveland Sage (Salvia clevelandii): Hummingbirds are attracted to the delicate lavender to deep purple flowers featured on this California native herb plant. It smells just like regular garden sage, so if that's a scent you enjoy, you'll love having this plant in your garden. 
Coyote Mint (Monardella villosa): The clue is in the name when it comes to the fragrance of this plant. The evergreen foliage gives off a strong scent of mint and features pink/purple ball-shaped flowers in the summer. Pollinators of all kinds love this plant. 
Desert Lavender (Condea emoryi): Offering a rich scent of lavender, this California native plant can be planted in any space you need to fill in your garden. It's highly adapted to desert climates and has the added bonus of attracting pollinators. 
California Bay Laurel (Umbellularia californica): The California bay laurel is a broad-leaved evergreen tree that was given the nickname "pepperwood" by early settlers to the West. This is because the leaves give off a peppery scent, and they can be used as seasonings in cooking. 
Read more: 
** Links to retailers marked with ** or
underlined orange
are partially partner links: If you buy here, you actively support Utopia.org, because we will receive a small part of the sales proceeds.
More info
.
Do you like this post?
Thank you very much for voting!