You don't need to travel far to experience something new. Here are the best state parks in California so you can enjoy sustainable travel in your own backyard.
National parks seem to get all the hype, but state parks are just as good as, if not better than, their national counterparts. While California does happen to have more national parks than any other state, it also has 280 state parks to enjoy. 
Visiting a state park is a less expensive way to get away – whether that's for a day or a weekend. If you know you're going to be exploring California this year, it might be worth investing in the California Explorer Parks Pass, which grants you access to most parks across the state. By planning a trip to a regional state park, you can also help alleviate some of the strain that tourism has on the local environment.  
State parks offer unique natural wonders and a chance to connect to your local surroundings – from plants and animals to the history of your area. They're often much less crowded, making them an ideal place to visit, especially for families. If you plan your trip ahead of time, you can even take advantage of free educational activities put on by park rangers or volunteers in the area. 
Tip: Learn about the stunning California native plants you'll likely encounter on your visit.
How to Be a Responsible Visitor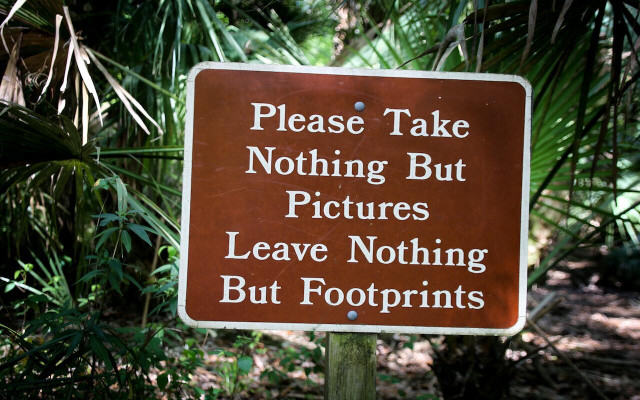 It doesn't matter whether you're visiting a state park, national park, or even a local one, respecting the environment and the other visitors is a crucial part of being a responsible visitor. In order to limit your impact, keep the following in mind: 
Know Before You Go: check weather forecasts, fire restrictions, and ensure the park is open to the public when you wish to visit. Doing this initial research can save a lot of hassle later one. 
Plan and Prepare: make a detailed list of what you think you might need, and pack extra gear just in case. Come up with a backup plan for if things don't go the way you expect.
Leave No Trace: this is a huge concept when spending time in nature. It has to do with respecting the water, wildlife, land, and local communities when visiting. 
Make it Better: it's everyone's responsibility to keep these special places clean and tidy. If you notice trash on the trail, pick it up and take it with you.  
Respect Others: the outdoors is a place for everyone, regardless of ability or experience. Keep parks and trails an inclusive space. 
Best State Parks in Northern California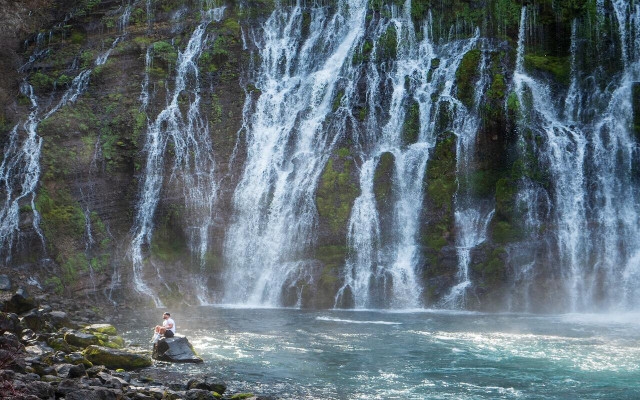 1. McArthur-Burney Falls Memorial State Park
This beautiful state park is actually a stop on the Pacific Crest Trail, so be prepared to meet plenty of other hikers on the 5 miles of trails that this park offers. It's located right on Lake Britton in the Cascade Mountains of Northern California, which is quite a trek from any of the big cities, but it'll be worth your while.
The centerpiece of the park is the spring-fed, 129-foot Burney Falls, which has 100 million gallons of water flowing through it every day. No matter which season you choose to visit in, the views are spectacular 
2. Emerald Bay State Park 
What helps make Emerald Bay State Park one of the best state parks in California, is that it's one of the first parks in the state whose underwater shipwrecks are also protected. The Maritime Heritage Trail is a very special part of this state park. You can explore an underwater trail showcasing Lake Tahoe's historic watercraft that rest below the surface.
If you don't want to get under the water, there's plenty of other ways to enjoy yourself. It's great for water sports — take out a kayak, SUP, or another boat to get 360-degree views of the gorgeous landscapes. There are plenty of trails that will give you the chance to watch stunning sunrises and sunsets.
Another popular reason to visit is to see Vikingsholm Castle. You can reach this state park easily from Tahoe City, as it's only 22 miles away. 
3. Big Basin Redwoods State Park
You don't need to stray far from the city to enjoy California's oldest state park – it's just 30 miles from San Jose, or 60 miles from San Francisco. It offers more than 80 miles of trails that wind through redwood groves, making it an ideal getaway from the stress of Silicon Valley. There are plenty of campsites, and designated trails for horseback riding, mountain biking, or hiking — including the 10.5 miles Skyline to Sea Trail. 
4. Salt Point State Park
Located less than 100 miles from San Francisco, this Sonoma County state park covers 6,000 acres of coastline. It offers 20 miles of hiking trails, and is great for picnics, horseback riding, fishing, scuba diving, and camping – there are three campgrounds within the park limits.
It's named after Salt Point, which protrudes into the Pacific Ocean. Keep in mind that dogs aren't allowed on the trails or along the coastal bluff. Consider taking a trip this spring when the wildflowers are in full bloom. 
Best State Parks in California Near L.A.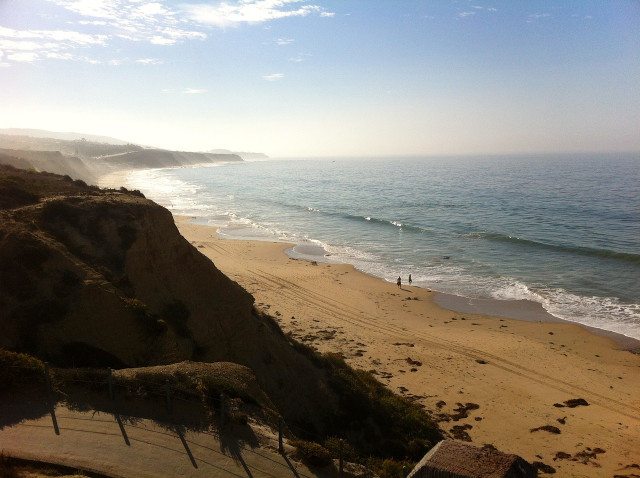 5. Crystal Cove State Park
Located off the Pacific Coast Highway between Corona del Mark and Laguna Beach, this state park is only about 45 minutes away from LA. An added bonus is that it's reachable by public transit. This gorgeous park features 3.2 miles of beach and 2400 acres of backcountry wilderness, including 15 miles of trails.
What makes it one of the best state parks in California is that staff and volunteers conduct guided hikes, tide pool walks, and geology talks year-round. If you plan on bringing your dog with you, just know that they're only allowed on the 2.5 mile paved coastal trail that runs along the bluffs. 
6. Malibu Creek State Park 
Malibu Creek State Park is located just 35 miles from downtown L.A. and is one of the best state parks in California for movie lovers. Part of it used to be owned by Century Fox Studios up until 1976 when the State of California bought it back and turned it into a state park.
It's located in the Santa Monica Mountains and is made up of over 8,000 acres of tallgrass plains, oak savannahs, and mountain peaks. The mountain biking is particularly good here as there is plenty of steep terrain, and there are hiking trails ranging in difficulty from novice to challenging.
You can also enjoy kayaking, rock climbing, horseback riding, camping, and even birdwatching — depending on the season of your visit, you can see up to 45 species of birds. 
Best State Parks in California Near San Diego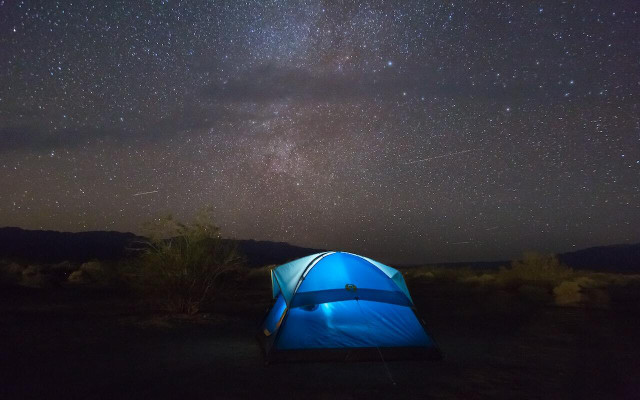 7. Anza-Borrego Desert State Park
Not only is Anza-Borrego Desert State Park one of the best state parks in California, but it's also the largest! Located approximately 1½ hours outside of San Diego, this incredible park has more than 110km of hiking trails and 12 designated wildlife areas.
It's a geological wonderland — more than 500 fossils have been found here, the oldest dating back nearly 6 million years. If you plan on staying overnight, you'll get to enjoy unspoiled stargazing opportunities. 
8. Mount San Jacinto State Park
Mount San Jacinto State Park overlooks the Coachella Valley, and it takes approximately 2 hours to reach from both LA and San Diego. Most people choose to visit its famous nearby neighbor, Joshua Tree National Park, but this smaller state park shouldn't be missed. You'll need to take the Palm Springs Aerial Tramway to reach it.
If you choose the right time to visit, you'll be treated to views of granite peaks, mountain meadows, subalpine forests, and plenty of snow. It's an outdoor enthusiast's dream with plenty of hiking, snowshoeing, and cross-country ski trails available. 
Sustainable In-State Travel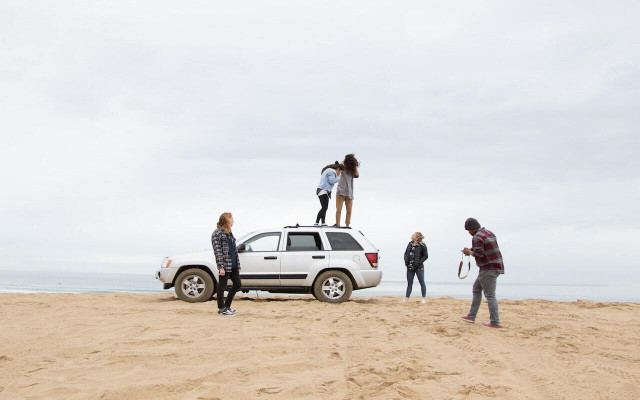 By choosing to travel in-state, you're already making a more sustainable choice than hopping on an airplane and going somewhere else. Driving will always beat flying when it comes to reducing your carbon footprint, and carpooling lessens your impact even further. Here are some other ways you can make your travels more sustainable: 
Bring your own travel mug, flask, or bottle. 
Take one longer trip, instead of several short ones. 
Opt to camp instead of stay in a hotel.
Try visiting state parks during low season to avoid putting unnecessary strain on the local environment. 
Support the local economy by eating and shopping at local shops and restaurants, travel using public transit, stay in locally run hotels or B&Bs.
Read on: 
** Links to retailers marked with ** or
underlined orange
are partially partner links: If you buy here, you actively support Utopia.org, because we will receive a small part of the sales proceeds.
More info
.
Do you like this post?
Thank you very much for voting!