Geodesic dome houses are not an entirely new concept, but have yet to become a construction norm despite their many benefits. Keep reading to learn more.
Geodesic domes were designed and developed by Richard Buckminster, an American engineer, in the late 1940s. These buildings are designed to maximize space and minimize material use. Geodesic domes have the potential to be climate-conscious architecture: read on to discover their history, architecture, benefits, and where you can buy a kit yourself. 
Geodesic Dome Houses: History and Architecture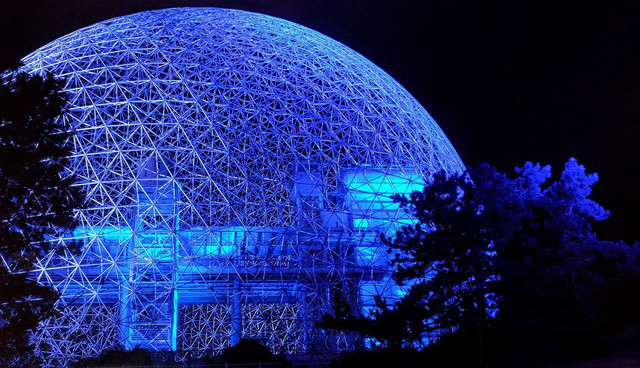 History
Geodesic dome houses were produced by Buckminster Fuller after WWII. The goal of Fuller was to create housing that could use materials to quickly and efficiently create affordable housing. The first commercial dome he designed was in 1953 for the Ford Motor Company at their headquarters. He went on to supply the U.S. military with the domes.
More than 300,00 geodesic domes are said to exist and range from homes to radars to shelters. Fuller designed the domes to be affordable and efficient in their architecture. 
Architecture
The etymology of geodesic contains "earth" and the "to divide." Geodesic domes are spherical structures that are composed of many networks of triangles. These triangles create a sturdy framework, reducing the need for inner columns and thus creating more space inside and using less materials than a more common building.
Their architecture makes them easy to assemble and are lightweight. These domes can be built in a wide range of sizes and have been used for homes and even sports stadiums. Some examples of geodesic domes found in the US include:
Epcot Center's Spaceship Earth in Orlando, Florida
The aviary at Queens Zoo in New York 
The desert dome in Omaha, Nevada
The dome at the Queen Mary in Long Beach, California
Geodesic domes are not just public displays of architecture. You can live in a geodesic dome house, and it has environmental benefits to doing so. 
Geodesic Dome Homes and the Environment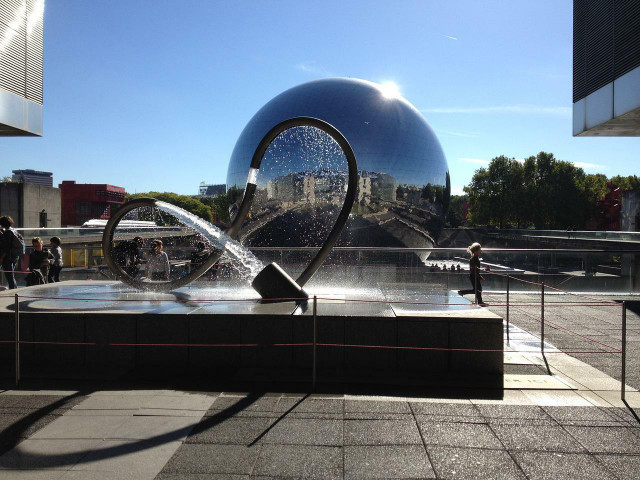 The first aspect of a geodesic dome house in relation to the environment is the resistance to weather. The triangular formations that make up the house allow the structure to maintain its shape when hit with hard forces from things like wind or snow.
Not only is a geodesic dome home safe and spacious, it is environmentally friendly. The products used to make geodesic domes are mostly recycled and the structure does not take up a lot of materials to begin with. Living in a geodesic dome house uses far less resources than building wooden houses.
According to chapter 9 of the United Nations IPCC report, buildings accounted for 32% of total global energy use in 2010 and that wealthy modernizing lifestyles will contribute to significant increases in building energy use. This means that building homes like geodesic domes, which use very little recycled materials and are self mitigating, could help decrease the energy emissions of buildings. 
A geodesic dome house is possible but requires commitment and an understanding of the law and the building process. 
Buying and Building Your Geodesic Home Dome

Legality
It is currently legal in the US to build and live in a geodesic home. However, there are permits and rules to follow. According to award-winning geodome company Pacific Domes, if you're building the house in an urban area, it will be taxed and require a permit if it is 200 square feet or more – any smaller does not require a permit.
Call your local zoning department to double-check if you would need a permit to be safe. A benefit of building a geodesic dome is that you can legally be your own contractor, which saves money. Some potential problems of building your dome include: easements, setbacks, and conditions, covenants and restrictions (CCRs). Planning out your dome on paper and then contacting your local zoning department will get the ball rolling. 
Where to Buy
Before building your dome, you should know places to buy DIY geodesic dome homes. The company AI Dome was awarded with "Most Energy Efficient Residences" and have sold DIY building kits for more than 40 years.
In their 'construction overview', you can read answers to questions regarding the process of building your dome and how to do it. They also provide a 10 step list of how to build your new geodesic dome home, from planning to buying to construction. Other great places to order a geodesic dome include:
Pacific Domes
Natural Spaces Domes
Easy Domes
Building
The process of building your geodesic dome may rely on where you buy your dome and the specific design, but here is a simple glance at the general process of your DIY home. 
Sets of plotted out plans will be sent to you.
If not provided, you must find someone to build the foundation plan given to you so that assembly can begin.
Multiple rows of panels will be marked with numbers and letters to match the blueprint
The entryway panels are also identified with numbers and letters and are installed in the row of panels shown on the blueprints.
The triangle panels will be reinforced last.
Geodesic dome houses are a long living advancement in sustainable construction, and possible for you with the right financial and legal commitment. Perhaps a community home or a personal one, geodesic dome homes could be the homes of our future. 
Read more:
** Links to retailers marked with ** or
underlined orange
are partially partner links: If you buy here, you actively support Utopia.org, because we will receive a small part of the sales proceeds.
More info
.
Do you like this post?
Thank you very much for voting!