Composting offers a way to dispose of organic matter and create healthy soil that you can use as a fertilizer. Exactly how does composting work? Find out here.
Learning about the composting process is a great place to start if you're looking for ways to become more eco-conscious in your daily life. Before getting started with this method of waste disposal, it might be useful to look at how composting works. Understanding the basics of how composting works will help you do it more efficiently.
Composting is a system of disposing of organic waste, typically food scraps, and treating it in a way that encourages the material to break down. This decomposition takes place through organic mechanisms—via microorganisms like bacteria, worms and fungi—and allows the resulting material to be used safely. Lots of people use compost as a natural fertilizer for gardening and farming.
This guide explains how composting works, how the cycle of waste can turn into something beneficial, and what you can use compost for. We'll also give you some practical tips for starting your own compost.
For specific information about what you can compost, check out more of Utopia's guides:
How Does Composting Work?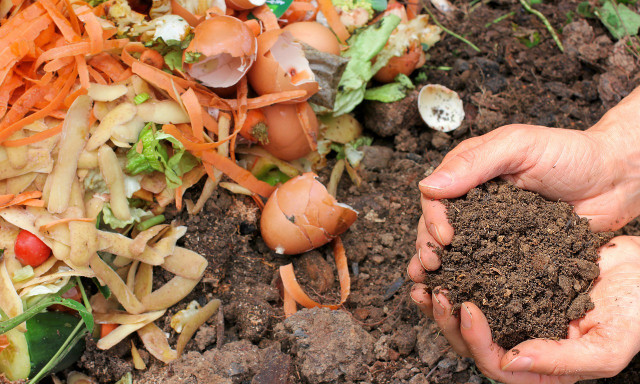 The purpose of composting is to create the best conditions for the natural decaying process. The materials below can either be composted or are required to encourage the decay of organic matter:
Organic waste in the form of newspaper, leaves and grass, food scraps (fruits, vegetables), wood materials
Soil, for the microorganisms
A small amount of water
Air, as a source of oxygen
Heat, which produces carbon dioxide
So—how does composting work? The basic concept is that microorganisms from the soil eat and break down organic waste, which contains carbon. This results in a fiber-rich, carbon-filled substance called humus. At this point, the substance will contain inorganic nutrients like nitrogen, phosphorous, and potassium.
Microorganisms require oxygen to break down waste through aerobic respiration—a process in which oxygen makes energy from carbohydrates. Most compost bins need you to turn the material occasionally to expose the waste to adequate airflow and ensure everything breaks down efficiently. The microorganisms also need water to live and multiply. During aerobic respiration, the microorganisms emit carbon dioxide and heat, which can keep compost piles warm at temperatures between 100 and 150 degrees.
When you properly care for your compost, creating the ideal environment for microorganisms to eat and break down organic waste, most organic material will break down in just a few weeks. However, the composting process can also take months or even several years if water levels, temperature and proportions of material in your compost aren't quite right.
Sometimes, you may run into issues like mold in your compost. Take a look at Why Your Compost Has Mold for some tips and tricks to beat this issue and use your compost anyway.
How Composting Works: Create the Best Conditions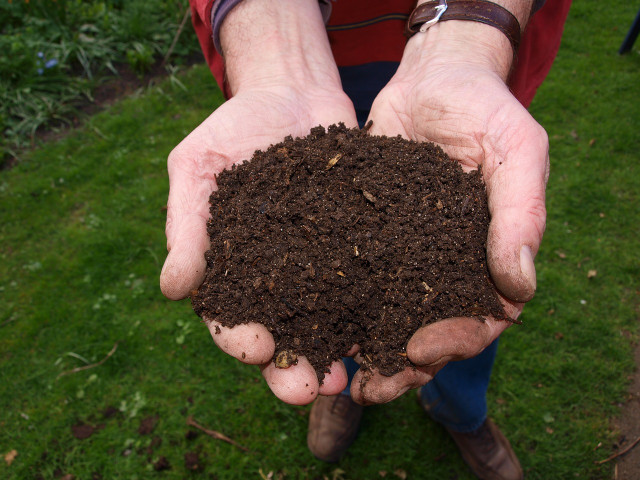 To ensure the efficient decomposition of food scraps and other organic material, you need to keep the conditions in your compost pile balanced. There should be:
Plenty of airflow: achieved by turning the compost daily or every other day.
Enough water: keep the compost mixture moist but not wet.
The correct ratio of carbon to nitrogen: this ratio is about 30:1.
Small pieces of waste: to ensure the rapid decomposition of material, waste should be in small enough pieces to break down quickly.
The right amount of soil: using enough soil ensures the presence of sufficient microorganisms to help your waste decompose.
How Does Composting Work? Mastering the Carbon-to-Nitrogen Ratio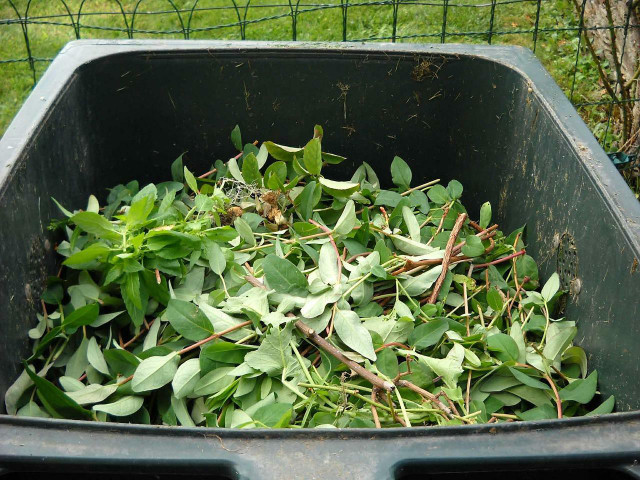 Two elements, carbon and nitrogen, are absolutely necessary to ensure that your compost is successful. The carbon-to-nitrogen ratio generally agreed upon for proper decomposition is 30:1 — or 30 parts carbon to each part nitrogen. If this ratio is off-balance and there is too much nitrogen, you may get some unwanted odors. Conversely, a higher proportion of carbon means there won't be enough nitrogen for the optimal growth of microorganisms in the soil, and the waste will degrade slowly.
How can you decipher between carbon and nitrogen material? In general, green and moist things are often higher in nitrogen, whereas brown and dry are higher in carbon.
Materials High in Nitrogen:
Vegetable scraps
Coffee grounds
Grass clippings
Manure
Materials High in Carbon:
Autumn leaves
Straw
Wood chips
Sawdust
Bark
Mixed Paper
Newspaper or cardboard
Why Compost?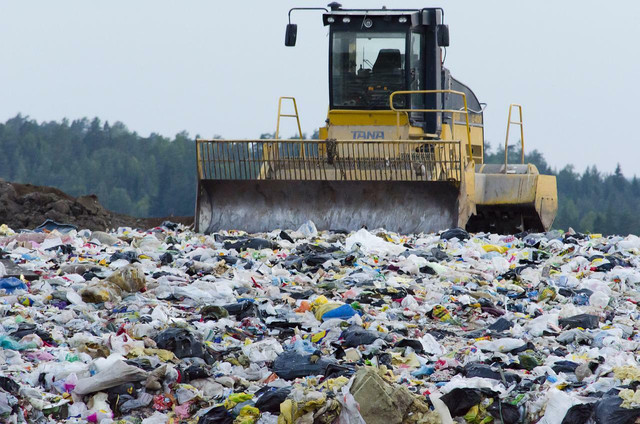 There are many valuable reasons to compost. The benefit that usually draws people in is that it's eco-friendly and reduces the amount of solid waste generated by households, farms, gardens, businesses and so on. It's good for the planet and decreases the volume of organic matter gumming up landfills.
Furthermore, the soil from compost is an excellent natural fertilizer for gardens, grasses and farming or growing your own food. Compost soil is more environmentally friendly and sustainable than synthetic fertilizers, which can pollute water and land.
How Does Composting Work? Getting Started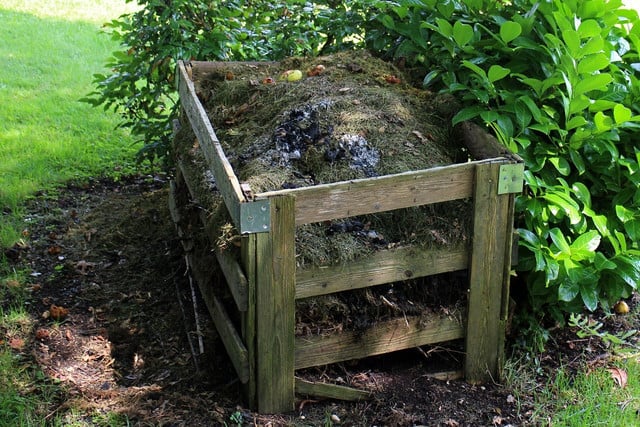 Now that you've learned how composting works, it's time to start. Here are some tips and tricks.
If you have access to outdoor space:
Choose a discrete area away from your house, so you don't smell the compost through open windows.
Place it somewhere that gets good sunlight to encourage a warm pile that degrades quickly—but not too sunny, as you don't want it to lack moisture and dry out.
Make sure to select a bin or box with adequate drainage.
You can buy a compost bin, or you can build your own. A large wooden box can be sufficient as long as it fits the materials for a healthy compost and lets you turn the pile easily.
Some people don't use any enclosed structure at all. Instead, they heap all materials into a pile and turn it periodically out in the open. However, we recommend a covered bin or box, as it makes the composting process and conditions easier to control.
You can also choose a high-tech compost bin—some are available with built-in turning mechanisms, making it easier to maintain airflow (such as the VIVOSUN Tumbling Composter available on Amazon**).
Take care of your compost pile by turning it frequently, keeping it moist, and ensuring the all-important 30:1 ratio of carbon to nitrogen.
Break down all materials into smaller pieces before adding them in.
Cover the top of the pile if you live in a rainy climate.
Add nitrogen fertilizer if your brown ratio is too high.
Add pulverized eggshells to increase the calcium in your finished compost.
Avoid keeping food waste at the top of the pile in case it attracts rodents.
Don't add plant roots, diseased plant tissue, or pesticide-infected plant matter.
If you live in an apartment or don't have a yard, you can use a compost bin (like the Bamboozle Compost Bin available on Amazon**) just for organic waste collection. You can also look into organizing your own compost pickup. In many cities and towns, community organizations will pick up organic waste to use it in their own composting process.
For more in-depth information about composting in small or rented spaces, check out Utopia's article on How to Compost in an Apartment.
What to Compost—And What Not to Compost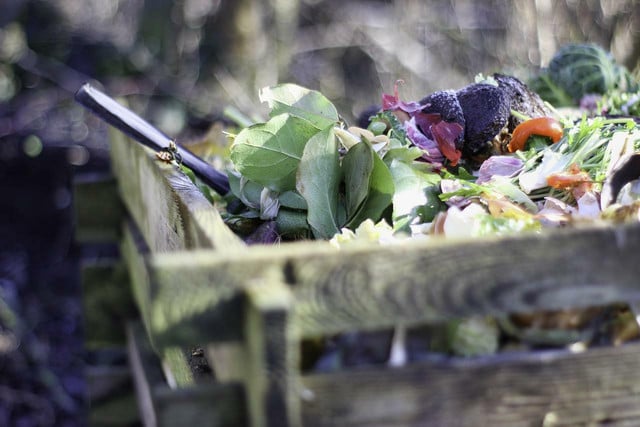 What can be composted?
Fruits and vegetables
Coffee grounds
Eggshells
Tea
Leaves
Wood
Shredded paper
Cardboard (make sure to break it into smaller pieces)
What can't be composted?
Animal products like dairy, bones and meat (read How to Dispose of Meat Scraps and Bones for info on composting meat)
Foods high in fat and oil
Garden waste treated with pesticides
Garden waste from sick plants (this can spread disease)
Weeds
Plastics
If you ever need to explain how composting works, now you can!
Read more: 
** Links to retailers marked with ** or
underlined orange
are partially partner links: If you buy here, you actively support Utopia.org, because we will receive a small part of the sales proceeds.
More info
.
Do you like this post?
Thank you very much for voting!