Learn how to clean lampshades of any kind properly — the eco-friendly way! This will help you preserve the beauty of these elegant and often delicate objects for many years.
Lampshades are among the household items that we often overlook when cleaning. Like any other furniture, they collect dust, grease, pet hair and other debris, which dulls their beauty over time. Learning how to clean a lampshade can require some preparation, depending on its material. Follow this simple guide to clean every lampshade in your home quickly and sustainably.
How to Clean Lampshades Safely
Lampshades are made from various materials, such as fabric, paper, plastic, wood, glass, metal or stone. While some can be easily cleaned using a homemade all-purpose cleaner, others can be just as quickly ruined by most cleaning products. Before you decide how to clean a lampshade, make sure you know what it's made of and whether it's hand-painted or has elements that require special treatment. It's always a good idea to check the manufacturer's instructions before proceeding.
It's important to remove dust and debris from lampshades regularly for clean home air. Dust your lamps and shades at least once every two weeks, and you won't have to risk damaging them later while doing a deep clean. You will find more cleaning hacks for your home in this article.
To reduce risk of electrocution, turn off your lamp and unhook it from the wall before cleaning the lampshade. For ceiling lights, consider turning off the power in this part of the house. Unscrewing light bulbs beforehand is another way to make cleaning safer and easier.
Carefully take the shade off to allow for easy access to the surface. If the lamp's design prevents you from removing the shade, unscrew the light bulbs and turn off the power during the cleaning process.
Tip: Do you know apple cider vinegar's long list of cleaning benefits? Check out 15 Ways to Clean Your Home Using Apple Cider Vinegar for more info and cleaning ideas.
How to Dust Lampshades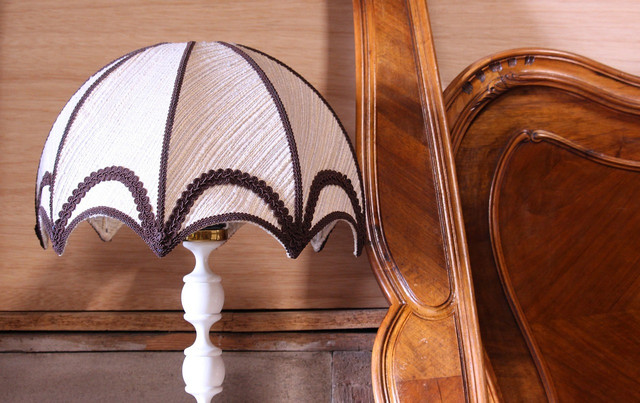 A great way to remove dust and other household debris from most lampshades is to use a natural cellulose sponge made of compressed wood pulp (available on Amazon**). Make sure the sponge is clean, dry, soft and stretchable. An old over-dried cellulose sponge becomes too hard and can scratch delicate surfaces. Gently move the sponge from the top of the lampshade to the bottom, and don't forget to clean the insides. Check out this simple guide for more effective and sustainable dust removal tips.
If you don't have a sponge, you can clean a lampshade with a soft, reusable cloth. Unfortunately, synthetic microfiber cloths, which are often recommended for dusting, are not an eco-friendly option. Follow this link to learn more about microfiber and its sustainable alternatives for your cleaning routine.
How to Clean Fabric and Paper Lampshades
While learning how to clean a lampshade made of silk, organza or other fabric, avoid using water and harsh liquid cleaning solutions. Even if most fabric lampshades can handle occasional wet cleaning, try to do it only if necessary — for example, if you are trying to remove stains or built-up grease.
A reusable sticky lint roller (available on Amazon**) or a soft natural-bristle paintbrush will quickly remove dust and dirt from a fabric lampshade. Another option is to vacuum lampshades using the dusting brush on your vacuum cleaner. Move the brush very gently and avoid using it on loose fabric. You can use the same methods to clean lampshades made of thin wood.
You shouldn't use water to clean a lampshade made of paper or parchment. Even a damp cloth or sponge can damage the delicate material. To clean paper lampshades, use a soft, natural-bristle paintbrush. Gently move the brush from top to bottom to remove dust and dry dirt. Try using a soft and clean gum eraser to remove visible stains.
How to Deep-Clean Lampshades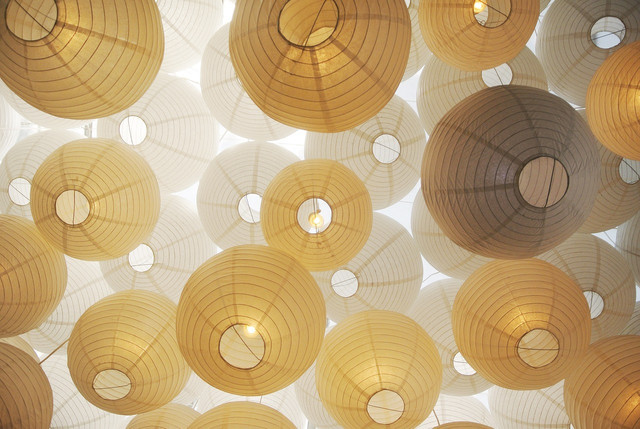 To keep lampshades clean, dust them frequently and do a deep cleaning once a year if they start to look grimy. When cleaning lampshades of any kind, avoid harsh cleaning agents like bleach and glass cleaner.
How to clean a lampshade step by step:
Carefully unplug the lamp and remove the shade.
Dust the lampshade to remove any dry dirt.
Fill a big bucket with warm water.
Add 1 teaspoon of eco-friendly or homemade laundry detergent and 1 cup of white vinegar to help remove the grease. Make sure to use white vinegar since other types may cause stains.
Carefully submerge the shade in the soapy water, holding it by its metal frame.
Soak the shade for about 10 minutes, depending on how dirty it is. Move it around in the water to help release the dirt.
Rinse the shade in warm water, pat it dry with a towel and then leave it to air dry. When cleaning a silk lampshade, use cool water instead.
For glass lampshades, wipe off visible stains with a natural sponge or a cloth. You can clean glass lampshades in a dishwasher unless they are hand-painted. Make sure to choose a gentle cycle.
To remove a stain from a fabric lampshade, apply a dash of washing detergent and scrub it gently with a soft brush. Then soak the shade in soapy water.
To restore the whiteness of a yellowed lampshade, use 1 tablespoon of baking soda and a dash of warm water. Apply the formula to the yellow spots and let it sit for about 15 minutes before rinsing.
Read more:
** Links to retailers marked with ** or
underlined orange
are partially partner links: If you buy here, you actively support Utopia.org, because we will receive a small part of the sales proceeds.
More info
.
Do you like this post?
Thank you very much for voting!