Poison ivy can be a tough plant to remove and identify. Keep reading to find out how to get rid of poison ivy plants, how to identify them, and how to keep them out of your garden.
Poison ivy is a troublesome plant to deal with, whether you're allergic to it or not. It often takes over gardens, continues to grows even after you have removed it, and can cause an irritating reaction on the skin if not properly handled. Read on to learn how to get rid of poison ivy plants permanently, how to identify them, and how to keep them from growing in the first place.
How to Get Rid of Poison Ivy Plants Naturally: 4 Methods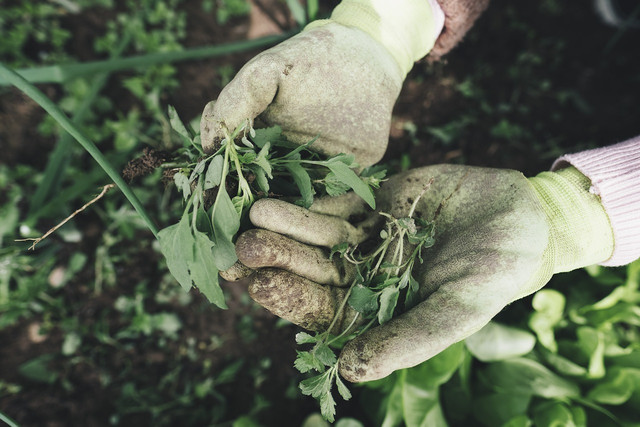 If poison ivy has begun to invade your garden or yard, don't worry, there are many ways to ensure its permanent removal. There are a few things to keep in mind when getting rid of poison ivy plants: make sure you come prepared and are properly dressed (i.e. wear long pants and sleeves), and use gloves and a large trowel or pruning shears to remove the plants or you risk getting the resin on your skin. In addition, ideal removal conditions are important – in the winter, the poison ivy plant will not flower or grow in the same way as it does in the spring and summer, so if you can, wait until winter to remove the plants from your yard. Try one of these four poison ivy killer methods:
Remove the roots and visible plants – even if you remove the visible plants that have sprouted, the roots are still below and can continue to grow. In order to get rid of poison ivy plants, first remove the visible portions, and then the roots. To ensure the plant doesn't spread, use your trowel to dig the roots out up to eight inches below ground. 
Kill the roots with water/mulch – boil water in a kettle and pour over the plants/roots. This will drown the roots and make sure the plant ceases growing and kill the chemicals/resin that causes allergic reactions. You can also use mulch to fully cover the plants/roots, which should keep it from growing. 
Smother the roots – alternatively, you can "smother" the plants with cardboard to keep them from growing. Remove the poison ivy plants above ground and roots as best as you can and then cover the area with cardboard. This will stop airflow from reaching the plants and stop them growing.
Use a homemade weed killer – although chemical weed killers exist, there is a homemade option to get rid of poison ivy plants. Mix together 1 cup of salt, 1 tablespoon of dish soap, and 1 tablespoon of vinegar and add to a gallon of water. Spray this mixture onto the plants and roots, which will help kill the plants with time. 
Note: Repeat as needed – even if you have followed these steps to remove poison ivy, the plant can sprout up if not fully removed. Check the yard frequently for new growth and repeat the removal tips as needed. 
Poison Ivy Disposal Tips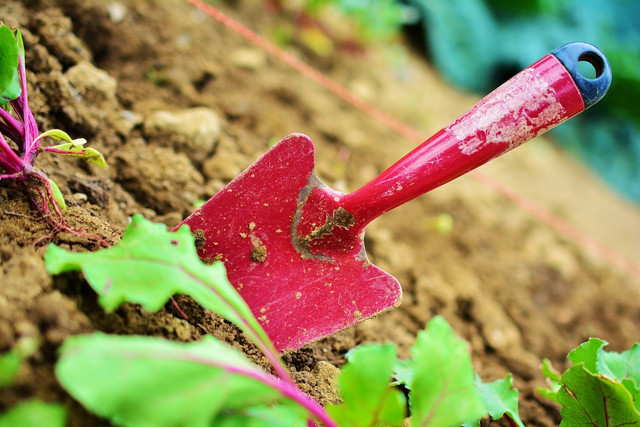 Once you've figured out the best way to get poison ivy out of your garden, you need to dispose of the plants themselves and ensure you've thoroughly cleaned all your equipment. Use the following tips to get rid of poison ivy plants:
Bag the plants for removal – Composting grass clippings or composting leaves is a a useful, natural way to remove unwanted plants. However, poison ivy is one plant you do not want to include in compost piles. Once you have removed the aboveground and belowground roots, put them in separate bags and close them to ensure the chemicals from the plants are contained. Do not burn the plants as this removal method will release the chemicals into the air and could cause severe reactions.
Cleaning your tools and clothes: Once you have removed the plants, make sure you use vinegar and alcohol (or a homemade all purpose cleaner) to clean the gardening tools that have touched the plants. The chemicals that cause skin reactions can remain on the tools and leave you with an unwanted irritant even after you have disposed of the plants. Turn your clothes and gloves inside out (while wearing protective clean gloves) and wash them separately from other laundry so the chemicals do not spread. Wash your boots with water and soap, and be sure to wash your hands with cool water not warm, as warm water will open your pores and allow the chemicals to get into your skin.
Identifying Poison Ivy Plants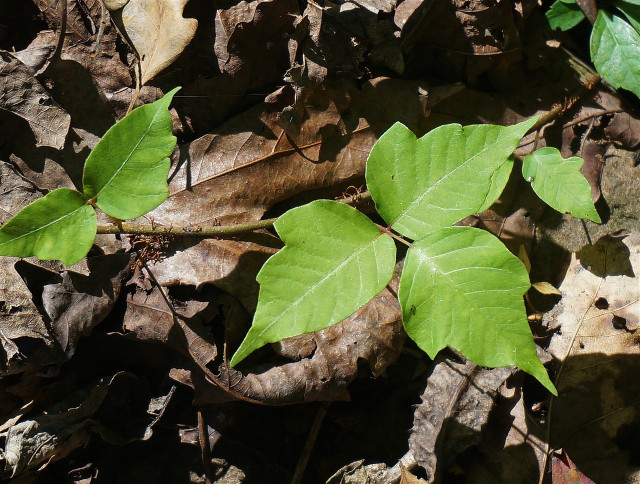 Use the following tips to help yourself identify poison ivy: 
Color: poison ivy plants are usually green, but can also be red.
Location: this plant often grows low to the ground, but can sometimes be seen growing upward (like a vine) on a tree or other structure.
Leaves: poison ivy leaves are usually in groups of three, with the middle leaf being longer than the other two, and the outside leaves of the trio having shorter stalks. They are often pointed, smooth or toothed around the edges of the leaves, and are either shiny or dull looking.
Fruits/Flowers: depending on the season, poison ivy plants can have white berries clustered near the root of the plant.
Close Family Members: other "poisonous" plants include poison oak, whose leaves look like oak but are more rounded, and poison sumac which have pointed three leaf clusters and are usually found in swamp areas as a tall shrub.
Keep Poison Ivy From Growing in the First Place
Poison ivy does not grow where there is grass seed, so to keep it from entering your garden or yard, plant the area with grass seed. This may take time to grow, but the poison ivy plant will not sprout.
Fill the once-poison ivy-infested area with new plants that will ensure it doesn't continue to grow, such as berries or ground covering plants like wisteria or clematis. The roots of this type of plant will take up the space the poison ivy left behind and you will not be stuck with a chemical resin that causes skin irritation.
Read on:
** Links to retailers marked with ** or
underlined orange
are partially partner links: If you buy here, you actively support Utopia.org, because we will receive a small part of the sales proceeds.
More info
.
Do you like this post?
Thank you very much for voting!