Create your own minimalist wardrobe and say goodbye to those closet-clearing searches for the perfect outfit in the morning. We'll show you how easy committing to a minimalist closet can be and which minimalist clothing will help you stick to it.
Although a minimalist wardrobe might sound like a nice idea, the reality for most is: Cheap fashion has us in its grips. Fashion is constantly changing and new trends make their debuts nearly every month. The fashion industry has convinced us that forever updating our wardrobe is necessary, or even better: normal.
And what are we left with? A closet full of clothes that we never wear. Saying goodbye to those clothes (for good and without replacing them with new purchases!) actually makes quite a lot of sense.
Committing to a well organized minimalist closet carries with it a number of perks:
A minimalist wardrobe consists of a limited number of easily combinable minimalist clothing items.
It will save you time getting dressed.
It will save you money while shopping.
It helps reduce resources required to produce clothing – like cotton, pesticides, water and carbon emissions.
There's only one slight challenge you need to tackle first: What goes and what stays?
Your Minimalist Wardrobe: What Takes Up Closet Space and What Do You Need?
Yes, making the switch to a minimalist wardrobe means you'll have to get rid of some stuff. Deciding for yourself what items you particularly like, which outfits you look good in and when are personal decisions and shouldn't be made under pressure. Nonetheless, a little bit of orientation can't hurt and can save you time and money down the road.
That's why we suggest you start your journey towards a minimalist closet with Step 1: Make a plan! Take your time considering which clothes you'll need for any number of different occasions. (Tip: Minimalist clothing is unpretentious, versatile and combinable.)
You should also give some thought to what you think you still need because it's the hottest trend item out there. Correct: the latter will not make the cut when it comes to putting together your minimalist wardrobe.
Read on: 10 Tips that will Make your Every Day Life More Sustainable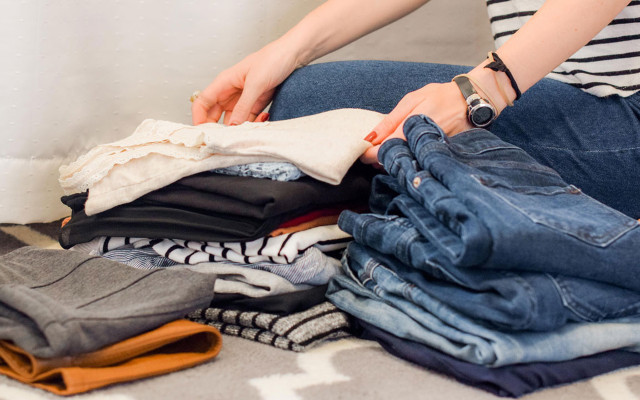 How to Create a Minimalist Closet: First Make Room
We know: clearing out your closet can be hard, even if you're well on your way to more minimalist living. Who knows, the time may come when you'll need those old bell-bottoms again or when those spaghetti straps will get a second life. And just maybe that old pair of jeans will fit next summer.
However, more often than not, the clothes we're not wearing now won't be worn in the future. Sometimes we just need to do what needs to be done. When trying to create a minimalist wardrobe that means: get rid of them.
Step 2: Toss it. You might fear that you will regret it later – you won't. Once you've come to terms with your future loss, it's time to get to work:
Survey your closet. Clear it out completely and begin sorting your clothes into categories: tops, pants, dresses, skirts, and so on. Hold each item up in front of you. What do you enjoy wearing? What do you enjoy wearing often? Which colors and cuts do you fancy and which fancy you? Which clothes do you need for your work or hobbies? Those stay. (Again, remember: minimalist clothing is timeless and versatile!)
Sorting out the keepers: What makes you look good? What have you not worn in ages? What clothes do you wear only reluctantly? Anything you don't enjoying wearing at all needs got to go! You can apply Marie Kondo's KonMari method: only keep what "sparks joy".
The clothes are on their way out – but where to? Sell them, trade them or donate them. Items you've purged from your future minimalist wardrobe should be passed on. Whether via the local (online) flea market, secondhand or charity shop, clothes exchanges with friends or your local listings, well-kept clothes have every right to be given a second life.
Read on: When it comes to minimalism, creating a minimalist wardrobe is only the beginning. Check out Becoming Minimalist: 3 Methods for Beginners for more tips.
Minimalist Clothing: What Goes into Your Minimalist Wardrobe
Odds are you already own many of the items you'll need for your minimalist closet: A solid foundation of easily combinable basics you can mix and match and that you enjoy wearing.
If you decide you need to add some minimalist clothing to your wardrobe, think carefully about which styles, patterns and materials you like and purchase accordingly. Timeless gems or (fair) fashion favorites from secondhand shops make great additions to your minimalist closet.
Read on: 3 Simple Questions That Will Make You Quit Fast Fashion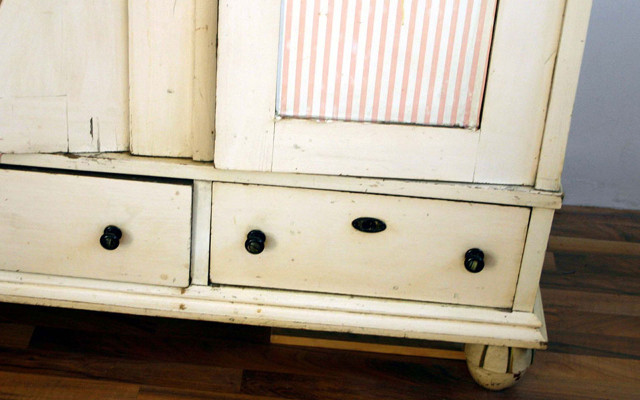 When choosing minimalist clothing, it's easiest to go with black, white and gray. Although these colors might seem a bit dreary, plain basics are a lot easier to mix and match than brightly colored or patterned items. And practicality is key when designing a minimalist wardrobe. So be sure to invest wisely in comfortable and sustainable long-lasting materials such as cotton, linen or wool and do your best to avoid polyester.
Here are some worthy additions to your minimalist closet:
Sweaters, cardigans, and jackets: combine these however you want in sleek colors and cool styles. You can throw them on over a blouse, shirts of any kinds, tops and T-shirts – they'll go great with nearly anything. Jeans, slacks and skirts included.
Button-down or button-up and/or a blouse: These can look a bit spiffy and formal, but don't necessarily have to. Go casual by rolling up your sleeves , combining with a pair of jeans or wearing them over a T-shirt.
Tops and shirts: These are a minimalist wardrobe staple all year round and for practically any occasion, adaptable to any style. Under a button-down, cardigan or paired with jeans – shirts are a must.
Jeans: One pair in a darker color and one in a lighter tone. Most jeans labels recommend washing your pants sparingly and instead airing them out once in a while. This way, you'll have a pair of jeans at the ready all the time.
Slacks: These are a classic. Highly adaptable in style, whether casual or correct.
Skirts and dresses: Skirts can be worn in winter with tights or leggings and in summer without. It's also nice not to wear pants for a change. Dresses are another practical piece of minimalist clothing: sleek styles such as t-shirt dresses go great with a pair of sneakers or sandals in the summer and with leggings, cardigans and boots in the winter – and with a pair of simple pumps you're all dressed up.
Shoes: No matter the occasion, your assortment varies naturally. It still makes sense to consider the following criteria: shoes for the winter should be warm, sturdy enough and reach above the ankle for trekking through snow and slush. You can wear sneakers all year round and one pair of sandals and ballerinas should get you through the summer.
By no means are we suggesting that your minimalist wardrobe should be exclusively filled with items of minimalist clothing. However, a slight degree of guidance in picking based upon practicality and proposed use doesn't hurt.
Making minimalist closet space for a colorful piece of clothing unique to you is important and adds life to your basics collection.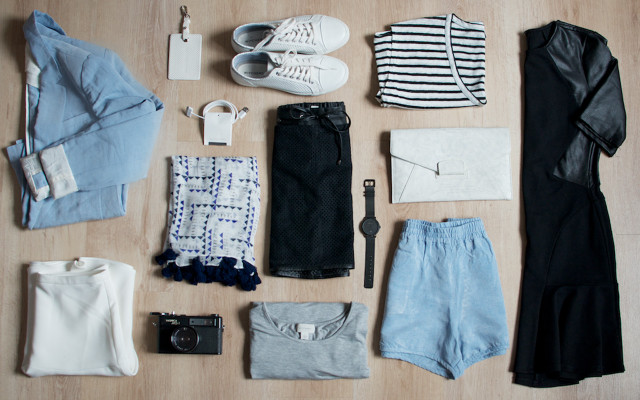 Tip: One well-known concept within the realm of minimalist living is the so-called "Capsule Wardrobe". The principle boils down to this: Less is more. The goal in mind is to limit the total number of items in your closet while at the same time keeping the more important pieces to your minimalist wardrobe – that is, clothes that are easily combinable and timeless in theme and style.
Every three months (seasonally), you rearrange your capsule wardrobe. Clothes for other seasons are left in storage and reintegrated into your wardrobe at the appropriate time – thus bringing about fresh combinations and new stylistic discoveries.
Read on: Our tips for minimalist living are aimed at helping you on your way by making small but pivotal changes to regular routines and habits. Check them out here: 12 Practical Tips for Minimalist Living: Make your Life easier.
Minimalist Clothing: Shopping Done Right
Shopping "the right way" doesn't mean not going shopping at all. In order to keep your wardrobe minimalist for months to come, a couple considerations when it comes to shopping may help you stay on track:
Say you need something for a one-time event, for instance. Ask friends or relatives if you can borrow you what you need instead of buying something you know you're only going to put on once.
Buy secondhand. You'll find the best new additions to your minimalist wardrobe at the lowest prices possible and ensure nothing new had to be produced in revamping the selection in your minimalist closet. Sustainable shopping at thrift stores is high on the list of ways to make green living reality – no matter your budget. Check out more: 10 Everyday Green Living Ideas: Sustainability on a Shoestring Budget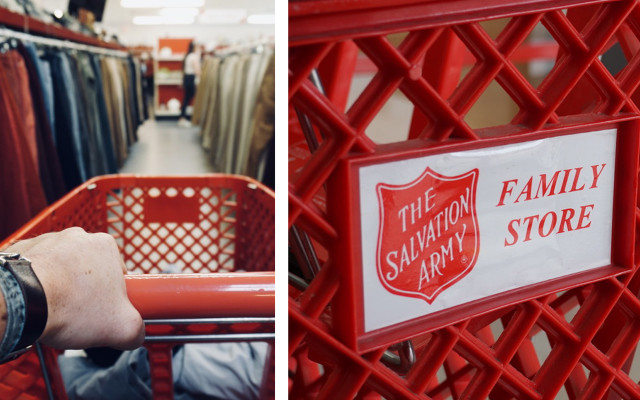 Think about what you need. Do you actually need it? If so, only buy items you really love and don't be tempted to take home more than you planned. This way, you don't collect unnecessary clothes and develop your own personal style.
It's not exactly your style but it's on sale and would be nice to have – STOP! Impulse purchases and sale buys are among the most common articles lingering unworn in your closet. Don't let yourself be tricked into buying cheap sale items – no matter the discount.
Trends are short-lived, your taste in clothes isn't. Trend shopping falls under the category of "Stress and Self-indulgence Shopping". This we can avoid. If you're on the fence about something you see in the store, sleep on it. If you can't stop thinking about it and have already mixed and matched it with ten other items in your minimalist wardrobe in your closet, then it might be a new favorite. Go for it. If not, forget about it.
Treating yourself to something nice once in a while is okay. But too often we buy things not for their intended purpose or because we need them but just because we want to indulge ourselves with something materially rewarding. Take the high road and go shopping only when you need to.
Be mindful of materials. Natural fibers such as cotton, linen, hemp, wool and silk etc. are long-lasting. Synthetic fibers such as polyester start to stink pretty quickly, can be uncomfortable and play a substantial role in the accumulation of microplastic pollution in the oceans.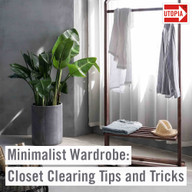 This article was translated from German to English by Evan Binford. You can view the original here: Der minimalistische Kleiderschrank – Tipps & Tricks.
** Links to retailers marked with ** or
underlined orange
are partially partner links: If you buy here, you actively support Utopia.org, because we will receive a small part of the sales proceeds.
More info
.
Do you like this post?
Thank you very much for voting!