Making pickled red cabbage is a great way to preserve cabbage harvests so that it can be enjoyed at a later time. We'll share our favorite recipe for this.

Native to southern Europe, red cabbage is a beautiful bright purple color and is popular in many regions of Europe and the Americas. 
Heads of red cabbage can be quite large and difficult to consume in one or two sittings if you aren't serving more than two or three people. This pickled red cabbage recipe offers a way to preserve this nutrient-dense vegetable so you can take your time finishing off the cabbage and add a tangy, slightly sweet flavor that can be adjusted with your preferred spices. Pickled cabbage makes a fantastic addition to the simplest of recipes without much effort.
When is Red Cabbage in Season?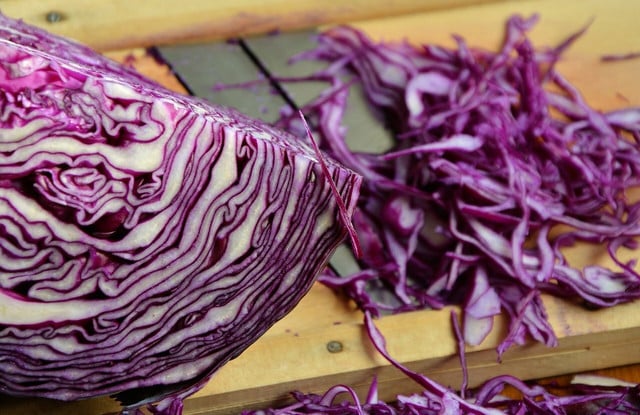 You can find fresh red cabbage as early as June, but it's primarily harvested from September to November. It can also be stored throughout the winter until around April/May, making it widely available throughout the year. 
When choosing red cabbage in the supermarket, check to make sure that its outer leaves are crisp and firm. Some imperfections, like light spots, are normal. Nowadays, many grocery stores will remove the outer leaves and in this case, you want to make sure to choose a firm and heavy cabbage. 
Because cabbages often yield an incredible amount of cabbage per head, supermarkets often offer the option to purchase just half a head of cabbage as a more realistic quantity. This amount is also enough for a pickling project like this one and can be a good starting place if you are unsure whether you like pickled cabbage or not. 
Our recipe is a simple version of pickled red cabbage, but you can also add ingredients, depending on your preferences, such as:
Apples (sliced)
Onions (sliced)
Chili peppers 
Red beets 
Carrots (shredded)
Radishes (sliced or shredded)
Ginger (minced)
Simple Pickled Red Cabbage Recipe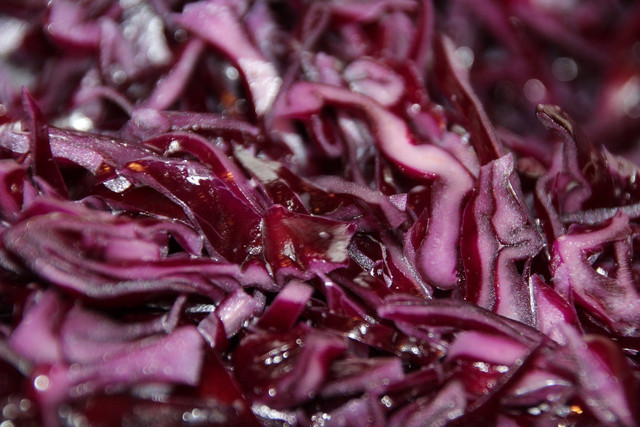 Ingredients:
This recipe makes enough to fill about one 32 ounce mason jar with pickled cabbage. 
1 red cabbage (about 1 1/4 lb)(shredded or finely sliced into strips)
1/2 cup apple cider vinegar
1/2 cup of red wine vinegar
2 tbsp salt
2 tbsp yellow mustard seed 
3 cloves garlic (minced)
2 tsp black pepper
1 tsp red pepper flakes (optional for light spice) 
Instructions:
Place the shredded cabbage in a colander over the sink and sprinkle with salt. Massage the cabbage with clean hands until the leaves sweat (they should moisten and have a slightly glossy appearance — this should take roughly 10 minutes). Leave for 2–3 hours, then drain and wash away the salt. Pat dry with a clean towel.
Place all ingredients in an extra-large bowl (you may need to use two, making sure to distribute equal amounts of ingredients in each bowl). Stir gently until well-combined. 
Add cabbage mixture into sterilized jars (like these Ball mason jars from Amazon**). Press down firmly to pack. The cabbage should be drowned in liquid. If this doesn't happen, add enough filtered water to cover the cabbage mix. Make sure there are about 1 1/2 inches of space between the liquid and the top of the mason jar so it has room to expand during the fermentation process. 
Seal with a lid and place the jars somewhere out of direct sunlight, such as a cabinet or in a dark corner. The ideal temperature for fermentation is about 65 degrees Fahrenheit.
Fermentation can take as little as 24 hours or as long as 2 weeks. If you prefer a heavily fermented flavor that is very sour and tangy, let the cabbage sit for at least a week. You can do taste tests to see how the flavor changes. If you like a crispier cabbage that is slightly tangy, try fermenting for only a few days.
Make sure to release air bubbles by opening the lid every day to release gas, and make sure the cabbage is fully submerged in liquid. 
Once finished fermenting, the cabbage should keep in the refrigerator for at least 3 months and up to 6 months. 
The pickled red cabbage can also be canned. This way, it will keep for longer and doesn't need to be refrigerated. 
Read on:
Important Information regarding Health-related Topics.
** Links to retailers marked with ** or
underlined orange
are partially partner links: If you buy here, you actively support Utopia.org, because we will receive a small part of the sales proceeds.
More info
.
Do you like this post?
Thank you very much for voting!