Rose hip tea, made from the fruit of the rose plant, is soothing, tasty, and packs a serious nutritional punch. We'll fill you in on the long list of rose hip tea benefits, and show you how to make your own at home.
Rose Hip Tea Benefits: Vitamins and Minerals
Because they are so nutrient-rich, rose hips have been used as an herbal remedy for centuries. Rose hip tea contains:
Vitamin C
Depending on the variety, 100g rose hips may provide up to 1,100 mg of vitamin C. In comparison, oranges contain only around 53mg per 100g. Vitamin C is good for your body because it:
strengthens the immune system
protects cells from free radicals
supports the regeneration of skin, hair, nails, and connective tissue
is important for cholesterol and fat metabolism
aids digestion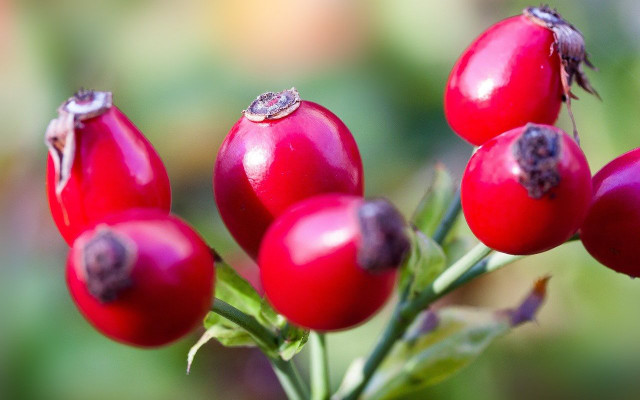 2. Lycopin
Lycopin is a plant pigment that has a strong antioxidant effect, which helps prevent cell damage.
3. Pectin
Pectin is a fiber found in the cell walls of plants that has a detoxifying (and slightly laxative) effect on the body. This helps to soothe digestive problems and aids against kidney diseases.
Because of these and other valuable nutrients (like vitamins A, B, E, and K, flavonoids, calcium, magnesium, and iron), rose hips are considered a superfruit and are widely popular for their healing and health-promoting properties.
Rose Hip Tea: Herbal Remedy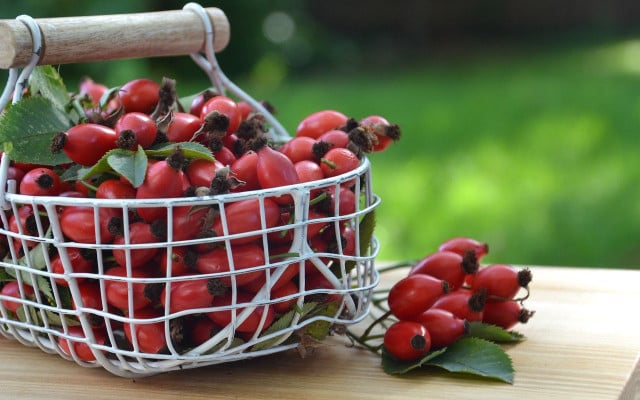 Rose hip tea made from the dried skin of the fruit has long been used in traditional medicine and is still quite popular today. There has not been sufficient scientific evidence to support all of the alleged rose hip tea benefits, but the long history of the use of this plant as an herbal remedy speaks for itself. Rose hip tea has traditionally been used for:
Alleviation of digestive problems: the pectins in rose hip increase the volume of food as it makes its way through the intestines, which eases transport through the digestive tract.
Recovery: the many vitamins and minerals in rose hips help the body regain its strength after illness or injury.
Immune system support: the high vitamin C content makes rose hip tea an excellent weapon against pathogenic viruses, bacteria, or fungus.
Easing gastrointestinal discomfort: the pectins in rose hip bind water, solidifying intestinal contents, and helping to combat diarrhea.
Urinary tract relief: one of rose hip tea's benefits is its high fruit acid content. These have a diuretic effect, which promotes the excretion of harmful substances that can cause urinary tract problems.
Recipe: Making Your Own Rose Hip Tea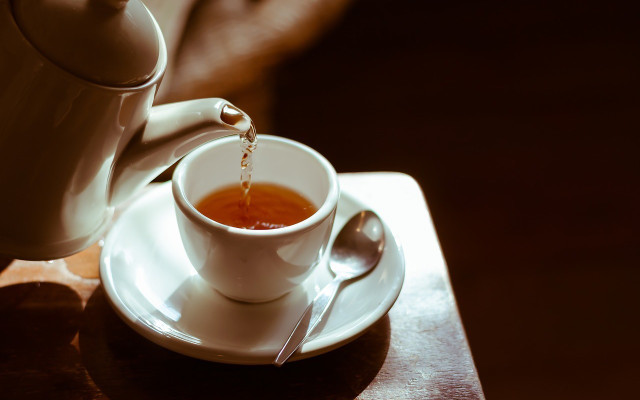 You can either buy dried rose hips at an organic supermarket or health food store, or harvest your own fruit from your backyard. By harvesting your own rose hips, you can be sure that your tea will contain no added colors or aromas.
How to Make Rose Hip Tea:
Harvest: Rose hips are ready to be harvested in late autumn, when the fruits yield to gentle pressure.
Wash and Pit: First wash your rose hips, then remove the stems and seeds. Because the hairs on the seeds may cause skin reactions, it's best to wear a pair of rubber gloves while de-seeding. After scraping the husks, wash them again to make sure that all the hairs are removed.
Dry: Now you're ready to dry your rose hip husks. Spread them out on a flat surface in a warm place and leave them to dry for two days. Check to make sure that the husks are completely dry before proceeding.
Store: After drying, store the rose hips in an airtight container.
Brewing: Pour hot water over about two teaspoons of dried rose hips. Allow to steep for ten minutes.
Consumption: To get the most of rose hip tea's benefits, drink slowly over a longer period of time.
This article has been translated from German to English by Christie Sacco. You can read the original here: Hagebuttentee: Wirkung, Anwendung und wie du ihn selbst herstellst
Important Information regarding Health-related Topics.
** Links to retailers marked with ** or
underlined orange
are partially partner links: If you buy here, you actively support Utopia.org, because we will receive a small part of the sales proceeds.
More info
.
Do you like this post?
Thank you very much for voting!