With over 200 state parks in Oregon, you have many options for camping, hiking and connecting with the outdoors. Numerous beautiful spots in nature are readily accessible to adults and kids alike.
Camping in Oregon is a favorite summer pastime for families and great way for both kids and adults to experience firsthand diverse landscapes and connect with the natural world right at your fingertips. Oregon boasts nearly 200 state parks for camping, with offerings for all interests and ages (biking, horseback riding, water sports, even hiking with a baby), ensuring that you will pick up the coastal, mountain, valley and desert vibes to help you check out of a hectic routine.
While most of us prefer camping in the warmer months, many campgrounds are open year round, even offering yurts or cabins for additional shelter and comfort. If you are planning a cold-weather trip, be sure to research the availability of the facilities and do your homework to be prepared. Also check out our other important tips on hiking in the winter.
Here are some highlights of state parks that you don't want to miss.
Best State Parks on the Oregon Coast for Camping and Exploring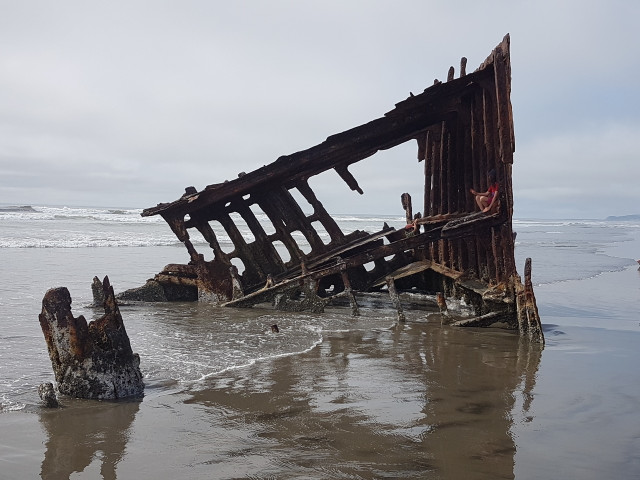 1. Fort Stevens State Park
Camping at Fort Stevens means continuous access to unending Pacific Ocean beach front property. With over 15 miles of multiuse trails and several parking lots with easy access, the beach is at your doorstep during your camping trip.
The site's history as a military installation spans 84 years from Civil War to World War II and the concrete artillery gun batteries can still be visited today. History buffs, (amateur) photographers and adventurous kids alike will find something in the historic Peter Iredale shipwreck, a must-see whether high or low tide.
In search of calmer waters? Swimming, boating and picnicking are available in the fresh water of Coffenbury Lake.
2. Cape Lookout State Park
Located on a sand spit between a bay and the Pacific Ocean, Cape Lookout, as its name implies, has a panorama spanning nearly 40 miles north and south along the Oregon coast. Multiple trails can be accessed here including a family-friendly nature path where the old-growth forest doesn't disappoint as kids stare into the treetops in awe. Camping options are near the beach.
To capture the breathtaking beauty of the area beyond Cape Lookout, start at Tillamook and travel the Three Capes Scenic Route. A highlight of any camping trip here is a stop at the Tillamook Creamery for the region's famous cheese and ice cream for kids (yes, the grown-up kids, too!).
3. Bullards Beach State Park
About three-quarters of the way down the Oregon Coast, Bullards Beach offers camping for humans AND horses! Take advantage of horse corrals and ride the 11 miles of trails, in addition to beach riding.
Bullards Beach is located at the mouth of the Coquille River and just north of the town of Bandon, where you can combine camping with some seaside shopping. While camping, visit the Coquille River Lighthouse in the park and don't miss the short trip south of Bandon to discover the likeness of a human face in Face Rock and learn about the legend told by the Coquille people.
Best State Parks for Camping and Hiking Near Portland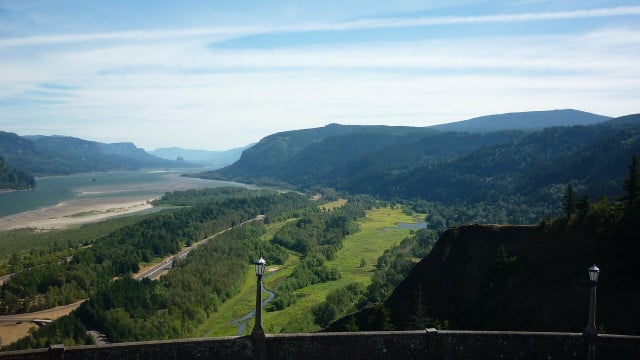 4. Champoeg State Heritage Park
A mere 30 miles south of Portland is where Oregon history comes alive among the forests, fields and wetlands along the Willamette River. Oregon's first government was established here in 1843, commemorated at the Pioneer Memorial Building. The past comes alive at the Champoeg Visitor's Center—documenting the lives of the native peoples, fur traders and settlers—and the 1860s Manson Barn and Farmstead.
You are likely to spot some of the 130 different bird species that make their home here while you walk the multiuse trails or play a round of 18-hole disc golf. If you are looking for wetter diversions, put your kayak in the Willamette River from the park's dock.
5. Ainsworth State Park
This might be the perfect camping location to settle into for a few days, with the beautiful Columbia Gorge as your playground. Approaching from the west, Multnomah Falls, visible from the highway, is a must-see on your Gorge camping trip. Hike to the top of the falls and if you have the time, keep trekking it to see Dutchman, Wiesendanger and Ecola Falls.
Back in the car, drive the Historic Columbia River Highway to the park, stopping as much as you like for photo op's! Other Falls (Oneota and Horsetail) can be reached from trailheads off the highway, so plan an excursion or two, depending on your stamina.
Day tripping it east of Ainsworth you will find more trails leading to waterfalls, the Bonneville Dam and Fish Hatchery and the impressive Bridge of the Gods. You may never want to leave!
Best State Parks in Southern Oregon for Camping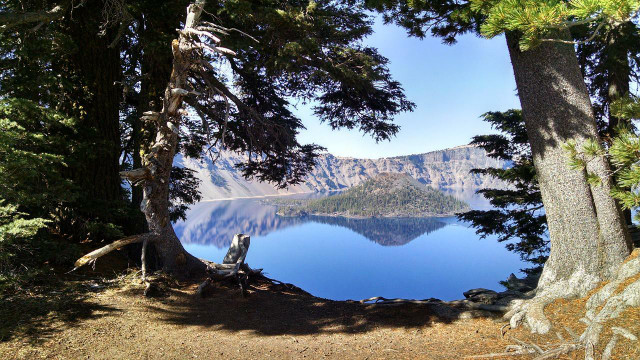 6. Collier Memorial State Park
Camping among the fragrant pines along the gurgling Williamson River might be one of the best ways to kick your auditory and olfactory senses into high gear and set you up for some relaxation. Just 30 miles north of Klamath Falls, the route to Collier Memorial State Park will take you past the Upper Klamath and Agency Lakes.
Drive 35 miles further for an excursion to the spectacular Crater Lake, formed over 7,000 years ago with Mount Mazma blew its top and created the deepest lake in the United States.
With horse corrals you can camp with your best friend and utilize over 10 miles of trails. As a result of a wildfire in 2020 which left heavy damage in the park, the Oregon Department of Parks and Recreation has partnered with the local Klamath Tribes in restoration efforts with a focus on plants with an ecological and cultural value.
7. Valley of the Rogue State Park
Actually, this is NOT the state park that went "rogue", although the naming of the river and the valley "Rogue" suggests a wild region once upon a time. You can enjoy this lesser-known valley in Oregon while camping on a three-mile stretch of the Rogue River. Walk the river on the trails in the park and beyond, all the way to the town of Rogue River.
The park's central location makes Crater Lake, Ashland's Shakespeare Festival, the Oregon Caves National Monument, and historic Jacksonville all readily accessible.
Best State Parks in Central and Eastern Oregon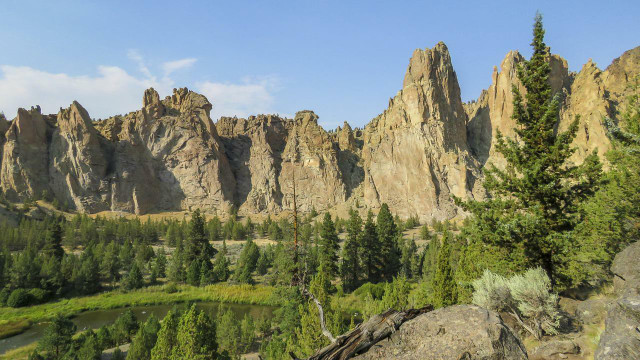 8. Smith Rock State Park
You don't have to be a geologist to appreciate the power of the high desert (going back 30 million years!) while camping in this scenic park. The largest rock formation on the western rim, the Smith Rock ridgeline boasts a height of 660 feet, carved out by the aptly named Crooked River.
This tent-only park keeps camping simple so you can focus on rock climbing, hiking, mountain biking or even horseback riding on the trails through the winding canyon. For the beginner rock climber or for additional training, climbing guide services are available for booking before taking on the "birthplace of U.S. rock climbing."
9. Wallowa Lake State Park
Trek into the wilderness of the stunning Wallowa Mountains or plunge into the glacial Wallowa Lake on this camping trip in Oregon's northeastern corner bordering Washington and Idaho. Just a few minutes from the campground you can catch the Wallowa Lake Tramway which is a 15-minute cable car ride to the top of Mt. Howard, a highlight for the kids, as well. At a breathtaking height of 8,200 feet, you can wander the relatively easy trails to the Wallowa Valley and Royal Purple Overlooks and soak in the scenery while you break from hiking for lunch.
Back down at the lake level, visit the town of Joseph, named for Chief Joseph of the Nez Perce people, and explore his gravesite as well as several bronze statues.
10. Cove Palisades State Park
Camping and watersports come together at this central Oregon campground wedged in between the Deschutes and Crooked Rivers. New to paddling? The 6-mile water trail on the Crooked River is ideal for all levels. Put your boat or kayak in at multiple launches in the park.
Need a hike to rest your arms after a day of paddling? The Tam-a-lau Trail and Crooked River Rim trails provides views of the Cascades, canyons and everything in between. Cool off after a hike at one of the park's three swim beaches.
How to Make Your Camping and Outdoor Experience More Sustainable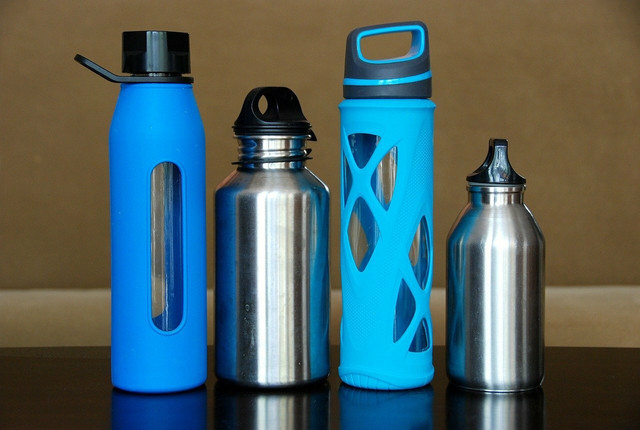 Even on vacation there are sustainable practices to keep in mind. Here are some tips:
A reusable water bottle is always a good place to start. Here are some tips for keeping your water bottle clean.
Bring real dishes and silverware and keep the disposable plastic cutlery, even bio-plastics, out of the landfill.
Use an all-around biodegradable soap, shampoo and dishwashing soap and make sure the dirty water is drained in the designated areas and does not seep into the ground or nearby natural water sources.
Borrow, rent or buy second-hand equipment.
Repair your gear and buy gear that is repairable.
If you buy new, look for products made out of recycled materials.
Sort your trash at the campsite and carry it out to recycle and dispose of properly.
Seek out eco-friendly campsites where is offered in the campground.
Reuse your plastic bags—we all have them—for waterproof packing and storage.
Finally, be sure to follow the Leave No Trace concept (plan and be prepared, take out everything you bring in, stay on designated trails, respect wildlife and other campers, etc.) to ensure that the parks and other wilderness areas are available for future generations. Read more about the Leave No Trace concept and 19 other tips for a sustainable and fun-packed camping experience in our guide on the matter:
Read more:
** Links to retailers marked with ** or
underlined orange
are partially partner links: If you buy here, you actively support Utopia.org, because we will receive a small part of the sales proceeds.
More info
.
Do you like this post?
Thank you very much for voting!