Hiking with a baby can be a lot of fun, and you can pass your love of the outdoors to your children from a very early age. Use the following tips to make it a bit easier.
Having a baby is a life-changing experience, and attempting some of the activities you previously enjoyed might seem daunting with a tiny human. Any type of outdoor adventure that requires a lot of gear and plenty of planning may seem like an impossible task with a baby, but if you use the following tips, hiking with a baby can be a straightforward and rewarding experience for all members of your family.
1. Start Small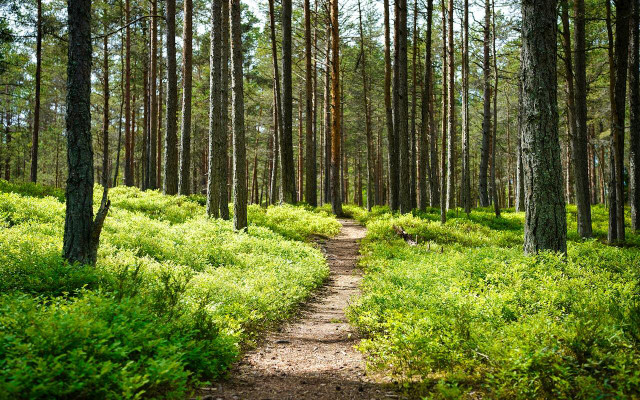 While you may be used to hiking several miles on your own, you don't need to push yourself to your limits with a baby on board. Consider choosing an old favorite that you've hiked before and can anticipate the difficulties you might have when hiking with a baby. Stick to shorter trails with lower elevation gains – this experience is new for both you and your baby, and it might take a bit of getting used to.
2. Choose a Comfortable Carrier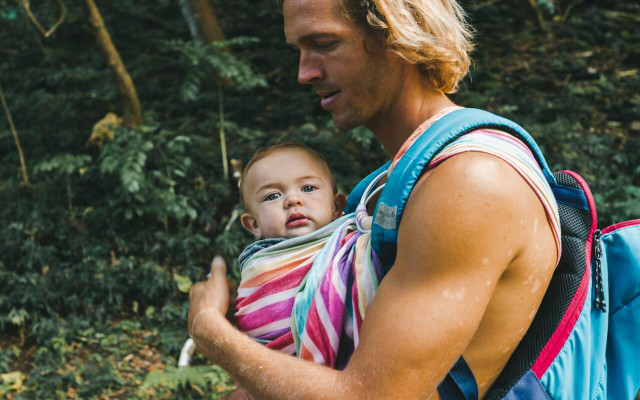 A carrier is absolutely essential to hiking with a baby, and you'll want it to be comfortable for both parties so that it won't become a burden. Before buying one, ask friends or family if they have one you can borrow – this will allow you to get a better idea of what it is you need. When you do find one, test it out before setting out on a hike, even if that means just a leisurely stroll around the neighborhood. By testing it near home, you will figure out what needs to be adjusted before you head out on a hike.
3. Select the Right Trail When Hiking With a Baby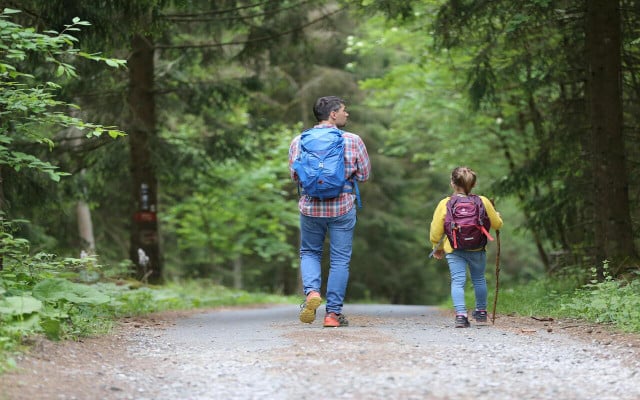 Choosing the right trail can be a make or break when it comes to hiking with a baby. You want to strike a balance between the types of trails you've previously enjoyed, and one that will be baby-friendly. If hiking with a baby under 3 months old, stick to lower elevation gains – your baby's lungs aren't mature enough to handle the difference in altitude.
4. Hike With Friends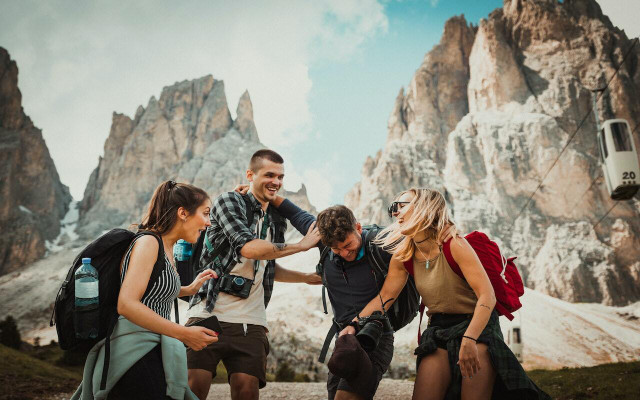 It's never recommended to go hiking by yourself, and that's especially true when hiking with a baby. If any of your hiking buddies also have kids, this can easily turn into a fun day out for families. As a minimum, try to hike with at least two adults – this way, if something unexpected happens, there is always someone who can go for help.
5. Hiking With a Baby: Stay Within Cellphone Range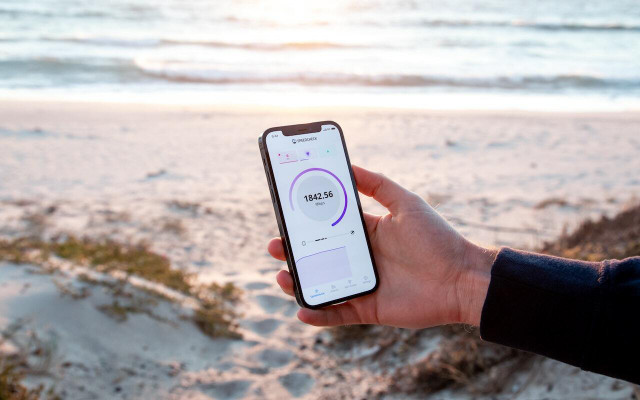 Some of the best hikes on the planet are not connected to the rest of the outside world. But when hiking with a baby, it's best to stick to trails that have access to a mobile network, in case of an emergency. What may be a small injury for a large adult can be a major injury for a small child. Save those stunning backcountry trails for when your child is older.
6. Don't Give Up When Hiking With a Baby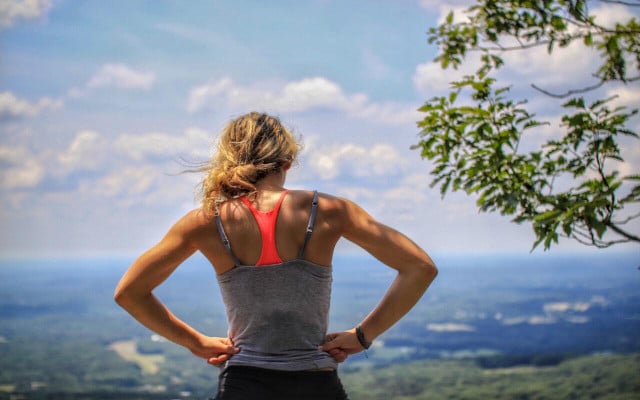 Even if your baby starts whining at the trailhead, just keep going. This is a new experience for them, and the only way they will get used to it is by exposure. If the experience isn't easy the first time out on the trails, don't let that stop you from trying again. You have to start somewhere, and if you want to enjoy hiking with your baby in the future, don't be deterred!
7. Bring Necessities, But Pack Light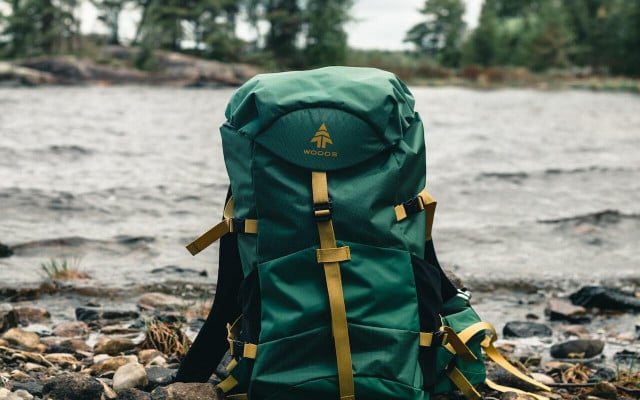 Packing light when you have a baby isn't the easiest thing, but it is necessary for a successful hike. You'll need to bring the regular provisions for yourself including water, snacks, and a first aid kit, but of course, you will also need to bring along some extra things for your baby, like a pacifier (with tether), age-appropriate snacks, and diapers. If you are changing your baby on the trail, remember to bring a resealable bag to pack the dirty diaper in so you can dispose of it when you get home.
8. Go at the Right Time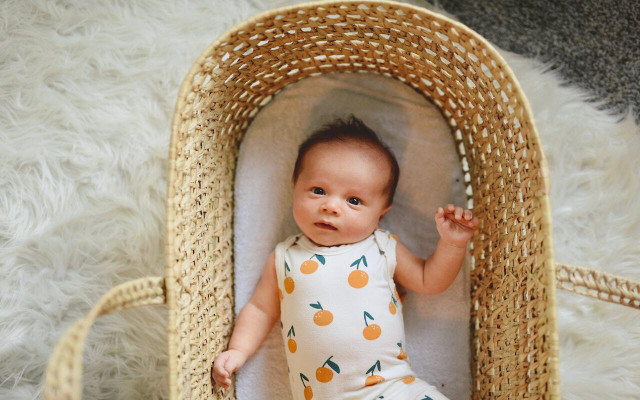 Does your baby have a routine? If they are usually grumpy at 11 am, that might not be the best time to try and go for a hike. For babies that often fall asleep when they're in the carrier, time the hike around their typical nap times – this will make it easier on both of you. For those who need a crib to sleep, go for a hike after they've had their morning or afternoon nap. Hiking with a baby is all about picking the right time for the best results.
Hiking With a Baby the Eco-Friendly Way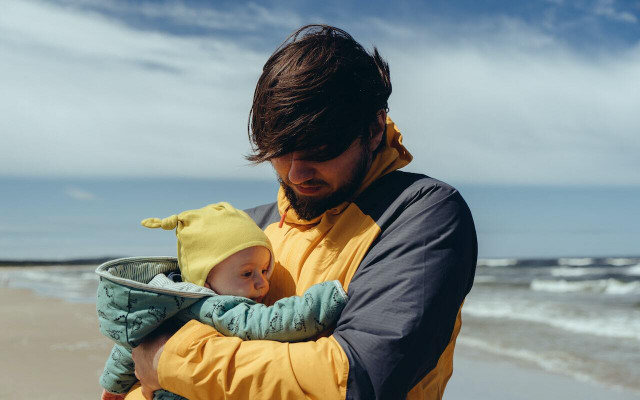 Raising your kids to respect and take care of the planet takes time. Start early by setting a great example when hiking with a baby:
Watch to make sure your baby isn't throwing anything onto the trail – this includes items like socks, their pacifier, snacks, or toys. Make sure you pick up anything they drop or throw down.
Take all your garbage out with you. If you had to do a diaper change on the trail, pack the dirty one up. Learn how to wash cloth diapers at home, so you can keep your baby and the planet happy.
Carpool to the trailhead with friends, or consider taking the train or bus to reach your destination.
Pack snacks for both you and your baby in reusable containers, and remember to bring your reusable water bottle for hydration.
Babies grow out of clothing incredibly fast, so shop secondhand for suitable hiking clothes.
Read more: 
** Links to retailers marked with ** or
underlined orange
are partially partner links: If you buy here, you actively support Utopia.org, because we will receive a small part of the sales proceeds.
More info
.
Do you like this post?
Thank you very much for voting!