Canada is home to a dizzying array of wildlife, both beautiful and dangerous. We'll list some of the creatures you need to be wary of when exploring the Canadian wilderness.
The wilderness of Canada beckons with its pristine forests and mountains as well as an endless list of adventurous activities for those with a love of the great outdoors. But while exploring can be fun, safety should be foremost in your mind while also respecting these wild spaces and all of the native animals that live there. Canadian animals are not to be taken lightly. Caution and awareness will ensure no harm will come to you, or these wonderful creatures.
1. Grizzly Bear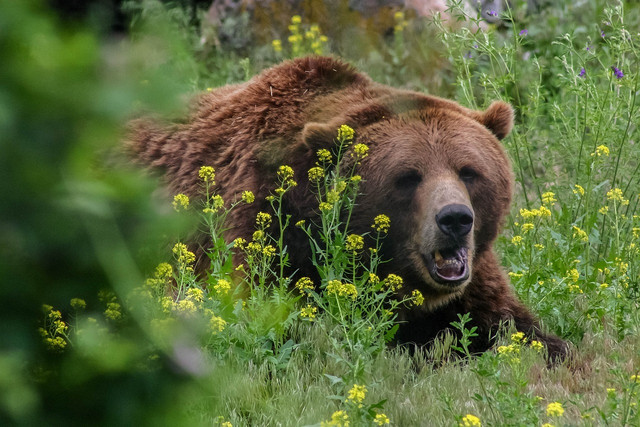 Range: Canada, USA
Conservation status: Least Concern
Current population trend: Stable
Around 26,000 grizzly bears are said to live in Canada. These powerful animals can weigh up to 800 lbs and when standing upright can tower over the tallest person. Despite appearing seemingly cumbersome and slow-moving, grizzly bears are in fact disturbingly fast runners, which is why you should never try to out-run one.
These solitary animals dwell in dense forests, mountain meadows, and the Arctic tundra. Grizzlies have no natural predators other than humans and enjoy a varied diet that will fluctuate depending on the time of year and food sources available to them. They are omnivores and can swing between a largely plant-based diet to a carnivorous one without any problem.
Just like their cousins the black bear, grizzlies are drawn to human food leading to a dangerous habit of them approaching camping grounds, which is the biggest danger campers and visitors will face when staying in the animal's territory. Always take the necessary precautions when visiting these areas and listen to park rangers and local authorities who will offer you the best advice if you find yourself encountering a grizzly up close.
2. Polar Bear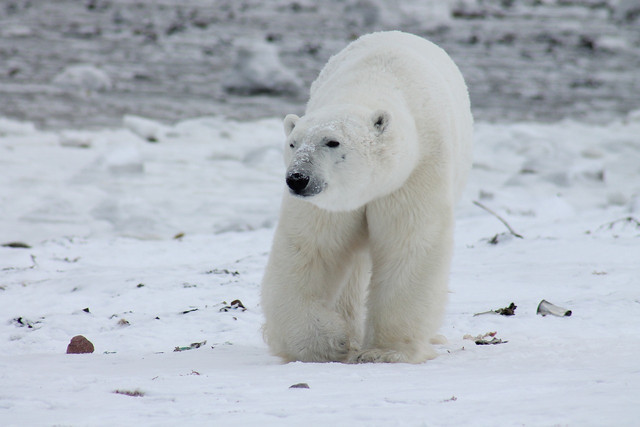 Range: Canada, Denmark (Greenland), Norway (Svalbard), Russian Federation, USA (Alaska)
Conservation status: Vulnerable
Current population trend: Unknown
The majestic polar bear roams largely in the frozen north of Canada and estimates place their numbers at roughly 16,000 in the wild, which makes up two-thirds of the global polar bear population. Adult males can grow to a size and weight that would put even the biggest grizzly bear to shame, making them powerful and deadly animals. Polar bears feed primarily on seals but are also known to hunt walruses and beluga whales, which gives you some idea of their strength and agility.
The only natural predator of this Canadian animal is other polar bears and of course, humans. The good news is that polar bears generally won't attack unless provoked. However, due to climate change and habitat loss, polar bears have become increasingly hungry, aggressive, and territorial as they leave their usual ranges in search of food sources, bringing them into more frequent contact with people. Despite this, the number of polar bears killed for meat or sport far exceeds the number of humans killed by polar bears.
3. Canadian Animals: Black Bear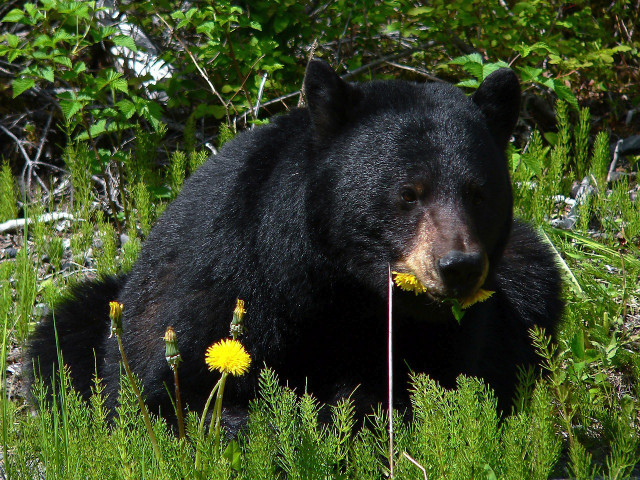 Range: Canada, USA
Conservation status: Least Concern
Current population trend: Increasing
More than 380,000 black bears live in Canada. Much smaller than grizzly and polar bears, black bears still pack quite a punch and this powerful creature is definitely to be approached with caution and respect if you come across one in the wild. These intelligent animals are extremely adaptable, solitary, and omnivorous.
Much like their grizzly counterparts, black bears have developed a taste for human food and waste, making them a common sight in urban areas thanks to the loss of habitat, which is not only dangerous for humans but also the bear since it is at greater risk of being euthanized by local authorities.
These Canadian animals are quite timid and will normally take flight if confronted by humans, but like any wild animal, they will go on the attack if it feels cornered or threatened. Before exploring the bear country, become 'bear aware' and adhere to all regulations and advice offered by the park ranger services.
4. Moose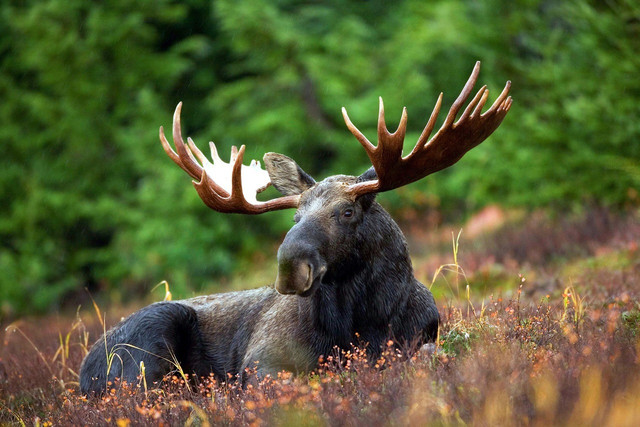 Range: Canada, USA, Norway, Sweden, Finland, Russian Federation
Conservation status: Least Concern
Current population trend: Increasing
Both unofficial national mascot and arguably the most dangerous Canadian animal, the majestic moose is particularly problematic for motorists, accounting for hundreds of vehicle accidents in the country each year. The estimated moose population in Canada ranges from 500,000 to 1,000,000. 
These towering creatures are just as dangerous off the road. Weighing up to a staggering 1,200 lbs, moose are known to charge when they feel threatened or cornered. Throw into the mix those imposing antlers and a kick that can cause severe injury or death, the moose is one Canadian animal you will definitely want to give a wide berth if possible.
Again due to habitat loss and changes to the climate, moose are being encountered more regularly in urban areas, so staying alert and letting these animals go about their business without interfering with them is the best strategy.
5. Canadian Animals: Cougar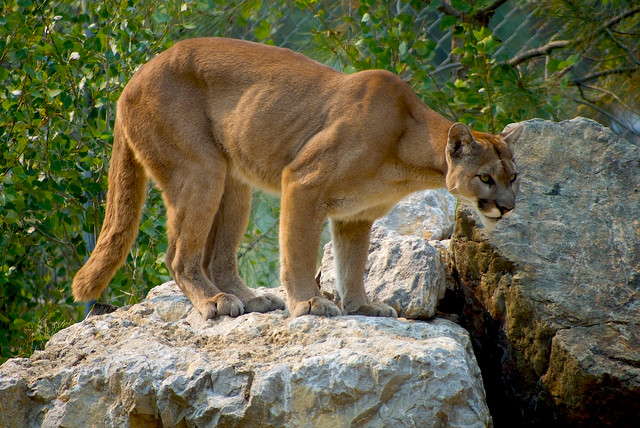 Range: Canada, USA, South America
Conservation status: Least Concern
Current population trend: Decreasing
Estimates suggest between 7,000 – 10,000 cougars currently live in the Canadian wilderness. Don't let that seemingly demure feline appearance fool you because a cougar can kill an animal up to four times its size. Not only that, they boast a stunning running speed and almost supernatural agility. Despite this physical prowess, cougars rarely chase down their prey, preferring stealth and surprise attacks instead.
The good news is that fatal cougar attacks on humans are very rare. And the bad news? Well, cougars typically only attack humans when they are starving, territorial, or feel threatened. Since human activities are having a continuing negative effect on cougar habitats, these dangerous encounters are likely to become more frequent in the future.
6. Grey Wolf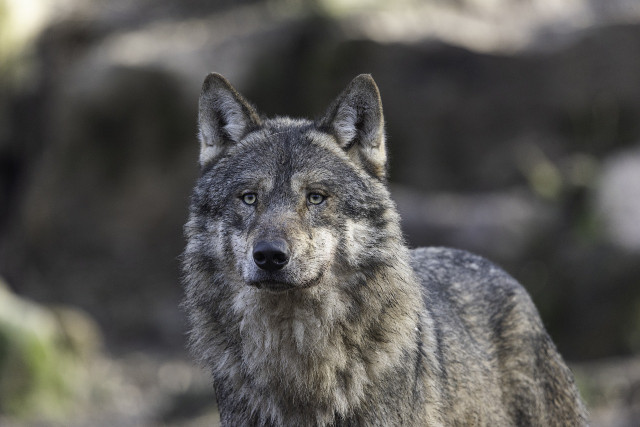 Range: Canada, USA, Eurasia
Conservation status: Least Concern
Current population trend: Stable
Hunting and habitat loss has dramatically reduced the Canadian grey wolf population, with about 60,000 grey wolves remaining in the wild. These Canadian animals prefer living in remote forest areas, arctic tundra, and mountainous regions away from larger urban areas.
These beautiful animals typically live in small social packs of up to 12 individuals, with a diet consisting mainly of deer, moose, caribou, and elk as well as smaller mammals they happen to come across in their hunts.
Wolves can certainly be dangerous to humans, but these animals prefer keeping a low profile and avoiding us entirely if given the choice. That said, wolves have been involved in many aggressive encounters with humans over the years, going on the attack if provoked, threatened, or fatally ill with rabies.
7. Wolverine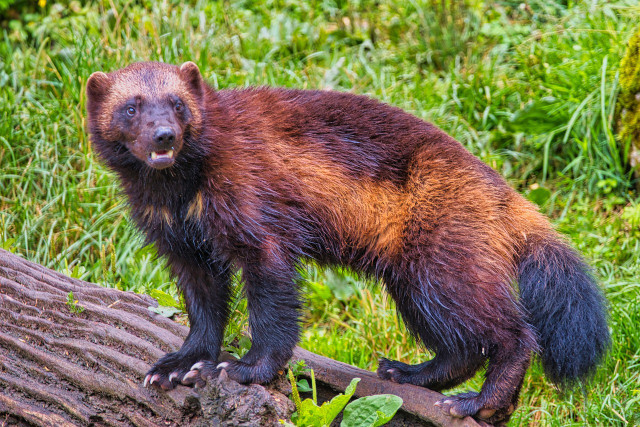 Range: Canada, USA, Eurasia
Conservation status: Least Concern
Current population trend: Decreasing
Trapping, hunting, and deforestation have sadly resulted in the Canadian wolverine being placed on the country's endangered species list, with an estimated 10,000 adults left in the wild.  Wolverines are omnivorous scavengers that will eat pretty much anything from berries and seasonal plants to small mammals and animal carcasses, picking over the remains of animals that other predators have already killed.
Wolverines are cunning, strong, and aggressive creatures and while quite intimidating, attacks on humans are quite rare, and serious injuries from wolverines are even more so. If you do happen to come across one in the wild, however, standing your ground during a dramatic face-off with one is the best strategy, and will normally end with the wolverine scampering off.
8. Canadian Animals: Elk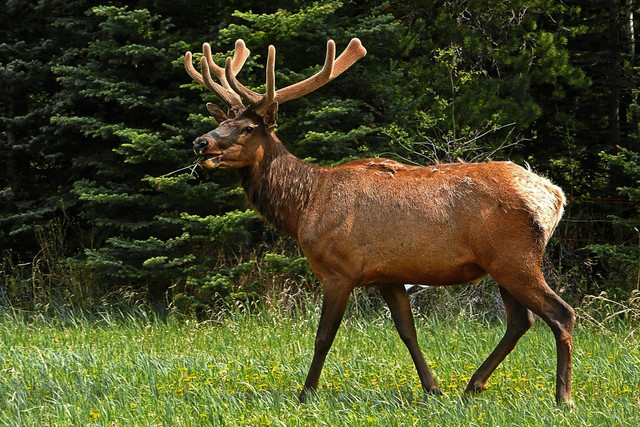 Range: Canada, USA, Eurasia
Conservation status: Least Concern
Current population trend: Increasing
The Canadian backcountry is home to about 72,000 of this regal Canadian animal, but much like the moose, it is easy to underestimate just how dangerous an elk can actually be. Elk are one of the largest mammals in Canada and can weigh as much as half a ton.
Moreover, these Canadian animals are completely unafraid of humans, making them unpredictable and dangerous, especially during the late summer mating season when the males are even more aggressive than usual. Females with calves are also a major concern and will charge and go on the attack if they feel that their young ones are threatened. Canadian park authorities persistently urge visitors and campers to never approach elk under any circumstances.
9. Coyote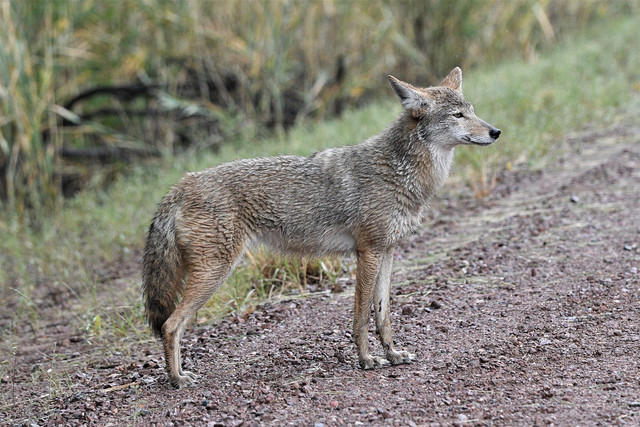 Range: Canada, USA, Mexico
Conservation status: Least Concern
Current population trend: Stable
Coyotes are so widespread in Canada, it is hard to determine exactly how many there are. Feeding on small rodents and hares, along with berries, fruits, and nuts, coyotes are also highly adept at hunting in packs, often taking down larger game such as deer.
These Canadian animals are extremely intelligent and curious animals, which has seen them enter urban areas more regularly in search of food sources. Fatal encounters with coyotes are incredibly rare, but like most animals, coyotes will definitely act aggressively if they feel threatened. In the unlikely event of a dangerous encounter with coyotes, standing your ground, making loud noises, and throwing stones will quickly have these creatures on the retreat.
Read more:
** Links to retailers marked with ** or
underlined orange
are partially partner links: If you buy here, you actively support Utopia.org, because we will receive a small part of the sales proceeds.
More info
.
Do you like this post?
Thank you very much for voting!