Making your own vegan onigiri is simple and delicious! Read on for an onigiri recipe and ten different ways to fill and flavor them, including a recipe for no-tuna mayo.
Onigiri is one of the most popular foods in Japan, with an estimated 1 in 10 people eating them every day. The reason for this might be that they are a portable and filling snack for people who are on-the-go. The simplest version is made using just rice, salt, and seaweed — making onigiri vegan. 
What Is Onigiri?
Japanese rice balls, or onigiri, were originally developed as a satisfying and nutritious portable food. Essentially, freshly cooked short grain rice rice is stuffed with a salty filling and then wrapped up in a piece of toasted nori. The salt helps to keep the rice safe to eat for a longer period of time.
Onigiri are flavored with a wide variety of fillings like umeboshi (preserved plum), natto (fermented soy bean), tuna mayonnaise or seaweed. The rice can also just be salted and left without a filling, eaten with or with our nori, or can be made with flavored rice. They are usually round, cylindrical, or triangle in shape, and can even be toasted! 
Despite being made of rice and seaweed, onigiri is not a type of sushi. To make sushi, short grain Japanese rice is seasoned with vinegar, salt, and sugar, whereas when making onigiri, the rice is only seasoned with salt. 
tTo make sure that the nori stays crisp, it is usually packaged in a way that keeps the nori separate from the rice until you are ready to eat it. Unfortunately, this means that many ready-to-eat onigiri that you can buy will be packaged in quite a lot of single use plastic. Making your own onigiri means that you can say no to packaging waste and use more sustainable options instead. 
Vegan onigiri is simple to make and can be filled with pretty much anything you like. They are a great way to reduce food waste when you have some leftovers that aren't quite enough to make an entire meal. Why not invite some friends over and have an onigiri making session together? Keep reading for an easy basic recipe for vegan onigiri and ideas for different ways to fill and flavor them.
Tips For Onigiri Success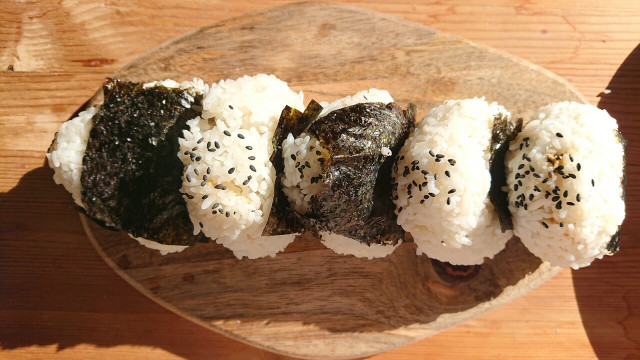 What you fill your vegan onigiri with is totally up to you. The type of rice you use, however, is not. Onigiri must be made with Japanese short-grain rice, which is also sold as sushi rice. To reduce your carbon footprint, consider trying an organic, American grown sushi rice like the variety from Lundberg Family Farms available on Amazon**. Unfortunately basmati, jasmine or long-grain brown rice won't work.
Here are a few more tips to ensure Japanese rice ball success:
use freshly cooked rice that has cooled down just enough to be able to handled
wet your hands so that the rice won't stick to them
salt your hands so that you season the rice as you press it together
don't use too much filling as it could escape and make a mess
pack the onigiri tight, but not too tight
wrap in nori just before you're ready to eat to keep it crisp
Vegan Onigiri Recipe
Making onigiri is pretty straight forward. You can prepare the fillings while the rice is soaking and cooking.  Some onigiri recipes recommend using plastic wrap when filling and forming, which isn't the most sustainable option. This won't be necessary if you have a bowl of water handy when shaping the rice. You will also need a pan that has a tight fitting lid.
Makes 6 Onigiri
Ingredients:
2 cups sushi rice
2 cups water
2 nori sheets cut into thirds
salt
fillings of your choice
Instructions:
Soak the rice in cold water for 30-60 minutes. Rinse the rice in a few changes of water until it runs clear. Drain using a sieve, and save the liquid for a rice water rinse.
Add the rice and 2 cups of water to a lidded pan. Bring to a boil, then reduce the heat to the lowest setting. After about 15 minutes the water should have been absorbed. Check – if there is still visible water, cook for another 2 minutes.
Turn off the heat and let the rice steam for another 10 minutes.
Remove the lid, season with a pinch of salt, and fluff up the rice with a wooden spoon.
Once cool enough to handle, but still warm, wet and salt your hands and place a big spoonful of rice in to the palm of your hand, and flatten it out slightly.
Make a dimple in the middle and fill with your chosen filling.
Spoon a little more rice on top of the filling.
Cup one hand over the top of the hand holding the rice. Gently squeeze together to make a firm ball, keeping the filling inside.
Flatten and shape using your hands. If the rice starts to stick, use a little more water and salt for your hands.
Sprinkle with some toasted sesame seeds, wrap in a strip of nori and enjoy!
Tip: If you plan to save some onigiri for later, once cool, store them in an airtight container in the fridge for up to 2 days. Allow to come back up to room temperature before wrapping in nori and eating. 
No-Tuna Mayo Filling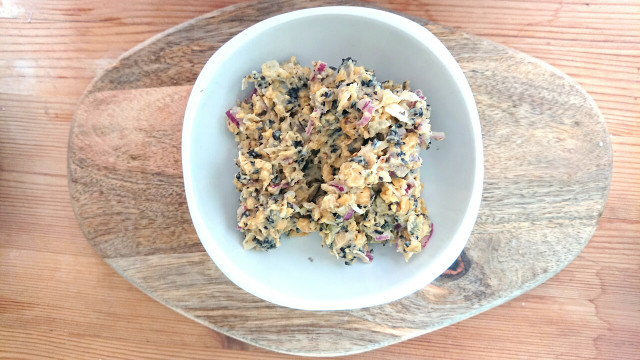 Tuna mayo is a very popular onigiri filling, and this vegan version made with chickpeas in place of fish is an excellent substitute. Whenever possible, try to source organic and local ingredients.
Ingredients:
1 cup cooked organic chickpeas
2 tbsp. nori flakes 
¼ red onion, finely chopped
the juice of a ¼ lemon
¼ tsp. mustard
5 capers, chopped
1 tbsp. olive oil
1 tsp. nutritional yeast
1-2 tbsp. vegan mayonnaise
salt and pepper to taste
Instructions:
Place the chickpeas in a bowl and crush with a fork. You want it to be chunky, not mushy.
Stir in the rest of the ingredients.
Taste and adjust the seasoning if necessary.
Use 2 teaspoons of the no-tuna mayo to fill an onigiri.
Soy and Sesame Mushrooms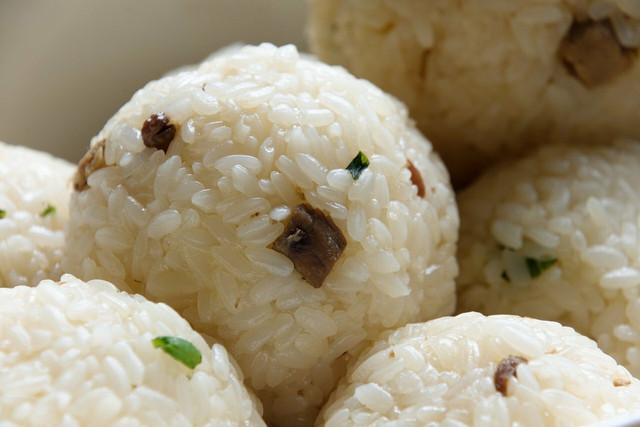 Vegan onigiri does not have to be filled. You can also flavor the rice and shape it in to a ball, triangle or cylinder. This recipe uses very little oil for a reason — if the mushrooms are too oily or wet, the rice won't stick together properly.
Ingredients:
4 mushrooms, very finely chopped
1 cup dried shiitake mushrooms, re-hydrated in hot water for 5 minutes and squeezed dry
2 clove garlic, minced
2 tbsp soy sauce
½ tsp olive oil, for frying
½ tsp. sesame oil
toasted sesame seeds
Instructions:
Finely chop the shiitake mushrooms.
Heat the olive oil and fry all the mushrooms for a few minutes. Press down with the spatula to release as much water as possible.
Add the garlic and stir. After a minute or so, add the soy sauce and allow it to bubble off — you don't want the filling to be too wet.
Remove from the heat and drizzle on the sesame oil and sprinkle the seeds on top.
Mix the filling in to the hot cooked rice and form in to race balls while still warm. 
More Tasty Vegan Onigiri Ideas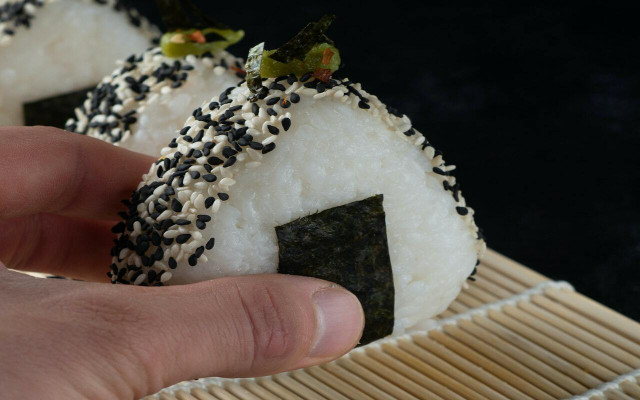 As mentioned above, there are many ways to eat onigiri. Here are a few traditional and not-so-traditional vegan fillings to use with our onigiri recipe to get your inspired:
Vegan Salmon: This vegan lox recipe made from carrots would make a perfect filling for onigiri. It can be prepared a few days in advance. Simply chop before filling.
Vegan Cream Cheese: Try mixing a little cashew cream cheese with some chopped fresh cucumber.
Furikake –  A Japanese seasoning, usually made of nori flakes, sesame seeds and salt is a delicious and simple way to flavor rice. Why not keep some of the onigiri plain and sprinkle with some organic vegan furikake and some sesame seeds?
Kombu: Healthy and sustainable, kombu makes a great onigiri filling. Soak some kombu in water overnight. Slice in to thin strips and add to a small pan of water. Just before it starts to boil, reduce to a simmer and cook for 15 minutes, or until the seaweed is soft. Drain and pat dry with a clean cloth and season with a dash of soy sauce, rice wine vinegar and some sesame seeds. 
Leftovers: Onigiri are a perfect no-waste snack. Even a few tablespoons of leftovers would be enough to fill six onigiri. The jackfruit in this vegan arepas recipe would be delicious.
Preserved Plum: Umeboshi is a popular and traditional onigiri filling in Japan. You can buy them from your local Japanese or Asian grocery store. 
Wasabi Mayo: For a super simple yet flavorful filling, add vegan wasabi mayo to your vegan onigiri. 
Yaki Onigiri: For a delicious alternative, you can also fry onigiri for a few minutes on both sides until crisp and heated through before serving. Just remember to do it before wrapping in nori!
Read on:
** Links to retailers marked with ** or
underlined orange
are partially partner links: If you buy here, you actively support Utopia.org, because we will receive a small part of the sales proceeds.
More info
.
Do you like this post?
Thank you very much for voting!