Try this vegan spanakopita recipe for a plant-based twist on the Greek classic. Plus, make our vegan feta cheese for a wholly homemade filling.
Spanakopita is a well-known Greek pastry typically made of spinach, cheese (often feta), and flaky layers of phyllo (or filo) dough brushed in olive oil or butter. There are different variations of this classic that can involve incorporating fresh herbs like mint, parsley, and dill, using a thicker crust instead of phyllo dough, or crafting different shapes like squares or spirals. 
This vegan spanakopita recipe seeks to add another dimension to this Greek classic by offering a plant-based version. While a vegan lifestyle has many benefits that draw people towards this diet, many of us probably miss at least some foods from our previous lives. This vegan spanakopita recipe hopes to fill the void for those missing this cheesy, flaky, Greek delight.
What's Different in Our Vegan Spanakopita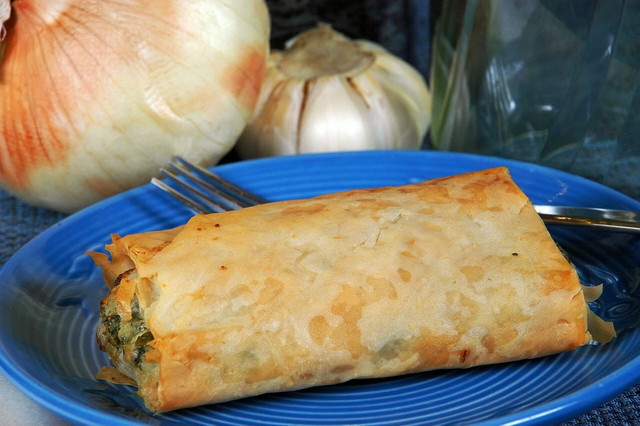 This recipe uses a homemade vegan feta cheese with almonds, macadamia nuts, and oat milk to provide a soft and creamy yet slightly nutty texture. It also uses a vegan phyllo dough, which is easier to find than you might think. Many phyllo doughs at the grocery store are actually vegan; just take a closer look at the ingredients list. To be sure, you can also go to your favorite organic market to find a vegan phyllo dough. 
We'll first show you how to make the vegan feta cheese yourself. This needs to be prepped one day ahead to allow the mixture to drain properly. You will also need a heavy-duty blender or food processor that is capable of blending nuts easily into a smooth, nut-butter-like texture. If you don't feel like making this vegan feta substitute yourself, you can also often find vegan feta cheese at organic grocery stores. They are usually made of nuts and taste delicious. 
If you don't have a food processor or blender, you can instead make this vegan feta cheese recipe, made with tofu.
Vegan Feta Cheese Recipe (Make One Day Ahead)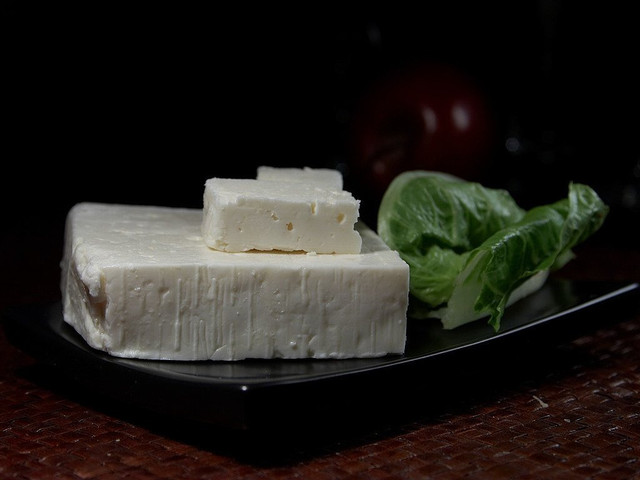 This recipe yields about 16 oz. of vegan feta cheese.
Ingredients:
1 cup almonds, peeled
1 cup macadamia nuts, peeled 
6 tbsp lemon juice
5-6 tbsp unsweetened oat milk
1 tsp salt
Instructions:
Place the almonds and macadamia nuts in a medium bowl and cover with boiling water. Set aside for 30 minutes to soak. Rinse afterwards.
Place the lemon juice, oat milk, and rinsed nuts in a blender/food processor.
Blend until smooth, using a spatula to return the mixture that stays on the walls of your blender back to the center. Some blenders may struggle with this so it's important to use a strong blade and blender/food processor that's capable of blending nuts. 
Taste and adjust the amount of salt and lemon juice. 
Line a sieve with a piece of cheesecloth and place it over a bowl.
Place the cheese mixture inside the cheesecloth. Bring the corners of the cheesecloth together to form a ball. Squeeze very gently to allow the excess water to drip away. Place in the fridge overnight to allow the mixture to thicken and the excess moisture to drain away. At this point, the cheese will be creamy but still fairly soft and wet.
Gently place the drained cheese ball on a paper-lined baking tray. Bake in an oven at 285 º F for about 45 minutes, until you feel quite a bit of resistance when you try to press the cheese gently with your finger (careful, hot!). Allow it to cool completely before cutting or it will fall apart. After baking, this cheese will have a yellow crust.
Vegan Spanakopita Recipe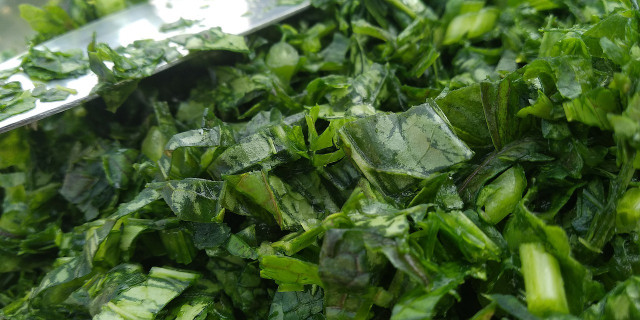 Ingredients:
16 oz. frozen chopped spinach, well thawed and well-drained 
4 green onions, sliced finely
16 oz vegan feta
3 small garlic cloves, minced
zest of 1 lemon
3/4 cup fresh mint, leaves only – finely chopped
3/4 cup fresh dill, finely chopped
3/4 cup fresh flat-leaf parsley, finely chopped
½ tsp ground nutmeg, adjust to taste
½ tsp freshly ground black pepper, adjust to taste
4 tbsp nutritional yeast
1 – 16 oz. vegan phyllo pastry, thawed in the fridge
Olive oil
Sesame Seeds for garnish
Instructions: 
Before you begin mixing the filling, be sure the spinach is well-drained: squeeze out any excess liquid by hand. Don't forget that you can freeze spinach that you don't use. 
Heat up a tablespoon of olive oil in a small pan and gently stir-fry the green onions and garlic until softened and fragrant. Remove from heat. 
Mix the vegan feta, spinach, green onions, garlic, lemon zest, mint, dill, parsley, nutmeg, black pepper, and nutritional yeast well. Taste the mixture and adjust the seasoning as needed.
Spanakopita Assembly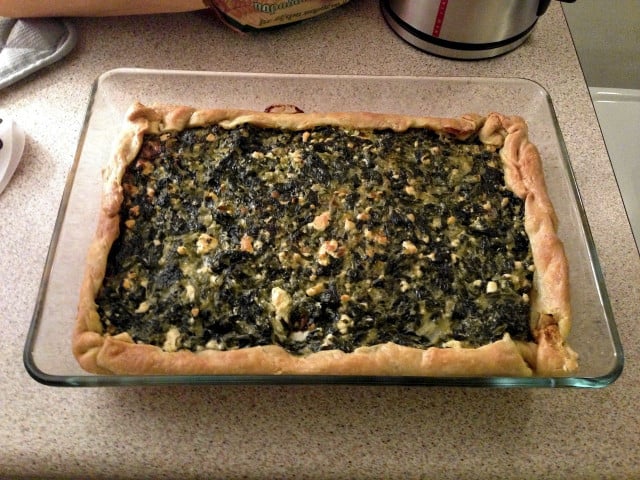 To assemble your vegan spanakopita, line the baking dish with two sheets of phyllo dough, letting them cover the sides of the dish. Brush with olive oil. Add two more sheets in the same manner, and brush them with olive oil. Repeat until two-thirds of the phyllo is used up.
Now, evenly spread the spinach and feta filling over the phyllo crust. Top with two more sheets, and brush with olive oil.
Continue to layer the phyllo sheets two at a time, brushing with olive oil, until you have used up all the sheets. Brush the very top layer with olive oil, and sprinkle with just a few drops of water.
Fold the flaps or excess from the sides; you can crimp them a little. Brush the folded sides well with olive oil. 
Bake at 325°F for 1 hour, or until the phyllo crust is crisp and golden brown. Remove from the oven. 
Brush the pastry with some more olive oil and sprinkle with seeds for garnish.
Allow the pie to 'set' after baking before cutting into it. Store the leftovers in the fridge for 3-4 days.
Read more:
** Links to retailers marked with ** or
underlined orange
are partially partner links: If you buy here, you actively support Utopia.org, because we will receive a small part of the sales proceeds.
More info
.
Do you like this post?
Thank you very much for voting!