Need a few upcycling ideas for your unwanted goods? Cut down on waste, get creative, and do your part in conserving the environment with these tried and tested tips.
Upcycling is a great way to be eco-friendly and economical with your used goods. There are items sitting in your home that you may not realize can be upcycled into wonderful home decor. Avoid wasting old products you no longer use and reduce what goes into the local landfill, plus, save time and money — and have fun while you're at it!
We've got some simple and effective upcycling ideas to transform your home with easy everyday items. Bottles, jars, cans, old clothes, or even old pieces of furniture — all these household goods can have a new life with a little upcycling magic. 
1. Potholder Scarfs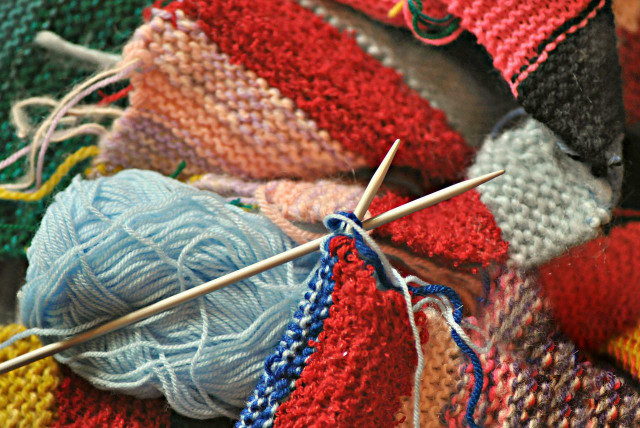 Some plants do not like to be cold, so why not wrap them up to keep them warm in the winter months? Using an old scarf or some leftover knitwear, entwine it around the pot. Tuck it in around the edges and stitch in place. You can help your plants survive the winter months, and give your old scarfs a new home as funky pot holders.
2. Scrap Material Embroidery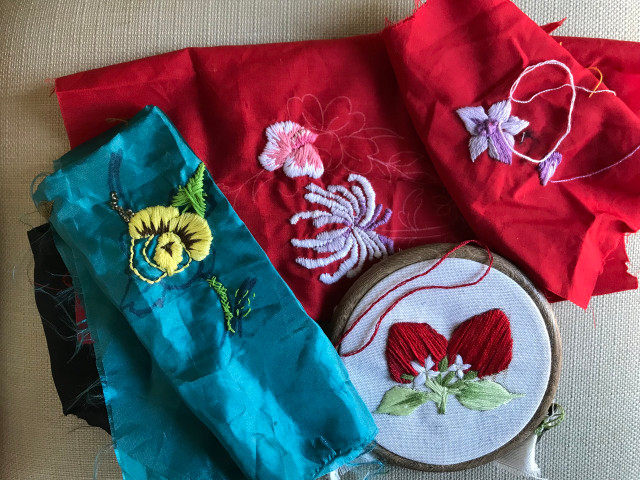 Need more upcycling ideas for your old clothes? If you're about to throw away some clothes you don't wear anymore, this tip can help you turn them into artistic fixtures around your home. Using an old piece of cloth, clothing or bedding, pencil in a design of your own, or use a stencil. Once that's done, get a needle and some embroidery threads. Use whatever color you like to make a beautiful wall hanging or sew it onto a plain old material to give it a new lease of life. You can use the embroidery ring to hang it on your wall or tuck the material into a photo frame for displaying your work.
3. Duvet Cushions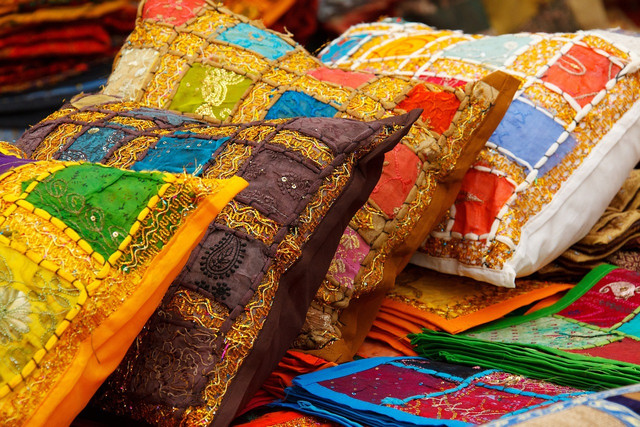 If your favorite duvet has gotten worn around the edges, why not use some upcycling ideas to make chic cushions for your bed or sofa?
First, lay out the duvet so the two (the inner and outer) sheets are lying flat against each other.
Find a piece of the duvet with a pattern you like. You want to make sure that the other side of the sheet also has a design that you won't mind going on the back of your cushion.
Use a material pencil to draw the outline of your cushion. You can go with whatever shape you like, just leave a few inches around the edge to sew the inner seam. If you're unsure, use an existing pillow as a guide.
Cut the duvet with a sharp pair of scissors right through both sheets.
Now, turn the sheets inside out and lay both sides against each other.
Sew around three sides of the sheet and leave one side open.
Turn the material inside out again and stuff it with a material of your choice, such as strips of the remaining duvet cover.
Then just sew the remaining seam to close up. 
4. Screw Jar Holders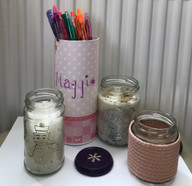 Screw jars are one of the easiest upcycling ideas on our list. You can use your old jars to design new multipurpose holders for candles, pen holders, jewelry holders, spices or herbs. Start by washing the jar, then soak it in warm soapy water to remove the labels.
They can be painted on directly or you can use stickers to decorate them, you can even use string or wool to wrap around them. Or, you can spray-paint it the base color of your choice and then paint your design on top. Ensure you use strong glue if you're adding material as not everything will stick to glass easily. 
5. Repurposed Plastic Bags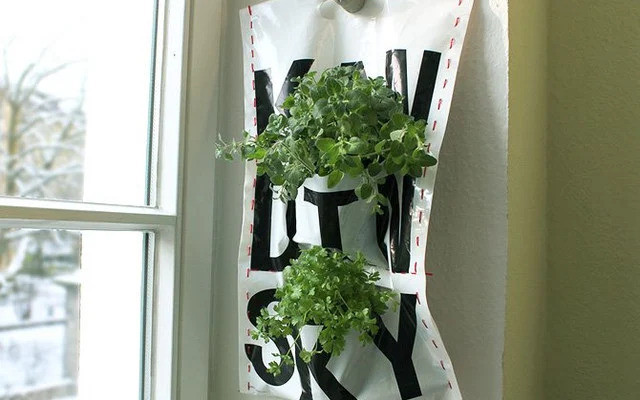 We've all got those pesky plastic bags in our homes that never seem to get used. Why not turn them into a storage space for plants, shoes or clothes? First, find some sturdy bags, wire and a needle and thread. You can grab some smaller bags to fill the inside and some masking tape. Place the masking tape roughly half an inch or one inch from the edge of the bag. Take your needle and thread, then sew the margin a quarter of an inch from the tape. Once sewn, you can cut the tape off with sharp scissors.
If you want there to be more than one plant slot, you can sew across the middle of the bag to divide it into different sections. Now, take the masking tape and lay it across the area you want to make the slit for the plants. Cut across the tape, being careful not to cut the back layer of the bag. Be sure to only cut the top layer.
Towards the end of the slit, cut upwards to avoid tearing. Then, pad the slots with the small plastic bags, ready for your plant pots. To give the bag some strength, you can use some garden wire or an old hanger to line the back of the top edge of the bag. Just fold the bag over the wire then tape or glue it into place. Now you're ready to hang. You can use an old corkscrew with a screw driven through to place it on the wall. 
6. Jewelry Pouches Into Lavender Bags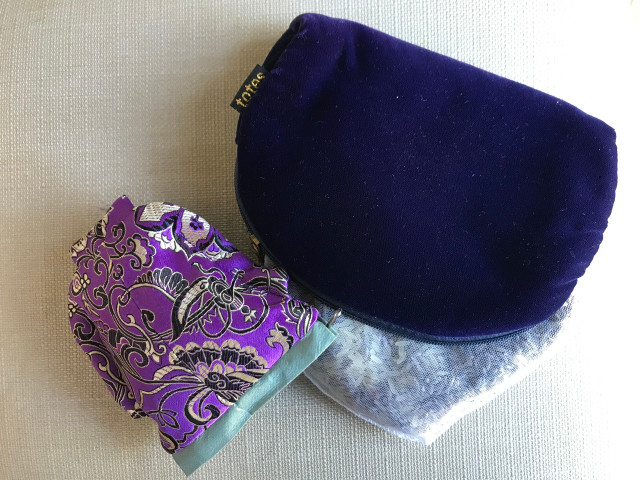 Tired of your old jewelry pouch, purse, or small makeup bag? Why not upcycle it into a beautiful fragrant lavender bag. All you need is some muslin cloth, a small piece of cotton, and some lavender picked from your garden or bought at your local farmers' market. Using the bag as a template, draw around the cloth then cut it out.
Next, you can hand sew or machine sew around the edges leaving a small gap to fill with lavender and rice. Fill with lavender mixed with rice, sew the gap and insert it into the bag or pouch. Voila, you have a beautiful fragment bag to put under your pillow or in a drawer. But, upcycling ideas don't have to just be for your home, you can gift them to loved ones too.
7. Bottle Lights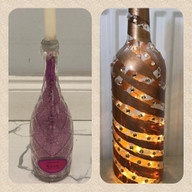 Don't throw away your empty wine bottles. Try some upcycling ideas and designs to make your own bedside lamp or decorative candle holder. You can use any wine bottle of any shape.
To begin, wash the bottle, then soak it in warm soapy water to remove the label. Using glass paint, make any design you like. If you're not sure what to paint, use some stencils to help you. Allow to dry between each coat of paint. For the lights, you can put a candle on the top by melting the base of the candle and inserting it into the bottle or using a string of battery-operated fairy lights (available on Amazon**) inserted into the glass. You can use plain or colored lights depending on your bottle design.
Tips and Takeaways 
There are many upcycling ideas you can use for inspiration. Just remember, the idea is to:
Avoid waste
Use what you have 
Think outside the box
Have fun.
Read more:
** Links to retailers marked with ** or
underlined orange
are partially partner links: If you buy here, you actively support Utopia.org, because we will receive a small part of the sales proceeds.
More info
.
Do you like this post?
Thank you very much for voting!