The benefits of walking can affect both body and mind — especially during those dark and cold winter months. Read on to learn more about walking for health. 
To keep yourself physically fit, you don't need to push yourself to the limit. The most important thing is: simply get moving. The step from zero exercise to little exercise can make a big difference for physical and mental health.
Even just walking your dog, or parking a bit further down the road and walking to the store can have a positive effect. However, it is important that you exercise regularly — most guidelines recommend walking for 150 minutes per week. Here are some of the benefits of walking.
1. Walking for Health: Live Longer
Walking benefits people of all ages, but is an especially great way of exercising for those middle aged and older. Research shows that those who exercise on a regular basis in their 50s and 60s are 35 percent less likely to die over the next eight years than those who do not get regular exercise.
You not only have the chance of a longer life when you take regular walks — physical activity can also make us feel younger and better equipped to deal with physical stress.
2. Mood Boosting Benefits of Walking
Had a long day at work? Feeling the stresses of daily life? Get outside and go for a walk! A nice walk can dull the edges of a rough day. 
Some doctors claim that regular walking can benefit and even modify your nervous system so you'll experience less anger and hostility. This is especially true when you can manage to get a bit of sunshine or go strolling through a park or forest. This strategy is even more helpful during the colder and darker winter months, to avoid seasonal affective disorder.
Boost your mood even further by walking with a partner. Social interaction helps to make you feel connected and part of something. You can also benefits of this, when walking alone – simply call your friends while you are outside.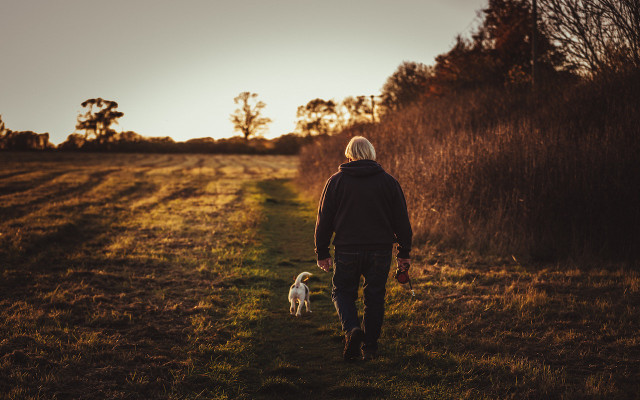 3. Give Your Head and Eyes a Break
You know that feeling you get after working on a task for hours and hours and it gets to the stage where you can't concentrate anymore? It can be incredibly helpful to step away from your work, even for short while. Walking will benefit your brain and make it easier to tackle the problem when you get back. 
We live in an age where we are overwhelmed with visual stimulation. While much of that comes from screens, it can also come from books, magazines and newspapers. Give your eyes a break by exposing them to daylight and also get them focusing on things in the distance.
Utopia's tip: If you want to spend less time in front of a screen in general, you can practice digital detox.
4. Walking for Health: Improve Mental and Emotional Well-Being
People suffering from certain mental illnesses can also profit from the benefits of walking. Studies show that exercise can be used to treat mild and moderate depression, and that walking even one hour a day reduces the risk of major depression by 26 percent.
Exercise is a great way to fight depression as it promotes many changes in the brain and new activity patterns help to make you feel calm. It also works as a distraction against the negative thought cycles that feed depression. Build walking into your morning routine to help get you out of bed. 
5. Benefits of Walking: Discovering New Things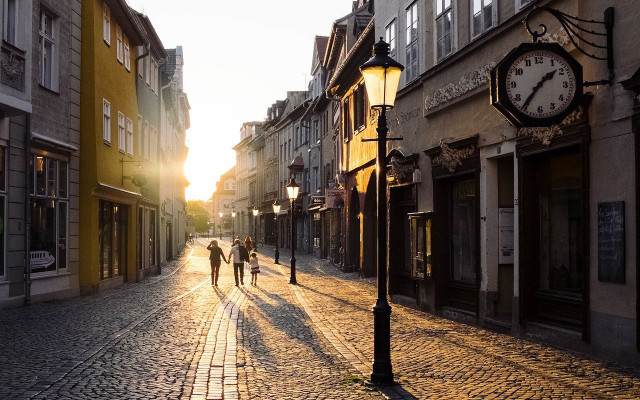 Walking in unknown places can be a great experience. It doesn't matter if you go to the forest or just walk to another part of the city. You might discover a beautiful field, a perfect picnic spot down by the river or a new café. Discovering new spots and hidden gems is essentially instant gratification for your exercise and another great benefit of walking.
In any case, getting to know new things broadens your horizons. You can share your discoveries with your friends and family and pass on the joy and experience.
6. Prevent and Relieve Dementia
Another scientific study investigated the relationship between physical activity and dementia. The result was that regular exercise can reduce the risk of dementia and may even slow the progression. According to the study, this is particularly true for Alzheimer's, which is the most common type. 
7. Walking Benefits: Boosts Your Immune System
Walking is essential for your health – especially during cold and flu season. A study with more than 1000 participants found that those who walked at least 20 minutes, five days a week had 43 percent less sick days. And, if they did get sick, their symptoms weren't nearly as bad, and they didn't last as long. 
Hopefully, these reasons have convinced you to make walking part of your routine. What are you waiting for? Tie up those laces, get outside, get moving – and enjoy the benefits of walking.
This article has been translated from German by Karen Stankiewicz. You can view the original here: Spazieren gehen: So gesund sind ein paar Schritte täglich
Important Information regarding Health-related Topics.
** Links to retailers marked with ** or
underlined orange
are partially partner links: If you buy here, you actively support Utopia.org, because we will receive a small part of the sales proceeds.
More info
.
Do you like this post?
Thank you very much for voting!