Thinking of discarding those cauliflower leaves? Think again! Make the most of this earthy vegetable with our 3 delicious cauliflower leaves recipes.
Cauliflower leaves are perfectly edible. Cauliflower is a tasty and hearty vegetable, that can be cooked in many different ways, but you are doing this type of cabbage an injustice if you throw parts of it away. Cauliflower leaves, and even the stalk, are both versatile ingredients that can work well on their own, or as additions to other recipes.
Cauliflower leaves contain good amounts of fiber, vitamin C, vitamin A, folate, calcium, potassium, and selenium, so are a great way to incorporate more nutrients into your diet. It's likely that you will be cooking up your cauliflower too, so along with the cauliflower leaves recipes, we also have some ideas for combining both the florets with the leaves, leaving minimal waste and maximum taste.
1. Roasted Cauliflower Leaves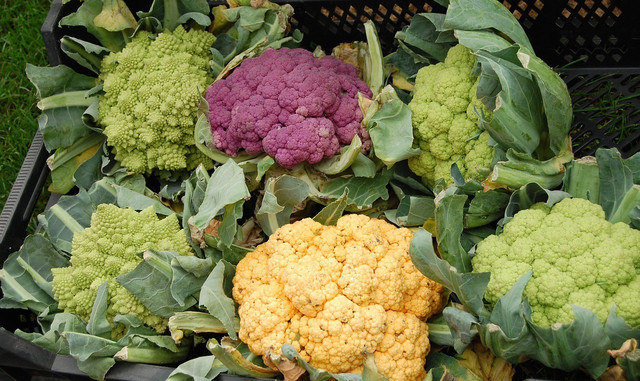 This recipe provides a crispy result, not too dissimilar from the crispy fried seaweed (which is usually a combination of crispy fried spring greens to be precise) that you would find in a Chinese restaurant or takeout. The key here is to add a little salt, pepper, and olive oil. You can also use the stalk, as this will roast nicely too.
Ingredients:
Cauliflower leaves
Olive oil
Salt and pepper
Instructions:
Preheat the oven to 400F. Often you don't need to pre-heat an oven, but in this recipe, it is good to start at a heated temperature, as the cauliflower leaves and stem will roast quickly and crisp up in no time at all.
Trim off the woodiest parts of the stalks, wash, and chop into bite-size pieces.
Wash the cauliflower leaves. Pat the leaves dry and spread out evenly on a baking tray.
Drizzle with olive oil, and toss until coated.
Season with a dash of salt and pepper.
Roast for 7-10 minutes or until the leaves are crisp. Keep your eye on the cooking process so your food doesn't burn.
Serve immediately.
Serve your crispy cauliflower leaves with other tapas-like dishes, such as hummus, double up with cauliflower hummus, or crostini appetizers.
2. Sautéed Cauliflower Leaves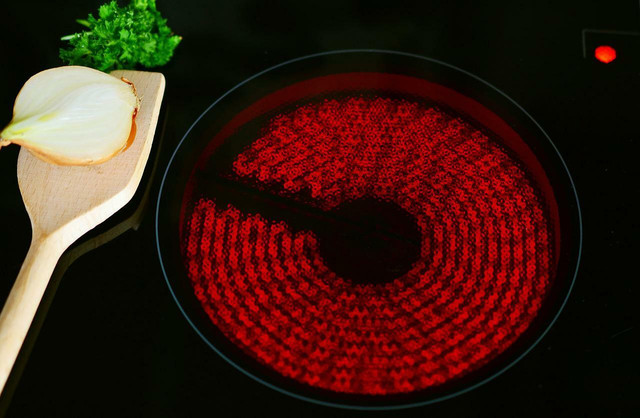 If you prefer to use your stovetop, you can sauté cauliflower leaves along with the stem. In just a few minutes, you'll have a lovely little side dish or topping. You can saute the leaves alone or add a few additional ingredients for an extra burst of flavor.
Ingredients:
Cauliflower leaves
Garlic
Small onion, or shallot
Olive oil
Salt and pepper
A dash of soy sauce
Instructions:
Thinly slice the cauliflower leaves and onion.
Crush or thinly slice a clove of garlic.
Add a dash of oil to a frying pan, over medium heat.
Add the cauliflower leaves, onion, and garlic.
Stir fry for a couple of minutes until tender.
Add a dash of soy sauce and fry for a minute more. The ingredients will likely crisp up a little at this stage, so they don't need long.
These would be an ideal accompaniment to a vegan roast, shepherd's pie, or mock chicken pot pie.
3. Cauliflower Leaves Soup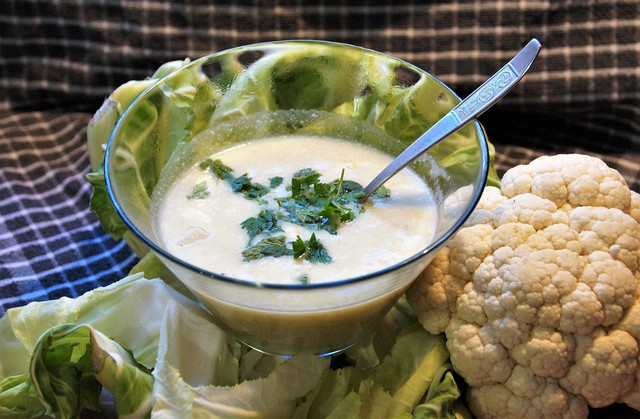 Soup-making is something you can get creative with each time you make it. Cauliflower soup is absolutely delicious, but have you ever thought to add cauliflower leaves? This gives an exciting twist to a classic recipe. 
Ingredients:
1 cup cauliflower florets
1 cup cauliflower leaves
1 garlic clove
1 small onion, or shallot
2 cups homemade vegetable broth 
Dash of salt and pepper
1 pinch nutmeg
½ cup soy or coconut milk/cream
Parsley or coriander, to garnish
Instructions:
Chop up the cauliflower leaves, and break up the florets.
Wash and pat them dry, or leave them to dry naturally.
Dice or slice the garlic clove and onion.
Saute or simmer the cauliflower leaves in a little water or stock. If sauteing, this takes just minutes, if simmering, allow for longer, maybe 10 minutes.
Lightly fry or saute the garlic and onion in a large saucepan.
Add the leaves, and florets, along with the rest of the stock, and simmer for 20 minutes.
Add the milk or cream for the last 2 minutes.
Season with salt, pepper, and nutmeg.
Check the cauliflower is cooked by inserting a fork. It should yield.
Allow to cool for 10 minutes, off the heat.
Use a stick blender and blend until smooth.
Garnish and serve. Note, you may need to heat up a little to serve.
Cauliflower leaves are also edible raw and make a great addition to any green salad. You could try dicing them very finely and adding them as a garnish for soups like this, and other dishes, such as goulash, carbonara, or mac and cheese.
Got cauliflower left after making one of the recipes? Learn how to freeze cauliflower so it doesn't go to waste.
Read more:
** Links to retailers marked with ** or
underlined orange
are partially partner links: If you buy here, you actively support Utopia.org, because we will receive a small part of the sales proceeds.
More info
.
Do you like this post?
Thank you very much for voting!
[contextly_main_module]