Freekeh is an ancient grain, likely originated in the fertile crescent, and is still used in North African and Levantine cuisines today. Keep reading to learn how to use and cook this grain with three delicious freekeh recipes.
Freekeh, an ancient grain now growing in popularity for its low glycemic index, is made from young green durum wheat that is roasted and rubbed to create its flavor. Similar in texture and size to bulgur, freekeh is harvested while the plant is still green and carefully set on fire to roast. Because the plant is picked early, it retains enough moisture to prevent the seeds from burning. The threshed (rubbed) wheat is then sun-dried to obtain its characteristic flavor and color. The rubbing, or farīk in Arabic, process gives the food its name. The seeds are then cracked into smaller pieces and ready to distribute commercially.
Let's take a look at how to use this grain with some freekeh recipes.
How to Cook Freekeh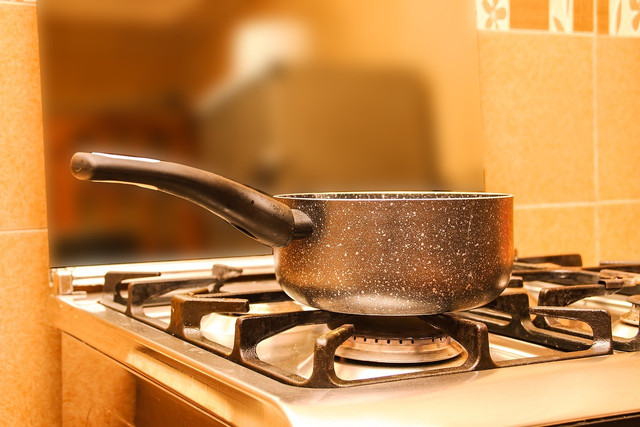 Most freekeh recipes will require you to have cooked it first. It's worth keeping in mind that dried freekeh usually doubles in size during the cooking process. Here's how to do it:
Rinse the preferred amount of dried freekeh under cool water.
Bring double the amount of liquid to boil on the stove, then add the rinsed freekeh in.
Once the grains have been added, bring to a boil, then reduce heat to a simmer and cook until tender. For wholegrain, about 35-40 minutes, for cracked, about 15-20 minutes.
1. Freekeh Tabbouleh Recipe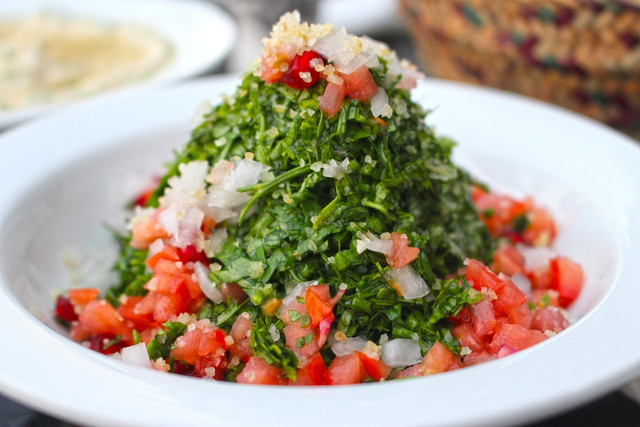 This freekeh recipe is a slight twist on the classic Levantine dish, substituting freekeh in for bulgar.
Ingredients
1 cup of freekeh
1 lemon, halved
1 bunch flat-leaf parsley leaves, finely chopped
2 cups tomatoes, diced
1 cucumber, diced
1 red onion, finely chopped
1 garlic clove, minced
1 tbsp red wine vinegar
⅓ cup of olive oil
1 tsp salt
Instructions
Bring a medium saucepan of water to a boil on medium heat. Add the freekeh and cook it for about 30 minutes or until tender. Drain the freekeh and set it aside to cool.
Heat a pan on medium-high heat. Brush the cut side of the lemon with olive oil. Sear the lemons, cut-side down, for about 2 minutes or until charred.
Add all ingredients, including the juice from the lemon, to a large mixing bowl. Taste and add more salt and vinegar if necessary.
Serve immediately or chill for later. Tabbouleh will keep in the fridge for up to four days, if covered.
2. Freekeh Soup Recipe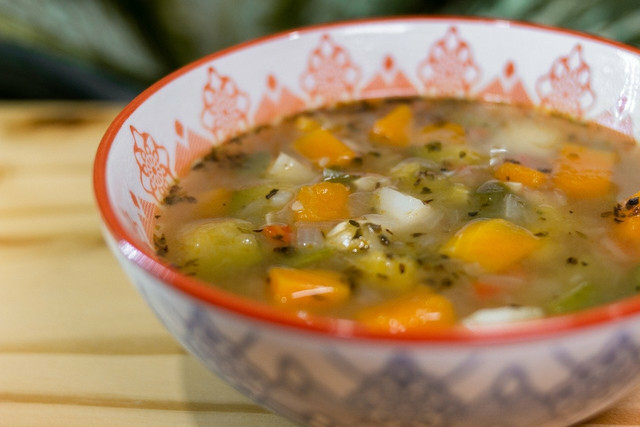 By combining white beans and kale with this freekeh recipe, the end result is a hearty and nutritious winter soup.
Ingredients
2 tbsp olive oil
1 yellow onion, diced
1 carrot, chopped
4 cloves garlic, minced
8 cups vegetable broth
1 15-oz can white beans, drained
1½ cups cooked freekeh
Salt and pepper
3 cups of chopped kale
Instructions
Heat a large pot over medium heat with 2 tablespoons of olive oil. Add onion and carrot, sautéing them for 4-5 minutes, stirring occasionally, until the onion is translucent and fragrant. Add the garlic and sauté it for another 2-3 minutes, being careful not to burn it.
Add broth, white beans, and freekeh. Bring soup to a simmer. Cook for 10 minutes to steep the flavors. Then taste and season with salt and pepper as required.
Just a few minutes before serving, add the chopped kale, cover it, and cook until wilted.
Serve the freekeh soup hot. Store cooled leftovers covered in the fridge for up to 4 days, or in the freezer for up to 1 month.
3. Crispy Freekeh Falafel Recipe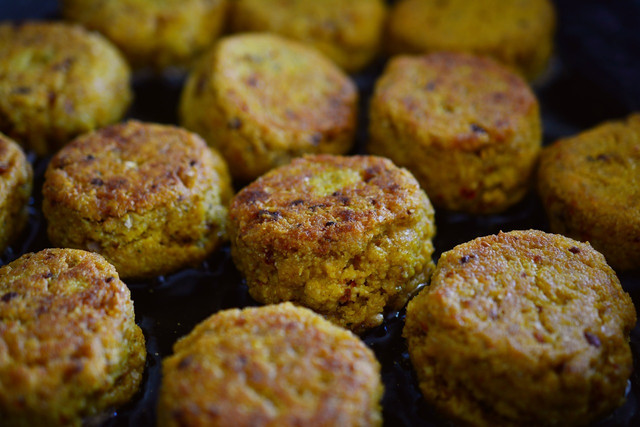 Use the following freekeh recipe to make delicious falafel to be eaten with salad, tzatziki and pita, or simply on their own.
Ingredients
2 tbsp ground flaxseed
¼ cup water
1 15-oz can of chickpeas, rinsed and drained
½ cup yellow onion, chopped
¾ cup packed Italian parsley, chopped
2 tsp garlic, minced
2 tsp ground cumin
1 tsp ground coriander
¾ teaspoon salt
½ teaspoon baking powder
2 cups cooked freekeh
2 cups canola oil
Instructions
Whisk together flaxseed and water. Let it sit for about 5 minutes.
Combine the chickpeas with the onion, parsley, garlic, cumin, coriander, salt, baking powder and flaxseed mixture in a food processor. Blend until puréed, scraping down the sides if necessary. Add freekeh and purée until combined.
Scoop out 1 heaping spoonful of falafel mixture and form into ½ inch thick patties. Repeat until there is no falafel mixture left.
Pour oil into a large wide frying pan until it reaches ½ inch up the side of the pan. Heat over medium heat till the oil is about 350 degrees Fahrenheit. Working in batches, fry the falafel until golden brown, 1 to 2 minutes per side.
Remove from the oil, and place the cooked falafel on a wire rack to drain. Repeat with remaining falafel.
Benefits of Freekeh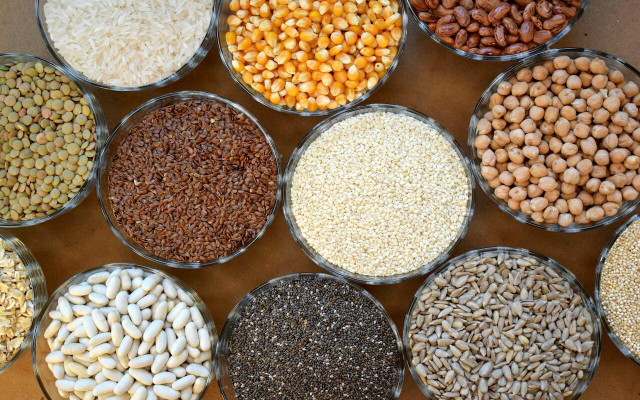 This ancient grain has a rich, nutty, smoky, and robust flavor. Freekeh recipes range from dishes like soups and stews, to salads and stir-frys, or as a side dish. It also makes a great substitute for (pseudo)grains like quinoa, amaranth, bulgar, or brown rice.
Due to the increasing popularity of ancient grains and low-glycemic foods, you can find freekeh in some local and organic grocery stores. Freekeh is a low glycemic index food, which causes your blood sugar levels to rise and fall moderately, making it a great food for people who suffer from blood sugar problems, like diabetics.
Using freekeh in recipes can also help regulate and stabilize appetites, meaning it can be a helpful addition to your diet if you want to lose weight naturally. Even if you aren't looking to lose weight, this healthy grain should be incorporated into any diet since it can help support digestion, and energy levels.
Due to its low water footprint, this ancient grain has a low environmental impact. Its production should also be safe for soil, air, water, and other pollutants as long as it is non-GMO and grown organically, without the use of pesticides.
When purchasing this grain for your freekeh recipes, it's important to look for the "Fairtrade" label on the packaging. This seal shows that the brands are committed to fair treatment and payment for the farmers and agricultural workers, which is crucial in an industry that's full of poor working conditions and unfair wages. Fairtrade certified goods also help impact communities positively, ensure safe working conditions, and promote environmental sustainability.
Read on:
Important Information regarding Health-related Topics.
** Links to retailers marked with ** or
underlined orange
are partially partner links: If you buy here, you actively support Utopia.org, because we will receive a small part of the sales proceeds.
More info
.
Do you like this post?
Thank you very much for voting!