When it comes to freezing leftovers or meal prep, many of us turn to plastic freezer bags or containers made of plastic. However, plastic isn't great for your health or the environment. Here are some sustainable, plastic-free alternatives to storing and freezing your food in conventional containers.
Even if we found time to cook ourselves a fresh homemade meal every day of the week, sometimes pulling a dish or particular ingredients out of the freezer is just the quickest and simplest option. Whether it be fruit and vegetables, sauces and herbs, or even an entire pre-made meal: There's quite a lot of delicious food out there you can prepare yourself, portion accordingly, and store in the freezer until a later date — all without using an ounce of plastic.
Below we'll show you a handful of sustainable household hacks for storing all sorts of foods in the freezer.
1. Freeze Soups, Sauces and Purées in Resealable Glass Jars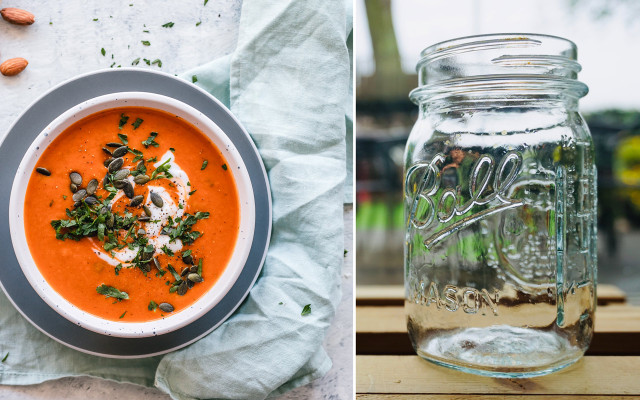 When it comes to soups, homemade applesauce or fresh berries, it's surprisingly easy to go plastic free when storing these in the freezer.
Forget the plastic Tupperware and freeze foods directly in resealable glass jars — you probably already have some have at home, or you can find them cheap at any local supermarket. Mason or Ball jars work the best as they're thick enough to withstand the cold and liquid expansion over time in the freezer. Other glass jars that may be thick enough to reuse are jars for honey, pickles, and olives. Nonetheless, it may be a good idea to hold one up to a mason jar for comparison before freezing.
As goes for all frozen liquids, try to use only wide-mouth jars and leave a good inch (or fill two-thirds full) to allow the contents to expand. You can also pour about half an inch of water over any frozen food in a glass jar to further protect it from freezer burn. When it comes to thawing, rinse this ice layer off with warm water before tossing your dish in the pot or microwave.
An important rule for freezing foods: Instead of sealing the glass jar and sticking it directly in the freezer, leave the jar open for a couple of hours and screw it shut later. Set a timer if you think you'll forget. Tip: Many larger glass baking dishes are also freezer-safe.
Utopia's tip: Freezing food in glass jars is a great way to conserve seasonal produce for longer periods. Keep enjoying these even longer with our sustainable guide on how to reuse vegetable scraps.
2. Seal Your Containers With Silicone Lids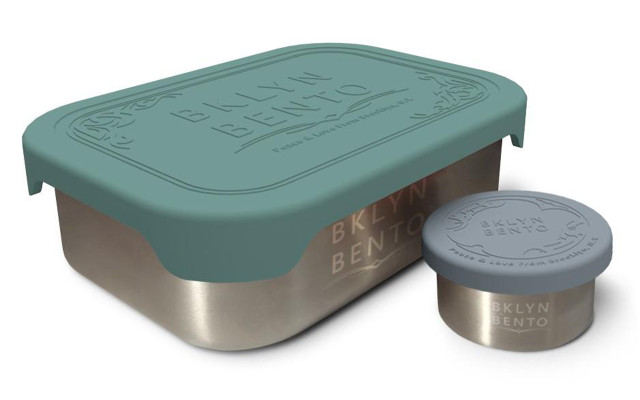 Freezing foods in glass jars is a breeze: Mason or Ball jars with metal screw-on tops are widely available. However, many larger glass food storage containers on the market today feature plastic lids. If you can find them, we recommend meal prep or storage containers with silicone lids — these are comparatively more environmentally friendly and do not contribute as much to the growing problem of plastic in the ocean as typical forms of plastic packaging.
3. Stainless Steal Instead of Plastic Containers
Another effective no-plastic option is stainless steel food storage containers, most of which are entirely made of stainless steel, including the lid. Some stainless steel food storage containers have silicone tops instead to make them leak-proof. Here are some options:
Stainless Steel 3-in-1 Bento Lunch Box found on Amazon**
Stainless Steel Bento Lunch Box Container with Lock Clips, 1200ML found on Amazon**
2 PCs Set Stainless Steel Food Storage Containers with Silicone Lids found on Amazon**.
4PCs Set Stainless Steel Bento Boxes with Silicone Lids found on Amazon**.
You may also enjoy reading: Life without Plastic: Easy Tips for Everyone
Utopia's tip: Check out these healthy meal prep ideas and easily make flexible frozen dishes part of your weekly routine. Simply take your pre-made soup, chili, vegetable fix etc., out of the freezer, thaw, and you've got yourself a "meal-to-go". The added benefit of storing healthy meal prep dishes in the freezer is that you can decide on the fly – meals stored in the fridge only give you a couple of days' wiggle room.
4. Beeswax Food Wraps for Short-term Storage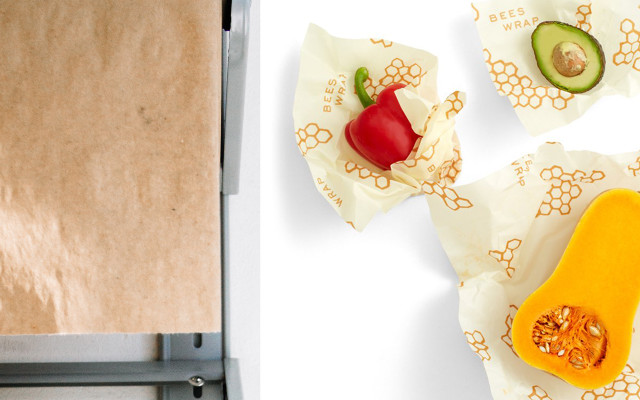 Some additional short-term solutions to storing food plastic-free in the freezer are unbleached butcher paper or beeswax paper sheets or bags. Butcher paper doesn't seal the food as well as wax-layered paper, but there's nothing wrong with leaving your food wrapped in it as an initial layer. Just remember: One layer of butcher or beeswax food wrap is good for short-term freezes only (2-3 weeks at the most). For periods longer than this, wrap your frozen goods with another two to three layers.
Quality beeswax food wraps have become rather scarce nowadays. Instead of buying single-use freezer paper, how about trying beeswax food wraps made of cotton:
Reusable Beeswax Food Wraps with Jojoba Oil from Bee's Wrap 

found on Amazon**.

Premium Organic Beeswax Food Wrap by ENEY 

found on Amazon**.
Or make your own DIY beesway wrap at home.
5. Cotton Bags Are Great for Baked Goods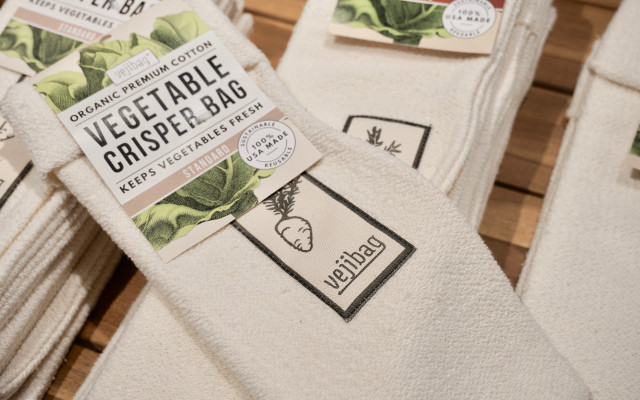 This no-plastic option works just as well: Freeze all types of bread as easily as ever with cotton bags.
Take the extra slices you won't eat yet, or bring the cotton bag right into the bakery yourself, fill it up and your fresh bread is ready to freeze.
If you freeze bread using cotton cloth bags, ensure the bread is wrapped up thoroughly, and the bags are sealed tightly. This cloth bag method for freezer storage is best suited for shorter periods — that is, around a couple of weeks. Here are some options to consider:
Large Reusable Organic Cotton Storage Bags, 5 Pack by Small Fish found on Amazon**
Organic Cotton Produce Bags by Leafico, 12 Pcs found on Amazon**
Also interesting: Plastic-Free Shopping: 3 Easy Tips for Waste Reduction
6. Get Creative With Ice Cube Trays Instead of Plastic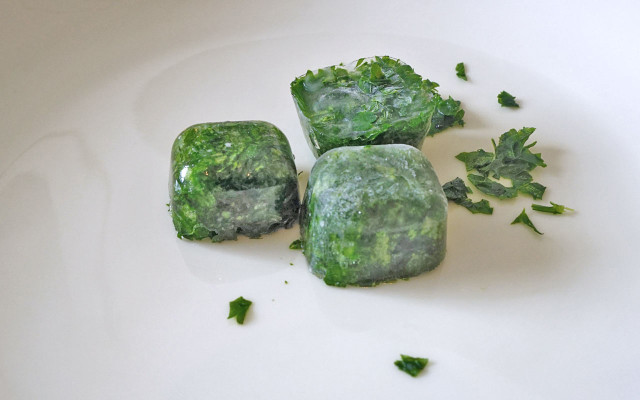 Go plastic-free by ridding your house of plastic single-use ice cube bags, and invest in a stainless steel ice cube tray. This freezer food storage is a great idea for creative cooks who use these portion sizes often. For example, you can pre-slice your garden fresh herbs and pack them away neatly into your ice cube tray, along with a couple of drops of olive oil. This leaves you with pre-portioned foods that take but minutes to thaw.
You can also freeze sauces, baby food, and pre-portioned fixings such as this homemade vegetable broth with this quick and easy method.
Check out some sustainable stainless steel options here:
Stainless Steel Ice Cube Tray by ecozi found on Amazon**.
18 Slot Easy Removal Metal Ice Trays found on Amazon**.
7. Reuse Waxed Cartons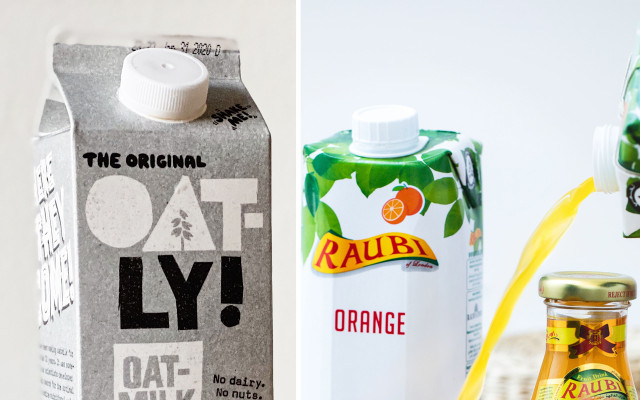 Alongside waxed paper, waxed cartons will also do the trick when storing foods for a couple of weeks in the freezer. Simply take your recently used milk, juice and cream cartons, give them a thorough wash and put them to use further. This creative and sustainable waxed carton upcycling method is great for stocks and soups as the makeshift containers are waterproof and allow for expansion.
To freeze your stocks and soaps in a waxed carton, cut open the top and seal with freezer tape. If you want to go completely waste-free, leave the open waxed container in the freezer for a couple of hours as you would a glass jar, close and fold the top in and stuff it in a cloth or similar freezer-safe non-plastic bag.
Also interesting: How to Freeze Spinach: Preserving Freshness.
Skip the Packaging for Freezing Altogether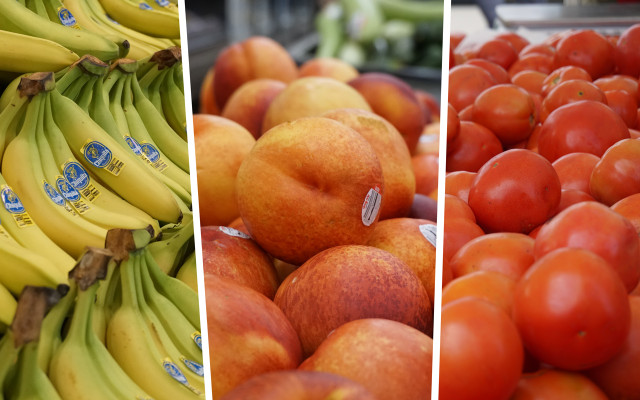 Believe it or not, there are some foods out there that need no freezer packaging at all: tomatoes (those with low water content), bananas, and peaches. There's no need to use plastic zip-lock bags here. Just toss them right on in, and their skins will slip off easily once thawed.
Fruits and vegetables are the most common types of food that go to waste. Freeze the fruit you know won't make it until the end of the week and help avoid food waste.
Read more: 
** Links to retailers marked with ** or
underlined orange
are partially partner links: If you buy here, you actively support Utopia.org, because we will receive a small part of the sales proceeds.
More info
.
Do you like this post?
Thank you very much for voting!