Homemade unsweetened applesauce simply tastes better than store-bought sauces packed full of sugar. Here we'll show you how to whip up tasty sugar-free applesauce using a recipe with only two ingredients.
Store-bought applesauce is pretty darn delicious. However, more often than not, these contain a considerable amount of sugar. Want to go the sugar-free route? Try your hand at a homemade recipe: unsweetened applesauce is incredibly easy to make from scratch. The natural sugars in the apples take care of the sweetness.
Tip: If you like to bake vegan treats, you should keep a stockpile of homemade applesauce at the ready. It's great for use as a binding agent as well as a vegan egg substitute in various dough recipes!
Homemade Unsweetened Applesauce: The Ingredients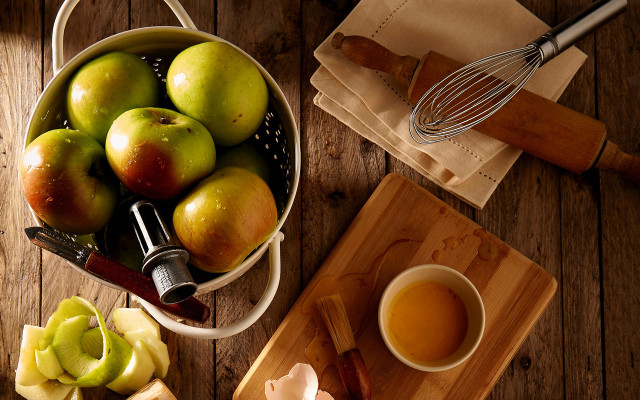 This applesauce recipe is completely free of sugar or sugar substitutes. You will need the following ingredients:
3 ½ lbs. organic apples
¾ cup of water
optional: lemon juice (to taste)
optional: cloves, cinnamon stick, vanilla, or other spices (to taste)
You'll also need a medium-sized pot, a masher or sauce mixer, and several (sterilized) air-tight containers. No need for a measuring cup or scale in this applesauce recipe. Simply adjust your ingredients based on personal taste and desired consistency: Make yourself a traditional unsweetened applesauce, apple puree, or even an apple compote.
The best varieties of apples to make sugar-free applesauce are typically Gala, Pink Lady, Fuji, and McIntosh. That being said, which type of apples you use is completely up to you. Mixing apple varieties in your applesauce recipe is bound to give your sauce a distinct flavor.
Tip: Ask around at your local farmers' market for suggestions on which are the best to use for homemade applesauce and be sure to inquire about local availability. Find a farmers' market near you using the National Farmers Market Directory. You might even find apple orchards in your area where you can pick your own!
Homemade Applesauce: The Recipe
Peel and core the apples (you can use the scraps to make apple cider vinegar!). If preferred, you can also process the apples unpeeled. Most of the vitamins and minerals are located directly under the peel so you can avoid waste while making your sauce a bit healthier.
Cut the apple into small pieces.
Add the apples to the pot filled with ¾ cups of water. Adding the juice of half a lemon will prevent the applesauce from turning brown.
Bring everything to a boil. Reduce heat and let the apples simmer for 20 minutes.
Now you have two options: Coarsely mash the apples to make apple compote or puree them into applesauce. If you prefer your sauce a bit creamier, be sure to add some water before mixing/pounding.
Fill your homemade applesauce into sterilized (!) resealable containers or jars, close them tightly, and set them aside to cool upside-down.
Sugar-Free Applesauce: Variations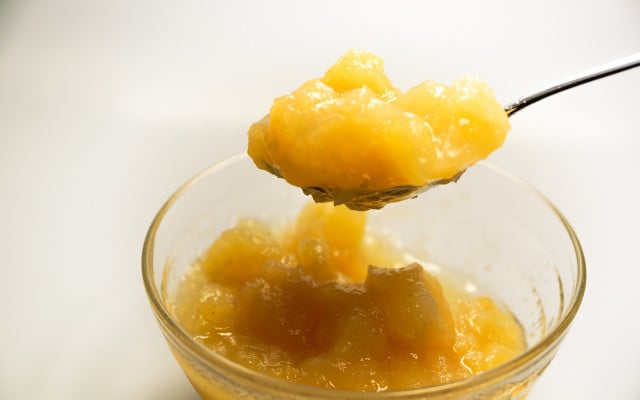 To add some variety to your homemade unsweetened applesauce, boil some cloves and half a stick of cinnamon along with the applesauce (see step 4 of the recipe). You can do the same with some vanilla extract by adding it directly into the apple mixture while cooking. Ginger also adds a nice warming flavor and can be added in a tea bag or pureed right along with the apples.
In addition to spices, you can also try experimenting with other types of fruit. Mix things up by replacing a portion of the apples in your recipe with fruits such as plums, pears, cherries, or other seasonal offerings.
Tip: Another great fall snack option are pumpkin smoothies: They make for great low-calorie substitutes for pumpkin-flavored coffee drinks. Check out our recipe: DIY Pumpkin Smoothie – An Easy, Healthy Recipe
How to Make Homemade Applesauce Last
If stored in a cool and dark place, your homemade applesauce will remain edible for a couple of months. By employing a simple but effective trick, you can extend this period up to a year: To do this, fill preserving jars with your unsweetened applesauce, make sure they are air-tight, and place them in a pot of water heated to 200˚F for 30 minutes.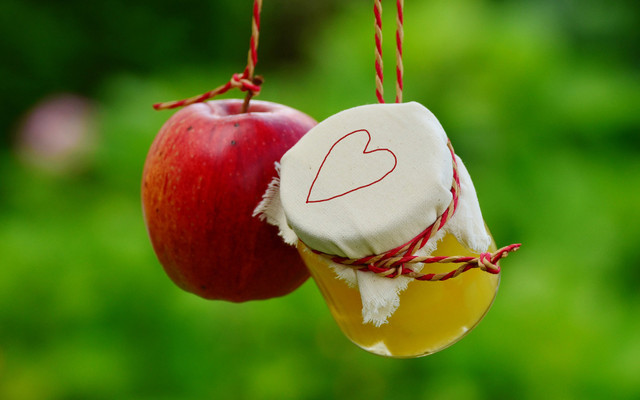 Homemade sugar-free applesauce is a genuinely tasty and healthy snack. It also makes for a great dessert and goes well with yogurt, curd, and ice cream or hearty dishes such as mashed potatoes.
Tip: This fine homemade treat makes for a great homemade gift for your host or friends. Just stick a nice gift tag on it (maybe even with your own homemade applesauce recipe attached) and pass it on.
Read more:
This text was translated from German into English by Evan Binford. You can view the original here: Apfelmus selber machen: Einfaches Rezept ohne Zucker
Important Information regarding Health-related Topics.
** Links to retailers marked with ** or
underlined orange
are partially partner links: If you buy here, you actively support Utopia.org, because we will receive a small part of the sales proceeds.
More info
.
Do you like this post?
Thank you very much for voting!