Ditch the expensive conditioners full of chemicals and mystery ingredients. Who needs conventional hair-care products when you have… apple cider vinegar? That's right. We'll show you how to use apple cider vinegar for hair care.
An apple cider vinegar hair rinse keeps your hair strong, gives it a healthy shine, and makes it easier to detangle. We have some useful tips on how to use it – and we'll talk about the long list of benefits you stand to gain from regular use.
Apple Cider Vinegar Hair Rinse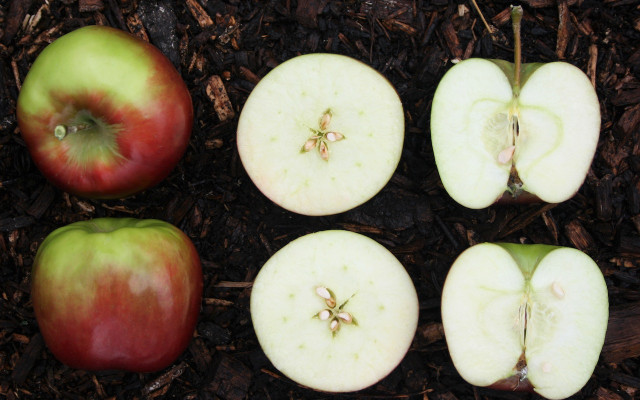 An apple cider vinegar hair rinse is the perfect all-natural way to give your hair a soft, luxurious look and feel. It works like a conditioner that you use after shampooing, but unlike conventional products, there are no synthetic additives, it costs next to nothing, and you can make it at home in all of two minutes.
To start, choose an organic, raw, and unfiltered brand of apple cider vinegar for your hair. You'll want a product that is slightly cloudy, and has a small amount of sediment (or "mother"). Raw apple cider vinegar still contains all of the naturally-occurring nutrients and enzymes from the fermentation process, which is why it is preferred over the pasteurized and clarified kind. 
Warning: Mixing the vinegar with enough water is absolutely essential. Do not apply undiluted vinegar to your scalp or hair. More vinegar does not mean better results.
#1 Classic Apple Cider Vinegar Hair Rinse:
Add 2-4 tablespoons of apple cider vinegar to about 2 cups (16oz) of water. For a refreshing scent, add 1-2 drops of your favorite essential oil.
After you've washed your hair normally with shampoo (or your choice of no poo shampoo), pour the mixture over your head and work into your hair. Let it sit for about thirty seconds, then rinse with water. It is not necessary to follow with conditioner, since the vinegar rinse will naturally condition your hair. But if your hair is especially dry or brittle, you may want to apply conditioner to the ends of your hair, to add extra moisture.
But won't this make my hair smell like salad dressing? Fear not. Any trace of the smell of vinegar will disappear by the time your hair is dry.
Tip: After shampooing your hair but before using the vinegar mixture, rinse your head with cold water for a few seconds. This will cause your pores to close before the vinegar touches your scalp.
# 2 Apple Cider Vinegar Rinse for a Balanced Scalp:
Mix 3-4 tablespoons of apple cider vinegar with one cup of water and pour into a spray bottle.
Before shampooing, apply to your scalp and massage the roots. Let it sit for about 10 to 15 minutes, then wash your hair normally.
Remember: The list of apple cider vinegar benefits for hair is long, but even though it's diluted, vinegar is still vinegar, so this rinse is not exactly the most moisturizing thing you can put in your hair. To keep your hair from becoming too dry, use only once a week at most.
Apple Cider Vinegar: Benefits for Your Hair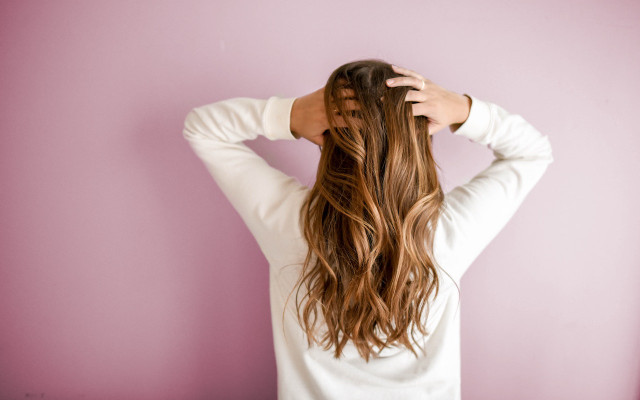 Does the idea of pouring vinegar and water on your head sound a bit bizarre to you? If you feel like you're going to need some more convincing before you do something this odd, this list of benefits is for you.
Balances Scalp pH and Repairs Damage: The pH of your scalp is naturally slightly acidic, but that balance can easily be thrown off by all the different products we use every day. That imbalanced pH leads to damage in the outer cuticle layer of the strands, which makes your hair rough, dull-looking and difficult to comb. The slight acidity of an apple cider vinegar rinse will rebalance the pH of your scalp and help to heal the damage in the cuticles, leading to smoother, shinier hair that is less vulnerable to breakage.
Fights Dandruff and Soothes the Scalp: Another of apple cider vinegar's benefits for hair is that it helps fight dandruff and soothes the scalp. It is naturally anti-fungal, making it effective in killing and preventing dandruff-causing yeast on the scalp. Its anti-inflammatory properties also help soothe irritation and itchiness. Read on: These Home Remedies Help Treat a Dry Scalp
Clarifies Hair and Exfoliates Scalp: Apple cider vinegar contains a high amount of malic acid, which helps unclog hair follicles by cutting through oil and any residual buildup left behind by other hair products.
Stimulates Hair Growth? An apple cider vinegar hair rinse is also said to promote hair growth by increasing blood circulation to hair follicles.
This article was translated from German to English by Christie Sacco. You can read the original here: Saure Rinse für die Haare: So funktioniert's
** Links to retailers marked with ** or
underlined orange
are partially partner links: If you buy here, you actively support Utopia.org, because we will receive a small part of the sales proceeds.
More info
.
Do you like this post?
Thank you very much for voting!