Freshly picked tomatoes simply taste best. And since planting and growing tomatoes in pots or other containers is very easy, why not give it a try? Here's a guide on how to grow tomatoes on your balcony at home.
Summer just isn't summer without tomatoes. These sunny-weather fruits line numerous backyard gardens, balconies and terraces from late spring to summer every year. And this is no surprise: Tomatoes aren't just delicious, they're incredibly healthy, too! Tomatoes consist of more than 90 percent water and contain close to no calories. Instead, tomatoes are packed with healthy vitamins and minerals.
The phytochemical lycopene, which gives the tomatoes their red or yellow color, offers a number of health benefits. Tomatoes are said to boost your immune system, help prevent heart disease as well as help fight free radicals throughout your body. These are said to damage the cells and potentially cause cancer.
Are these reasons enough to give tomatoes a place on your balcony? Growing tomatoes in pots or other containers at home is easy. Utopia will show you how to plant tomatoes like a pro – as well as offer some suggestions on what to do with them come harvest.
Utopia's tip: Edamame Beans: Buying, Growing, & Eating This Superfood
How to Grow Tomatoes: Tomato Varieties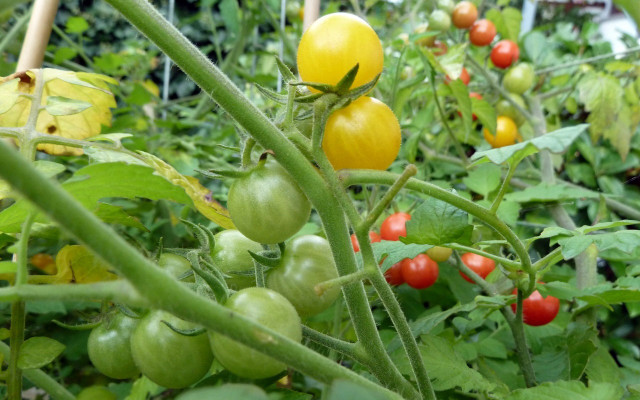 Tomato varieties go far beyond those differences in size we find between bite-sized cherry tomatoes and their larger cousins. There are thousands of different tomato varieties worldwide – all of which vary greatly in size, shape, color and taste.
For example, the beefsteak tomato Beefmaster's aromatic fruits are heavily ribbed and can weight in at up to a pound. These larger "meaty" tomatoes are popular among growers as burger or sandwich toppings.
Scale things down a notch and you'll find the beefsteak's bite-sized cousins in the form of cherry tomatoes. Popular variations include Sungold, Golden Sweet and Lemon Cherry tomatoes. Sweet and tangy Sungolds are great for summer salads. Golden Sweet grow deep yellow and remain firm and crisp (and are thus great for lunch containers!). Lemon Cherry tomatoes are very sweet and go great in salads or garnishes.
If you are a beginner and want to learn how to grow tomatoes in pots or similar balcony-sized containers, cherry tomatoes are the way to go. Cherry-type tomatoes are among the easiest types of tomatoes to grow: They grow quickly, ripen early and are remarkably easy to care for. Sungold cherry tomatoes are usually the first to produce fruit and can be harvested twice a week well on into the fall.
Utopia's tip: Healthy Meal Prep Ideas: Easy Meal Planning Tips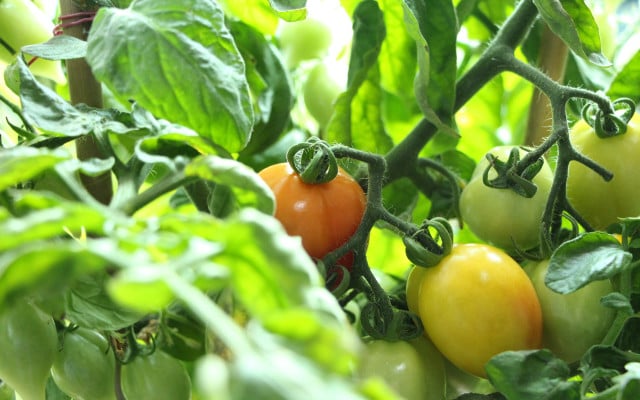 The Green Zebra tomato variety is another worthy pick for home-growers. As these green tomatoes ripen, they begin to display yellow to orange-yellow stripes. However, when ripe, Green Zebra tomatoes do not lose their green color completely. Usually, the leaves and stems of unripe tomatoes contain solanine, a substance which protects the plant from parasites and other pests. While green is common indicator for unripeness in other varieties, the ripe Green Zebra contains hardly any solanine.
Browse the garden section of your supermarket or home improvement center and you'll find tomatoes explicitly bred as "tub plants." However, these are not a must if you're planning on growing tomatoes – whether in pots, containers or directly in your garden. All tomato varieties can usually be grown in tubs or pots – these simply need to provide enough space for the roots to grow.
Growing Tomatoes in Pots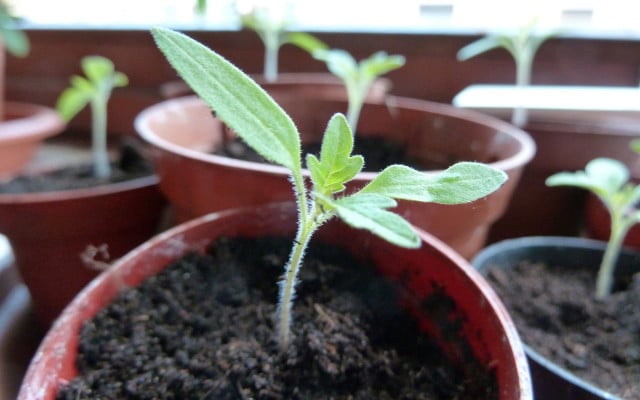 Growing tomatoes in pots or planters on your balcony isn't rocket science. However, there are a couple details to keep in mind along the way. Tomatoes should be transplanted as deep as possible, preferably to the base of the leaves. This allows them to form more roots at the bottom of the stem and ensures an adequate supply of water and nutrients. When growing tomatoes in pots or planters/containers, stick a long wooden rod or stick in next to the plants which you can tie the plant off to later. This is still possible down the road, however, it may damage the roots.
If you still have a bit of space in the pot or box, you can plant or transplant additional tomato plants. When planting your tomatoes in larger pots or planters, some good neighbours to keep in mind are basil, nasturtium and spinach. These plants provide ample shade at the base of plants and prevent moisture from evaporating as quickly.
Utopia's tip: Growing Mint: Mint Plant Care in your Garden or Kitchen
Sun-Loving Nightshade Plants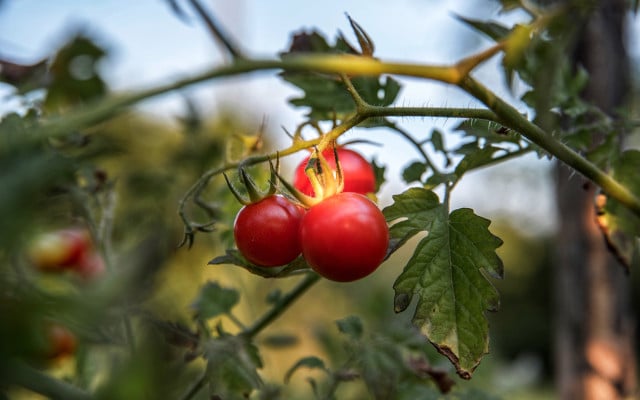 Tomatoes absolutely love sun and warm temperatures (and do not tolerate frost!). Whether you're planting tomatoes in pots on your balcony or in a sunny spot in your garden, timing is crucial. In most regions of the United States, tomatoes are a late spring and early summer crop (usually planted mid to late May). In Zone 10 onward of the USDA Plant Hardiness Zone Map (American Deep South), tomatoes are a fall and winter crop.
Be careful when moving or transplanting the tomato seedlings to an outside environment. It is possible to grow tomatoes in a pot or larger container on your balcony. But too much sunlight can give them sunburn. The leaves will begin to curl and shrivel up. Instead, leave your tomato plants outside for a couple hours on day one, a little longer on day two, and so on. This process of "hardening off" tomato seedlings – or acclimating tomatoes to outdoor growing conditions – works best over a 10-day period.
In commercial vegetable gardening, tomatoes are often grown in a greenhouse or a polytunnel. This is done for several reasons: These structures protect tomatoes from cold, wind and moisture – three common contributors of fungi and disease. Accordingly, you should choose a pot location on your balcony for growing your tomatoes that is sheltered from the wind, dry, sunny and warm. No matter whether you're planting tomatoes in pots or in planters along with other herbs, location is key.
Hungry Tomatoes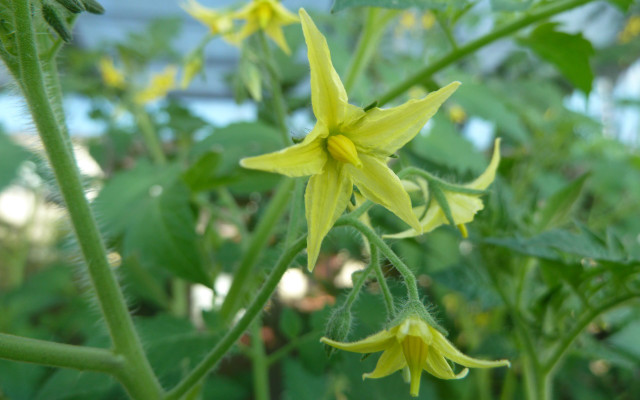 Tomatoes love to eat. These heavy feeders need plenty of food to grow, flower and produce fruit. This considered, it doesn't hurt to add in a small amount of organic fertilizer when you plant your tomatoes.
As soon as your tomato plant flowers and develops fruits, the plant will need additional nutrients which it can absorb quickly. Otherwise, the leaves will turn yellow. Store-bought organic or homemade liquid fertilizer from stinging nettles will do just the trick.
How to Grow Tomatoes in Pots: Sprouting and Disease Prevention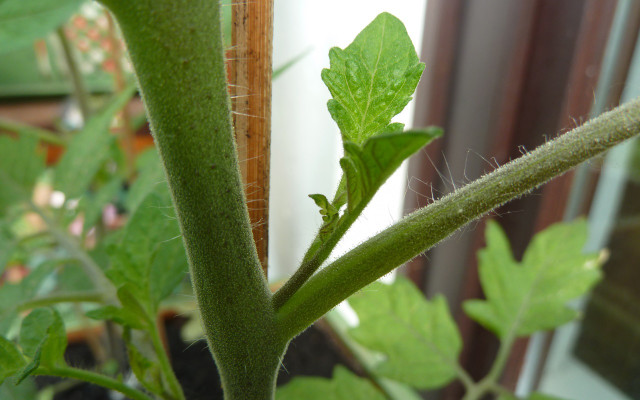 When growing tomatoes in pots or containers on your balcony, you may ask yourself whether pruning is absolutely necessary. For the majority of tomato varieties, it's a good idea to prune out new sprouts as they emerge from the main stems. These are not harmful to the plant, however they cost the tomato plant energy it needs to flower and produce fruit. Unkept sprouts could lead to a smaller harvest.
Powdery mildew, late blight and brown rot are only a couple examples of plant diseases that pose serious problems for tomatoes. Once they are there, they can be extremely hard to get rid of. To prevent these and other fungal diseases, be sure to cover the plants, ensure proper air circulation and distance between each plant and fertilize them carefully. You can also regularly spray the milk or broth from common horsetail (grass) on the leaves. Infested parts of the plant should always be removed as soon as possible.
Read on: How to Get Rid of Aphids: Helpful Home Remedies
How to Grow Tomatoes: Watering and Plant Care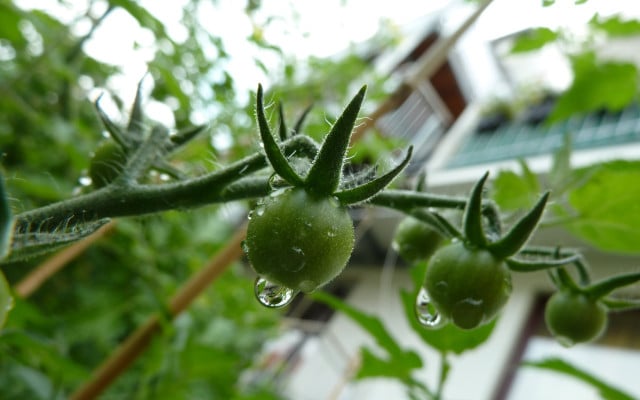 Tomatoes consist of more than 90% water – and that water has to come from somewhere. When growing tomatoes, you should water the plants regularly. Without enough water, the plants may burst open. In turn, this can result in the development of mold and other plant diseases.
At the same time, tomatoes don't tolerate overwatering. Pouring rain can break off delicate sprouts and too much water can also lead to plant diseases. When growing tomatoes in pots, it's important to keep an eye out for excess water buildup and excessively dampened soil.
Growing tomatoes in pots or containers outside or on your balcony also requires that you keep them in a safe place which is sheltered from the rain. When it's time for a drink, water tomato plants at the base of the plant at "ground-level" and not "from above" or over the leaves. This is best done in the cooler morning hours. An irrigation system with clay cones or homemade from bottles also helps the plants survive hot summer days.
Soil-covering mixed cultures or a mulch layer ensure that the moisture doesn't evaporate as quickly. Wilted tomato leaves and pruned sprouts are also suitable layering material.
Growing Tomatoes in Pots: When to Harvest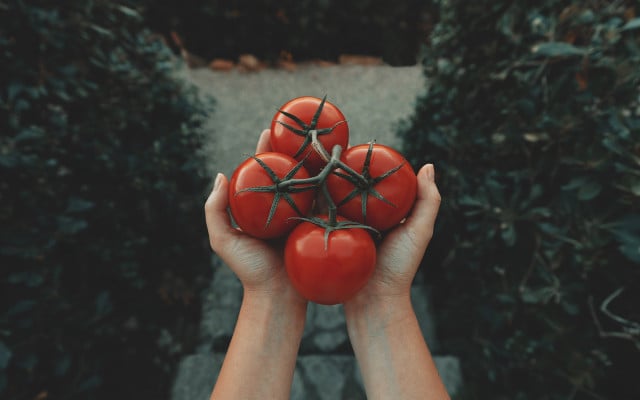 Thus far, Utopia has shown you how to grow tomatoes in pots likes a pro. Now, the final step – harvesting – is just as important. In most cases, ripe tomatoes are red. Unripe tomatoes remain green due to the plant's natural defense system, the chemical solanine. But what about green or yellow tomatoes? In doubt, stick to this simply rule of thumb: If the skin is relatively soft and you can pick the fruit off the vine with ease, it's usually safe to eat.
Tasty Tomato Recipes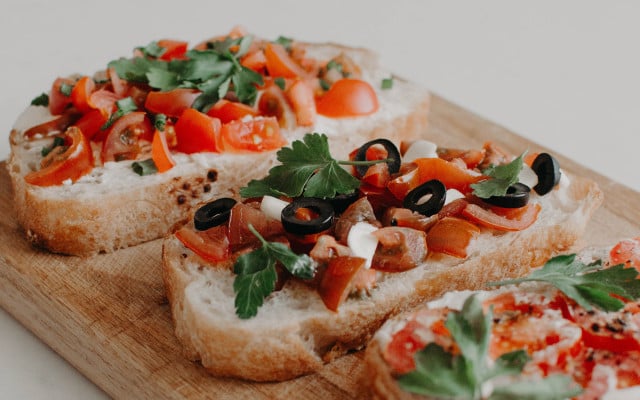 Ripe tomatoes taken directly from the vine are delicious! Plus, their culinary uses are endless. Raw tomatoes makes for a delicious addition to sandwiches, as a handmade bruschetta with garlic atop a roasted baguette, or as tasty tomato salad with mozzarella and basil. Larger tomatoes also go great on the grill: Simply fill the large fruits with feta cheese and fresh herbs and let it sizzle.
Utopia's tip: Food Waste: 10 Pro Tips for Reducing Food Waste
Either cooked or parboiled, tomatoes form the basis for soups, pizza toppings, sauces and ketchup. For a tasty homemade pesto or antipasti, you can also dry these sun-ripened fruits in the oven. Process the tomatoes you have grown in pots on your balcony and store away a bit of summer well on into the colder fall and winter months.
This article was translated from German to English by Evan Binford. You can view the original here: Tomaten pflanzen auf dem Balkon: So klappt's!
** Links to retailers marked with ** or
underlined orange
are partially partner links: If you buy here, you actively support Utopia.org, because we will receive a small part of the sales proceeds.
More info
.
Do you like this post?
Thank you very much for voting!