Fresh bread and a delicious vegan spread – sounds good, no? A wide variety of dairy-free spreads are available in organic markets and grocery stores. But who needs to buy these when you can make your own with just two ingredients? Here are three simple recipes.
If you think making your own vegan spreads is too much work, let us show you how quick and easy it can be – and how tasty. Who knows, it might even make you want to consider going vegan if you're not already.
It's not hard to compose an infinite number of delicious veggie spreads out of just two ingredients – don't be afraid to experiment with the combinations.
Vegetarian spreads can have yogurt, cream cheese, or other soft cheeses as a base. Then simply add some fruit, vegetables, and seasoning.
Vegan spreads rely on cooked vegetables, different types of legumes, grains, or nuts for their base.
By making your own vegetarian or vegan spreads, you're both saving money and allowing yourself creative space for unusual combinations in the kitchen. How about using your homemade spread on some homemade bread? Give this easy spelt bread recipe a try!
Why Make Vegan Spreads?
Why make your own dairy-free spreads at all? Because store-bought spreads are often fatty and bland. They also regularly contain considerably fewer vegetables than the packaging may have you believe. When you make your own vegan spreads, you have total control over what ingredients go in. There are endless flavor combinations – we're going to introduce you to two vegan spread recipes to start you off.
1) Pumpkin Hummus Vegan Spread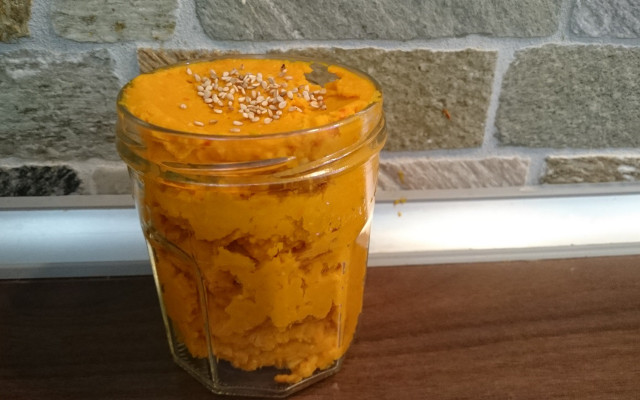 Hummus itself is a crowd-pleaser; combining it with the bright colors of roasted pumpkin or squash gives a plain chickpea spread a real kick. For pumpkin hummus you'll need:
1 can chickpeas
0,5 lbs (or 1 c) pumpkin or squash
If available: 1 clove of garlic
Your pumpkin hummus will be ready in no time:
Halve the pumpkin or squash and remove the seeds.
Roast in the oven until soft and easy to peel. (Remember: most squash and pumpkin skins are edible!)
Once cooled, scrape the pumpkin flesh into your mixing bowl.
Drain the chickpeas but collect the liquid in a pot or bowl; add the chickpeas to the pumpkin. If you have them on hand, a finely chopped clove of garlic and a tablespoon of olive oil will improve the flavor.
Puree the mixture with a hand blender, or if you prefer, blend everything in your food processor. You're aiming for a creamy dipping consistency, so add only as much of the retained chickpea liquid as necessary.
If you wish, add some salt, paprika, or other spices to taste.
Transfer the pumpkin hummus to an empty container of your choosing – clean and sterilized glass jars work well. If available, decorate the top with sesame seeds, and voilá – you've successfully completed your first homemade vegan spread!
Whether you spread it on a slice of bread or prefer to use it as a dipping sauce is, of course, entirely up to you. It is a perfect side to accompany a main dish or does fine on its own as a dip with pretzels, carrot sticks, or other vegetables.
Tip: If all of your guests eat your pumpkin hummus, no one will be offended by anyone else's garlic breath! Or, you can check out how to get rid of garlic breath here.
2) Tomato Lentil Vegan Spread
This is what you'll need for this simple vegan spread:
3/4 c dried red lentils (or 1 2/3 c cooked lentils)
1/2 jar of sun-dried tomatoes
As in the first recipe, preparation is quite simple:
Cook the red lentils until firm and drain.
Mix with the sun-dried tomatoes, and using either a hand blender or your food processor, blend to a creamy consistency.
If you like, add a dash of dried coriander or rosemary to punch up the flavor a bit. In less than a minute, you'll have a lovely tomato lentil spread.
Tip: Add salt and lemon juice for flavor. Please note that sun-dried tomatoes can often be quite salty, so season only after mixing everything together to avoid using too much salt.
3) Vegan Beet Sunflower Seed Spread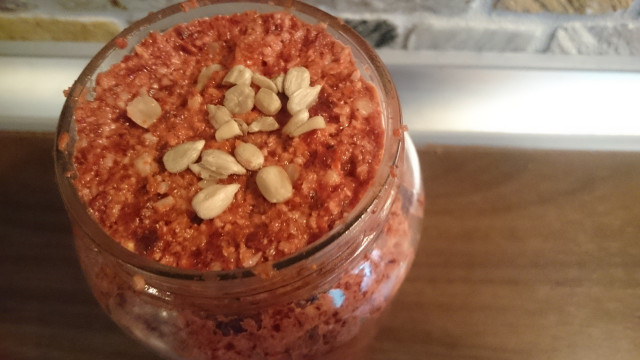 Vegetarian or vegan beet spreads are among the classics of spread cuisine. This is what you need for the vegan spread:
250 g beet (cooked)
100 g sunflower seeds
4 tsp horseradish (optional)
It's as simple as this:
Soak the sunflower seeds for about an hour, so you can better process them later. In the meantime, cut the beet into small pieces, preferably using a plate as a base and a fork to hold on to while chopping. The red color stains strongly on wooden boards, but on the plate,  it is easy to rinse off.
At the end of the soaking time, put beet, soaked sunflower seeds and a dash of olive oil in a bowl and puree everything with a blender (or stand mixer) until you get a smooth mixture. It is better to use a high bowl, because the small sunflower seeds get tossed around a lot at the beginning of the blending process.
Finally, stir in four teaspoons of horseradish, if you like. Then fill your beet sunflower seed spread into a jar and enjoy it with a piece of fresh bread.
How Long Will My Spreads Stay Fresh?
Because homemade spreads don't contain any preservatives, they do not stay fresh as long as store-bought products. With refrigeration, your spreads will stay fresh for at least three to five days. If you're having trouble consuming everything before it goes bad, freeze your batches into smaller containers, which you can thaw and use as needed.
Dairy Free Spreads: Creative Kitchen Reuse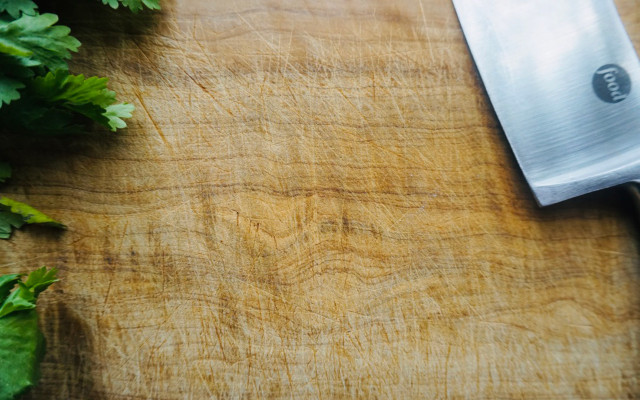 Vegan spreads provide a great way to sustainably reuse vegetable scraps in the kitchen. The simple and easy recipes featured here taste great with only two ingredients. But this doesn't mean you can't toss in a couple more – say, an avocado for example? Some quinoa, spinach, homegrown hot peppers, or even some fermented black garlic?
You can also put your veggies to further use by making your own homemade pesto or with this homemade vegetable broth.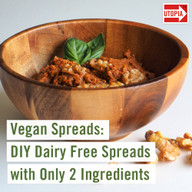 Read more:
This article was translated from German into English. You can view the original here: Vegane Aufstriche aus nur 2 Zutaten selber machen
** Links to retailers marked with ** or
underlined orange
are partially partner links: If you buy here, you actively support Utopia.org, because we will receive a small part of the sales proceeds.
More info
.
Do you like this post?
Thank you very much for voting!