Legumes are often overlooked when cooking and that needs to change. Not only are they healthy and delicious, they're also super sustainable. We've compiled a list of the most important types of legumes, their benefits and how to cook them.
The Most Important Types of Legumes
Legumes come from the Fabaceae (Leguminosae) family, and the distinguishing feature they all share is that they grow in a type of pod. Some types of legumes are very common and probably well known to you:
1. Beans (like kidney, white, black, navy, pinto, etc.)
2. Chickpeas, also known as garbanzo beans
3. Lentils (like green or red lentils)
4. Split peas, both yellow and green
You may not know that the following are also a great addition to your legumes list:
5. Green beans
6. Snow or snap peas
7. Soybeans (edamame)
8. Lupini beans
9. Fava beans
10. Mung beans
11. Peanuts
Most legumes are harvested overripe and then dried. Green beans and peas, however, are not quite ripe when harvested and come fresh to eat.
Legumes: Sustainable Nutrient Providers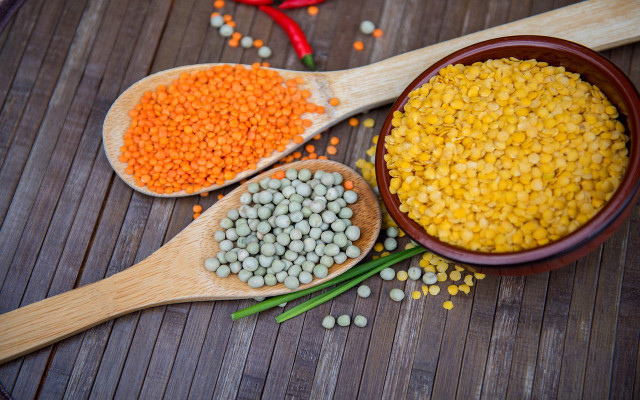 The legumes on the list are not only healthy, tasty and satisfying – they're also sustainable. This is mainly due to one special characteristic: All types of legumes have small nodules at their roots. These are home to bacteria that convert nitrogen from the air into nutrient-rich compounds. This has two impacts:
Legumes can grow in soils that are low in nitrogen
Legumes provide the soil with important nutrients
This makes legumes a popular catch crop in organic farming: farmers need less nitrogen fertilizer and avoid its numerous negative environmental consequences.
According to the United Nations, legumes are key allies in the fight against malnutrition. They are rich in nutrients, easy to grow, and can cope with many soils and climates. They also protect the climate because, as described above, they save on fertilizer and their flowers provide a food source for many insects.
Regional Types of Legumes: How and Where to Find Them
Due to the popularity of the legumes on our list in several exotic cuisines, you may think they need to be imported. That's not necessarily true – you'd be surprised at how many types of legumes are grown in North America. Here are a few tips on how you can enjoy legumes without transcontinental transport routes:
If purchasing from a traditional grocery store, check the back of the packaging to see if it says "Product of the USA or Canada"
From zero waste or organic shops, ask the staff where they source their legumes from – most are very knowledgable about their goods
When they're in season you can get fresh sugar peas, string beans, and broad beans at farmers' markets
Consider growing your own — you can grow sugar snap peas on your balcony, for example!
Health Benefits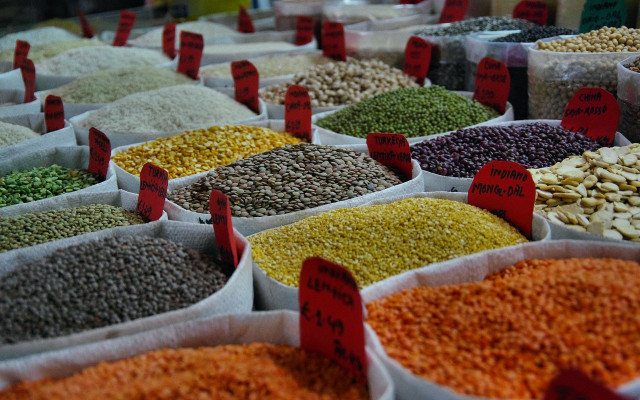 So, they're great for the environment — but why should you personally remember what's on this list of legumes? Legumes are similar to meat in regard to nutrients, and their high protein content makes them an ideal vegetarian protein option in place of meat and dairy products.
While they are low in calories, legumes make you feel full. The body uses the carbohydrates in legumes slowly, over time, providing consistent energy for all parts of your body. The fiber and other nutrients also benefit the digestive system.
According to MedlinePlus, eating more legumes as part of a balanced meal can help lower blood sugar and pressure, heart rate (and other heart diseases) as well as diabetes risk.
Soaking and Cooking Different Types of Legumes
With their hearty and slightly nutty taste, different types of legumes play a big role in traditional dishes from all over the world:
in soups and stews
as filling for vegetables and pies
for creams, dips and vegan spreads
in salads and sauces
for pastry
It's important to note that (most) legumes are poisonous when raw and can only be eaten cooked. While you can eat fresh green peas and beans raw, please do so only in moderation.
Most legumes on our list need to be soaked before use (usually in 3 times the amount of water). After soaking, use new water for cooking. This shortens the cooking time and can help get rid of the compounds that cause bloating and flatulence. Check out our guide on how to cook dried beans for more detail.
Beans: soak for 12 hours, cook for 60-90 minutes
Soybeans: soak for 8-12 hours, cook for 90-120 minutes
Peas, shelled: cook for 10-15 minutes without soaking
Peas, unpeeled: soak for 12 hours, cook for 30-120 minutes
Chickpeas: soak for 8-12 hours, cook for 90-120 minutes
Tip: If you want to ensure the legumes are soft (for a dip, for example), add a small amount of baking soda to the cooking water.
This article has been translated from German by Karen Stankiewicz. You can find the original here: Hülsenfrüchte: Liste und Besonderheiten der verschiedenen Sorten
Important Information regarding Health-related Topics.
** Links to retailers marked with ** or
underlined orange
are partially partner links: If you buy here, you actively support Utopia.org, because we will receive a small part of the sales proceeds.
More info
.
Do you like this post?
Thank you very much for voting!