Good sources of protein are important in a vegan lifestyle, especially if you're into fitness. We review three vegan protein powder brands, focusing on how sustainable they are.
Most ordinary protein powder supplements are made with whey protein. This is a by-product of the dairy industry, so it's not suitable for a vegan diet. In addition, these products often contain artificial sweeteners, flavors, and colors.
In our review of vegan protein powders, we compare three companies that only use plant-based proteins and avoid synthetic additives. We then look at how useful these products really are if you're going vegan.
Vega One Vegan Protein Powder
Vega One has, on the face of it, outstanding sustainability credentials. For instance, they are a certified B Corp company, they use 100 percent green energy, and their packaging is recycled. What's more, like all the brands here, they manufacture in the USA.
Their vegan protein powder itself is also a good all-rounder. Alongside 20 grams of protein per serving, the All-In-One vegan protein shake reviewed here contains a real variety of vitamins and minerals. It delivers almost one-third of your DV of fiber too.
Now, not all of this protein powder's ingredients are listed as being organic – including the base pea protein itself – but a lot of the added superfoods and greens are, some of which are even grown in North America.
Vega One offers an array of products and supplements. The powder here is available on Amazon** in a huge range of flavors, including vanilla chai and coconut almond. Here's the lowdown on this shake:
complete blend of proteins, 20 grams per serving
170 calories per serving
other fully organic products available from this brand
up to 50 percent DV of vitamins and minerals like iron and calcium
price: approx. $3 per serving
Tone It Up Vegan Protein Powder
Again, this brand is made in the USA, so it scores well on sustainability. The company also emphasizes being by women, for women, which is a good thing, too! Their products are vegan, organic, and GMO-free.
The vegan protein powder we review here is based on proteins from peas and pumpkin seeds, which are good complementary sources of the amino acids your body needs. This product is low in calories and fat, plus it has zero sugar. However, it is also low in fiber – enough fiber can help keep you feeling full. It comes in the classic flavors chocolate and vanilla, available on Amazon**.
This low-cal Tone It Up mix still provides 15 grams of protein per serving, so it's a good option for people trying to lose weight on a vegan diet, but stay fit and healthy. Here's a quick review of this vegan protein powder in numbers:
good complementary proteins, 15 grams per serving
only 90 calories per serving, low in fat and fiber
good source of iron (15 percent DV)
price: $3 per serving
Vegan Protein Powder from Hawaii
OK, so these plant-based protein mixes are actually manufactured in Georgia, but that's better for the environment than shipping from Hawaii, right? Furthermore, Aloha make their 100 percent organic products without artificial sweeteners, dyes, or preservatives.
The brand is keen to note that their vegan protein powder only contains 'real food', and its list of recognizable ingredients genuinely is pretty reassuring. This blend offers 18 grams of protein per serving, from peas, rice, and pumpkin and hemp seeps. It even qualifies as paleo vegan!
The protein powder we review here, which can be bought on Amazon**, also scores well on fiber and some important minerals. It comes in the flavors banana, chocolate, and vanilla, with recipes that include the – organic – flavorings in question.
18 grams of a good protein mix per serving
130 calories per serving, still low in fat
good source of iron (30 percent), zinc, and magnesium (15 percent each)
price per serving: approx. $2.60
Do You Need Protein Supplements?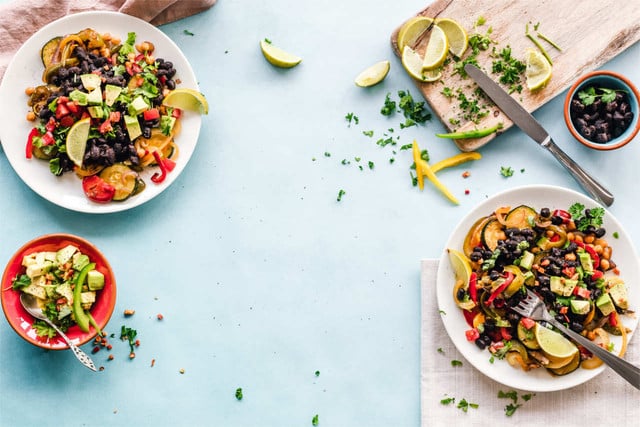 It isn't hard to obtain a balanced mix of proteins from an everyday vegan diet, even without expensive powdered shakes. Here are some good vegan sources of protein:
Lentils
Chickpeas (garbanzo beans)
Soybean products like vegan yogurt, tofu, or edamame
Wholegrain cereals like oats – check out these easy homemade oatmeal cookies!
Nuts and seeds
Certain vegetables – including mushrooms, broccoli, and cauliflower – can also contribute to your daily protein intake.
There certainly can be good reasons to supplement your diet with vegan protein powder. Still, even the more sustainable products we review here aren't without their downsides. They often contain so-called superfoods or other ingredients like coconut or rice, which companies source from tropical regions, increasing food miles.
Also, whatever protein source – beans, peas, seeds – the powders contain, it has to be industrially dehydrated first. This uses a lot of energy, which means increased CO2 emissions. Finally, of course, these products usually have a lot of packaging, so they definitely aren't compatible with a zero-waste lifestyle. In conclusion, it's worth making sure you really need a vegan protein powder supplement before you go out and buy one. Perhaps it'd be more sustainable and more enjoyable to get your protein from regional, organic produce.
This article was translated from German by Will Tayler. You can read the original here: Veganes Proteinpulver: 3 Anbieter im Vergleich
Important Information regarding Health-related Topics.
** Links to retailers marked with ** or
underlined orange
are partially partner links: If you buy here, you actively support Utopia.org, because we will receive a small part of the sales proceeds.
More info
.
Do you like this post?
Thank you very much for voting!