There are many ways to make homemade toothpaste from scratch, however it doesn't need to be difficult. Read on to find out how to customize your own toothpaste, what to look out for, and an easy recipe to get you started.
Finding eco-friendly and non-toxic alternatives to commercial toothpaste has become a lot easier in recent years. With so much choice out there, you can choose a toothpaste to suit your own needs and tastes. By cutting out store-bought toothpaste, you can take an additional step towards reducing your consumption of single use waste products such as toothpaste tubes and packaging. However, there are a few things you should look out for when creating your own DIY toothpaste – let's take a look. 
Why Make Homemade Toothpaste?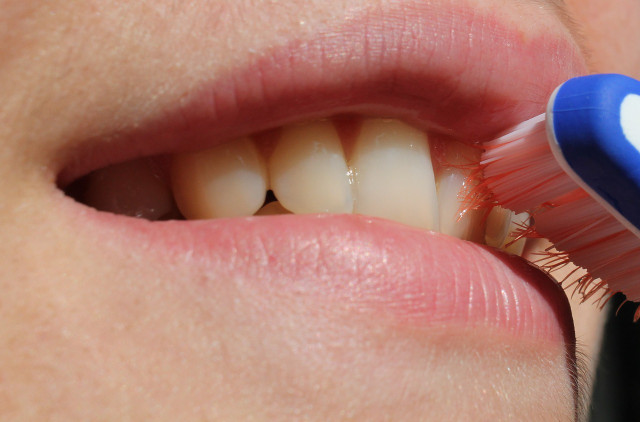 Commercial toothpastes contain ingredients you may not want to be putting in your mouth on a regular basis. The most notable and commonplace ingredient you should be aware of is fluoride, which is added to help fight cavities. Its main side effect is dental fluorosis which causes teeth to discolor if ingested and high doses can cause neurotoxic side effects in children. While the FDA does require a poison warning to be visible on all fluoride toothpaste packaging because of this, many people aren't aware of its potentially harmful side effects.
Sodium Lauryl Sulfate is another common ingredient more and more people are trying to avoid in their personal hygiene routines. While Sodium Lauryl Sulfate is the main foaming ingredient in commercial toothpaste, it can cause aphthous ulcers, otherwise known as cankers, in the mouth. 
The following recipe avoids these ingredients in favor of some natural alternatives, which you can easily find in most health food stores or online. We'll break down the benefits of using these ingredients in your homemade toothpaste.
DIY Toothpaste: Base Ingredients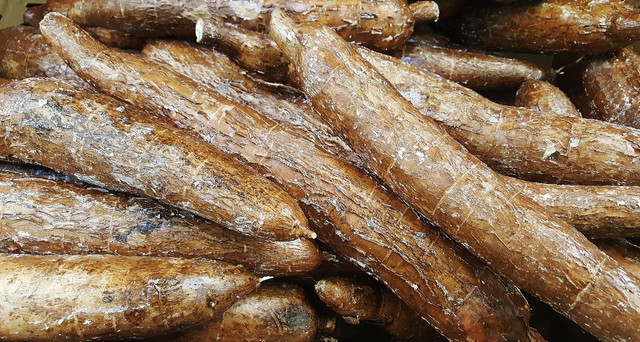 Baking Soda
This ingredient has so many uses, mainly due to its gently abrasive and odor neutralizing qualities. Baking soda has a pH of about 10, meaning it can neutralize acids from food and drink without damaging the teeth. Furthermore, thanks to this gentle abrasiveness, baking soda is a naturally non-toxic substance that easily cleans away bacteria, food particles and plaque build-up. You can even use a baking soda rinse as a natural mouth sore remedy or as a home remedy to clean your tongue. It is also fully water-soluble, so aside from a bit of a salty taste, it won't leave you with any gritty residue in your mouth after you've brushed. 
Arrowroot Powder
Made from the tuberous roots of the Marantaceae plant family, arrowroot powder is a kind of starch that is often used as a gluten-free alternative for cornflour. Some sources claim that it gets its name from its use to draw out poison and sooth inflammation from arrow wounds by first nations in Central America. In the recipe, however, it is used mainly for its thickening properties. Always look for organic and ethically sourced arrowroot powder, it can usually be found in heath food stores or in the baking section of large supermarkets.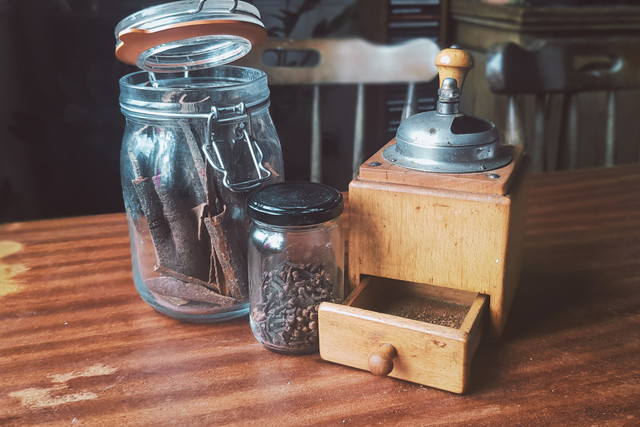 Ground Cinnamon and Cloves
Cinnamon has antibacterial and anti-inflammatory properties which make it the perfect addition to a basic tooth paste recipe. Cloves have been used for centuries as a numbing agent, so can be incorporated to help sooth tooth ache, for example. Be aware that there is not enough reliable scientific backup for the claim that it can soothe pain. While it is possible to grind your own spices for this recipe, there really is no advantage to doing so, and we'd instead recommend using pre-ground.
If you are grinding your own spices, however, make sure you're grinding them as fine as possible. You should also make sure you're flossing after every brush with a homemade toothpaste, as you may find small fragments of your spices get caught between your teeth. When sourcing your spices, make sure you're getting organic and ethically produced – clove and cinnamon should be easily found in the spice and herb section of any supermarket.
Peppermint Essential Oil
Aside from freshening your breath, peppermint oil is also antifungal/antibacterial. You can choose to use other essential oils in your homemade toothpaste for a personalized touch. Some other essential oils which may also have antibacterial properties include grapefruit, orange, lemongrass, and tea tree.
However, if you do decide to add Castile soap to your toothpaste, always test your oil with the soap before adding it to your recipe as some oils will separate. You can add more oil if you want to mask the taste of the other ingredients if these are unpleasant to you, however you won't be able to completely hide their taste with essential oil.
How to Make Homemade Toothpaste: Step-by-Step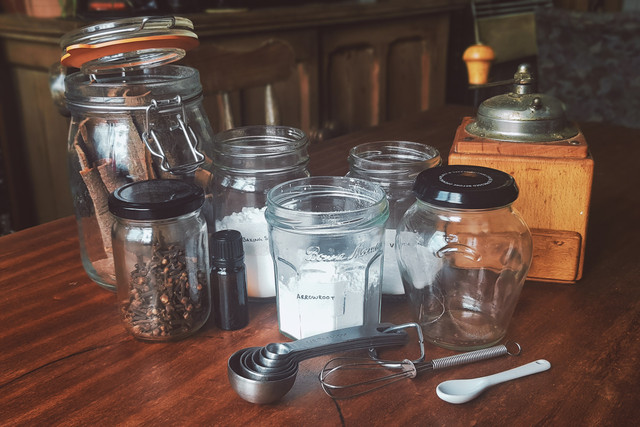 Equipment:
Measuring spoons
100-500 ml jar with a lid
A small whisk
A grinder or a pestle and mortar (if you're using fresh spices)
A small spoon
Homemade Toothpaste Ingredients:
1½-2 tsp. baking soda
3 tbsp. arrowroot powder
1 tsp. ground cinnamon or ground cloves (or ½ tsp. of both)
15-20 drops peppermint essential oil
Filtered water (as needed)
Optional additional ingredients:
½ tsp. vitamin C powder
1½ tsp. organic and unscented liquid Castile soap
Makes about ¼ cup of paste. Keeps up to 6 months, although will last about a month if you use it twice daily.
1. Mix Dry Ingredients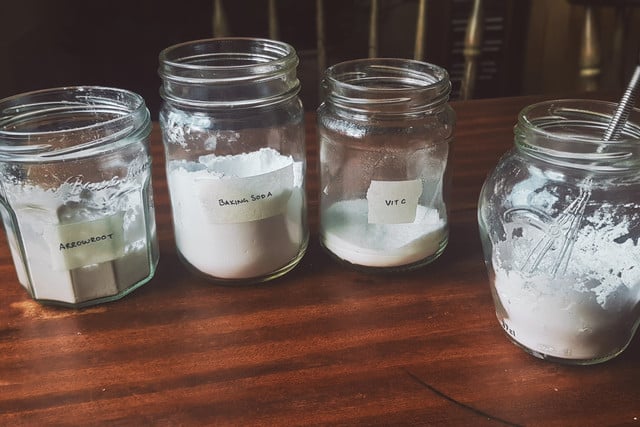 Combine all powdered ingredients of your DIY toothpaste in the jar. Mix well using the whisk.
2. Grind/Add Spices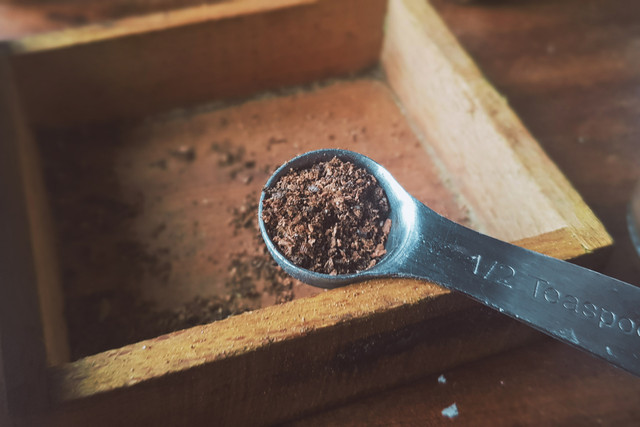 Add the spice. If using fresh spices, grind them finely and add to the powder.
3. Add Essential Oils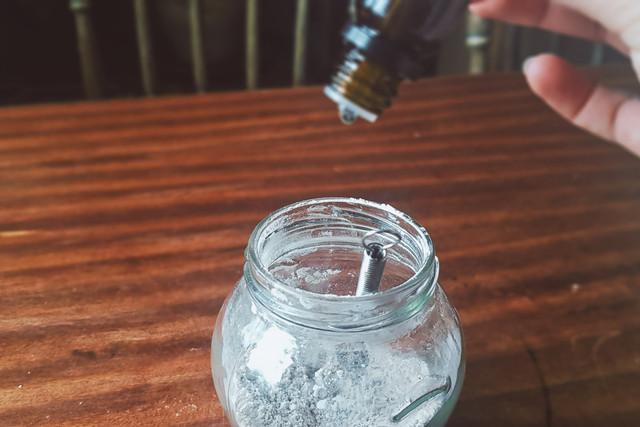 Add the essential oil along with organic and unscented Castile soap (if using). Combine well with the powdered ingredients. 
4. Whisk in the Water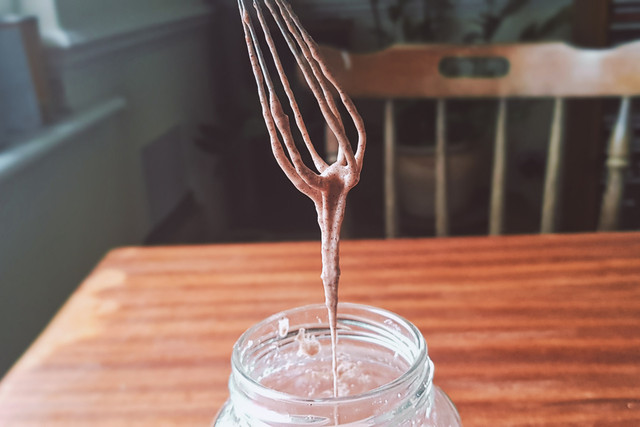 Add a little bit of water in at a time and whisk between additions. Make sure to add only just enough water to make into a thick paste, viscous enough to fall off the whisk but not quite fully a liquid. 
Tip: DIY toothpaste should be runnier than regular toothpaste.
Using Homemade Toothpaste & What to Look Out For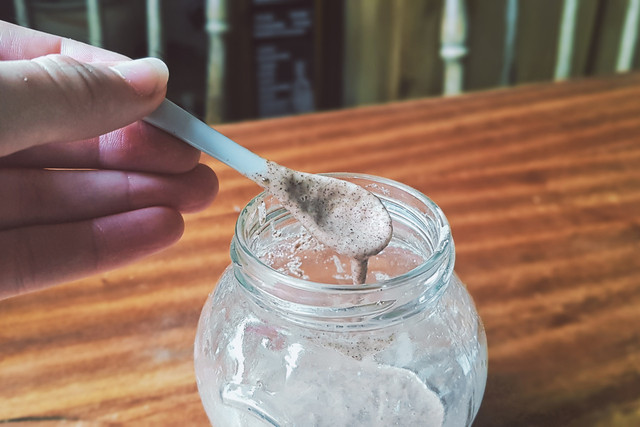 DIY toothpaste should keep well in the sealed jar in either a bathroom cabinet or just by the side of your sink, so long as it's not exposed to constant daylight or extreme temperatures there. 
Keep a small spoon handy to easily portion out about ¼ teaspoon per brush. Plus, using a spoon instead of dunking your brush straight into the jar is much more sanitary if you're sharing your homemade toothpaste with others.
Our recipe uses baking soda as its primary ingredient. While baking soda is safe to use, it must be used in small quantities (¼ teaspoon or less) in order to be effective as a tooth cleaner. Some other recipes may call for the addition of lemon as a tooth whitening aid, however enamel can be damaged by lemon juice.
The other two variables that need to be taken into account in order to effectively using baking soda as a toothpaste substitute are in fact the stiffness of the bristles on your toothbrush and how hard you brush. Aim to use your homemade toothpaste using a soft bristle brush, and always floss and rinse with water to ensure your mouth is thoroughly cleaned.
Read on:
** Links to retailers marked with ** or
underlined orange
are partially partner links: If you buy here, you actively support Utopia.org, because we will receive a small part of the sales proceeds.
More info
.
Do you like this post?
Thank you very much for voting!