Celebrating St. Patrick's Day in the US has quickly evolved to include the copious drinking of green beer. Here we show you how to make your own vegan green beer at home, without the need for artificial food coloring.
Green beer is the perfect beverage that many people drink (and drink) on Saint Patrick's Day. But did you know that this colorful beer is not an Irish tradition?
Legend has it that the world's first green beer was produced in 1914. Preparing for a St. Patrick's Day dinner at the iconic Schnerer Club in NYC, an inventive Bronx physician by the name of Thomas Hayes Curtin (who originally hailed from Ireland) decided to liven up his proceedings by making absolutely everything at the dinner green – including the beer itself. It has eventually grown to become an American tradition that normally requires a little food coloring being added to your favorite amber libations.
But there are some natural (and healthy) alternatives when it comes to creating your own green beer. So forget the green food dye and check out some natural alternatives that will give you the same vibrant result.
How to Make Green Beer: 3 Natural Methods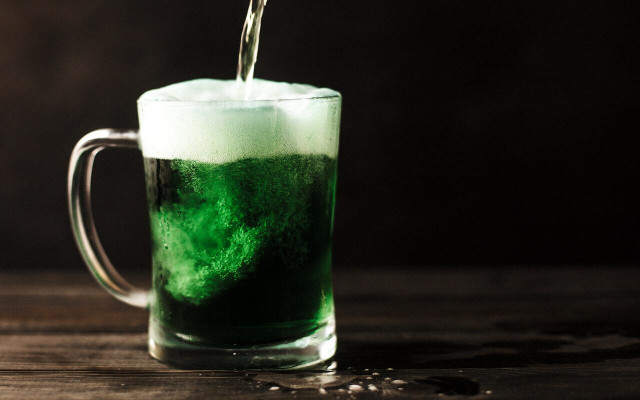 Quick Tip: While Guinness is commonly associated with Ireland, you'll want to avoid using any stouts to make green beer. You really need to opt for a light-colored beer instead. Any domestically brewed, lightly colored beer will do the job just fine, but you may want to consider seeking out a local craft-brewed American lager or blonde (many of which are vegan-friendly) to add a bit of variety to proceedings. These will still display that desired emerald hue, with the added bonus of packing a lot more flavor than your typical brewer brands.
1. Matcha
Matcha powder will turn your beer into a deep olive green as opposed to the typical brighter green we associate with St Paddy's celebrations. Depending on how much you use, it will cloud your green beer and it needs a good amount of mixing for the best result. Despite this minor drawback, matcha will have the least impact on the flavor of your beer, giving it a barely noticeable 'earthy' taste.
Put 1 teaspoon of matcha powder into a small bowl or into your empty beer glass.
Add in a few tablespoons of beer and then mix until the powder is completely dissolved.
Once properly dissolved, pour your match mix into the beer glass, then add the rest of the beer on top.
Feel free to mix once again, so the green hue is even throughout the glass.
2. Wheatgrass Juice
If you know wheatgrass juice, you will already be aware of its beautifully bright yellow-green coloring, which matches the aesthetic of St. Patrick's Day perfectly. It dyes the beer more evenly than matcha, and doesn't make the beer turn cloudy since it dissolves more readily.
Wheatgrass juice definitely has a more robust flavor than matcha, which can be described as a very light, grassy taste that is really quite refreshing. Thankfully if you're concerned it might overpower the taste of your beer, don't worry because you only need a small amount of wheatgrass juice to color the beer effectively.
Pour 1 tablespoon of wheatgrass juice in the bottom of an empty glass.
Pour beer over top.
Depending on the initial color, you might want to add more wheatgrass juice, just a little bit at a time, until the right balance of flavor and color is achieved.
3. Spirulina
Of the three natural coloring agents for green beer, spirulina powder is the most robust in terms of color and flavor, so keep in mind that a little goes a long way. Your green beer will be darker in tint when compared to wheatgrass juice. Be aware that spirulina is a type of algae so it will give your green beer a slightly fishy flavor, which isn't going to appeal to everyone.
The trick is to use it in very small doses so as to not ruin your beer's flavor completely. It's best to use spirulina with a stronger tasting beer to counteract that distinct taste.
Add ½ teaspoon of spirulina to a small bowl or the bottom of your empty beer glass.
Add in a few tablespoons of beer and then mix vigorously until the powder is dissolved.
Pour the mix in you beer glass, then add the rest of the beer.
And now you are all set. As the Irish would say, 'Sláinte!'
Read on:
** Links to retailers marked with ** or
underlined orange
are partially partner links: If you buy here, you actively support Utopia.org, because we will receive a small part of the sales proceeds.
More info
.
Do you like this post?
Thank you very much for voting!
[contextly_main_module]