Natural easter egg dyes are incredibly easy to make. However, when it comes to dyeing eggs, we often buy pre-colored eggs or artificial dyes from the supermarket out of convenience. There's no need – here's how to make your own natural egg dyes from scratch.
Natural Egg Dyes: Simple and Sustainable
There's no need for synthetic dyes to dye beautiful Easter eggs – beets, turmeric, and other natural ingredients you'll probably already have at home work just as well. Plus, natural egg dyes help you avoid plastic packaging from pre-colored eggs and store-bought dyes found at the supermarket. Why not give this sustainable alternative a try this year Making natural dyes yourself from home ingredients is super simple.
Read on: How to Make Homemade Playdough: An Easy DIY Recipe
Getting started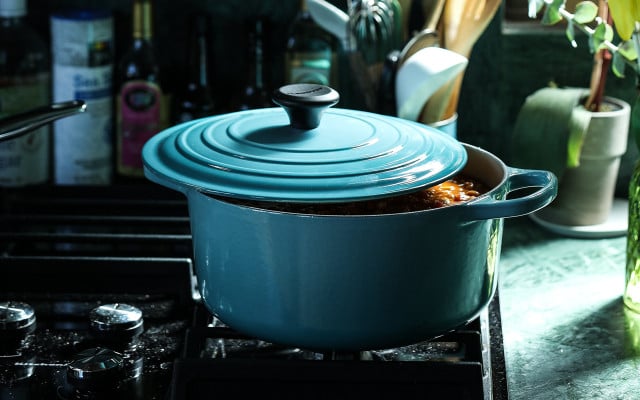 The best option is an old enamel-coated pot that you're willing to spare for the purpose of dyeing eggs. Some of the natural egg dyes are so strong they cannot be entirely removed from your cookware afterward, and stainless steel can react with certain dyes and change the color.
Before you get off to work, be sure to carefully wash your eggs with a sponge or cloth to remove any dirt and prevent uneven coloration. In order to avoid leaving fingerprints on your colored eggs, use a spoon to move the eggs prior to and during the dyeing process.
Creating Natural Egg Dyes from Organic Materials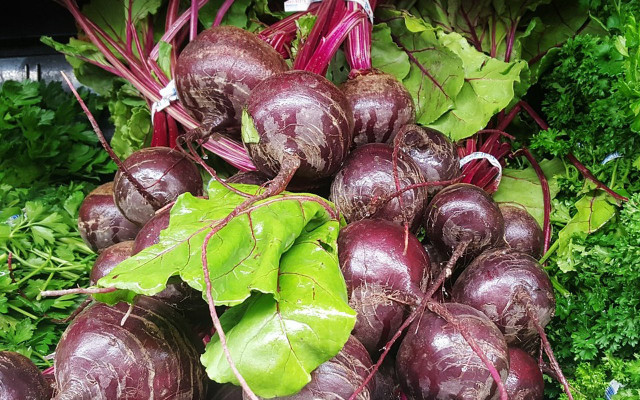 For your natural easter egg dye, you can use foods like beetroot, turmeric, birch leaves, spinach, blueberries, and onion leaves.
Red: The peelings from three to four red beets, covered and boiled for 30-45 minutes, will produce natural dye for eggs ranging from bright red to violet.
Gold: Boil two teaspoons of finely ground curcuma root (turmeric powder) in two cups of water for ten minutes. This mixture will turn your eggs a lovely golden yellow.
Yellow: Boil four cups of water with a good handful of birch leaves for ten minutes. This will create a light yellow dye for your Easter eggs.
Green: To dye your Easter eggs green, boil ten ounces of spinach in four cups of water for 30-45 minutes.
Violet: Boil one and a half tablespoons of dried blueberries in two cups of water for ten minutes to create a violet Easter egg dye.
Brown: To turn your eggs a deep golden brown, add a handful of onion skins to two cups of water and boil for 20 minutes.
Dyeing Easter eggs naturally with onion peels is also a great way to reuse vegetable scraps.
Tip: We recommend adding a spoonful of vinegar to the concoction before adding the eggs – this will help them absorb the colors better.
Coloring and Cooking Your Easter Eggs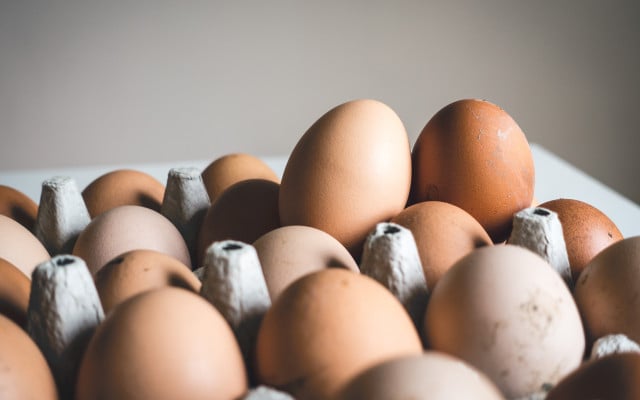 Boil your Easter eggs for ten minutes in the colored water. In order to achieve an even dye all across the egg, pour your natural egg dye mixture through a sieve in order to remove any remnants before adding the eggs. However, if you leave the organic material in the water, these can also create unique patterns on the eggshells. It's up to you!
Stir the eggs every few minutes or so with a spoon so that all parts of the egg dye evenly. If you'd like to intensify the color, simply leave the eggs to cool in the dye water bath.
Adding Patterns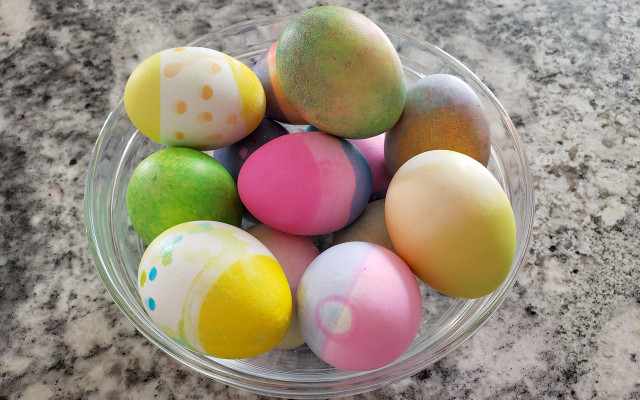 Pat the colored eggs dry with a clean dish towel (an old one that you don't mind getting stained) or paper towel. If you like, you can now use a cotton swab dipped in vinegar or concentrated lemon juice to draw designs on the eggs: Everywhere you apply the swab, you'll erase the color.
How to Dye Eggs With a Natural Leaf-Pattern
Take your Easter egg decorations to the next level: Use leaves to create beautiful patterns.
To start, wash and dry your raw eggs. Then carefully wet some clover, or any other small leaves, lay the wet side onto the egg, and carefully press it into place so that it sticks well.
Knot one end of a 4-inch nylon stocking, then carefully slide the stocking over the egg. Hold the leaf in place with one finger so that it does not move inadvertently. Stretch the stocking tight, smooth it out, and knot the second end shut tightly around the egg.
Place the egg in the water containing your natural egg dye and boil for 10 minutes. Once it's cooked, remove the egg from the liquid and blow dry it on the side with the leaf.
Finally, remove the egg from the stocking and peel off the leaf – and voila! Your very own leaf-patterned Easter egg!
Let Your Easter Eggs Shine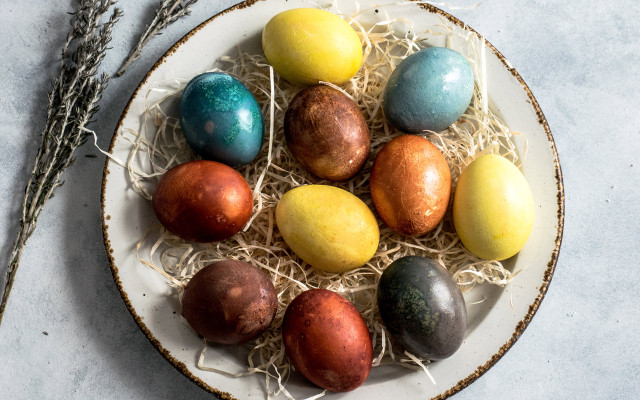 When you're finished, rub a couple of drops of vegetable oil into the shell for shine. And voila! You've dyed your Easter eggs totally organically!
Remember: When buying eggs for dyeing, please purchase organic eggs. Ready-to-use plant-based dyes are also available at your local organic grocery store. These natural dyes are just as simple to use as their synthetic cousins, without the health concerns.
This article was translated from German to English. You can view the original here: Ostereier färben: So geht's mit Naturmaterial
** Links to retailers marked with ** or
underlined orange
are partially partner links: If you buy here, you actively support Utopia.org, because we will receive a small part of the sales proceeds.
More info
.
Do you like this post?
Thank you very much for voting!
[contextly_main_module]