Learning how to knit a headband is nice and straightforward, and a great way to keep your ears and head warm for little money. Get creative with our easy DIY beginner's guide on how to knit a headband and personalize your newest accessory.
Are you feeling crafty? Then knit your own homemade headband in no time. This simple and easy guide will walk you through the process step-by-step. Basic knitting skills are definitely a plus, however the simple stitches used in this how-to guide on headband knitting won't throw any first-timers overboard either.
Read on: DIY headbands make great eco-friendly gifts!
How to Knit a Headband: Materials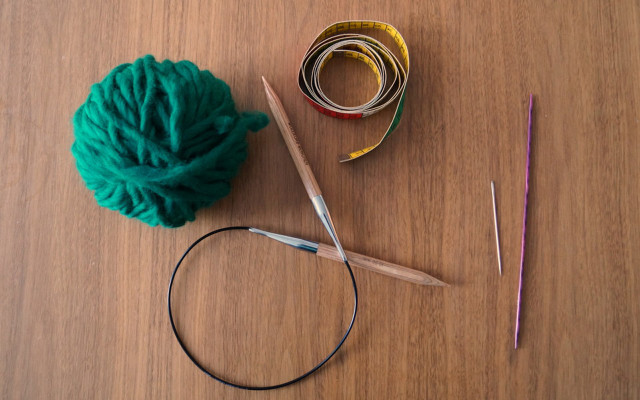 You'll need the following materials for crafting your own warm and cozy knitted headband:
ball of yarn
circular knitting needle
stitch holder, a pen or hair clip
needle for stitching
tape measure
around 2-3 hours time
In our instructional example we'll be using a thick wool. This is in no way a must: choose a wool that you like and go from there. If you're really unsure about your pick, talk to a store assistant about how to knit a headband with various types of yarn. Here's a piece of advice: The thicker the wool, the quicker you'll be done!
This how-to guide skips over the very first step of the knitting process known as the cast on – or beginning your first row of stitches. Check out this guide if you're new to the game.
Utopia's tip: Pick an easily combinable color and integrate your handmade headband in your new minimalist wardrobe. Committing to a well organized minimalist closet carries a number of perks: a minimalist wardrobe consisting of a few easily combinable and practical clothing items will save time getting dressed, save money while shopping as well as the resources required to produce these items in the first place.
1. Making a Knitted Headband: The Gauge Swatch
The first step in the knitting process is making the gauge swatch. This is done to test how many stitches your will require to knit the headband. Cast on and knit around ten stitches in around ten rows. Now measure the knitted piece. In our example, the piece measured 10 centimeters or approximately four inches in length.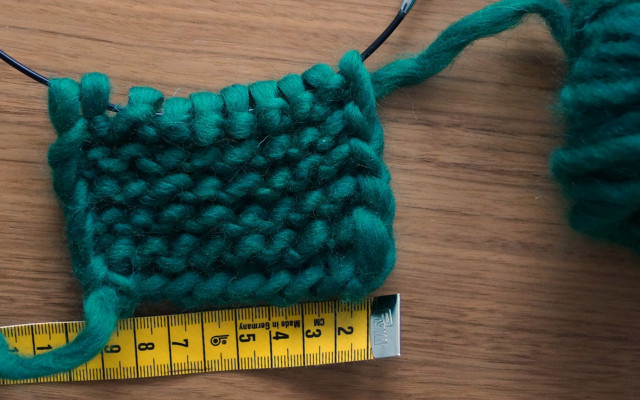 Now measure out how wide your knitted headband will need to be to cover your ears. Our example saw 4 inches fit perfectly over the wearer's ears – therefore there were no further measurements necessary. If your wool doesn't quite cover your ears, you'll have to calculate how many more stitches you'll need to have your headband fit right. Here's an example:
Calculation Example: 
10 stitches = 4 inches
X stitches = 6 inches (required width)
Here you'd need 5 more stitches – so 15 in total – to correctly fit your knitted headband. It may be a good idea to add an extra stitch so you land at an even number of stitches.
2. How to Knit a Headband: Knit a Garter Stitch
So now you've calculated your total number of stitches, it's time to get knitting. Knit the first and last stitches for the ends and knit all others to the right. Keep knitting just like this on through the next row. The best thing about this knitted headband: you're only stitching to the right. This will make for a pretty Garter pattern!
Continue knitting until the headband fits about halfway around your head. Keep in mind that the wool will stretch slightly once you put it on.
3. There's a Twist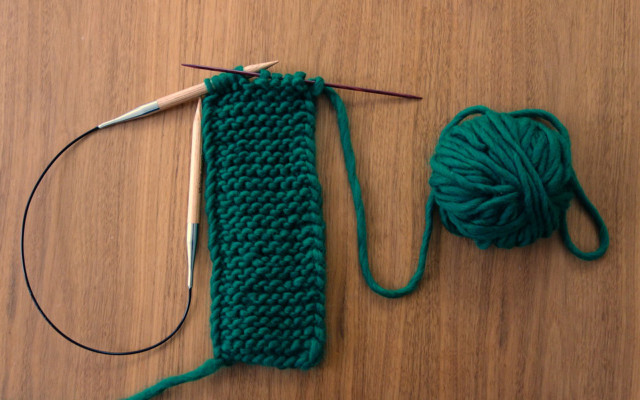 Once you've knitted your headband so that it fits halfway around your head, pick up half of the stitches (5 in our example) with a stitch holder. Knit the remaining stitches as you would otherwise, then knit using the stitch holder.
Now comes the twist. It may look a bit funky at the beginning, but rest assured, that's normal! Just keep knitting. It'll begin to take shape momentarily.
4. The Last Step: Knit it Together!
Keep knitting to the right until the headband fits around your head. Now cast off the stitches, leave a long tail for seaming and knit the two ends together. If you use the so-called kitchener stitch, you'll hardly even notice the seam. Learn how to use it for knitting your headband here.
Utopia's tip: Knitted headbands are great gifts. Nothing sends the message "I'm thinking of you" like a homemade present you take precious time to make. Be sure to keep things waste free by employing some creative and sustainable gift wrapping ideas. 
Read more:
This instructional guide on how to knit a headband was translated and adapted from German to English. You can view the original here: Stirnband stricken: Do-it-Yourself.
** Links to retailers marked with ** or
underlined orange
are partially partner links: If you buy here, you actively support Utopia.org, because we will receive a small part of the sales proceeds.
More info
.
Do you like this post?
Thank you very much for voting!