Here are some creative Christmas gift-wrapping ideas that will not only lend your presents a personal touch but are also sustainable and waste-free.
There is a need for more eco-friendly gift-wrapping ideas: Whether it's for birthdays, Christmas, or those "just because" moments — we go through the same wasteful routine every year. Presents are unwrapped, and the wrapping paper is added to a pile, stuffed into garbage bags and hauled off to the dump. The holiday season is particularly wasteful: From Thanksgiving to New Year's, Americans produce 25 percent more trash than at any other period throughout the year.
According to Stanford University, if everyone reused two feet of wrapping ribbon, 38,000 miles of saved ribbon could stretch around the entire planet. Wrapping but three of your total presents could save the paper equivalent of 45,000 football fields. And this isn't even considering the waste produced from Christmas cards and tape.
So this year, make a conscious effort to prevent waste. We've compiled a collection of ten sustainable holiday and Christmas wrapping ideas to help you create eco-friendly present packaging.
1. Use Recycled Wrapping Paper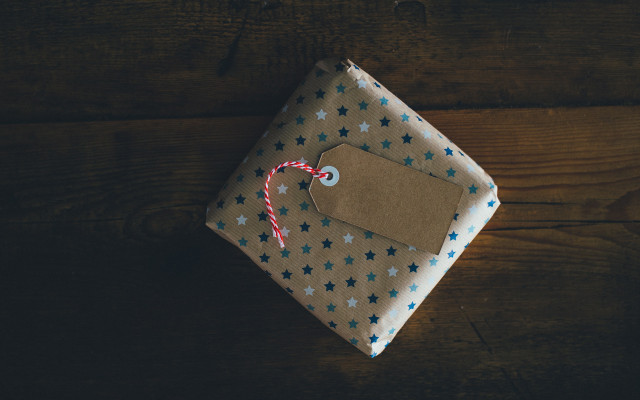 Don't possess a wide range of crafting materials, or are you short on time? Then keep Christmas gift wrapping sustainable by purchasing recycled Christmas wrapping paper. Just be sure to buy gift wrap labeled as "recycled" or made from compostable materials.
It's also best to avoid shiny or shimmering plastic foils and any other types of plastic-layered gift wrap. As a rule of thumb, any metallic wrapping paper, paper with glitter on it, should be left on the shelf. There are plenty of alternative gift-wrapping ideas to choose from.
Tip: All that brown packing paper that comes with your Amazon packages can be put back to use. Use it for your Christmas wrapping!
2. Reuse Gift Wrap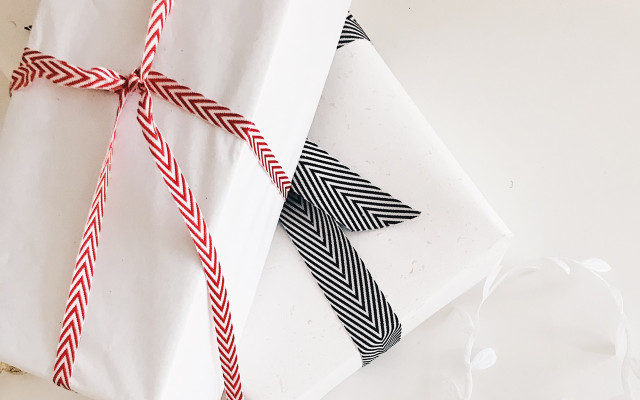 If Christmas gift wrap has already been produced and purchased, what's the point of tossing it after unwrapping it? Put used Christmas gift wrap back to use. Keep a stash of gift wrap from Christmases past — you won't have to head out to buy new wrapping paper every holiday season. It also saves money, reduces paper waste, and is kinder to the environment.
The trick to keeping once-used Christmas gift wrap reusable is opening gifts carefully. This may require some practice. If you want to avoid rewrapping gifts to the same person you received the wrapping paper from, simply write their name in pencil on the inside of the paper and erase before wrapping again.
Want to produce less waste? Here are some helpful tips: Plastic-Free Shopping: 3 Easy Tips for Waste Reduction
3. Use Paper Collage From Old Magazines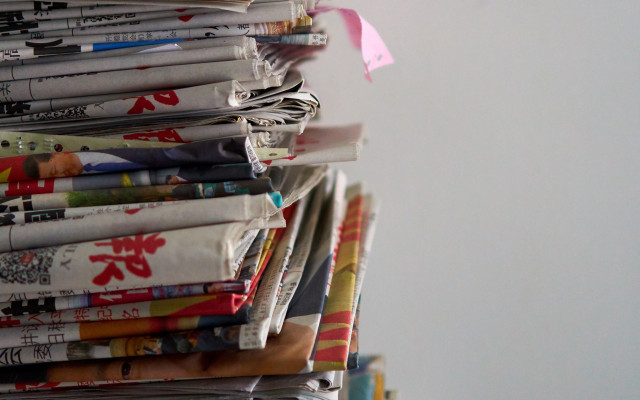 Among creative Christmas wrapping ideas, homemade gift wrap is the thriftiest. It also adds a personal touch to your presents which you don't get from gift wrap from the discount store. Craft a creative paper collage from old magazines or advertisements from your home recycling bin. Or repurpose entire pages from old books bound for the bin into a new Christmas gift wrap.
When it comes to old newspapers: stockpile these to use as a sustainable gift wrap at your family's next gift-giving event. Sort out the best pages along the way, such as the colorful weekend comics section of your local paper. You can get crafty and add your accents to the Christmas gift wrap:
Glue (make sure to use non-toxic glue) on single letters or words from story headlines,
or snip out hearts or stars and stick these on as well.
Any creative collage goes great atop recycled brown packing paper. These Christmas or holiday gift-wrapping ideas are bound to impress their recipient, hands down.
Additional sustainable gift-wrapping ideas include reusing old calendars, paper patterns or sheet music, old maps of all scales and full-page newspaper ads.
4. Wrap Presents with Presents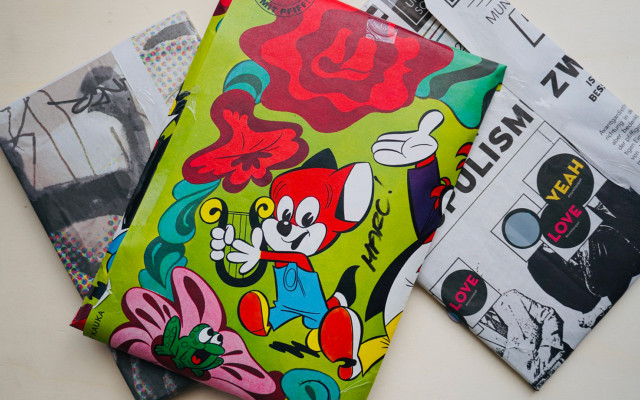 Another sustainable gift-wrapping idea: wrap presents with presents. Stealthily hide that new cookbook in a neatly folded apron or that brand-new watch in a new dish towel. This gift-wrapping technique combats paper waste and will leave the recipient in for a pleasant surprise.
5. Gift Wrapping Ideas Using Household Materials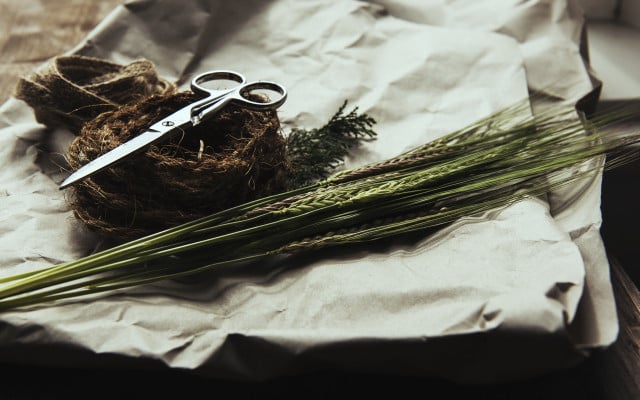 You're sure to find many solutions for last-minute gift wrap and packaging tucked away somewhere in your home: old shoe boxes make for a great gift box. Wrap up your presents on the fly with baking or packing paper, or give your gifts a seasonal touch with natural materials or stylish homemade tags.
Colorful construction paper left over from your last crafting project or old clothes and linens give your Christmas gifts a unique look and set them apart from the rest. Look around the basement for more creative and sustainable Christmas wrapping inspirations — something's bound to turn up. This way, you're also ridding your house of things you have no further use for.
Whether the crafting box or the kitchen pantry — gift-wrapping ideas are endless, just get creative.
6. Wrap Holiday Gifts in Cloths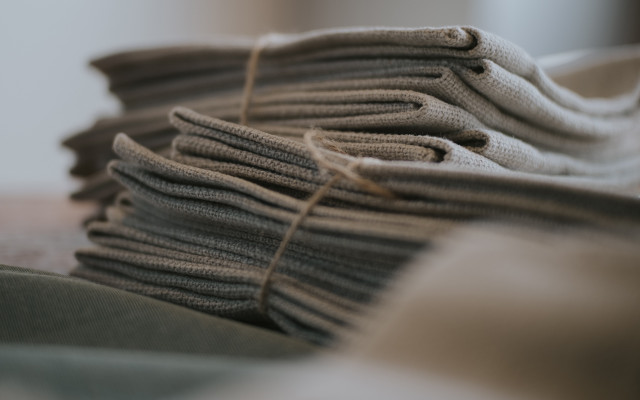 The idea behind wrapping gifts in towels stems from a traditional Japanese practice known as "Furoshiki." You can find these so-called "gift wrapping cloths" and wrapping techniques online, just google it.
You can either use your own cloths or buy new ones. When buying new ones, be sure to purchase them from sustainable sources. You can find handmade products from your local area on Etsy.
7. Reuse Tins and Chocolate Boxes as Gift Packages
The holiday season is the time for all kinds of Christmas cookies, filled chocolates, and other tasty treats. These often come packaged in elaborate aluminum tins or thick paper boxes — two examples of sustainable Christmas wrapping ideas that are bound to impress. Thoroughly wipe the boxes clean before you fill them.
Another benefit of this gift-wrapping idea: The gift itself will remain an utter surprise. The shape of that reused Valentine's day box says nothing about its contents. Those will remain a mystery until Christmas day.
Tip: Look for vintage tins at your local flea market or thrift store.
8. Upcycling-Ideas: Reuse Toilet Paper or Paper Towel Rolls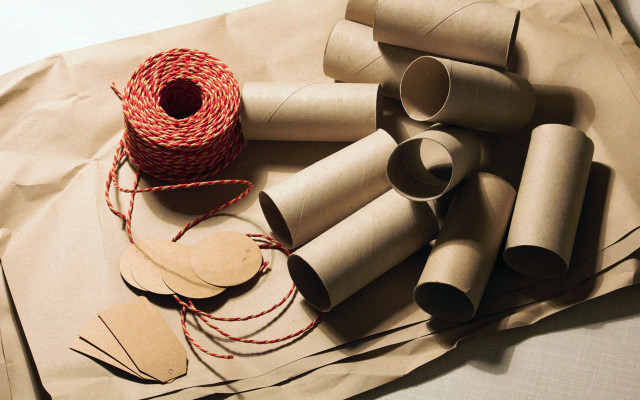 How about this very sustainable gift-wrapping idea: Empty toilet paper and paper towel rolls are great for wrapping smaller items. Cut the rolls down to the correct length and slit and fold down the edges to close up the ends. Add a hint of personal style by wrapping it in a bit of colorful newspaper, tie a nice string bow or add a homemade personalized tag.
9. Use Reusable Gift Bags
One more example of a conventional wrapping paper alternative is a DIY gift bag. You can make a reusable cloth bag using repurposed items such as old clothes or store-bought sustainable textiles like jute!
When crafting your own Christmas gift wrap bag, only incorporate sustainable and natural products. Sewing together a cloth bag is as easy as ten minutes in front of the sewing machine — and works even without a sewing machine. Here's a video that describes how to sew the bag:
If you don't have a sewing machine, ask your parents or a friend if they can lend you theirs.
10. Pack Presents in Reusable Glass Jars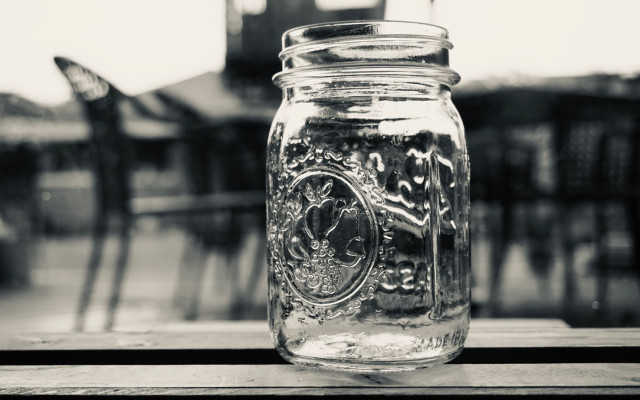 If you are planning on gifting food or candy this Christmas, consider utilizing reusable glass jars or containers as packaging. Glass jars don't only make for an excellent gift-wrapping method when it comes to food. Still, you can pack nearly anything inside them. Forget a boring envelope and toss any monetary gifts or gift cards into a mason jar.
Read more:
** Links to retailers marked with ** or
underlined orange
are partially partner links: If you buy here, you actively support Utopia.org, because we will receive a small part of the sales proceeds.
More info
.
Do you like this post?
Thank you very much for voting!