Nature-based solutions are helping countries to address the three major challenges of our time: climate change, protecting biodiversity and ensuring human wellbeing.
Nature-based solutions are a little bit like the planetary health diet in that they too are sustainable practices that protect natural ecosystems and promote human and economic health. There are many types and subtypes of these practices, and governments, organizations and corporate giants all over the world are investing heavily in them to tackle our current societal and environmental problems, and reach future goals and targets. 
According to the International Union for Conservation of Nature (IUCN), nature-based solutions can achieve one third of the climate crisis targets that were outlined in the Paris Agreement — including limiting global warming below the 2 °C threshold and carbon reduction. The IUCN projects approximately 170 billion dollars of potential benefits from these solutions and estimates that they already avert 57 billion dollars of flood damages in China, India, Mexico, US and Vietnam every year.
But what exactly are nature-based solutions and how can they help reverse our current planetary, human and socio-economic catastrophes? Find out as we explain what they are and discuss some ongoing programs.
What Can Nature-Based Solutions Achieve?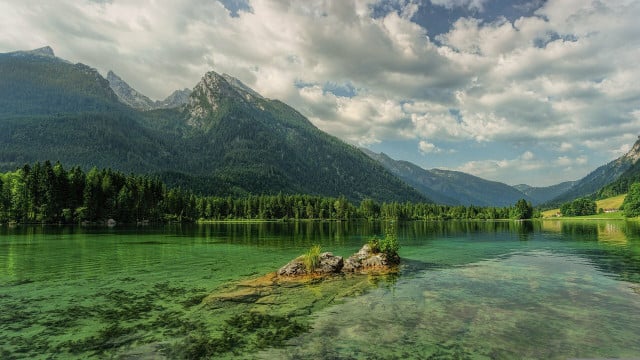 The European Union (EU) Commission describes nature-based solutions as "solutions that are inspired and supported by nature, which are cost-effective, simultaneously provide environmental, social and economic benefits and help build resilience. Such solutions bring more and more diverse nature, and natural features and processes into cities, landscapes and seascapes, through locally adapted, resource-efficient and systemic interventions."
Nature-based solutions are reported to exhibit a range of positive outcomes by utilizing nature instead of industry and technology. According to the Federal Emergency Management Agency (FEMA), nature-based solutions use natural features and processes to:
Combat climate change
Reduce flood risk
Improve water quality
Protect coastal property
Restore and protect wetlands
Stabilize shorelines
Reduce urban heat
Add recreational space
The 3 Types of Nature-Based Solutions
These natural solutions to our current climate catastrophe can be loosely divided into three major categories:
Watershed or landscape-scale practices — involve building interconnected systems of natural areas and open space. They require long-term planning and coordination. Examples include land conservation and greenways.
Neighborhood or site-scale practices — involve managing rainwater where it falls to reduce stormwater runoff. They can be integrated into a site or neighborhood without requiring extra space. Examples include permeable pavement and tree trenches, essentially turning the city into a sponge city.
Coastal practices —  stabilize the shoreline, provide storm protection, promote coastal resistance and reduced erosion. Examples include sand nourishment, vegetation rehabilitation and living shorelines.
What Does the Research Say?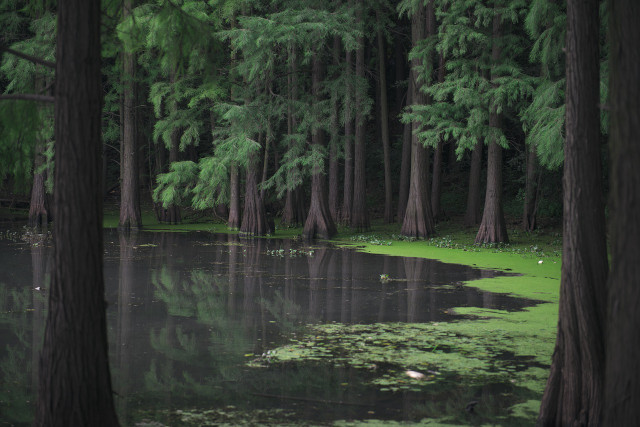 A study by Conservation International found that the most valuable way of boosting natural climate solutions is by expanding regions that absorb vast stores of climate-warming carbon, such as mangroves, marshlands and old-growth forests. Strategies to protect these high-carbon ecosystems and humans are at the core of nature-based solutions for conservation.
Research from Europe also advocates nature-based solutions over traditional approaches toward environmental and societal health, and these findings are echoed all over the world. Recent peer-reviewed research found that nature-based solutions have the potential to increase carbon storage and avoid greenhouse gas emissions at a rate equivalent to 21 percent of the current net annual emissions in the US They also found that nature-based solutions would provide air and water filtration, flood control, soil health, wildlife habitat, and climate resilience benefits. Some of the solutions studied were:
Agricultural landscape
Temperate coniferous forests
Temperate broadleaf and mixed forests
Mediterranean shrublands and woodlands
Temperate grasslands-savannas and shrublands
Peatland
Seagrass
Saltmarsh
Urban environment
Wetlands
In response to the emerging evidence, the IUCN unveiled a Global Standard providing the first-ever set of benchmarks for nature-based solutions to global challenges in 2020. The Standard will help governments, businesses and civil society ensure the effectiveness of nature-based solutions and maximize their potential to help address climate change, biodiversity loss and other societal challenges on a global scale.
Conservation vs Nature-Based Solutions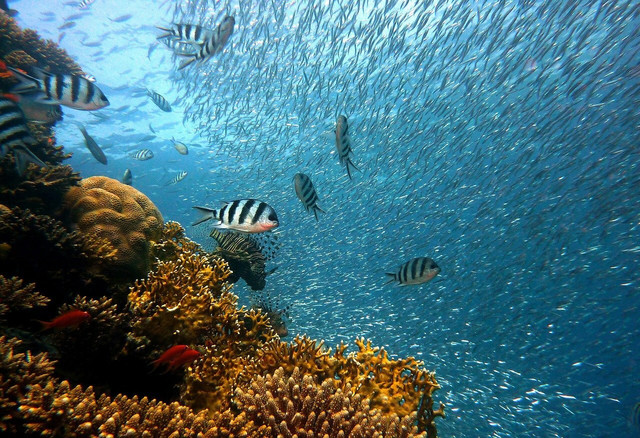 Biodiversity in today's world faces a wide number of threats, including:
Land-use change
Climate change
Habitat loss from agricultural expansion
Over-exploitation of natural resources
Pollution 
Invasive species
To tackle this, the Convention on Biological Diversity recommends that conservation measures should be implemented globally. They advocate that at least 30 percent of global land and sea be conserved by 2030 and recommend increasing financial investment — including a ten billion dollar sum towards assisting developing countries. This has led to widespread conservation, and many mistakes in the past.
Not all of our traditional forms of conservation can be considered nature-based solutions, which is why interest and research in nature-based solutions is expanding. Some of our previous attempts at addressing our biodiversity challenges have resulted in serious problems elsewhere. Fortress conservation, for example, is a conservation model used all over the world — like National Parks and protected sanctuaries — that removes humans from vast acres of land to allow other species to thrive.
This ideology of a thriving ecosystem — unspoiled and untainted by destructive humanity and our often harmful ways of life — undoubtedly helped to conserve a huge array of land and endangered species, but also resulted in serious human rights violations all over the world. Nature-based solutions look at ways in which ecosystems, humans and the planet live together in a healthy and symbiotic relationship. 
The World Wildlife Fund for Nature (WWF) partners with organizations and communities all over the world to implement nature-based solutions, such as rebuilding coral and oyster reefs, wave erosion programs, land conservation, coastal protection and reforestation. They are calling for nature-based solutions to be part of the Convention on Biological Diversity's Global Biodiversity Framework and are working towards improved relations between climate and nature conventions to help prevent making mistakes of the past.
Challenges to Nature-Based Solutions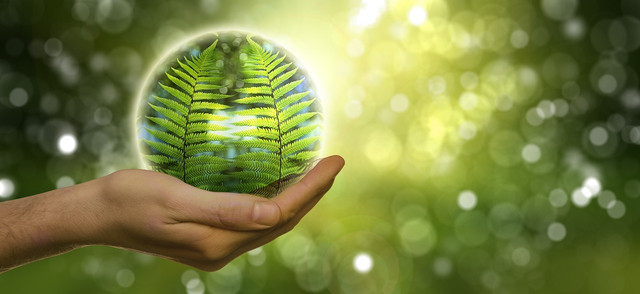 A recent European report recognizes the potential value of nature based solutions but does raise the following concerns:
Some critics are concerned that there is insufficient research to show if nature-based solutions are cost effective and reliable enough to tackle both biodiversity and climate change mitigation.
Alleged ambiguity and the potential for multiple green projects to fall under the umbrella term.
Potential to create colonialist dynamics — similar to those seen in fortress conservation.
Some nature-based solutions are also very complex — which is often challenging. The European Parliament has recognized potential drawbacks and difficulties — such as tackling knowledge gaps, managing trade-offs, implementing successful actions, dealing with natural elements, and financing projects. In view of the emerging benefits, however, Europe and the rest of the world are investing in tackling these challenges and implementing these solutions as our climate crisis heightens.
Amazon Protecting Amazon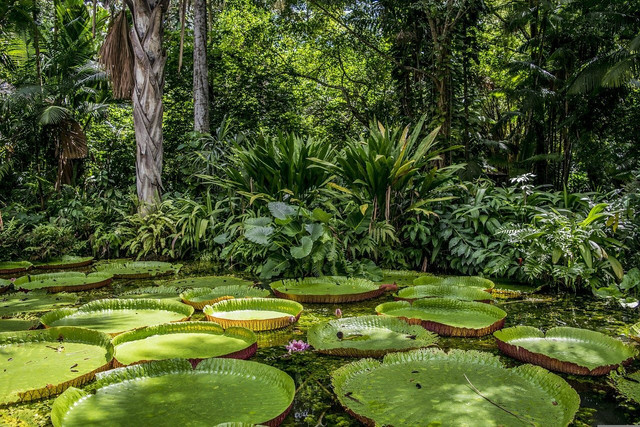 The corporate giant Amazon is also a major supporter and investor in nature-based solutions all over the world in view of the ongoing science supporting them. In 2019, Amazon created the Right Now Climate Fund, which was a 100 million dollar investment in the restoration and conservation of forests, wetlands, and grasslands around the world. The following year, Amazon invested a further ten million dollars in two programs with The Nature Conservancy that help family forest owners remove carbon across the Appalachian region of the Eastern US. The program is anticipated to vastly reduce atmospheric carbon and allow small-scale forest landowners to increase their economic stability.
In 2021, Amazon partnered with The Nature Conservancy again to launch the Agroforestry and Restoration Accelerator. This nature-based solution will restore native rainforest to naturally trap and store carbon, and generate a more sustainable source of income for thousands of local farmers in the Brazilian Amazonian state of Pará. This program is using new satellite-based technologies to quantify and monitor the levels of carbon removal achieved.
Amazon also helped to create the Lowering Emissions by Accelerating Forest finance (LEAF) Coalition — a global collection of public and private organizations and governments that help countries protect their tropical rainforests. Ecuador, Costa Rica, Ghana, Vietnam, and Nepal are the major areas for target and the coalition, which has already generated over one billion dollars in investment, will enhance the lives of billions in these countries too.
Amazon has committed 20 million dollars towards nature-based projects in Europe that support carbon reduction, biodiversity and socio-economic benefits for human populations. Italy is in the process of planting 22 million trees across 14 metropolitan areas, while Germany is investing in their Urban Greening Program — which looks at roofs, grasslands and urban streetscapes for greening potential.
Of course, Amazon is known as the place online where you can find, and buy, anything you want — at any time. Experts therefore recommend that the next necessary step for Amazon is greening its supply chain. This would mean that any vendor who wants to sell on Amazon must adhere to certain environmental standards. What would also be helpful is for Amazon to provide information about the carbon footprint of the product a customer on their site is browsing, ideally already compared to the industry standard. Whether this would negatively affect their product selection to the point that Amazon loses its predominant status, is difficult to answer.
In view of the fact that Amazon generated 599 million pounds of plastic packaging waste in 2020 and their estimated plastic packaging waste, in the form of air pillows alone, would circle the Earth more than 600 times — according to Oceania — these measures go towards some form to restoration of the damage mass commercialism creates.
The World Bank is also advocating and using several nature-based solutions to help manage disaster risks, like flooding, mudslides, biodiversity loss and land degradation. They, too, estimate that nature-based solutions can provide 37 percent of the mitigation to achieve the targets of the Paris Agreement by 2030 and state that taking advantage of ecosystems — such as mangroves in coastal areas can reduce the impact of storms, improve socio-economic wellbeing for humans, enhance biodiversity and provide habitats for species to thrive.
Nature-based solutions are holding massive promise in our fight against climate change and planetary, human and societal ill-health. There are many everyday ways to combat climate change and we all have a role to play.
Read more:
** Links to retailers marked with ** or
underlined orange
are partially partner links: If you buy here, you actively support Utopia.org, because we will receive a small part of the sales proceeds.
More info
.
Do you like this post?
Thank you very much for voting!