Pandan juice and extract are made using the leaves of the pandan plant and can be used in baking to give dishes a sweet, fresh taste and smell. Learn how to make your own.
Pandan is a shrub that is found across Southeast Asia. It has long, pointed, thin leaves which have a fragrant, sweet smell. When processed, the leaves take on the form of a bright green liquid which can be used in cakes, puddings, jello, or in drinks to give them a distinct color and unique taste, similar to coconut cream or vanilla. Pandan leaves can be found in Asian supermarkets, frozen or fresh, and are particularly common in Filipino grocery stores.
Fresh or frozen pandan leaves can be used to make pandan juice and pandan extract. The leaves are first chopped and blended with water. This mixture is then strained to remove any solid bits — the strained mixture is the pandan juice. This can then be chilled for two days to separate the liquid from the solid mixture. The liquid is removed and the remaining solid mixture is the pandan extract. Making homemade pandan juice or extract is a healthier alternative to store-bought pandan flavoring, which may use synthetics and contain added coloring.
If pandan juice is drunk by itself the taste is a little bitter, but when baking with pandan juice or extract, it gives a light, sweet taste to dishes without dominating other flavors. It also adds a light green color to baked goods such as sponge cakes and bread. Generally you can replace the liquid part of a baking recipe for pandan juice. A pandan leaf can also be added to rice when it's being steamed, which will give it an aromatic flavor. If you want a more intense green color, you should use pandan extract instead. Find out how to make both below.
Is Pandan Healthy and Sustainable?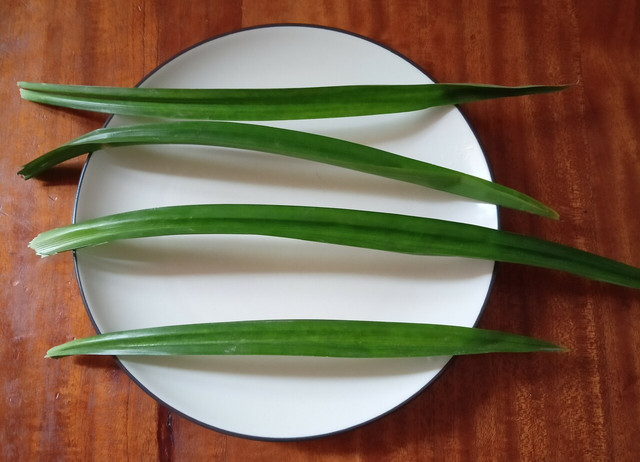 Pandan leaves have been used in traditional medicine in Asian countries for generations for a wide variety of ailments such as colds, ulcers, headaches, wounds, and boils, as well as other conditions like scabies, hepatitis, smallpox, and leprosy. They contain a multitude of vitamins and minerals including carbohydrates, amino acids, calcium, iron, vitamin C, as well as antioxidants.
The pandan plant is resilient and thrives throughout South East Asia, so it is accustomed to hot, wet, humid conditions. It is a tough plant and can survive being waterlogged in the rainy season and growing in bright sunlight, although it prefers a shady environment. You can grow pandan at home in a pot, just make sure you give it a little TLC to get the growing conditions right. It takes about six months for the leaves to be ready for harvesting and if the leaves are not harvested, the pandan plant will eventually grow a trunk with low-hanging leaves.
A study of the pandanus gracilis species growing in Cuba found that although pandan could be considered an invasive species there (as it isn't native), it didn't pose any environmental threats. Therefore it appears to be a sustainable plant to farm, with relatively little impact on its surrounding environment.
Check out how to get juice and extract from pandan leaves and then go ahead and get creative using them in your cooking for a lovely sweet taste and gorgeous green color.
How to Make Pandan Juice
Yield: 1 cup
Ingredients:
1 cup pandan leaves
1 cup of water
Instructions:
Wash the pandan leaves well, particularly near the stem where dirt can hide.
Chop the washed pandan leaves into 1-inch segments.
Put the water and pandan leaves in a blender and pulse until smooth. You may need to stop and push down the chopped leaves which have got stuck to the sides and blend again.
Strain the mixture using a fine-mesh strainer or cheesecloth, into a jug or container. During straining, press on the leaf mixture using a spoon to remove the juice.
How to Make Pandan Extract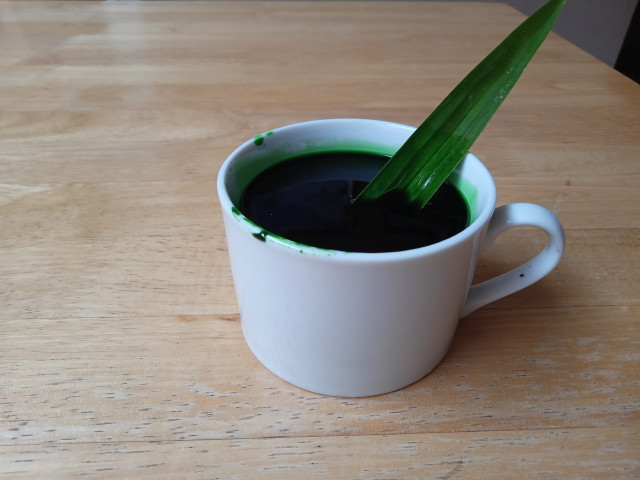 Pandan extract requires the same ingredients, but uses a different method.
Yield: 1 cup
Ingredients:
1 cup pandan leaves
1 cup of water
Instructions:
Follow steps 1 — 4 as above. Pour the pandan juice into an airtight container and chill in the refrigerator for 48 hours.
During this time the mixture will separate, with liquid on the top and a concentrate at the bottom. Pour away the liquid on the top and keep the concentrate — this is the pandan extract.
In cooking, one cup of pandan juice is equal to two tablespoons of pandan extract, or use one tablespoon of homemade pandan extract for every teaspoon of store-bought pandan extract. Bear in mind that store-bought pandan extract is often synthetic, with added coloring.
Read more:
** Links to retailers marked with ** or
underlined orange
are partially partner links: If you buy here, you actively support Utopia.org, because we will receive a small part of the sales proceeds.
More info
.
Do you like this post?
Thank you very much for voting!