Private dog parks can be a source of pleasure or pain for both dog and owner. Find out if a membership might be right for you and your loyal friend by reading more.
Private dog parks seem like the perfect place for our pets to explore and exercise as nature intended. As owners, we want our four-legged friends to enjoy the highest quality of life that we can give them. So, the idea of them running freely through acres of natural space and socializing with their fellow species is an appealing one.
The reality however, is that some private dog parks can pose serious risks to us and our loyal companions. Finding out a little more about private dog parks will help you decide if joining one might be right for you and your dog. Research suggests that private dog parks are working well and some laws are being reviewed in the US due to their growing popularity.
What is a Private Dog Park?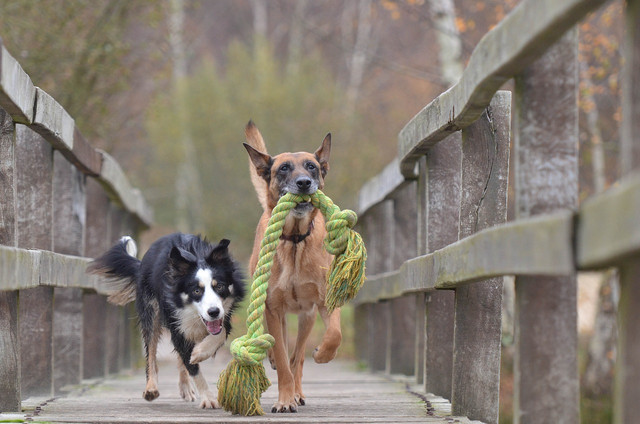 A private dog park can range from just a small area of land with few or no regulations, to a massive span of nature for your dog that has human activities too. Some parks offer organized activities, fabulous surroundings, and even obstacle courses or waterparks for your dogs and family to enjoy.
At 42 acres, Dogwood Play Park in Seattle is one of the world's largest fenced dog parks. It offers everything from pet parties to protected areas for more timid animals. It has on-site supervision and has strict entry criteria for members – including health record checks.
DOG PPL is a park, café, bar, and lounge, all in one. Its L.A. members pay $80 per month for a clean environment with strict safety requirements and regulations. It is also a social club for owners, where they can work, drink, or socialize.
These are just a few examples of private dog parks and there are many across the US. It is important to check how your local dog park is managed. Strict entry criteria and adequate facilities and space are important factors in deciding which park to join. You will want high standards of hygiene and safety for you and your pet and not every private dog park provides them. Here are some the many helpful tips from the American Kennel Club (AKC):
Socialize your dog to other dogs before you go.
If your dog is shy or nervous, the dog park may be a nightmare for them.
Young puppies under four months, unvaccinated, or sick dogs should not be taken to dog parks.
Dog parks vary in terms of safety, cleanliness, requirements, and users.
Private Dog Park Benefits for Dogs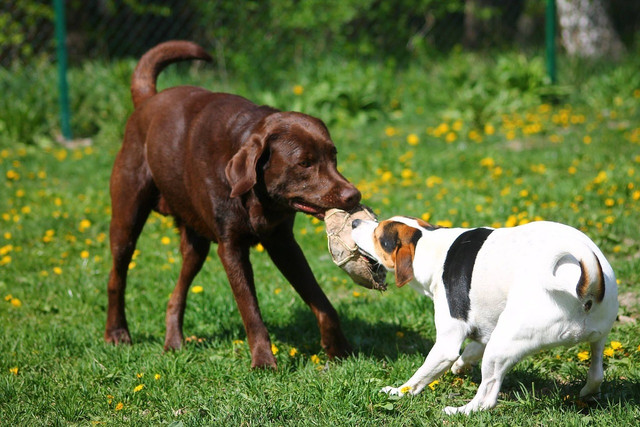 A safe and well-managed private dog park provides an opportunity for dogs to interact and enjoy high-energy activity away from the confines of a leash. Physical and mental stimulation is vital to dog health. Bored dogs, particularly during the lively puppy stages, are prone to destructive behavior. The private dog park might just drain enough energy to save your favorite shoes and cushions from preying teeth.
You can arrange doggy play dates with other dogs that enjoy similar activities. Unlike public parks, you can let your dogs free without the worry of a skateboard or bicycle crashing round the corner at high speed. Many owners that have physical disabilities or restricted mobility rely on private dog parks as a source of safe exercise for their pets during periods of immobility. There will also be plenty of bins to dispose of dog poop responsibly so you don't have to carry it home.
Benefits For People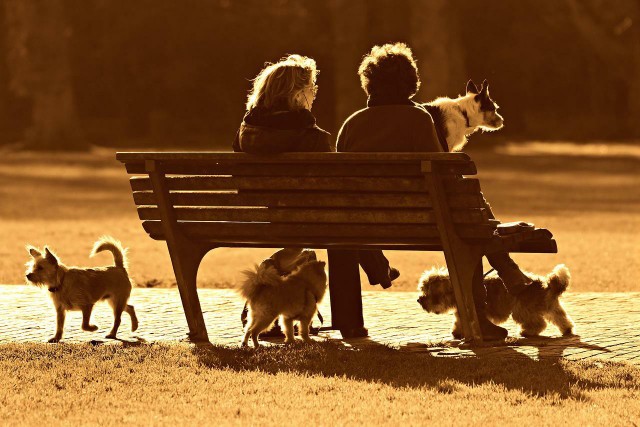 Private dog parks do not just provide a great opportunity for canine interaction – their very nature means that like-minded dog-lovers can interact and socialize too. Parks can be a great place to meet other people and make new friends. If you are single, you might even find love through a game of fetch!
People can learn from each other at dog parks – just like the dogs. Owners can share training tips and general doggy advice while their dogs play together. The large space provides the ideal location for practice. Many well-behaved dogs and experienced owners can be role models to those that require a little more effort to tame.
Private Dog Park Disadvantages for Dogs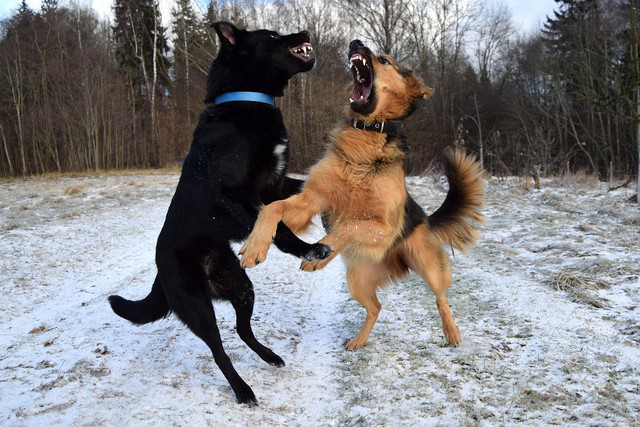 The potential for injury and attack from aggressive dogs is the biggest disadvantage of private dog parks. Responsible owners generally know their dog's temperament well but inexperienced owners can be irresponsible sometimes.
By their very nature, all dogs have the potential to attack when intimidated or scared. Over-excitement and hyperactivity of friendly dogs can be mistaken for a threat by more timid breeds. Therefore, caution is always recommended if unfamiliar dogs are around, or if yours is small or sensitive.
Disease is also a concern when dogs interact in large numbers in the same area. Private dog parks can lead to the spread of parasites and disease – particularly if the park does not require vaccination and health records. Dogs that have not been neutered or spayed can cause all manner of havoc, so perhaps it might be best to avoid the park if your dog is in season.
Disadvantages for People
Private dog parks can be noisy, busy, and stressful places for us humans. We too are at risk of injury from aggressive dogs or poorly managed pets. Some owners might leave dogs unsupervised, or even let them engage in inappropriate behavior. Others might fail to recognize if their dog is unsuitable for socializing in the park which leads to an increased risk of injury for people and animals.
Unfortunately, humans can abuse the dog park too – by not picking up after the dogs or leaving litter of their own. Many parks are used for late night activities by youths and can be littered with broken glass and rubbish. The standards maintained by the park's management will directly impact your experience. Private dog parks can also be costly, meaning they aren't always budget-friendly.
It is important to consider your dog's personality and yours when joining a private dog park. It should be a happy time for owners and their most loyal friends, so consider the pros and cons before joining. Finally, don't forget that your own angelic pooch could let you down and engage in inappropriate behavior at the park. This could cause legal and liability issues, so make sure your dog is suitable and ready.
Read more:
Important Information regarding Health-related Topics.
** Links to retailers marked with ** or
underlined orange
are partially partner links: If you buy here, you actively support Utopia.org, because we will receive a small part of the sales proceeds.
More info
.
Do you like this post?
Thank you very much for voting!