Who says grocery shopping on a budget has to be a chore? There are many ways to experiment with your meals, help the environment, and save money at the same time.
Finding an eco-friendly approach to grocery shopping on a budget can be challenging. The local farmers market and the organic aisle aren't always budget-friendly, but you can still be an environmentally conscious shopper. These tips will save you money and reduce your carbon footprint.
1. Budget Accurately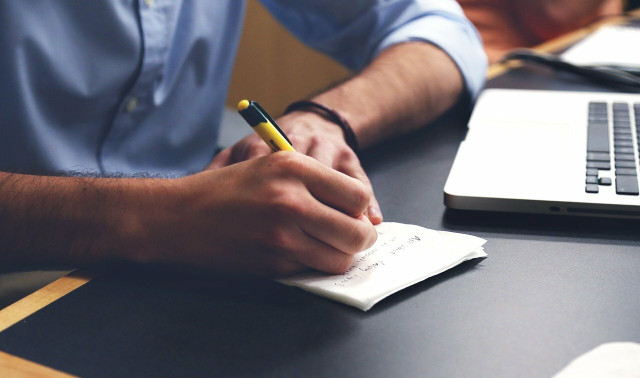 The average American family spends 12.5% of their yearly budget on food. This can mean vastly different budgets depending on income. For example, the median income for a four-person family in the US ranges from $67,349 to  $140,309 on a state-by-state basis. However, though the average income was $67,521 in 2020, it is often lower if you look at real earnings.
With inflation on the rise by 8.2% and average weekly wages decreasing, many people are already living paycheck to paycheck. Access to food is a growing concern.
Let's break this down:
If a household earns $67,521 a year, roughly $8,440 (12.5% of their budget) goes to food alone. While 86% of this budget is allotted to grocery shopping, 32% goes to take-out meals. That's more than $2,700.
People often don't realize how much money they spend on takeaway, treats and eating out. According to a study by the Milken Institute (a not-for-profit economic think tank), financial literacy in the US is just 57%.
Learning how to grocery shop within budget is necessary for maintaining healthy finances. In fact, it's a crucial first step in understanding more about your economic situation. 
The USDA budgetary food plans outline the budget needed when considering the rising cost of food (based on inflation). The cost of a household food budget can be broken down into three levels. The levels depend on how much a family spends, the size of their household and the amount of food eaten based on gender and age. Putting it into perspective, the weekly cost of food for a household with two adults and two children under the age of 11 is:
Low-cost: $168 weekly ($8,736 annually)
Moderate: $208 weekly ($10,816 annually)
Liberal: $256 weekly ($13,312 annually)
So, even families who make $67,521 and have a moderate food budget still spend up to 16% of their income on food. This translates to considerably more for low-earning households. All of this means that budget shopping for groceries is not just a matter of how much food you buy but of how much of your total budget goes towards food.
Follow these steps to create your food budget:
Start with your yearly income.
Use the USDA guide to calculate the minimum you need to spend based on your household specifics.
Calculate how much you spend on food vs. the amount you need.
Decide how often you intend to shop — semi-weekly, weekly or monthly.
Set your goal and begin planning.
For example, let's say you earn $50,000 a year. If you spend 20% on food, that's $10,000. Your household consists of two adults and one child. With those parameters, the USDA recommends a minimum yearly food spending of $8,791. In theory, that means you could cut your spending by 18% ($1,209).
Now that you know how much you need to save, you can figure out what you can spend per grocery trip. With $8,791 you should spend $733 a month (total divided by 12); $169 a week (total divided by 52); or $85 twice a week (total divided by 104).
With this figure, you can be more economical about how and what you spend. You know your limit and can plan accordingly. It's also a good way to control how much food you waste. If you know what you've already bought has to last for a certain time, you can plan to buy only what you know you will eat.
2. Plan Ahead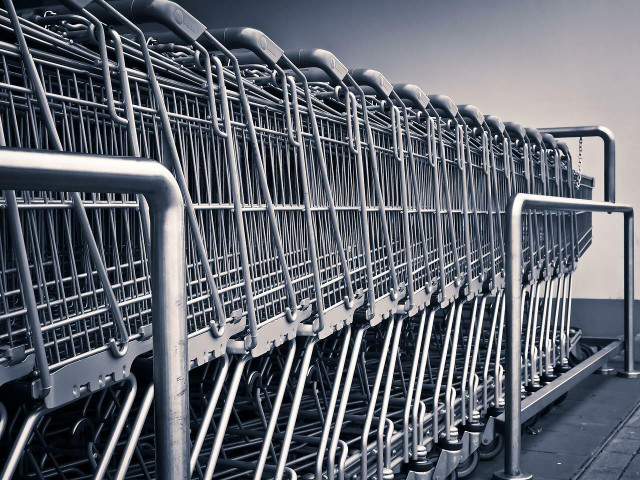 Grocery shopping on a budget is easy when you create a menu ahead of time. Consider:
Cost of ingredients 
Number of people in your household 
Portion sizes
Number of meals
Nutrition needed for a healthy diet
For example, the above budget of $169 weekly for a family of three averages $8 per meal (3 meals a day/7 days a week). This figure represents the total amount eaten by three people. So, you want nutritionally sound meals that fill everyone and adapt to how much different people eat.
In this context, $169 doesn't seem like very much, but it depends on how you spend your money. Meals cooked for a family generally work out cheaper when you buy the ingredients yourself. To illustrate, here's a basic breakfast menu to feed more than three people (based on current retail prices):
Breakfast — Fruit, toast, eggs and freshly made orange juice
Loaf of bread ($1.75)
A dozen eggs ($3.10)
1 lb. bananas ($0.60)
1 lb. oranges ($1.70)
Total cost =$7.15
Three people are unlikely to eat that much food on a single morning. Even if they did, it proves just how far your dollars can go. If you plan all your meals similarly, achieving your goal of $8 per meal for a family of three would be relatively easy. It's all in the planning.
You might also look out for sale items or discounts and consider if there are nonperishable items you can buy in bulk. This is also a helpful way to reduce packaging waste. One large bag of rice, for example, creates less packaging waste than many individual bags of rice.
3. Grocery Shop on a Budget by Swapping Ingredients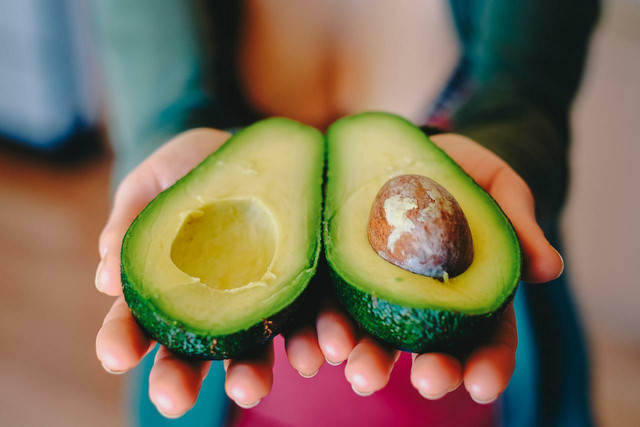 While considering nutrition for your meals, you can look at low-cost alternatives to meet the right levels of proteins, fats, minerals, and grains. US dietary guidelines suggest the daily diet for an average healthy adult should consist of:
2 cups of vegetables
2 cups of fruit
5.5 ounces of protein
6 ounces of grain
It does not specify where these nutrients come from, only that they are present. That means we have more flexibility over what ingredients we use, which is important when we look at pricing. 
Some meats, in particular, are high-cost products. If we consider the average cost and amount of protein for meat and non-meat produce, we see some interesting trends:
Meat
Ground beef is $4.9 per pound (or 453 grams) / roughly 117g of protein 
Sliced pork is $7.3 per pound (or 453 grams) / roughly 166.5g of protein 
Non-meat
Garbanzo beans are $1.28 per pound (or 453 grams) / roughly 85g of protein
Pinto beans are $1.42 per pound (or 453 grams) / roughly 94.5g of protein
To meet the daily requirement, 155g of protein per day would cost:
$6.79 for sliced pork
$6.49 for ground beef
$2.33 for garbanzo beans
$2.32 for pinto beans
You get the same amount of protein from non-meat sources, but the pricing is very different.
Not to mention, by swapping vegetables or plant-based proteins for meat, you help fight climate change. Reducing our consumption of animal products by just 50% can lower GHG emissions by up to 73%.
4. Coupons and Discounts to Help You Grocery Shop on a Budget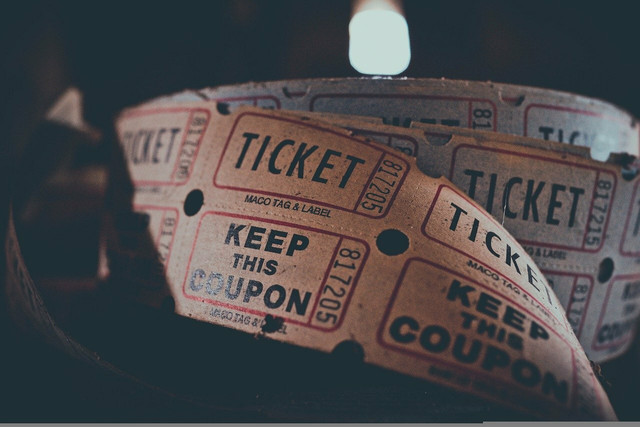 Coupons are essentially vouchers consumers can exchange for discounts on products. Many retailers offer them; however, not as many people make use of them as you would think. In 2020, coupon use dropped by 6%. However, a recent study by coupon giant Coupon Follow estimates that the average American household could save up to $1,465 a year using coupons.
Here are the best discounts and coupons to watch for when grocery shopping on a budget:
Store coupons: These are your basic paper or printable store discounts. You can find them in-store, in newspapers and magazines, on products, and sometimes on receipts.
Loyalty coupons: If you regularly shop at a store, it is worth looking at whether they have a rewards or loyalty program. Such programs typically offer discounts based on how much and how often you buy from them.
Catalina coupons (Your Bucks): Catalina are coupon machines found in grocery stores. When you spend a certain amount at the store, you get a discount on your next purchase. You can usually ask to find out if the store offers Catalina. 
You can also find a wide variety of coupon finder sites online, such as:
These companies tell you about new deals on products, offer discounts and provide cashback when buying from selected stores.
Another approach is coupon stacking to gain more discounts both online and in-store. This is when you use multiple discounts simultaneously to boost how much you get off. Surprisingly, many retailers do allow this. Notably, you can use coupon stacking at Walgreens, Target, BJ's, and Dollar General. 
5. Buy Seasonal & Local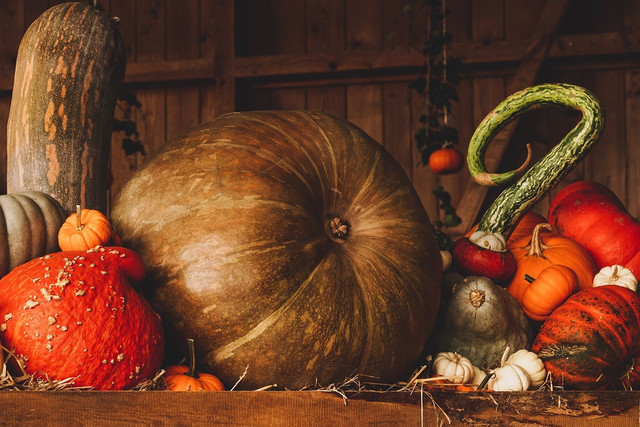 Buying food that's in season or locally sourced reduces your carbon footprint. That's a good thing, considering the carbon footprint of imported food is far greater than previously estimated. Agriculture makes up 11% (equivalent to 669.5 million metric tons) of GHG emissions in America, with nearly 20% coming from food transport alone.
It's also worth noting that US import prices for foods, feeds, and beverages have risen considerably in the last three years, hitting 13.2% in 2021. These costs mean consumers are likely to pay more for imported food — particularly meats, which rose by 24.5 percent.
But what does it mean to buy seasonal and local? It means buying products not just grown in their preferred season but also grown nearby. Since these products are abundant when in season, prices can go down due to high supply. The USDA has a comprehensive list of seasonal produce to help you out when you're grocery shopping on a budget.
6. Make a Window Garden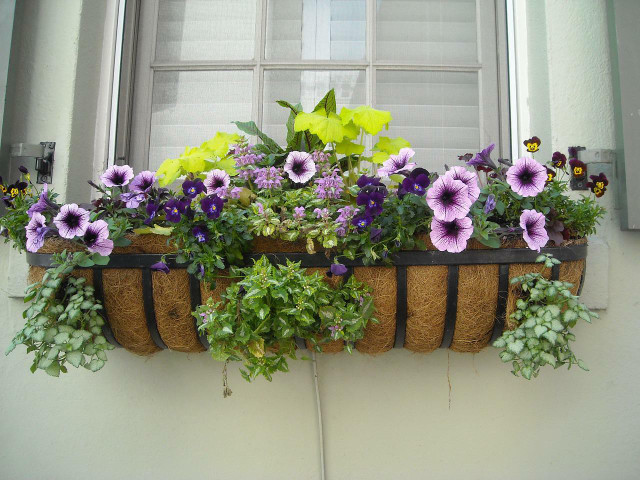 A window garden is an easy way to grow your own food cheaply, and you don't need a large space to get started. All you need is some planning to get the right plants, containers, and soil to match your climate and maximize space. First, ensure that your windowsill is sturdy and fit for use. Measure it so you know precisely how many plant containers you can fit.
Leafy greens and herbs are an excellent fit for windowsill gardens and often don't come in plastic packaging at the grocery store. So not only can you save money by regrowing your own produce, but you can eliminate packaging at the same time. 
To maintain your window garden, you'll need to water it regularly and leave enough room for drainage to avoid rotting the roots. If you have several windows, you should figure out which windows get more light and set up your plants accordingly, or otherwise rotate them.
7. Preserve Foods at Home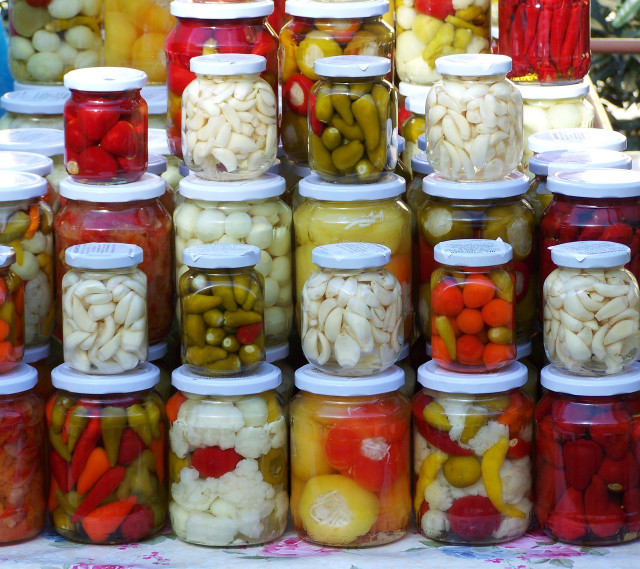 There are many different ways to preserve food. While good-quality equipment can speed up the process of things like drying, you can also use cheaper and more eco-friendly methods.
When grocery shopping on a budget, consider how you can preserve the foods you usually buy. This is especially useful for budget or discount items that are about to go off but that you don't want to eat in the next few days. The most popular ways to preserve food at home are:
Canning: This method involves sealing food in airtight cans and jars. The container is sterilized, then sealed tightly to prevent contamination. It is a good choice for many vegetables and fruits.
Drying: This approach involves expelling the moisture that bacteria usually feed on. You can dehydrate almost anything with the right equipment, including meats, sauces, and fruits. Drying herbs is easy and can be accomplished without a dehydrator.
Pickling and fermenting: This method uses acidic brines like vinegar to ferment and preserve food. Acidic liquids extend the shelf life of food and can be a healthy source of probiotics. Condiments and foods like natto, kombucha, kitchen, and sauerkraut are made using fermentation. Though the two methods are similar, there are some differences between pickling and fermentation. 
Freezing is another easy way to preserve food; we'll discuss it below.
8. Freeze Foods at Home to Grocery Shop on a Budget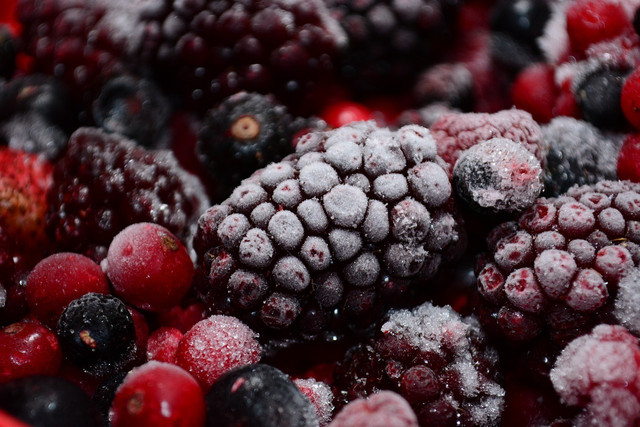 There are so many foods that you can freeze at home. The benefit of freezing food is that you store it for longer and don't have to buy more when your fresh food runs out. Plus, you'll save money if you do the freezing yourself. Here are just a few foods you may not have known can be frozen at home:
You'll be surprised how much food you can freeze when grocery shopping on a budget. It's not only ingredients that you can freeze, but whole meals. That can prove particularly useful when you plan your meals for the week ahead of time. You can defrost meals as needed, saving time on cooking throughout the week. 
The same goes for freezing ingredients. If you portion your foods as needed, it's simple to whip up a batch of fresh food on the go. Furthermore, families can save up to 29.9 percent when buying frozen in comparison to fresh food. Not to mention, it can cut food waste by an average of 47.5 percent.
9. Forage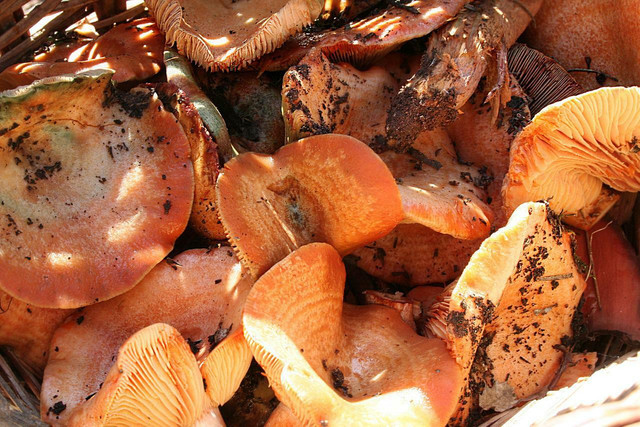 Who says grocery shopping on a budget means actually going to the store?
Foraging is the practice of gathering wild foods for free. It's a fun activity you can do with the whole family and a great way to save money. It's important to note that not all states and jurisdictions allow this practice, so always check with your local authorities before you start.
Your first step is to learn what edible foods are grown in your area, where to find them, and when to look for them. Always be watchful when involving the little ones in food foraging so they don't eat or pick the wrong thing. Foraging is a good choice for finding nuts, berries, mushrooms, and edible weeds. 
According to the Encylopedia of Edible Plants in North America (Available on Amazon**), you can find more than 4,000 edible plants across the continent. The book is somewhat dated, but foraging remains a popular practice, and you can find more recent guides online. 
For instance, the Edible Wild Plant For Beginners guidebook (also on Amazon**) gives detailed explanations of identifying, harvesting, and cooking wild plants. It is especially important for beginners to use a guide to prevent any foraging mishaps.
10. Avoid Food Waste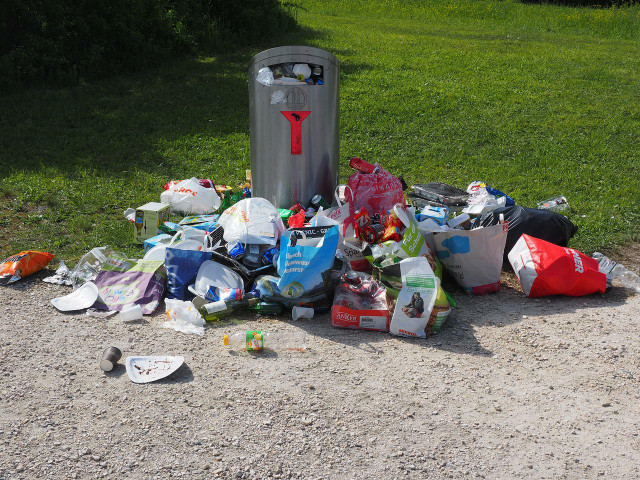 Most of us waste far more food than we think, with average American households wasting an estimated 31.9%.
Cutting down on waste is a key way to save money when grocery shopping on a budget, and it can reduce environmental damage. You can try:
Storing perishables like bread and milk in the freezer
Checking your fridge temperature so food doesn't go off prematurely
Keeping bananas away from the food bowl, so they don't induce fruits to go off early
Washing your veg instead of peeling
Keeping an eye on use-by dates or writing them on the fridge
You can also consider turning your leftovers into something useful. Use scraps for another meal, compost, or share a meal with others. 
Tips and Takeaways
It's not always easy to grocery shop on a budget, but you don't have to do it alone. Involve your family or roommates in the process. Be realistic and do your research first. Here are a few useful takeaways:
Make price comparisons: Check different supermarkets and grocery stores before buying. 
Self-check: Ask yourself whether you need it, want it, or if you can make it at home.
Give yourself time: Don't attempt more than you can handle. One of the main reasons people fail at budget shopping is that they try to make too many changes at once. Build your budgeting strategy gradually. 
Eat together: Make a routine with your family for cooking and eating to avoid waste.
Do things slowly if you need to, and give yourself time to work on different strategies. You only set yourself up to fail when you take on too much. Budget shopping doesn't have to feel like work. Have fun and experiment. 
Read more:
Important Information regarding Health-related Topics.
** Links to retailers marked with ** or
underlined orange
are partially partner links: If you buy here, you actively support Utopia.org, because we will receive a small part of the sales proceeds.
More info
.
Do you like this post?
Thank you very much for voting!