There's nothing better than fresh watermelon on a hot summer day. But don't throw the rind away — use it! Turn those scraps into pickled watermelon rind, smoothies and jam.
There's no doubt that the first thing you think of when it comes to watermelon is fruity, juicy and refreshing pink pulp. Believe it or not, all parts of watermelon are edible – even the seeds and rind. And even better: watermelon rind is surprisingly tasty.
There are a ton of easy watermelon rind recipes, including popular pickled watermelon rind. Here's how to get started.
How to Use Watermelon Rind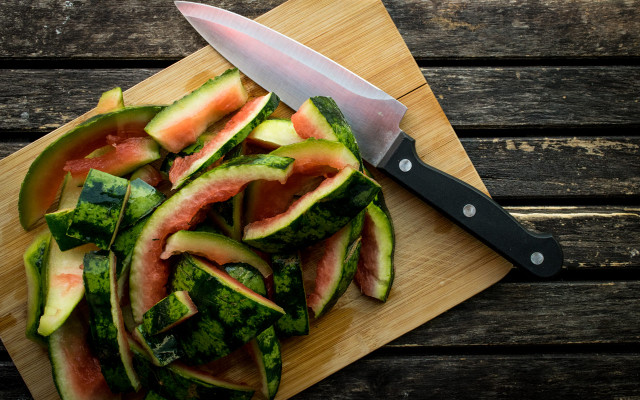 So, you've got yourself some leftover rinds and are heading to the kitchen? Give one of these watermelon rind recipes a try:
1. Watermelon Rind Zest
It couldn't be simpler: Grind the rind and
mix it in a salad
try whipping up a tasty watermelon rind herb slaw
add it to a cucumber-dill salad
mix it into a cold soup
Tip: A great topping for soups or salads is roasted watermelon seeds!
2. Smoothies
The next time you find yourself craving a smoothie (or just about any other cold, fruity drink), toss some watermelon rinds into your mixer. They go great with nearly every other summer fruit including strawberries, raspberries and blueberries as well as fresh cucumber. Fresh ginger and mint can make great additions, too.
Adding leftover fruit to your smoothie reduces food waste and gives smoothies extra fiber.
3. Pickled Watermelon Rind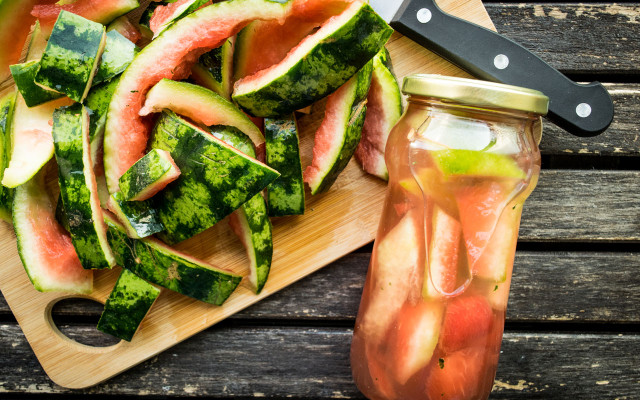 Switch things up and let watermelon rinds take the lead role in your recipe. Pickled and candied watermelon rinds are all the craze at county fairs and food events of the like.
Note: This recipe is not complicated but you will need to start preparing a day in advance.
For approximately two to three glasses each filled with 1¾ cups of pickled watermelon rind, you'll need the following ingredients:
1 large watermelon
3 tbsp. salt
The juice of 1 organic lemon or lime
4 ¼ cups of balsamic vinegar
25 oz. sugar (or sugar substitute)
¾ in. fresh ginger root
2-3 cinnamon sticks
8 cloves
8 allspice berries
Pickled watermelon rind instructions:
Slice the watermelon into eight slices. Remove the pink fruit part so that approx. ½ inch of the rind remains.
Using a sharp knife, remove the dark green (often striped) outer shell.
Together with the rest of the pink fruit you set aside, cut the light green rind into bite-sized pieces.
Sprinkle in some salt and mix with juice of half a lemon. Cover the bowl with a dish towel and leave to sit overnight.
Rinse the watermelon rind with cold water.
Place it into a pot and fill with water until the pieces are completely submerged.
Bring everything to a boil. Turn down the stove and let simmer for 15 minutes at low heat.
Finely slice the ginger and lemon. Roughly grind the cinnamon, cloves and allspice berries.
Mix approximately one-fourth of the boiling mixture with balsamic vinegar, sugar and add the spices, then bring to a boil.
Now add the melon fruit and simmer at low heat for around 50 minutes. The rind should now appear translucent.
Take the pot and fill contents into sterilized resealable glasses and close immediately. Let sit for at least two to three weeks.
Serve your pickled watermelon rind as a bitter-sweet side dish. Enjoy!
4. Jam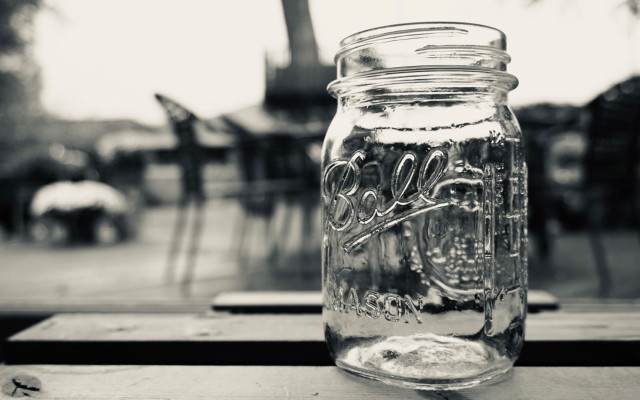 Yes, that's correct — you can even make jam using watermelon rind. It's easy. Here's how:
For around six to seven jars of watermelon rind jam (with around half a cup fill capacity each) you'll need:
Around 2 ¼ lbs. of watermelon rind
10 cups of water
4/5 cup apple cider vinegar
1 lemon
2 ¼ lbs. canning sugar
1 package of vanilla sugar
Here's how you make jam from watermelon rinds:
Slice the watermelon into eighths. Remove the pink fruit so that around half an inch of the rind remains.
Using a sharp knife, remove the dark green (often striped) outer shell.
Together with the rest of the pink fruit you set aside, cut the light green rind into bite-sized pieces.
Add ten cups of water along with the apple cider vinegar and let boil at mid-heat for around two hours.
Drain the watermelon rind, and rinse with cold water.
Place it back into a pot. Add 2 cups of water, lemon juice from one lemon, 2 ¼ lbs. of canning sugar and one package of vanilla sugar. Boil for as long as needed until the mixture has thickened.
Purée the mix to a consistency of your choosing.
Fill the hot jam into sterilized jars. Close and place upside-down for five minutes. Let rest for around 12 hours wrapped in a dishtowel.
Why You Should Eat Watermelon Rind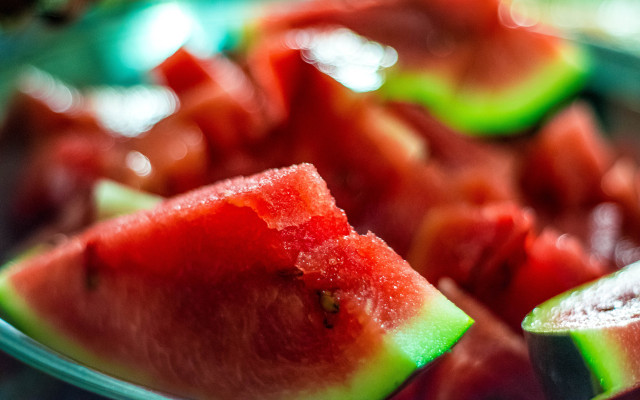 Reason 1: Watermelon Is Packed With Nutrients
Watermelon rind is packed with nutritious contents: They contain lots of fiber which makes you feel full, amino acids that support muscle growth and vitamin A which is essential for your eyes and skin.
Located between the green outer shell and the fruit itself is a white layer, one which is abundant in the amino acid citrulline. The human body takes citrulline and transforms it into an amino acid known as arginine. This expands the blood vessels and helps improve overall blood circulation.
According to some American scientists, arginine may even be beneficial to those with erectile dysfunction. However, whether the intended effect can be achieved by eating watermelon (rind) is still up for debate.
Reason 2: Watermelon Rind Isn't Food Waste
Food waste is one of the pressing problems of our time. When we waste food, the environment bears the consequences: in order to produce food, we require land, energy, water and other natural resources. The more we use, the larger our ecological footprint — we're using up the resources for generations to come.
Half of all wasted food at the consumer level are fruits and vegetables. As a matter of fact, we can indeed do something about this by making small but pivotal changes to our food consumption habits. When you begin to reuse rinds, peels, and other "scraps", you prevent waste. You're looking to reduce your own food waste and get more out of the food you buy? Check out our article on reusing vegetable scraps in loads of different recipes such as in a homemade vegetable broth or homemade pesto.
Why It's Important to Buy Organic Watermelons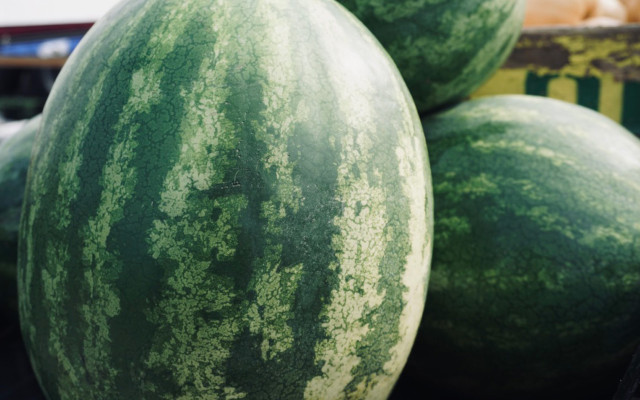 If you intend to reuse watermelon rind, be sure that the watermelon itself comes from an organic source. Conventional watermelons may get sprayed with various pesticides.
Pesticides don't just inflict harm to the pests they target, but also to animals and insects — and thus pose a serious threat to ecosystem biodiversity. In addition, many of these substances have been suspected of causing adverse health effects. Even after rinsing your fruits and vegetables, remnants of pesticides may still linger on the surface. Organic watermelons aren't treated with these chemicals and are the safest way toward responsible and sustainable (food) consumption.
** Links to retailers marked with ** or
underlined orange
are partially partner links: If you buy here, you actively support Utopia.org, because we will receive a small part of the sales proceeds.
More info
.
Do you like this post?
Thank you very much for voting!