Make your own cruelty-free, healthy and sustainable bacon with this tempeh bacon recipe. Packed with smoky umami flavors, its satisfying, versatile and easy!
"But I can't live without bacon!" is a phrase often heard when talking about switching to a plant-based diet. And it's no surprise – 16 million Americans eat 5 pounds (or more) of bacon per year. In the pork industry overall, 95% of pigs are raised through factory farming. The impact that factory farming has on the environment is well documented, from deforestation to water contamination, and of course animal welfare.
Traditional bacon is cured or smoked – and the consumption of processed meat has been linked to increased risk of cardiovascular disease and some cancers.
Reducing or completely cutting out meat is better for the animals, the environment and our health – and luckily for us, there are plenty of cruelty-free, vegan bacon alternatives that mean you won't have to live without bacon, including this tempeh bacon recipe.
Tempeh Bacon: A More Sustainable Choice
Vegan tempeh bacon is packed with protein, and because it is satisfying, chewy, crispy and full of smoky, sweet umami flavours – it is sure to become a staple in your home.
There are plant-based bacon alternatives available to buy in the store, but many of them are designed to have a longer shelf life and therefore may contain additives or very high levels of sodium. Making your own means that you have control over the ingredients.
Preparing your own tempeh bacon can also reduce the amount of single-use plastic waste – you could even go one step further and make your own homemade tempeh for the ultimate sustainable bacon!
This recipe involves marinating the tempeh – but don't automatically reach for the plastic wrap. There are many sustainable plastic wrap alternatives out there: you can even use a lidded oven dish for the marinating process.
Vegan Tempeh: What Makes it Taste Like Bacon?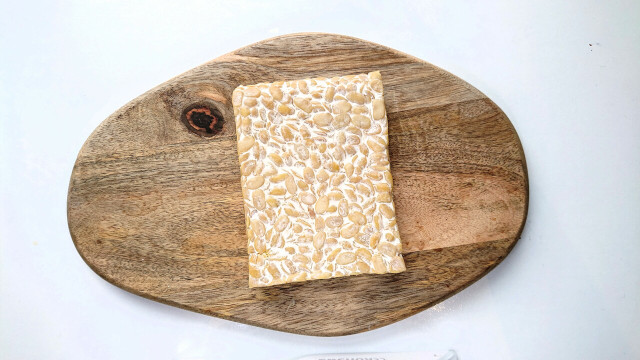 Tempeh – a traditional Indonesian food that is made by natural fermentation which binds whole soy beans into a cake form. It is high in protein, fiber and iron and it has quite a firm texture, which makes it perfect for marinating. Because it's fermented, the flavour alters as it ages. You can buy premade tempeh from the chilled section of the grocery store.
Nutritional yeast – a deactivated dried yeast product which is high in B vitamins, and adds a savory tang.
Liquid smoke and smoked paprika – using one or both of this ingredients will help to give your tempeh the smoky flavor that is often associated with bacon. Smoked paprika also gives the bacon some color.
Maple syrup – adds a sweetness that compliments the savory notes. The sugar content helps the tempeh bacon to crisp up as it cooks – because who doesn't like crispy bacon?
Soy sauce/tamari – will help to really pack your tempeh with the salty umami flavor of bacon. Use tamari if you are avoiding gluten.
Apple Cider Vinegar – gives the tempeh a slight tang.
Neutral Oil – traditional bacon is not exactly a low-fat health food, so adding oil rounds out the marinade for a complete vegan bacon experience.
We always recommend using organic, local ingredients.
An Easy Recipe for Tempeh Bacon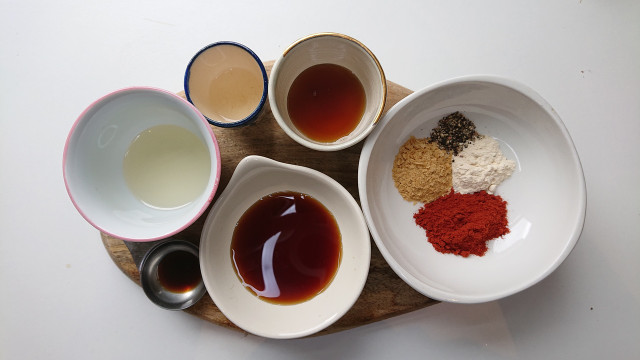 You can make tempeh bacon in a few easy steps.
Ingredients:
Makes 4 servings
8 oz. of organic, unflavoured tempeh
3 tbsp. soy sauce/tamari
1 tbsp. organic maple syrup
1 tsp. organic apple cider vinegar
1 tbsp. neutral or olive oil
½ tsp. liquid smoke (if you have some)
1 tsp. smoked paprika
1 tsp. nutritional yeast
½ tsp. garlic powder
Freshly ground black pepper
A little extra oil, for frying or greasing
Follow the detailed instructions below to start making your homemade "bacon".
1. Prepare the Tempeh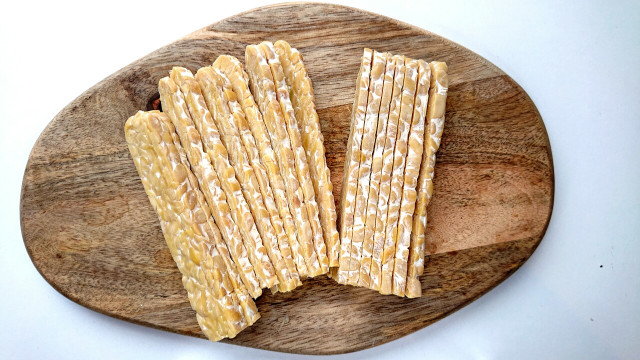 Cut the tempeh into long strips that are thin, but thick enough to stay together. The thinner the strips, the more surface area there is to soak up the marinade.
Optional step: Steam the tempeh to reduce any bitterness and help absorb the marinade. Place the strips in to a steamer basket over a pot of boiling water for 10 minutes, or steam in a rice cooker or instant pot if you have one. Don't worry if you aren't able to steam the bacon strips – it will be delicious even without this step!
2. Make the Marinade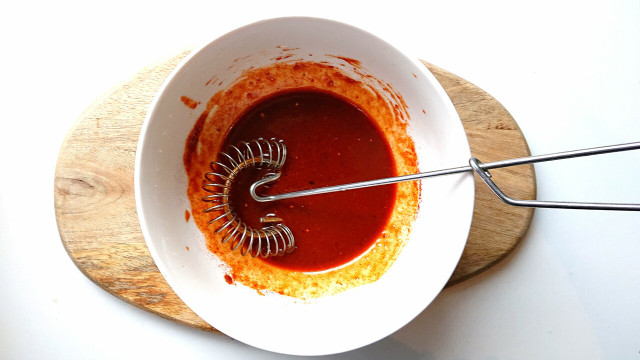 Whisk all the marinade ingredients together in a bowl. Have a taste and adjust the sweetness/saltiness/smokiness to your liking.
3. Pour the Marinade Over the Prepared Tempeh Strips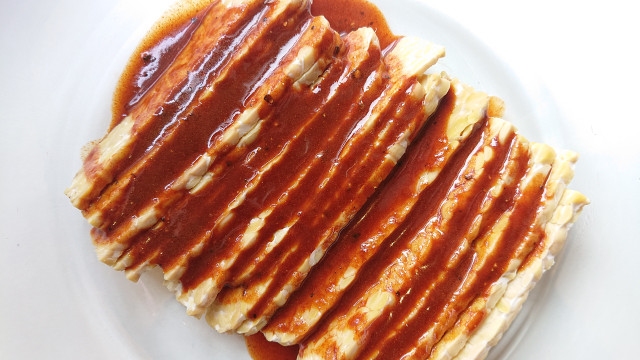 Place the strips into a bowl or lidded container and pour the marinade over the top. Make sure each piece is in contact with the sauce. Seal the container or cover the bowl with a plate or wax wrap. Marinate in the refrigerator for a minimum 30 minutes. Leaving overnight will give the best results.
4. Cook Your Vegan Tempeh Bacon!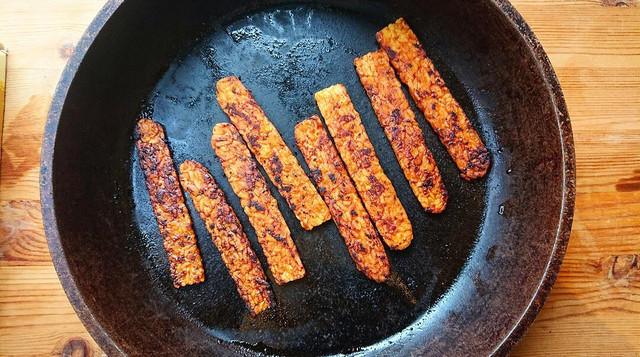 Heat a skillet with a drizzle of neutral oil and fry for around 8 minutes, turning the bacon occasionally. Make sure you scrape out any remaining marinade that might have got left behind in the bowl – simply brush or spoon it on to the bacon towards the end of cooking.
Alternative method: Prepare a baking tray by either greasing it with a little oil or one of the many alternatives to parchment paper out there. Arrange the tempeh bacon on the tray, place in the oven at 425°F and bake for 25 minutes, or until crisped to your liking. Turn the strips over halfway through the cooking time and brush with any extra marinade. Remember, it is not always necessary to preheat the oven.
Note: The longer you cook the tempeh bacon, the crisper it becomes. If you want to serve half now, half later, simply store the remaining bacon in the refrigerator in the same container it was marinating in, and use within two days. Because tempeh is fermented, the taste will will change the older it becomes.
You can also store the cooked bacon in a covered container in the refrigerator for up to three days.
How Can I Use Tempeh Bacon?
Tempeh bacon tastes great in a TBLT (tempeh BLT) sandwich, layered with vegan mayonnaise and fresh organic veggies.
Once fried super crisp, it also crumbles well to make bacon bits that would go great in this vegan carbonara.
Try it as a pizza topping, or for breakfast with some egg-free vegan pancakes.
Read on:
underlined orange
are partially partner links: If you buy here, you actively support Utopia.org, because we will receive a small part of the sales proceeds.
More info
.
Do you like this post?
Thank you very much for voting!