You read that right, silken tofu dessert is a thing. Here's what it is, why you need to try it, and some great recipes to get you started.
Silken tofu is traditionally a staple in many Asian kitchens. In the West, we're mostly used to it appearing on our tables in its savory form. But, globally, silken tofu desserts are much more common than you might think.
By itself, this bean curd ingredient (a product of soy milk), has a neutral flavor and a creamy, silky texture. Think cream cheese. And, like cream cheese, it can be used both for savory and sweet dishes. An ideal and sustainable dairy-free replacement, silken tofu is easy to find in any Asian food store (where possible, one that prioritizes local, in-season, organic and fair-trade products). There are also a ton of health benefits of tofu.
If you've tried any other of our other vegan dessert recipes, you'll know we know what we're talking about. So, if you're interested in getting to know the sweet side of silken tofu, why not give these a go?
1. Japanese Silken Tofu Dessert with Mango Sauce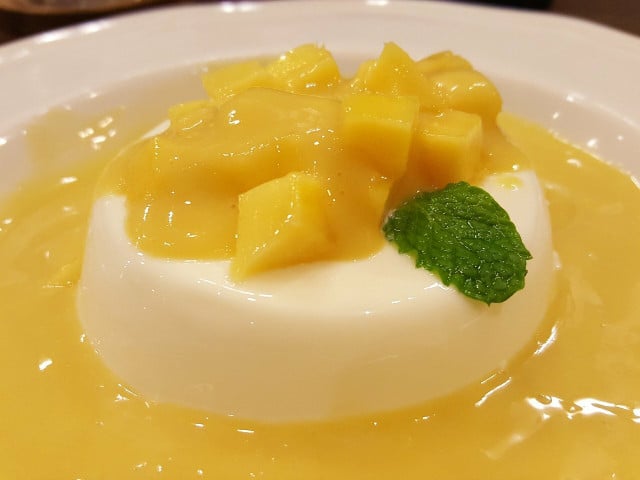 A cold, silky, dessert coated in a sweet, tart mango sauce. Perfect for summer, thus what's not to love?
Yield: 1 portion
Ingredients:
2 tbsp. sugar
1 medium ripe mango, diced
1 tbsp. lemon juice
¼ cup water
12 oz. silken tofu (1 pack), chilled
Optional ingredients
– Fresh mint
Instructions: 
Add the sugar, mango, water and lemon juice into a small pot and mix well.
Simmer over medium heat for around eight minutes until you're left with a small amount of syrup and soft fruit. Blend the sauce and put aside.
Cut the silken tofu pack into four rectangles and serve on a small plate (one pack per plate).
Drizzle the sauce over and top with more fruit and mint leaves.
2. Vegan Chocolate Pudding With Cinnamon and Chili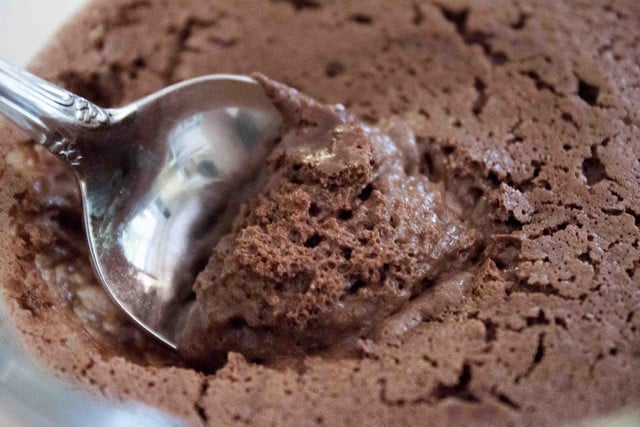 This show-stopping pudding is so much more than the sum of its parts. Evocative of Mexican hot chocolate, our vegan chocolate pudding can (and should) be enjoyed at any time of year (or day, or night…).
The most important thing to take into consideration here is the chocolate. Go for bitter or semi-sweet chocolate of the highest quality you can find. The tofu will create a creamy texture, but the chocolate will give it a wonderful flavor. If you're vegan, check the chocolate label extra carefully as not all dark chocolate is vegan.
Yield: 4-6 servings
Ingredients:
¾ cup sugar
¾ cup water
3½ cups silken tofu
1 cup high-quality, fair-trade, bittersweet or semisweet vegan chocolate, melted
1 tsp. vanilla extract
1 ½ tsp. ground cinnamon
½ tsp. chili powder, or more to taste
Optional ingredients
– Chocolate shavings 
Instructions:
Add the sugar and 3/4 cup water to a small pot and bring to a boil.
Stir occasionally until the sugar has completely dissolved before leaving to cool slightly.
Add this mixture, as well as the tofu, melted chocolate, tofu, vanilla, cinnamon and chili powder into a blender and purée until completely smooth.
Divide the mixture among four to six ramekins and chill for at least half an hour. Garnish with the chocolate shavings just before serving.
3. Chinese Ginger Tofu Pudding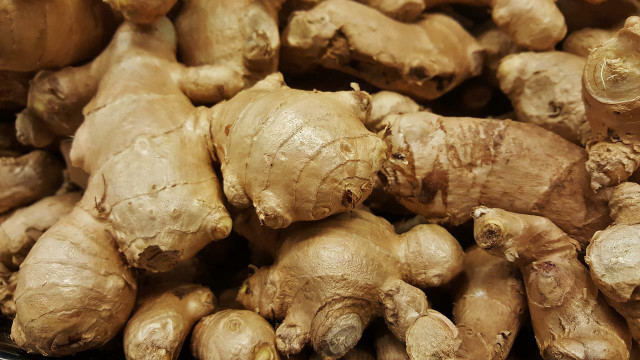 Served warm or cold, this silken tofu dessert is both refreshing and addictive. Delicately flavored with ginger and brown sugar, it's a perfect summer dessert or a light sweet treat after a big meal.
Yield: 4-6 servings
Ingredients:
3 cups water
5 slices ginger, with skin on
1 cup Chinese rock sugar (if you can't find this, just use more brown sugar)
3 tbsp. brown sugar
9 cups silken tofu
Instructions:
In a small pot, add three cups of water and bring it to a boil. Add ginger slices, Chinese rock sugar and brown sugar and mix.
Lower the heat to a gentle simmer and leave for ten minutes, stirring occasionally to allow the sugar to fully dissolve. If you want a cold dessert, leave to chill.
Scoop slices of the sweetened dessert tofu (or silken tofu) into small bowls.
Spoon some of the sweet broth onto the tofu and serve.
4. Vegan Lemon Tofu Cheesecake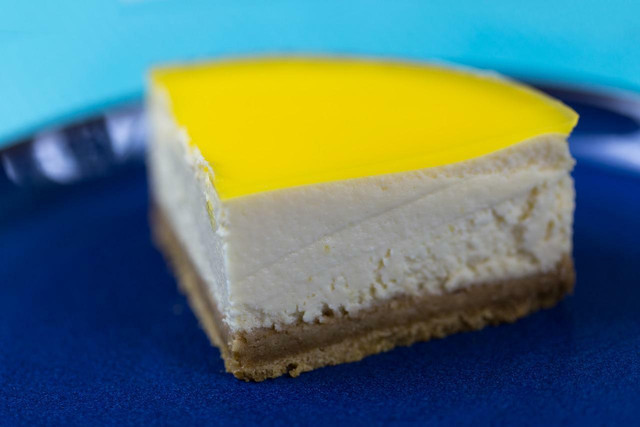 If it's tangy cheesecake you're looking for, look no further. This zesty, flavorful cheesecake is easy to make and completely vegan, making it suitable for everyone at your summer party.
It's made with simple ingredients (the tofu being the most difficult thing to find, depending on your location) and is guaranteed to impress even the most skeptical cheesecake lover.
Yield: 10 slices
Ingredients:
2 cups graham crackers
1/4 cup maple syrup
½ tsp. almond extract
3½ cups silken tofu
½  cup granulated sugar
1 tbsp. tahini or almond butter
½ tsp. salt
2 tbsp. lemon juice
½ tsp. lemon zest
2 tbsp. cornstarch dissolved in water
1 tbsp. vegan milk such as soy, rice, or almond
Optional ingredients
– 1/2 tsp. almond extract 
Instructions:
Briefly preheat your oven to 350ºF.
In a medium bowl, mix the crushed crackers, syrup, and almond extract if you have it until it's combined.
Pour mixture into a greased 9-inch pie dish and press firmly until it covers the bottom and edges completely and evenly.
Bake for five minutes. Take out and allow to cool.
Blend tofu, sugar, tahini/almond butter, salt, lemon juice, lemon zest, cornstarch, milk alternative for 30 seconds, or until smooth.
Pour mixture into the cooled crust. Bake until slightly browned, which should take around 30 minutes. Remove once cooked and leave on the side to chill until room temperature, then refrigerate until firm, around two hours.
5. Taho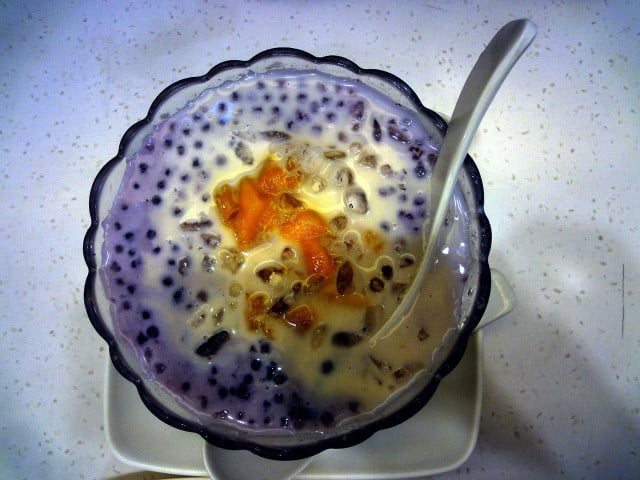 Taho is a very popular dessert from the Philippines, usually served warm or at room temperature (but also delicious chilled). Somewhere between a parfait and a boba drink, taho will hit all of your sweet and creamy cravings, while also being, in this instance, completely vegan.
Yield: 4 servings
Ingredients:
5 cups water
1 cup dried tapioca pearls (boba)
2 cup (14 oz.) package silken tofu
For the syrup:
1 ½ cup dark brown sugar
½ cup water
Instructions:
Bring five cups of water to a boil, and add in the dried tapioca pearls. Stir to combine and prevent pearls from sticking together, before leaving to cook for 40 minutes.
Steam silken tofu for ten minutes. Remove from heat and allow to cool slightly. Set aside. Note: If you don't have a steamer, fill a pot with approximately half an inch of water. Place a metal colander or a strainer inside, leaving enough room so that the boiling water won't touch the strainer. Put the tofu in the colander and place pot inside oven on medium heat for 10-20 minutes. 
Now, make the simple syrup (called 'arnibal' in Filipino). In a small pot, bring 1/2 cup of water and the brown sugar to a boil. Reduce heat and simmer until sugar has dissolved, before removing from heat and allowing to cool slightly.
The tapioca should now look gelatinous. If not, keep cooking until this occurs. Reduce heat and simmer for another 15 minutes — the pearls should become soft and chewy.
Add the brown sugar to the pearls and simmer until the sugar has dissolved. Remove from heat and allow tapioca pearls to soak in sugar syrup for 15-20 minutes. Taste to make sure the pearls are cooked through. If not, simmer for another ten minutes, etc.
Keep the boba warm until serving — the sugar syrup will harden if left to cool.
Use a slotted spoon or a shallow ladle to scoop small amounts of tofu into a small serving glass or bowl. Next, drizzle a small amount of the sugar mixture (arnibal), followed by a small scoop of sweet tapioca. Layer the three items (like tiramisu) until the serving glass is full. Chill and serve cold, or serve immediately.
6. Vietnamese Coffee Flan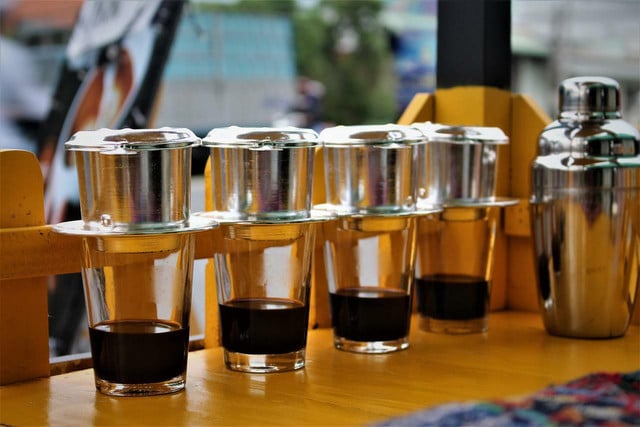 Vietnamese coffee is known for its strength and robust flavor, making it pair perfectly with creamy and light silken tofu. This flan has caramel notes and satisfying jiggliness to ensure it stands shoulder to shoulder with any other dessert, but is also faster and easier to make than a standard flan. Plus, it's healthier and more sustainable, too.
Yield: 6-8 servings
Ingredients:
3/4 cup sugar
1½ cups silken tofu
3 3/4 cups almond milk
3 tsp. vegan gelatine
4 ½ tsp. your favorite coffee, made strong (preferably espresso)
1 tsp. vanilla
1/8 tsp. salt
Instructions:
In a small saucepan, melt the sugar over medium/low heat until it begins to melt, without stirring. Once it melts, stir it occasionally until it turns deep golden.
Quickly pour the sugar (now caramel) into a 9-inch round ceramic or glass baking dish that's at least two inches deep, tilting it until the bottom is coated. Cool for 15 minutes, until hardened.
Blend the remaining ingredients until smooth. Pour custard through a fine-mesh sieve over caramel in dish.
Cover with a suitable food storage product and refrigerate for an hour or an hour and 30 minutes.
Slice, serve and enjoy!
Read more: 
** Links to retailers marked with ** or
underlined orange
are partially partner links: If you buy here, you actively support Utopia.org, because we will receive a small part of the sales proceeds.
More info
.
Do you like this post?
Thank you very much for voting!