The U.S. is one of the top exporters of wheat globally. We'll tell you the different types of wheat that grow in the US and what wheat type is sustainable.
Wheat is an ancient cereal grain grown for its seeds, which are milled into flour for a wide range of uses. In the U.S., wheat is the third most grown crop, after corn and soybeans. From 2021 to 2022, American farmers produced a total of 1.6 billion bushels of winter, durum, and other spring wheat from a harvested area of 37.2 million acres.
Although the U.S. produces only about 6-7 percent of the world's wheat, it is a major exporter of the grain. Almost half of the wheat produced in the U.S. is grown specifically to be exported. Whole grain wheat is a significant source of starch and energy in our diets and provides us with protein, vitamins, dietary fiber, and phytochemicals. Keep reading to find out the six classes of wheat and whether wheat production is a sustainable form of agriculture.
What Types of Wheat Grow in the US?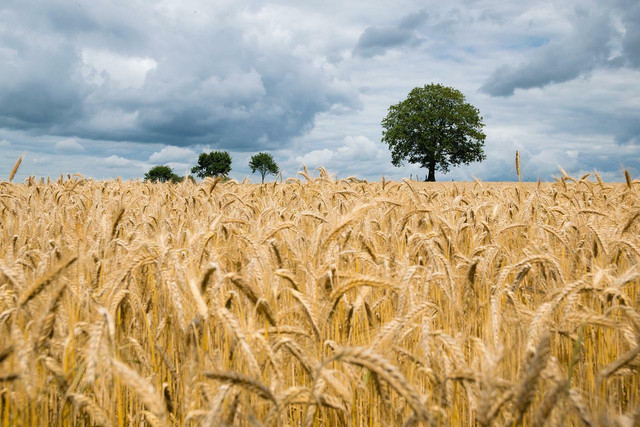 There are six main classes of wheat grown in the US. Once milled into flour, the different classes are virtually indistinguishable. According to the USDA, here are the six types of wheat and how much of it is produced in the U.S.:
Hard Red Winter: This variety grows in the Great Plains (Texas, Oklahoma, Kansas, Colorado and Nebraska). It is used mainly for bread and all-purpose flour. This type of wheat accounts for 40 percent of total wheat production in the US.
Hard Red Spring: Grown in the Northern States (Montana, South Dakota, North Dakota and Minnesota), this wheat is used for baking artisanal bread, bagels and croissants. It accounts for 25 percent of total wheat production in the country.
Soft Red Winter: This type of wheat is found mostly east of the Mississippi River and can be used in cookies, pastries and pretzels. It accounts for 15 percent of total wheat production.
Soft White Wheat: This variety is grown in the Pacific Northwest (Washington, Oregon and Idaho) and is perfect for cakes, pastries and flatbreads. It comprises 15 percent of total wheat production.
Hard White: Found in the Great Plains (Texas, Oklahoma, Kansas, Colorado and Nebraska), Hard White Wheat is used to make tortillas and flatbreads. This type of wheat makes up 15 percent of total wheat production.
Durum Wheat: This high-protein type of wheat, popularly used for pasta and couscous, can be found in Montana and North Dakota. This type of wheat comprises two to five percent of total wheat production.
Which Type of Wheat Is the Most Sustainable?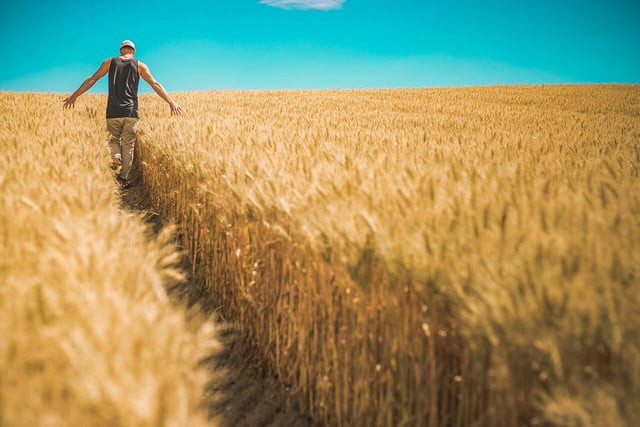 Measuring the sustainability of grain is challenging, as there are many ways to look at sustainability. No one type of wheat is more sustainable than all others; the measurement of sustainability depends, rather, on the extent to which farmers use sustainable agricultural methods.
Factors influencing sustainability range from the percentage of CO2 emissions released from the transportation of grains to the number of pesticides and fertilizers used in their production. Across the US, wheat farmers are generally committed to environmental stewardship to make their farming practices as sustainable as possible. For example, wheat grown in the US is particularly water-efficient, and only seven percent of America's wheat-growing area is irrigated. Farmers can carefully manage water use to boost sustainability.
Regarding wheat's carbon footprint, it takes around one kilogram of CO2 to produce one kilogram of wheat, equivalent to driving a car around two and a half miles. This figure is relatively low compared to that of other crops.
Crop rotation is another way farmers can improve their sustainability. They can use wheat in a rotation with vegetables and other crops to increase profit and maximize the economic productivity of their farm's water usage.
As a consumer, buying high-quality, organic wheat that has not been grown with fertilizers, pesticides or other chemicals is the most sustainable choice. Shopping locally also reduces transportation emissions and your carbon footprint.
https://utopia.org/guide/what-is-sustainable-agriculture-5-examples-and-its-benefits/
Read more:
** Links to retailers marked with ** or
underlined orange
are partially partner links: If you buy here, you actively support Utopia.org, because we will receive a small part of the sales proceeds.
More info
.
Do you like this post?
Thank you very much for voting!