Meditation has gained widespread popularity, but have you heard of mindful walking? Check out this article to learn how to do it, and what the benefits are.
Walking to clear your mind or just for some light exercise are just two of the well-known benefits of walking, but you can also incorporate this light physical activity with mindfulness. Similar in practice to meditation and with origins in Buddhism, mindful walking or walking meditation can help stimulate feelings of serenity and balance.
Walking meditation was developed in Buddhism to counter-balance long periods of seated meditation, but can be used even if you aren't an experienced meditator. This can also be a good introductory practice to meditation for those that have difficulty sitting still. 
This article provides two different methods for mindful walking, one that can be done outside and the second which can be done almost anywhere. But first, we'll delve into some of the benefits of mindful walking. 
Benefits of Mindful Walking
The benefits of mindful walking are many of the same as those found from meditation because mindful walking is a form of meditation.
Guide to Mindful Walking Outdoors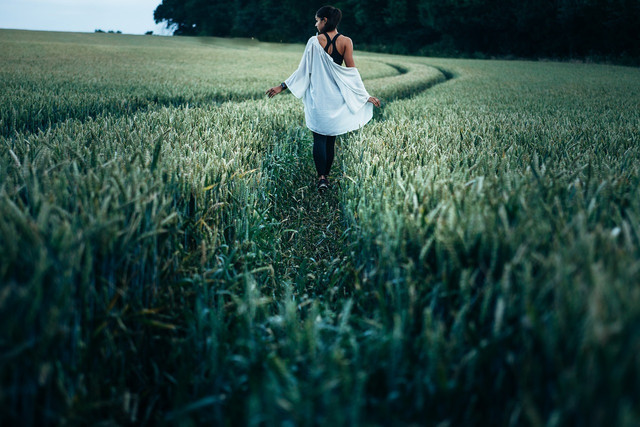 Choose a relaxed outdoor area with minimal distractions such as a trail, quiet park, or neighborhood sidewalk to practice mindful walking.
To begin, notice the stance of your feet on the ground. Stand tall and take several elongated, deep breaths. As you do so, roll your shoulders a few times. Then drop them further back and down to release tension. 
Begin your walk with slow, heavy steps. Notice the way the ground feels beneath your feet as you make impact with the hard earth. Feel your breath cycling through your body at the same pace you walk. 
As you walk, make soft observations of your surrounding areas such as any trees, flowers, or birds you might see. You can spend as little or as much time taking in the color of the different plants, the smells you may notice, and the sounds coming from the wind, birds, etc. 
If your mind jumps to other thoughts, let them pass as you return your mind to your breathing patterns and other sensations you feel along your walk. 
If you like, you can incorporate affirmations into your walk. For example, you can repeat (in your head) the renowned Buddhist Thích Nhất Hạnh's mantra, "Conscious breathing," as you inhale, and "is my anchor," as you exhale. If you have another affirmation you prefer to use, do so.
Continue this practice for 10 minutes, or until you feel ready to stop.
Indoor Mindful Walking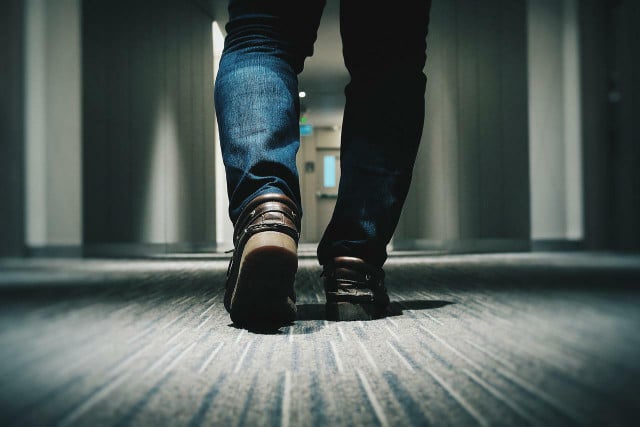 For this option, you just need a space where you can walk about 10-15 paces back and forth such as a halfway or backyard. It's best if this is in a quiet area with limited distractions.
Begin by standing still and take several deep breath cycles. Bring your thoughts to the very top of your head and scan your mind down your body, going from your face, to your neck, shoulders, and so on until you reach the tips of your toes. Do this at a slow and steady pace as you breath slowly in and out.
Once you have finished this process, you can begin your walk at a slow pace, focusing on your body's movements. Observe the sensations your body experiences as you take each your steps. You may notice each part of your foot as it makes impact against the ground and is brought back up again.
Once you reach the end of your pathway, pause with a breath for a moment, turn around and continue walking back and forth like it. This can carry on for about 10 minutes or as long as you please. 
Read more:
Important Information regarding Health-related Topics.
** Links to retailers marked with ** or
underlined orange
are partially partner links: If you buy here, you actively support Utopia.org, because we will receive a small part of the sales proceeds.
More info
.
Do you like this post?
Thank you very much for voting!