Trying to figure out what to do with ripe bananas? Ripe bananas can be used in various ways. Get inspired with these 10 healthy overripe banana recipe ideas.

1. Turn Ripe Bananas into Healthy Banana Bread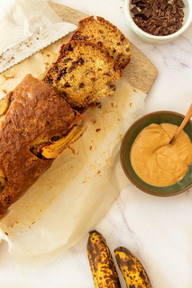 Let's begin with the all-time classic recipe for ripe bananas: banana bread. The beauty of this recipe is that the more overripe the bananas, the sweeter the banana bread!
Ingredients:
⅓ cup melted organic coconut oil (replace for olive oil or vegetable oil if needed)
½ cup organic honey (or vegan honey alternative)
2 free-range eggs (or vegan egg substitute)
1 cup mashed ripe bananas (about 2 large ripe bananas, or 2 ½ medium ripe bananas)
¼ cup of milk (we suggest homemade oat milk)
1 tsp vanilla extract
1 tsp baking soda
½ tsp salt
1 tsp ground cinnamon
1 ¾ cups whole wheat flour
Optional Add-Ins: ½ cup nuts, chocolate chips, blueberries, raisins, apple chunks….you choose!
Instructions:
Preheat the oven to 325 degrees Fahrenheit and grease a 9×5-inch loaf pan.
In a large bowl, whisk the oil and honey together. Once incorporated, add the eggs and then the mashed ripe bananas and milk. Whisk well (if the coconut oil solidifies after coming into contact with cold ingredients, simply warm it in the microwave for 10 minutes or leave it in a warm place for 5 to 10 minutes).
Add in the vanilla extract.
In a separate bowl, combine all the dry ingredients (baking soda, cinnamon, whole what flour).
Add the dry ingredients to the wet ingredients, and fold them together with a large spoon. Gently fold in any other optional add-ins now.
Pour the batter into the greased tin and sprinkle some cinnamon on top. (Bonus tip: If you want, run the end of a knife through the batter to create a swirl effect on top of the loaf.)
Bake for 55 to 60 minutes, or until a skewer comes out clean. Leave the loaf in the tin for at least 10 minutes before transferring to a wire rack to cool completely.
2. Banana Oatmeal Chocolate Chip Cookies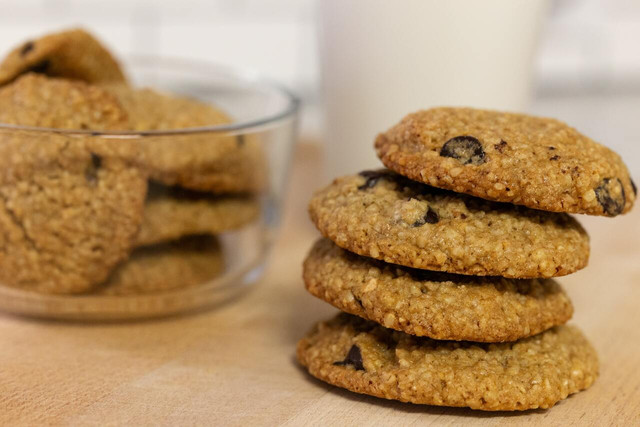 What to do with ripe bananas? Look no further. Banana oatmeal chocolate chip cookies are great for in the morning, as a dessert, or on the go. Feel free to mix and match this recipe with your favorite cookie fillings, like blueberries, nuts, seeds, or coconut flakes.
Ingredients:
1 cup quick oats
¾ whole wheat white flour
1 ½ tsp baking powder
½ tsp cinnamon
Pinch of salt
½ cup mashed ripe banana (about 1 large ripe banana)
2 tbsp organic coconut oil (at room temperature)
1 egg
¼ cup light brown sugar
1 tsp vanilla extract
¾ cups dark chocolate chips
Instructions:
Line a baking sheet with parchment paper (or use a parchment paper substitute like a silicone mat).
In a mixing bowl, combine the oats, flour, baking powder, cinnamon, and salt.
In a separate bowl, combine the coconut oil, egg, brown sugar, and vanilla extract with a hand-held electric mixer. The batter should be wet and a little chunky.
Mix the dry and wet ingredients together on a medium speed with the mixer until all the ingredients are combined. The batter should be wet and sticky.
Mix in the chocolate chips with a spoon.
Scoop the dough out with an ice cream scoop or spoon and place on your baking sheet. Make sure to leave enough room between the dough balls so they don't merge when baking. Place the baking sheet in the fridge for 2 hours.
Preheat the oven to 350 degrees Fahrenheit. Transfer the cookies straight from the fridge to the oven. Bake for 10 to 13 minutes. Let the cookies cool on the baking tray for 10 minutes before transferring them to a wire rack to cool completely.
3. Ripe Banana Recipe for Vegan Banana Oat Pancakes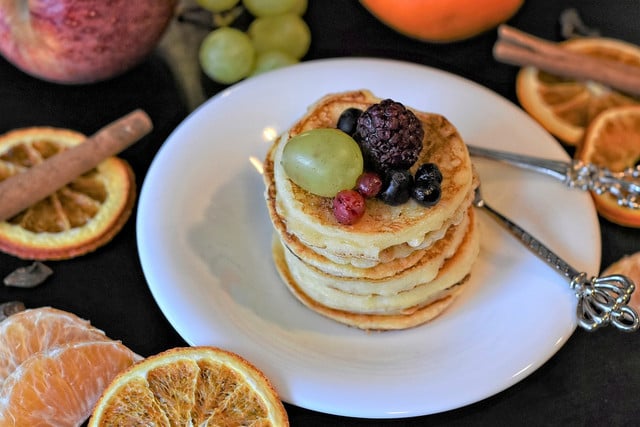 This pancake recipe is easy to whip up and is a tasty way to use up those brown bananas sitting in your fruit bowl.
Ingredients:
2 ripe bananas, mashed
2 cups of oats
1 cup of oat milk (or non-dairy milk of choice)
1 chia egg (to make a chia egg, combine 1 tbsp chia seeds with 2 ½ tbsp water. Set aside for 5 minutes, or until the chia has absorbed all the water).
1 tsp vanilla extract
Instructions:
Mix all the ingredients together in a bowl.
Add a knob of coconut oil (or vegetable oil, olive oil or vegan butter) to a hot pan. Scoop a spoonful of batter into the pan (it should start to sizzle lightly as soon as it hits the pan). Flatten the batter slightly to form a pancake.
Fry on one side for approximately 3 minutes, or until it begins to turn golden in color. Flip the pancake over and repeat.
The most exciting things about pancakes are the toppings! Fresh fruit and berries, maple syrup, nut butter, the list goes on…
4. Banana and Blueberry Breakfast Muffins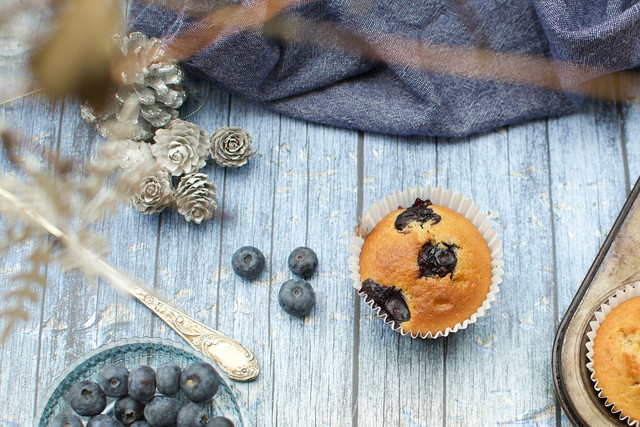 If you don't have a lot of time in the mornings, then this recipe is for you. These delicious breakfast muffins are the perfect way to use up your overripe bananas and will fuel you for your day.
Ingredients:
1 banana, mashed
1 can sweet potato puree
1 tsp vanilla extract
½ cup maple syrup
2 cups oat flour
½ tsp baking soda
½ tsp baking powder
1 tsp ground cinnamon
½ tsp ground nutmeg
½ tsp ground ginger
Pinch of salt
1 cup blueberries (frozen work just as well)
Instructions:
Preheat the oven to 375 degrees Fahrenheit. Grease a muffin tray or layout a silicone muffin tray in preparation.
In a large mixing bowl, combine the mashed ripe banana, sweet potato puree, vanilla extract, and maple syrup.
In another bowl, combine all the dry ingredients, and then transfer these to the bowl of wet ingredients. Mix well, then fold in the blueberries (be careful not to break any of the blueberries, as this will turn the whole mixture purple).
Spoon the batter evenly into the muffin mold and bake in the oven for 20  minutes, or until the muffins are golden brown in color, or a skewer comes out clean.
Set aside to cool in the mold for 10 minutes.
5. Healthy Ripe Banana and Pecan Granola Recipe
Enjoy this granola recipe in the morning as a cereal, over yogurt as a sweet treat, or as a topping on smoothie bowls and ice cream.
Ingredients:
2 ripe bananas
2 cups pitted dates
1 tsp vanilla extract
Pinch of salt
8 cups rolled oats
1 cup pecans
Instructions:
Preheat the oven to 275 degrees Fahrenheit. Prepare two large baking sheets with silicone baking sheets or parchment paper.
Place the dates and 1 cup of water into a saucepan. Bring the mixture to a boil, then cook over medium heat for 10 minutes.
Remove from heat, and add to a blender with the ripe bananas, vanilla extract, and salt. Blend until creamy.
Combine the mixture with the oats and the pecans. Spread the mixture flat and evenly over the baking sheets. Press firmly down on the mixture to fill the tray. Do not stir the mixture when it is in the oven.
Bake for 40 to 55 minutes, or until golden brown. Remove from the oven and set aside to cool completely.
When the granola has cooled, break it apart with a spoon to form big clusters.
6. What to do with Ripe Bananas? Vegan Carrot Cake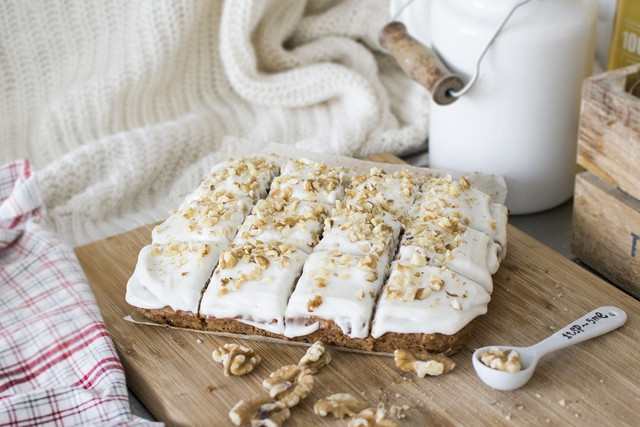 Combining the sweetness of ripe bananas with carrots in this recipe makes for one of the best carrot cakes you will ever taste.
Ingredients:
1 cup non-dairy milk of your choice
4 ½ ounces pitted dates, chopped
½ cup ripe bananas
1 tsp vanilla extract
2 cups rolled oats
2 tsp ground cinnamon
1 tsp ground nutmeg
Pinch of ground cloves
2 tsp baking powder
1 tsp baking soda
1 ½ cup shredded carrots
½ cup chopped walnuts
¾ cup raisins
Instructions:
In a bowl, combine the non-dairy milk, dates, ripe banana, and vanilla extract. Let this sit for 20 minutes.
In the meantime, preheat the oven to 350 degrees Fahrenheit and line a loaf tin with parchment paper, or use a silicone loaf tin.
Make oat flour by placing the oats into a blender and processing until a light powder is formed. Add the oat flour to a bowl along with the ground cinnamon, ground nutmeg, ground cloves, baking powder, and baking soda. Mix well.
Transfer the wet ingredients to the blender, and blend until smooth and creamy. Add the wet mixture to the dry ingredients, and combine. Add the walnuts and raisins and fold them in.
Spread the mixture into the loaf tin and bake for 40 to 50 minutes, or until golden brown and a skewer comes out clean. Remove from the oven and let the cake cool in the loaf tin for 15 minutes before transferring to a wire rack to cool completely.
7. No-Bake Recipe for Ripe Bananas: Raw Cacao Bites
Looking for a healthy overripe banana recipe that doesn't require an oven or stovetop? If you are a chocoholic like so many of us are, then you will want to try this one out. Satisfy your chocolate cravings with these super simple balls of goodness that are as delicious as they are healthy.
Ingredients:
1 apple
1 ripe banana
½ cup rolled oats
6 dates
2 tsp raw cacao
Shredded coconut
Instructions:
In a food processor, blitz the apple and dates for 10 to 15 seconds, or until the two ingredients come together and resemble breadcrumbs.
In a bowl, mash the oats and ripe banana together to form a paste. Add the apple mixture to the bowl, along with the cacao powder, and mix well.
Form into 1-inch balls with your palms. Pour the shredded coconut into a deep bowl. Roll the balls in the shredded coconut until they are covered. Enjoy!
Read on: Cacao Vs Cocoa Powder: What's the Difference?
8. Nice Cream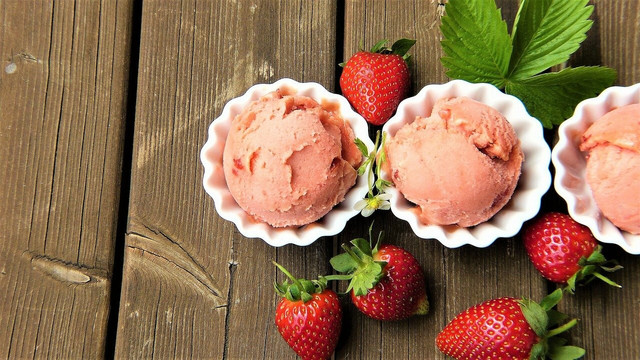 Vegan banana ice cream, aka 'Nice Cream', is delicious, healthy, and couldn't be easier to make! Simply blend frozen ripe bananas with a plant-based milk and any combination of your favorite flavors and there you have it. Our Apple-Cinnamon Nice Cream recipe is a favorite.
First, follow these instructions on how to freeze your bananas for best results.
9. Recipes for Ripe Bananas: Banana Chips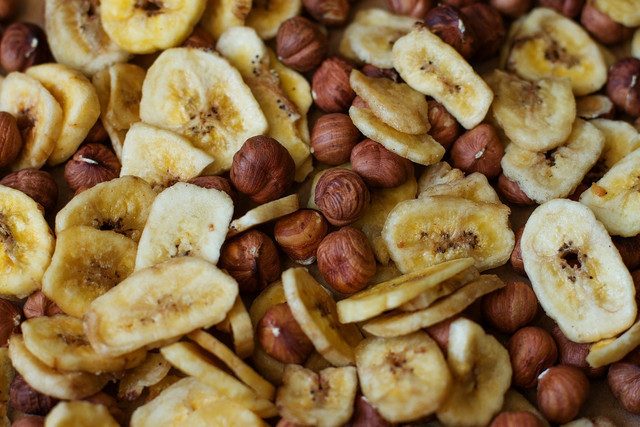 Still don't know what to do with your overripe bananas? Making banana chips at home is simple, cost-effective, and a lot healthier than the store-bought alternative. Follow our Step-By-Step Guide on how to make them yourself.
10. No-Bake Vegan Cheesecake
A cheesecake is a sure winner to bring to any dinner party, but getting the baking right can be tricky. Thankfully, we have a tried-and-tested No-Bake Vegan Cheesecake recipe for you. This will not only make you very popular among party guests, but it will also use up those overripe bananas you have lying around. Win-win!
The Environmental and Social Impact of Bananas
Bananas are a beloved fruit in America. Unfortunately, very few are grown within the country itself. Instead, bananas are predominantly imported from Latin American countries, which gives them a very big carbon footprint. Also, given the demand for bananas, many plantations use large amounts of pesticides. This is not only extremely harmful to the natural environment but for the health of the workers, too, who must endure exposure to these harsh chemicals every day. To make things worse, banana plantation workers typically work very demanding hours in poor working conditions for very little pay.
That's why it is important to eat this fruit in moderation and to always buy fairtrade and organic bananas when possible. This means you avoid supporting plantations that are exploiting human rights and damaging the natural environment.
Read more:
** Links to retailers marked with ** or
underlined orange
are partially partner links: If you buy here, you actively support Utopia.org, because we will receive a small part of the sales proceeds.
More info
.
Do you like this post?
Thank you very much for voting!