Using containers to grow vegetables is a useful skill so you can make the most of small spaces and adapt to freezing temperatures outside. Read here for our list on easy vegetables to grow in pots.
Whether you want to expand your already full garden or you live somewhere without access to a yard or garden, these easy vegetables to grow in pots will provide delicious homegrown additions to your meals. We've compiled a list of which vegetables are well suited for container growing, as well as some of their characteristics – some can even be used for companion planting. Keep reading to learn more about easy vegetables to grow in pots. 
1. Peppers (Outside)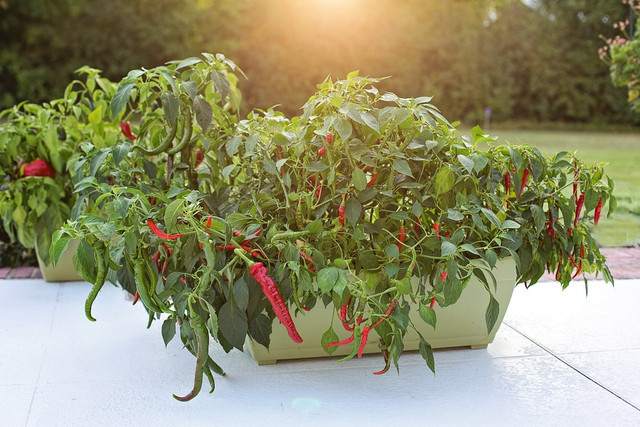 Pepper seedlings can be transplanted to larger pots when they are about 3-4 inches tall and when the days and nights are warm. Peppers grow best when the soil is warm and daytime temperatures are regularly over 75 degrees Fahrenheit, so wait to transplant your seedlings until around early summer. 
Peppers can be harvested as soon as they are large enough to eat. Most mild and hot peppers take at least 70 days from transplanting to reach an edible size plus another 3-4 weeks to reach maturity. Growing hot peppers take even longer, so you may want to seek advice regarding specific varieties. 
Companion plants for large containers: 
Carrots
Cucumbers
Radishes
Eggplant 
Do not plant them near fennel or members of the brassica family (broccoli, cabbage, bok choy). 
2. Radishes (Outside)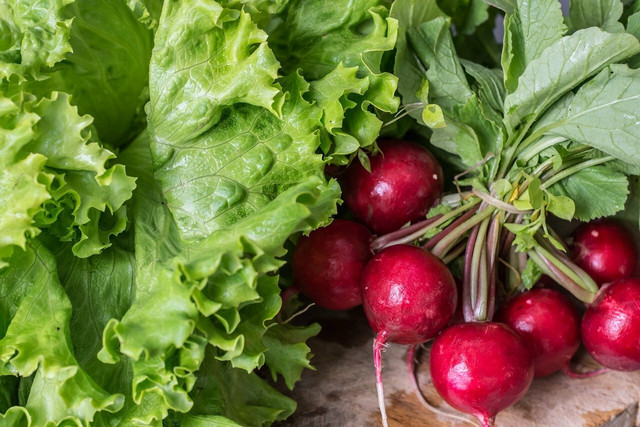 Speaking of the brassica family, radishes are an easy cruciferous vegetable that can be grown in pots. Its seeds can be planted directly in their pot in early spring. This can be done up to one month before the last frost in most climates. If you do get an unusually cold day, you can always bring the pot inside or cover them to protect the seedlings.
The optimal growing temperature for radishes is around 60-65 degrees Fahrenheit, but they can also handle temperatures between 40-70 degrees. For the majority of radish varieties, you can harvest them when their roots are approximately 1 inch in diameter at the soil surface. Just pull one out to test it before harvesting the rest.
Companion plants for large containers: 
3. Beans (Inside or Outside)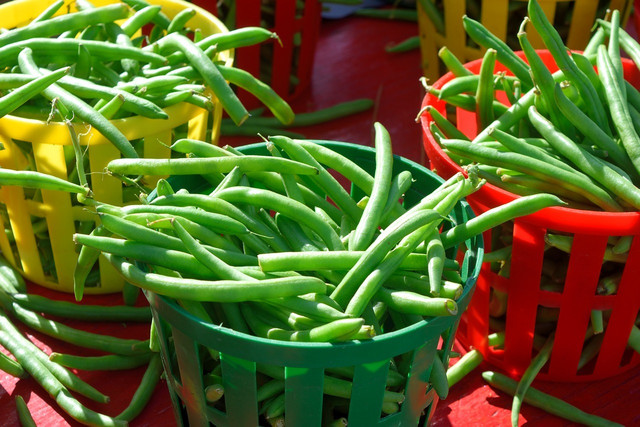 Beans are an easy and beautiful plant that can be grow in pots both inside or outside as long as there is a good amount of sun and warmth. The seeds can be planted directly in soil after the last spring frost date and when soil temperatures are at least 48 degrees Fahrenheit (if keeping outside). You can also plant beans in the late summer/early fall, about 10-12 weeks before the first expected frost. 
Beans are a warm weather plant that grow best when the spring air begins to warm. The soil temperature should not be colder than 50 degrees Fahrenheit, and ideally closer to 70 degrees. The bean seeds will not germinate if the temperatures are too cool. 
Beans can ready to harvest around 65 days after planting. You'll know they are read when the seeds inside the pod are not quite full size. The beans should snap easily off the plant when they're ready. 
Companion plants for large containers: 
4. Green Onions (Inside or Outside)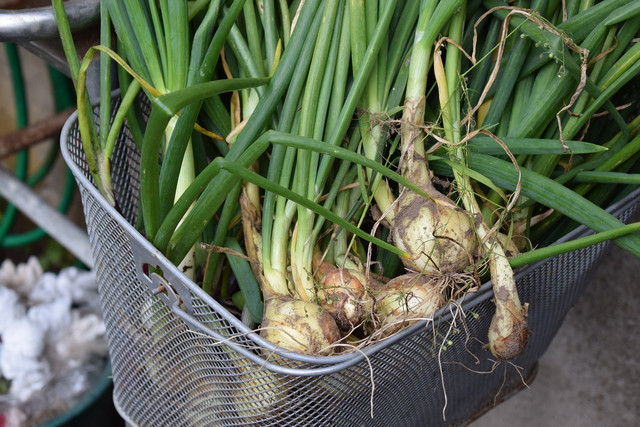 Green onions are another easy vegetable that can be grown in pots both inside or outside. Sow them four to eight weeks before transplanting to pots. If keeping outside, wait four weeks before the last frost date in spring.
Green onions usually need soil temperatures of at least 45 degrees Fahrenheit to germinate, but warmer is better. The optimal temperature for these onions is between 68 and 78 degrees Fahrenheit. They can be harvested when they have reached the size of a pencil – this is generally about 4 or more weeks after planting and can continue until winter. 
Companion plants for large containers: 
Brassicas 
Peppers
Tomatoes
Mint
Dill
5. Lettuce (Outside)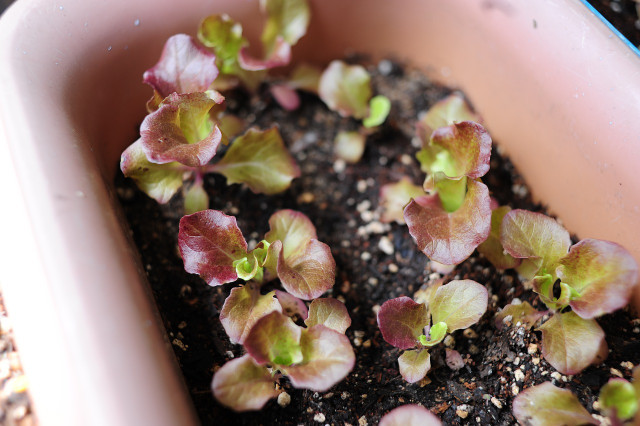 Many lettuce varieties can be grown in pots as long as there is enough surface area. You can also find mini-lettuces such as 'Little Gem' and 'Tom Thumb' that don't require as much space. 
Most lettuces do best when sowed directly into the pot they will be grown in. To maximize your growing season, prepare your pots inside next to a sunny window a few weeks before the last hard frost in spring or a few weeks before the temperatures begin to drop in late summer.
Lettuce prefers cooler growing conditions with its favored temperature being between 60 and 65 degrees Fahrenheit. Above 70 degrees, lettuce plants can flower and produce seeds. You can harvest lettuce heads when they are about 4 inches tall. This usually takes about 6-10 weeks after sowing to reach maturity. 
Companion plants for large containers: 
6. Peas (Inside or Outside)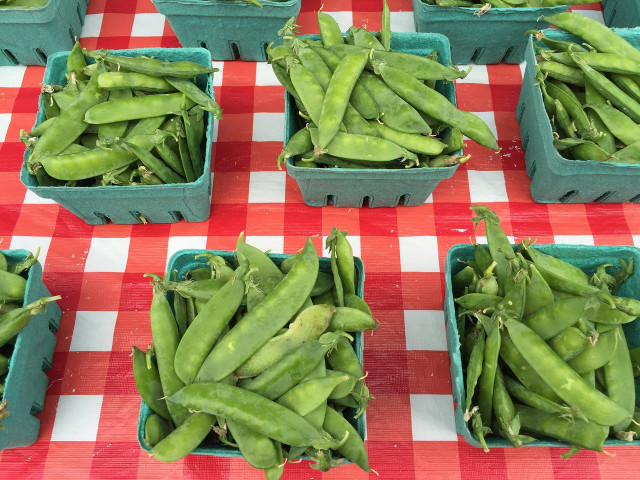 You can start your pea seeds in a container in the spring when temperatures are over 60 degrees Fahrenheit. They should be ready for harvest about 3 weeks after the flowers appear. Edible pea pods are ready to harvest when they are 2-3 inches long, before the seeds begin to swell. You may also want to consider getting a trellis for your pea plant to climb up. 
Companion plants for large containers:
Tomatoes
Eggplant
Turnips
7. Tomatoes (Outside)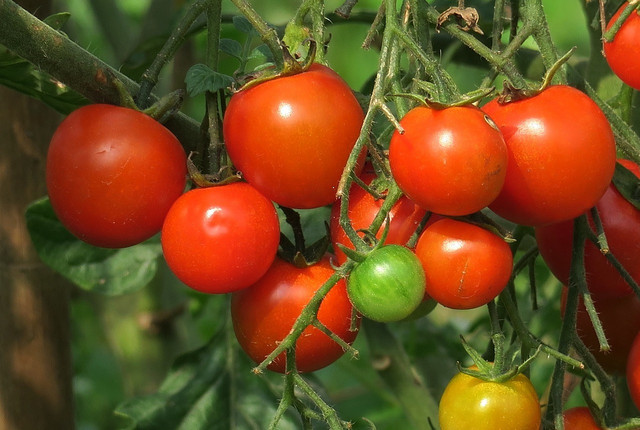 Tomato seeds can be started in spring when temperatures begin to warm. They can be transplanted to their pots and moved outside in early summer when both the days and nights are warm. Potted small tomato plants that are set out in the beginning of summer will grow quickly and produce abundantly. 
Tomato plants are sun-lovers and require direct sunlight for 6-8 hours a day. Tomatoes thrive between 55- and 85-degrees Fahrenheit. Tomatoes may not fruit when the temperature often hit above 85 degrees, and may have trouble setting color in the heat.
Tomatoes can generally be harvested 60-85 days after planting seedlings outdoors. The timing may differ depending on your climate and the tomato variety you grow. Tomatoes should ideally be picked before they have ripened on the vine, when they are still green. Then allow them to ripen off the vine. This helps prevent bruising and other imperfections to develop.
Companion plants for large containers:
8. Carrots (Outside)
To grow this root vegetable in containers, it may be wise to choose a shorter variety of carrot (such as Chantaney, Oxheart and Round carrots) and use a container that's at least 12-inches deep. Because carrot seedling transplant often don't fare well, it's best to start your seeds directly in your pot about 2 to 3 weeks before the last expected frost. You can also start your seeds in biodegradable pots or egg cartons indoors if you prefer to start this process earlier. 
Sprinkle your carrot seeds in already moist soil. Carrots seeds can take about 3 weeks to germinate, so patience is key. As the sprouts grow, ensure that each carrot plant has about 3-4 inches of space between another. Keep the soil moist, but make sure not to overwater your carrots. Carrots prefer cooler temperatures of 75 degrees Fahrenheit during the day and around 55 degrees at night. 
Carrots should be ready to harvest about 70 to 80 days after planting when their roots are to 1 to 1½ inch in diameter. 
Companion plants for large containers:
Leeks
Tomatoes 
Beans 
Sage
9. Spinach (Indoors or Outdoors)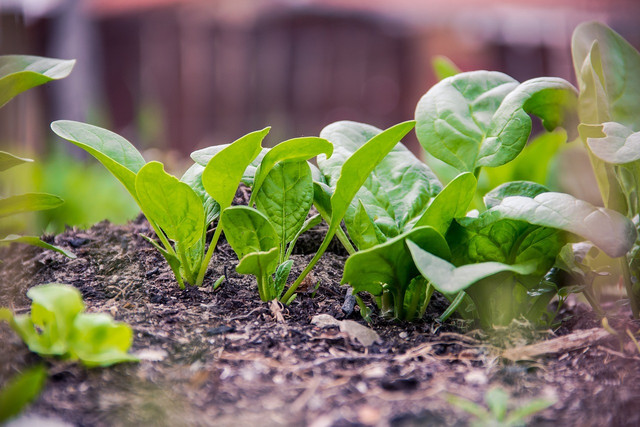 With enough light and adequate warmth, spinach can be grown year round inside. it can also be put outside during the warmer months of course.
To grow spinach in a pot, choose a wider container that's 6 to 12 inches deep with well-draining soil. You can sow the seeds directly in a pot about 1/2 inch deep. The seeds can take up to 2 weeks to germinate. You want to make sure you have about 3 inches between each spinach plant. 
If daytime temperatures reach above 80 degrees Fahrenheit, position your pot in a slightly shady area. If you live in a cooler area, keep your spinach plants in a bright and sunny area. Spinach can be ready to harvest at about 40-45 days after planting, so you can start these plants in the early fall or late summer if you like. 
Companion plants for large containers:
Radishes
Strawberries 
Peas
10. Zucchini (Outdoors)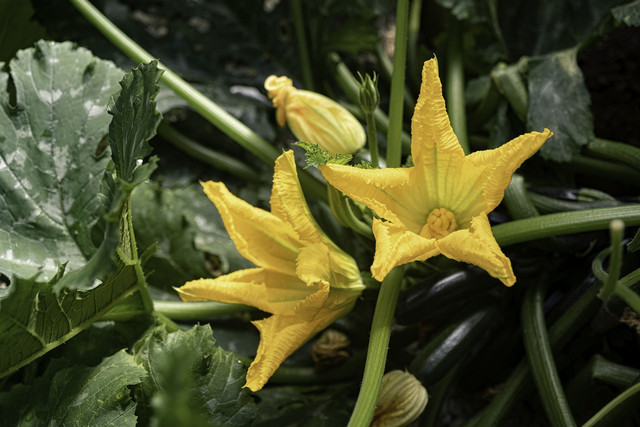 While zucchini does need a lot of space to grow, you can still grow this summer squash in a pot. The container should be about 12 inches deep and have a diameter of at least 25 inches. You may want to consider using smaller zucchini varieties depending on the size of your container. 
You can plant zucchini seeds about 2-inches deep, with some inches of space between the seeds, directly in your pot about two weeks after the last frost. After the seedlings sprout, make sure to water the zucchini plant when the top two inches of soil is dry. Zucchini is another sun loving plant that requires an absolute minimum of 6 hours of direct sunlight a day to thrive. 
Depending on the variety, zucchini plants often bloom around 45-55 days after planting. These edible blooms will eventually fruit into the zucchini, which you can harvest when they are 6-inches long, more or less. 
Companion plants for large containers:
Read more:
** Links to retailers marked with ** or
underlined orange
are partially partner links: If you buy here, you actively support Utopia.org, because we will receive a small part of the sales proceeds.
More info
.
Do you like this post?
Thank you very much for voting!